Wide receiver fantasy football strength of schedule is one of the most misused pieces of information during fantasy football draft season. Strength of schedule charts are almost always based on last year's data, so they don't give you much insight at the present. That's exactly why we changed things up at PFF and took a new approach to strength of schedule. Instead of basing this information off last year's stats, we put our strength of schedule together based on the current defensive rosters. Using PFF grades, we can establish the overall matchup outlook for each position based on a team's schedule.
Keep in mind that fantasy strength of schedule data is a small piece of the overall puzzle and should not be considered the be all, end all in your fantasy decision-making process. While the difference between the best and worst schedules may look significant, it isn't. There isn't anywhere near as wide of a gap between the best and worst defenses in the NFL as there is at the college level. In fact, the best schedule at wide receiver this year is only 9.2% better than the worst schedule at wide receiver. So resist the temptation to move players up or down significantly based on their schedules. Instead, use this information to tweak your rankings and break ties between players who are very close on your draft board.
Below, you'll find the 2019 fantasy football wide receiver strength of schedule sorted in order from the best to worst schedules. We also included the strength of schedule for the fantasy football playoffs in Weeks 14-16. The chart is color-coded with a heat map to give you a better sense of the good and bad schedules at a glance. The greener the box, the better the matchup. Likewise, a red box indicates a bad matchup.
Matchups are also ranked for each week with one being the best matchup. Keep in mind that the bye weeks will mean that the worst matchup for the week isn't always 32. For example, in Week 9, there are four teams on bye, so the worst matchup is ranked 28 for that week. You'll also notice that Seattle is the best matchup for quarterbacks based on PFF Grades. However, the Seahawks are on their bye in Week 11, so the Patriots get the No. 1 matchup for the week against the Eagles.
One other very important note is that this strength of schedule is subject to change as defensive personnel changes on each roster. Injuries, cuts, suspensions, and depth chart movement will all impact the strength of schedule. Most of these changes will be minor, but an injury to a standout player could have a bigger impact. If you want the most updated version of this chart, you can get it in PFF's 2019 Fantasy Playbook.
(click to enlarge)
Best schedules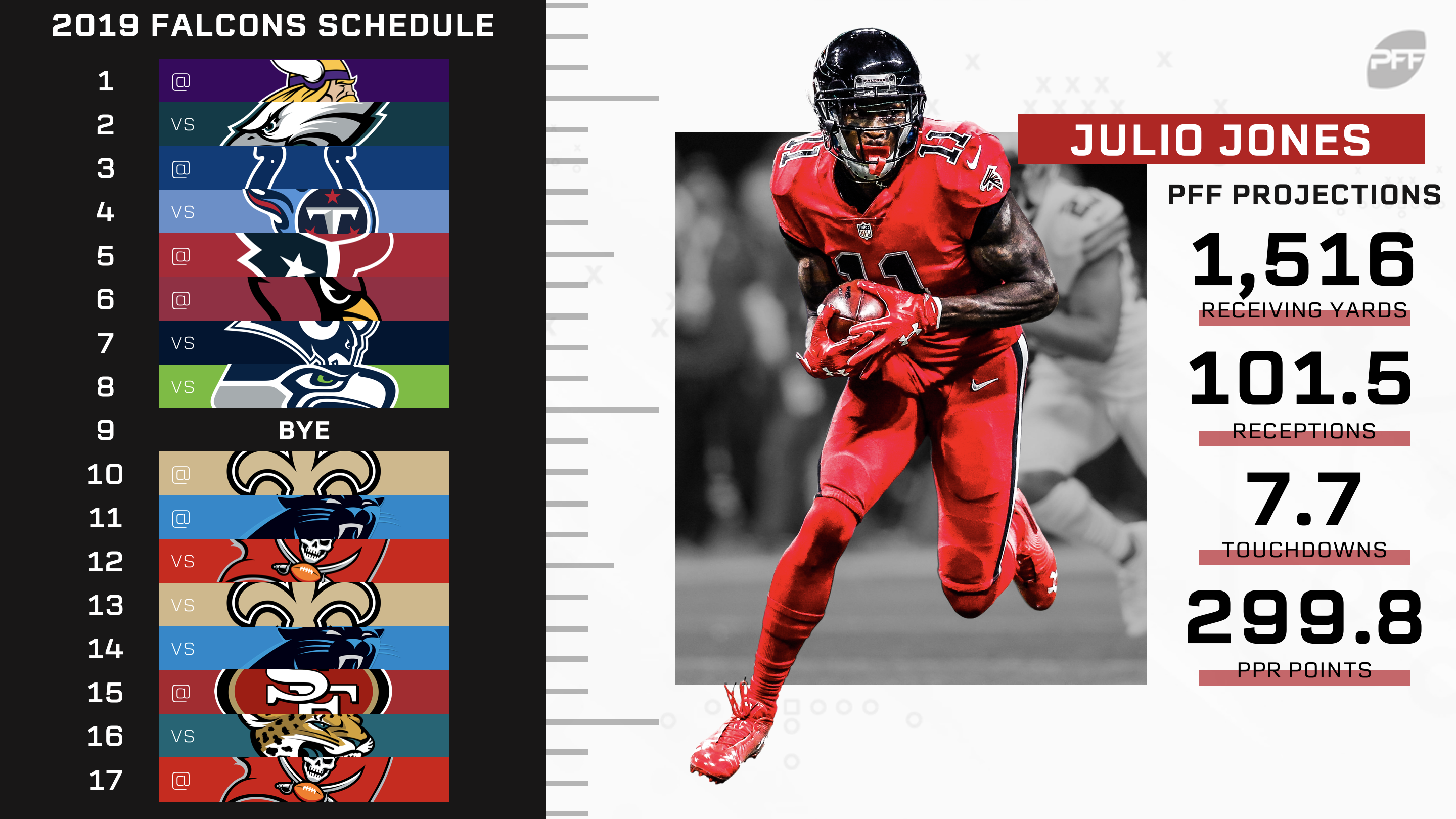 This duo was one of the league's most productive fantasy tandems last season, and the Falcons schedule looks like it'll pave the way for strong fantasy numbers again this year. Atlanta has the advantage of facing our three top matchups a combined four times this season with contests against the Eagles and Seahawks along with two games against divisional foe Tampa Bay. But we also need to be aware that Jones and Ridley get a brutal draw in Week 16 for the fantasy championship round against Jacksonville.
What a waste of a good schedule. There really isn't much fantasy value to be had in the Redskins wide receiver corps this season. Richardson has flashed upside in the past, but also hasn't proved to be the most durable option. Doctson was one a perennial hype candidate, but his fantasy luster has faded after three disappointing seasons to start his pro career. Quinn has an opportunity to step into the slot role with Jamison Crowder out of the mix, but his limited upside doesn't really for fantasy purposes.
One of last season's most potent passing offenses gets one of the better schedules on the board. Thank you, NFL schedule makers. The Rams should get out of the gate fast with two top-three matchups over the first five weeks of the season. They also get to dace the Seahawks in the first round of the fantasy playoffs and draw a plus matchup against the 49ers in Week 16. Look for Cooks, Woods, and Kupp to continue their productive ways this season.
The Patriots passing game isn't what it once was, but this receiver corps has a solid slate of games this season. Edelman is dealing with a thumb injury right now, but he should be good for the start of the season. He's in a prime position to lead the Pats in targets, but keep in mind that he's entering his age-33 season. Harry is over a decade younger that Edelman, but with youth comes inexperience in the Patriots offense. He offers upside, especially in the red zone, but could take some time to develop.
We expect to see a run-heavy approach out of Darrell Bevell's offense in Detroit this season, but that doesn't mean we should shy away from Golladay and Jones for fantasy. The Lions wideouts have a favorable slate of matchups that includes contests against the Eagles and Bucs this season. Of course, like the Falcons, Detroit gets a tough opponent for the fantasy championships with Denver on the schedule in Week 16.
Worst schedules
Just like we said with Patrick Mahomes' fantasy football strength of schedule, don't get too worked up for Hill. Sure, his schedule is tough, but it really doesn't matter for a player with his unique skill set. However, the impact is much more tangible for Watkins. We saw last season that Watkins has arguably the widest ceiling/floor gap of any player in the league. In Week 4, he finished 144th among wide receivers in fantasy scoring. He also finished second just four games later. Given the Chiefs' tough slate, Watkins is likely to be just as volatile this season.
As with Hill, ditto for Hopkins. He's a stud, and you know that. However, fantasy expectations are high for Fuller and Coutee heading into the season. There's a chance that one, or both, of them get off to a slow start with matchups against the Jags and Chargers in Weeks 2 and 3. The good news for fantasy purposes is that the Texans do get a juicy Week 16 matchup against Tampa Bay.
It's tough to get behind any aspect of the Dolphins' passing game heading into this season, and their schedule is even more reason to shy away from this group. Stills, Parker, and Wilson could especially sputter out of the gate with matchups against the Ravens, Patriots, and Chargers over the first month of the season.
Fantasy football players have largely overlooked Brown in early drafts, but let's not forget that he was a top-25 fantasy wideout before Lamar Jackson took over last season. That said, having to face the Patriots twice along with matchups down the stretch against the Broncos, Ravens, and Steelers puts a bit of a damper on his outlook along with upside option, Foster.
Expect the Bengals offense to look very different this year under new head coach Zac Taylor. That said, having to face the Ravens and Steelers twice each this season makes for some tough matchups for this trio. That plus a Week 15 showdown against the Patriots suggest we should temper expectations somewhat for the Cincinnati wideouts.