(As we head into the 2019 fantasy football season, we're taking a trip around the league to identify the offseason moves we'd most like to see each team make for fantasy purposes. Today: the Seattle Seahawks)
The Seattle Seahawks were one of two teams in the NFL to have a single person take every single pass attempt in 2018 (the Vikings and Kirk Cousins were other). That's as good a metaphor as any for the way the Seahawks have increasingly leaned on Russell Wilson for their sustained success in recent years. There's an argument for him as the MVP of 2018 for getting that team to the playoffs despite defections and injuries and the other factors that left him atop a roster that many analysts described as one of the league's worst entering the season.
That's not to say the Seahawks are without promise for fantasy. Chris Carson established himself as a bona fide running back contributor in 2018, with receiving option Mike Davis and 2018 first-rounder Rashaad Penny joining Carson to make one of the league's best three-man backfields. If the 2018 Tyler Lockett can combine with the pre-2018 Doug Baldwin to both play together at the same time, that's an elite 1-2 punch at wide receiver. And the team had a surprisingly productive defense even after the Legion of Boom was dissolved.
So the Seahawks are better than we thought they'd be about seven months ago. But they can still improve. Here are our suggestions for how they can improve their fantasy stock heading into the 2019 season.
(Keep up with the whole offseason wish list series here.)
Three offseason moves we want to see for Seattle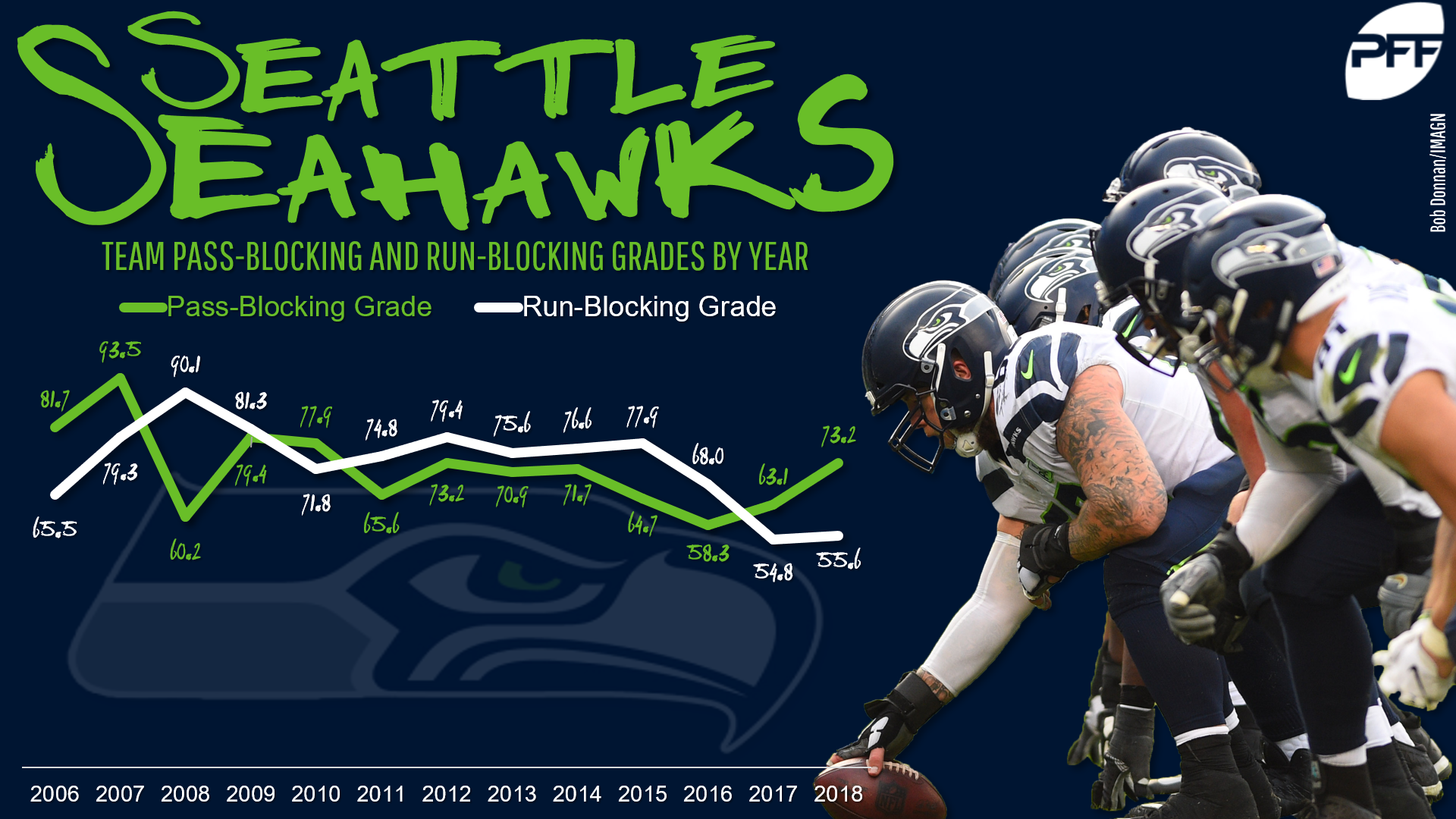 The Seahawks have had one of the league's worst offensive lines for years now, but that started to turn around in 2018. Instead of finishing near the bottom in our annual O-line rankings, Seattle finished 18th in 2018, in large part due to the season-long presence of Duane Brown and a career year from D.J. Fluker. Unfortunately, both Fluker and the less-impressive J.R. Sweezy are heading into free agency, so if the Seahawks want to build on the decent 2018, there is work to do.
The line's relative strength in 2018 was as a pass-blocking unit, ranking 17th in our pass-blocking efficiency metric. As a run-blocking unit, it was a good bit worse, grading out at a 22nd-best 55.6. Enter Saffold, who turns 31 in June and just had the fourth-highest run-blocking grade among qualified guards in 2018. If they can convince the Rams' free agent to defect inside the division, the Seahawks can greatly improve their weakness while weakening their primary competition at the same time.
The Seahawks head into 2019 with plenty of tight ends. Nick Vannett had the most playing time in 2018, while Ed Dickson started the season hurt but came back later to have productive moments. And the player many will forget is Will Dissly, the 2018 draft pick who started the season amazingly, with 147 yards and two touchdowns in Weeks 1-2 before a quiet Week 3 and a torn ACL in Week 4.
What the Seahawks don't have, though, is a tight end who you would want anywhere near your fantasy roster. Dickson has one year in his nine in the league with more than three touchdowns and/or 500 yards, and that was eight years ago now. Vannett has 430 total yards in his three seasons. And while Dissly had a shocking Weeks 1-2, he had nearly half as many yards (156) in three-and-change games as a rookie as he had in four years (336) in college. He's a block-first tight end who was the single biggest surprise of the start of the season, and odds are good he'd have faded had he stayed healthy.
So while this isn't a team that relies on its tight ends to be big receivers, we saw as recently as 2017 that a tight end with a nose for the end zone can do a lot of damage as a Seahawk, as Jimmy Graham scored 10 touchdowns on only 92 targets with Seattle that year. Eifert has a track record of that sort of incredible scoring pace himself (he had 13 scores on 75 targets in 2015, 5 on 39 in 2016). If he can show he's healthy, he could be a big-time bargain tight end with the Seahawks. And if they sign him and he can't stay healthy … well, the Seahawks aren't counting on much from the position anyway.
Draft a Day 1/2 receiver
Baldwin turns 31 in September. An offseason to heal up as much as possible can only help him after an injury-plagued 2018, but he was quoted multiple times last season as saying he might never be 100% again. And even if he is, he will still be a 31-year-old with more than 7,000 yards under his belt, and it can't possibly hurt to think about what might come next.
Pairing a young upside receiver with Baldwin and just-had-a-perfect-passer-rating-when-targeted Lockett could add a dimension to the Seahawks receiving game that it didn't always have in 2018. Even if David Moore continues his surprising production (his results — 445 yards and 5 touchdowns — outpaced his 65.4 PFF grade by a bit), another weapon can only help.