Saturday was a rough day across the football landscape, as hundreds of dreams were dashed in the process of NFL teams culling their rosters down to the 53 players who will go into Week 1. For fantasy football it was less dramatic, as not many names that are on the radar for typical leagues saw their fortunes change significantly.
That said, moves have ripple effects. The following players are the fantasy winners and losers of NFL cutdown day. Most of these players were only on the fringes of fantasy relevance, but not all, and even then, we have to concern ourselves with the fringes.
Winners
We might not endorse exactly how the Texans went about their moves Saturday, but at the end of the day the team did have a new offensive lineman, new wide receiver, and new running back. And say what you will about, respectively, Laremy Tunsil, Kenny Stills, and Carlos Hyde, but they are better than nothing (at least in Tunsil's and Stills' cases). Watson finished 2018 as the No. 4 fantasy quarterback despite injuries in the middle of the year that kept him from running as much and even kept him from getting on planes for away games. If Tunsil can keep Watson on his feet a little more often, and with Stills providing insurance for injuries to Will Fuller and/or Keke Coutee, Watson's spot as the No. 2 fantasy QB for 2019 looks stronger.
Singletary is easily the most obvious winner of the day. Even if LeSean McCoy had stayed on the Bills, the rookie third rounder had played himself into at least a role in the Buffalo backfield to start the season. But with the 31-year-old McCoy gone now, Singletary should open the year as the starter. Frank Gore is immortal and T.J. Yeldon will still get his touches, so it's not a total bell cow role for the rookie, but he went from only draftable as a handcuff in deep leagues to now being a legitimate deep flex option with room for more.
The Cowboys were going to go into Week 1 with Tony Pollard and Alfred Morris on the roster almost no matter how Elliott's holdout played out. That wasn't a mystery. But the fact that the team got rid of Darius Jackson, Mike Weber, and Jordan Chunn in the process leaves them with only Pollard and Morris in the backfield, and it's not likely Dallas would have left itself that thin if upper management weren't really sure the star back would be back sooner rather than later.
Jerick McKinnon hitting IR wasn't a release, but it was a decision that came on Saturday because the team needed to get its roster down to size. And while the writing was on the wall for McKinnon for a few weeks now, there was always the possibility the team would try to hold onto him into the season so they could designate him to return. By putting him on IR now, McKinnon is officially done for 2019, and that means a three-headed backfield of Breida, McKinnon, and Tevin Coleman that would have given fantasy owners headaches all year is now a two-headed monster of Breida and Coleman, and that's much more palatable for fantasy. (And to top things off, Jeff Wilson Jr., who had a few flashes near the end of 2018, was released as well.)
It was pretty clear by the end of the preseason that Ogunbowale had made the Buccaneers roster and was likely to have a decent role catching passes out of the backfield. There was the specter, though, of so-called "Bruce Arians guy" Andre Ellington hanging around, possibly stealing some work. Ellington's release clarifies Ogunbowale's role, and with the disappointing duo of Peyton Barber and Ronald Jones ahead of him, the work in a strong passing offense could be plentiful.
The undrafted rookie Williams impressed in preseason this year, to the point that it was clear he was going to be on the Dolphins' 53-man roster and have some role in the offense. But with Stills heading to Houston, Williams could go into the season as the team's No. 3 receiver (at least) behind Albert Wilson and DeVante Parker. Not a bad ascension for a guy who didn't get his name called in April.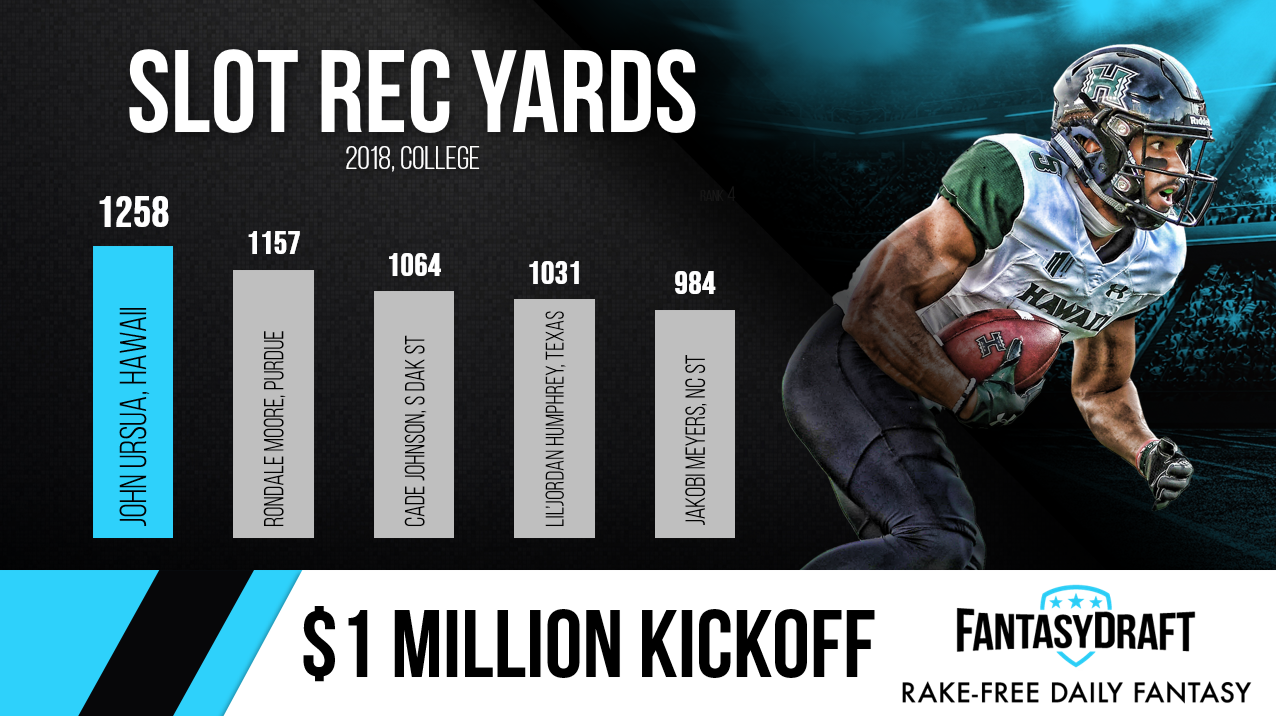 Not long after the Seahawks selected Ursua in the seventh round of this year's draft, the murmurs of him having an immediate slot role starting popping up. Even with that, though, Ursua wasn't even an afterthought in fantasy drafts for the year. He was a no-thought. After D.K. Metcalf's injury, the buzz for who would be the No. 2 receiver behind Tyler Lockett went to David Moore. After Moore's injury, it went to Jaron Brown. But with Brown's release Saturday? Ursua could enter Week 1 as the Seahawks' No. 2 receiver. It might not be a long-lived role, with Metcalf and Moore both due back before too long, but Ursua has a shot he didn't have before.
Losers
The release of Brown and arrival of Jadeveon Clowney are good things for the Ursua types who didn't have any clear path to targets, but for Wilson and the passing offense at large, it's less exciting. A Seahawks offense that already looked likely to be run-heavy in 2019 now has a stronger defense, meaning less shootout opportunity, and fewer known quantities in the receiving game. Wilson was never going to pass a lot in 2019. Now? He might have a comically low number of pass attempts.
It's always been clear that 2019's going to be a long year in Miami. But the departure of Tunsil from what was already the league's worst offensive line only makes it harder for whoever is under center for the Dolphins to do … much of anything, really. Rosen, a first-rounder only a year ago, spent 2018 heading up an abysmal offense through a tough schedule behind maybe the league's worst offensive line. Now he's in Miami, and … it's the same thing. His career might never get started. Meanwhile, Fitzpatrick is about as immortal as Frank Gore, so he'll probably be coming in to replace an injured starting quarterback in 2030 for all we know. But in 2019? It'll be rough.
When the Chiefs sent Carlos Hyde to Houston, that looked like the last piece of the puzzle to make Williams a bell cow back (or at least bell cow-adjacent), with Thompson holding significant handcuff value and perhaps getting enough work on his own to be a low-end flex option. Instead, the team capped off its Saturday by signing the recently released LeSean McCoy, and twisted the knife by guaranteeing him more money for 2019 than Williams got in his extension last year. This backfield is a mess for fantasy now, and one that anyone who drafted before Saturday is likely going to lose investment capital on.
Nothing actually happened for the Chargers backfield Saturday, but there were enough rumors and small notes that fantasy managers need to be cautious with these two. First, the Chargers were almost immediately linked to the released LeSean McCoy, perhaps an indication that (a) Melvin Gordon won't be back any time soon, if at all, and (b) that the team isn't necessarily satisfied with the status quo in that case. (The fact that McCoy ultimately landed with Kansas City curtails that a bit, but it's still very telling that the Chargers were in on him so eagerly.) Second, the team left Russell Okung on the reserve/non-football injury list, cementing that the left tackle is out for at least the first six weeks of the season and weakening an already-subpar offensive line. And third, the team gave Gordon's representatives permission to explore trade options for the holding out back. If he does get traded, sure, Ekeler and Jackson have a world of opportunity. But it's just as likely that his reps find out there isn't going to be a huge line of teams who want to give a lot in a trade package for a back and sign him to an exorbitant contract. Maybe I'm reading between the lines, but I think that news makes it more likely we see Gordon on the field, not less.
The second-year receiver already has a four-game suspension to start the year and is dealing with an ankle sprain. He's behind Odell Beckham Jr., Jarvis Landry, and Rashard Higgins on the depth chart. But with the team trading a 2020 pick for Titans WR Taywan Taylor, Callaway's role is even more of a question mark even when he is available. His limited stock is plummeting.