I believe I speak for all fantasy football fanatics when I say that Super Wildcard Weekend was indeed "super." Any time we see an upset like the Cleveland Browns' thorough dismantling of the Pittsburgh Steelers, the playoff round can't be described as anything else. 
There were plenty of awesome DFS performances across the board during Sunday's action. Lamar Jackson became the first QB to ever rush for more than 100 yards in two playoff games, and A.J. Brown asserted his dominance with six catches for 83 yards and a beautiful touchdown grab. 
Let's dig into every game from Sunday's action to see who else stepped up as we look forward to the divisional round and 2021 redraft season. I'll hit on fantasy points, snap counts, routes run, goal-line usage, targets, target shares and major takeaways from every game on the three-game Sunday slate.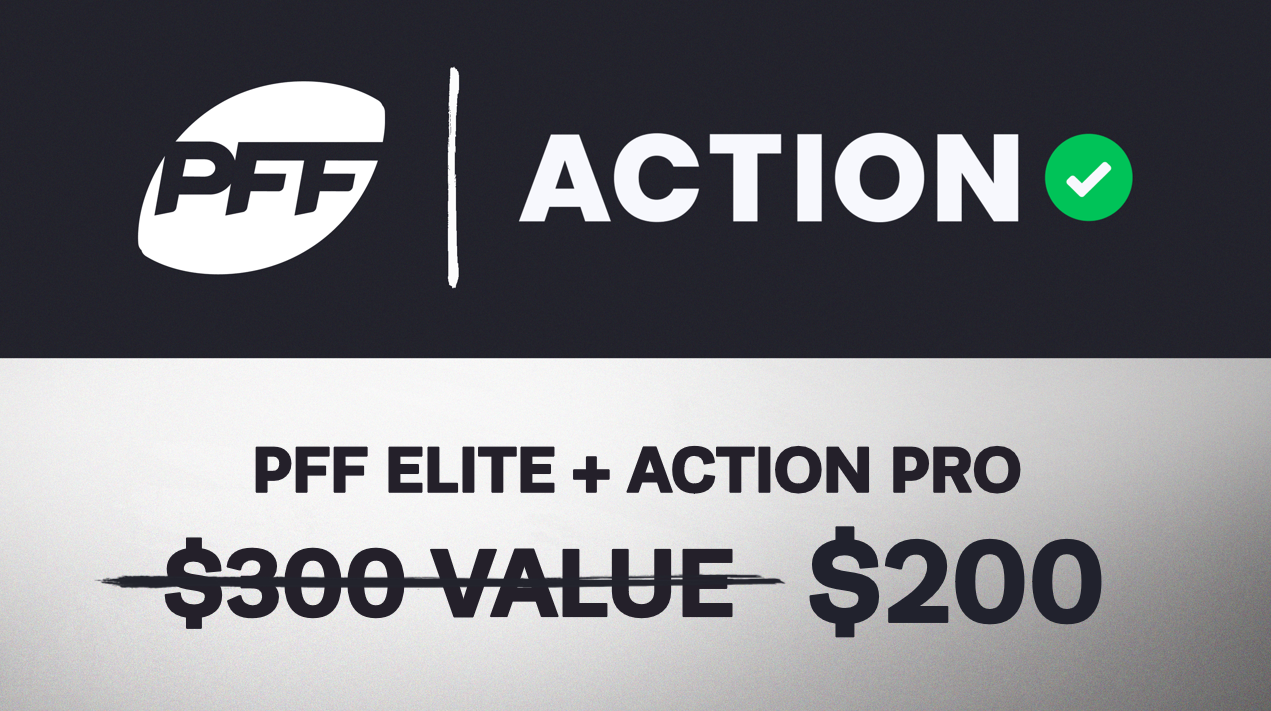 Lamar Jackson finally exorcised his playoff demons with a huge victory on Sunday afternoon. He was not great as a passer — 179 yards, one interception, five sacks and zero touchdowns — but L-Jax got the job with his legs.
The Ravens' quarterback rushed for 136 yards on 16 carries and created a highlight touchdown run in the face of pressure to spark the Baltimore offense. 
The same could not be said for Derrick Henry, who struggled all day to get going on the ground. The 2020 rushing champion toted the rock 18 times for just 40 yards (2.2 yards per carry). 
J.K. Dobbins and Gus Edwards split work nearly 50-50, but the rookie got the lone touch inside the 5-yard line and converted it into a score. He has scored in every game since Week 11. 
Dobbins will continue to operate as the team's 1A and goal-line back in the divisional round, but don't get your hopes up that he will catch four or five balls anytime soon. He has two catches since Week 13. 
I was super-high on Mark Andrews entering the game, but it was Ravens wide receiver Marquise Brown who stole the show. The second-year wide receiver caught seven of nine targets for 109 receiving yards.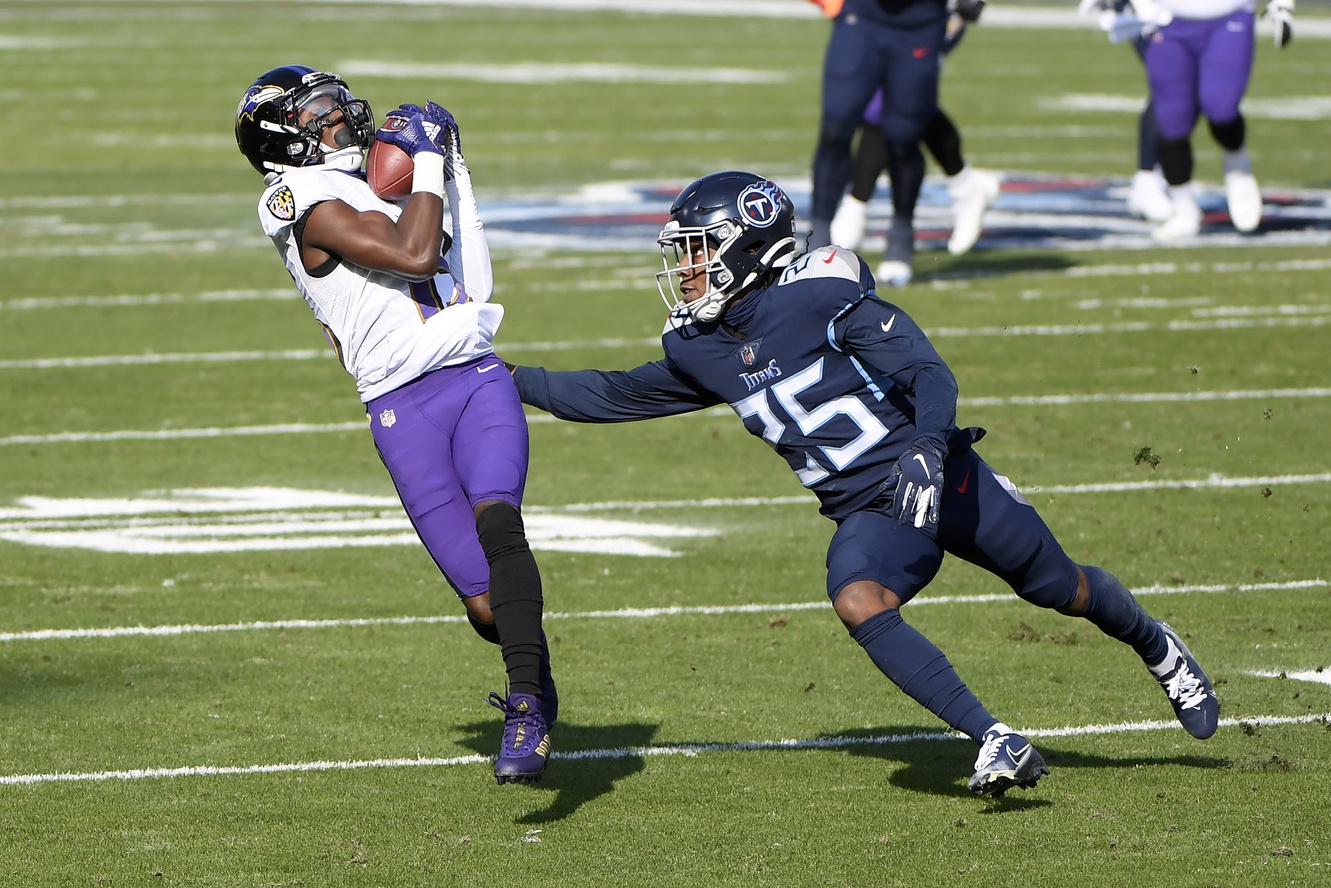 Andrews was fine by tight end standards with four catches for 41 yards, but he failed to haul in his lone end-zone target, which would have put him over the top. 
I wouldn't be too concerned about Andrews next week, because his targets (six) and routes run (25) both ranked second on the team. Fullback Patrick Ricard also saw four targets, which are not likely to be repeated next week. The Bills were absolutely gashed by Colts' tight ends last week, so don't bury Andrews after his sub-par performance. 
Corey Davis was nowhere to be found in the team's final drive that resulted in a game-sealing Ryan Tannehill interception. Davis had his best season in 2020, but he finished two of his last three games as a Titan with zero catches.
As an impending free agent, it's hard to imagine he will be coming back to Nashville, and fantasy owners should proceed with caution should he land as the No. 1 on a new team. He has clearly benefited from playing alongside an alpha wide receiver in Brown and an uber-efficient QB in Tannehill. 
Brown has a 35% target share over the last five weeks. It's hard to imagine him not flirting with 120-plus targets in 2021. He'll be a WR1 in everybody's rankings next season. 
Tight end Jonnu Smith is also a free agent, and we don't know if he'll return to Tennessee. His usage was up-and-down this season, and the Titans' affinity to run the football hurt Smith's fantasy value. 
That was apparent on Sunday when Smith finished with just two catches for 9 yards. Outside of his spike in touchdowns, Smith's efficiency numbers were almost identical to 2019. 
Michael Thomas made his long-awaited return to the Saints' lineup and started out red-hot. He was targeted by Drew Brees early, converting one into a touchdown in the first quarter.
He commanded seven targets (19% target share), which tied Deonte Harris and Jared Cook for the most on the team. Harris' performance sticks out like a sore thumb, considering he was targeted on 50% of his routes (14), which vaulted him to lead the team in receiving yards (83). 
His aDOT (3.3) is more in line with what we see from RBs in the passing game; his heavy involvement was the reason why Alvin Kamara only saw three targets. 
Kamara had 23 carries. He has surpassed 20 carries in back-to-back games for the first in his NFL career. His 23 carries actually topped his career-high from Week 16 (22).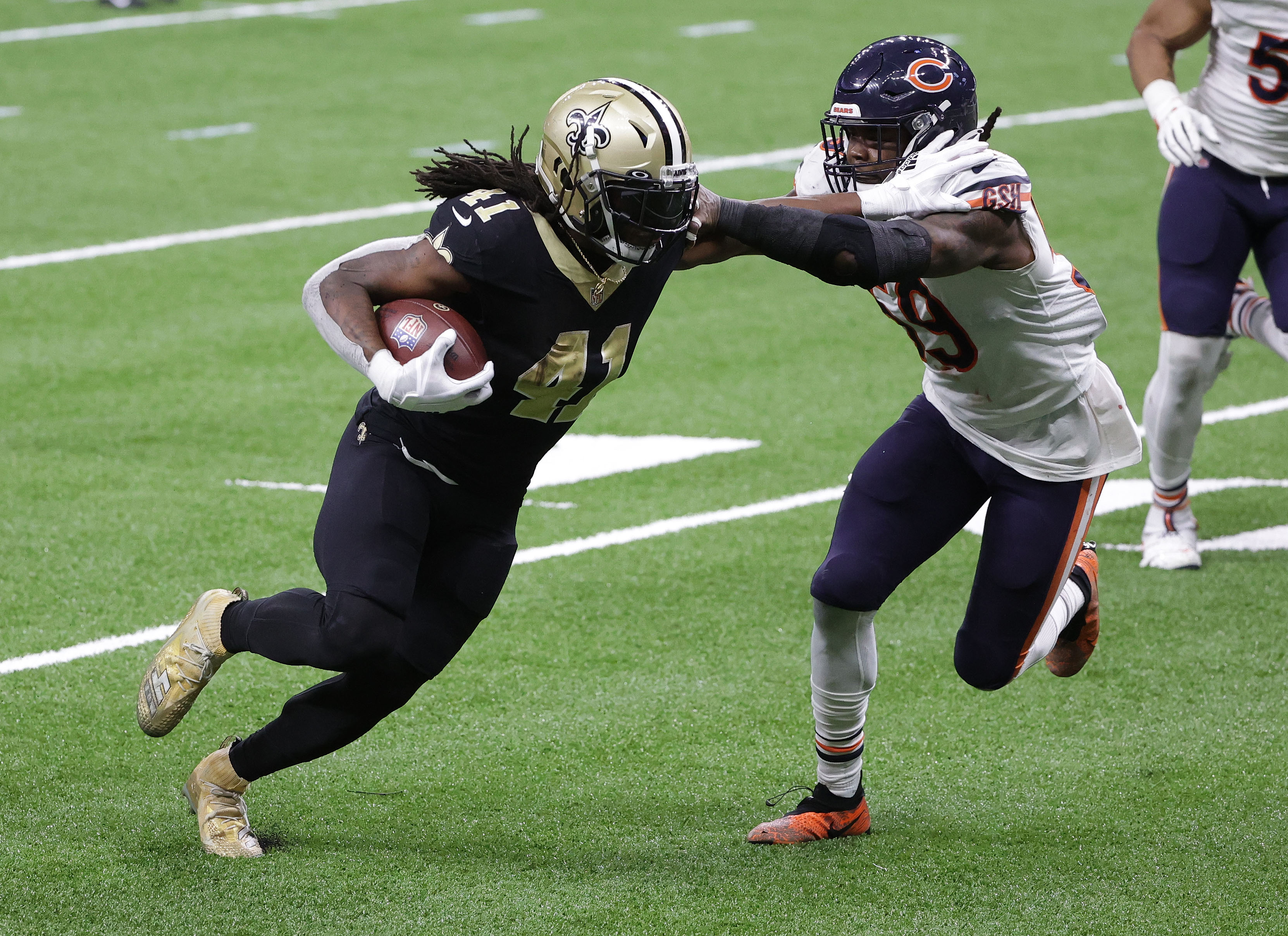 New Orleans is clearly leaning on its superstar playmaker in crunch time. Kamara will face a tall task next week versus the Tampa Bay Buccaneers' stout run defense in the divisional round of the playoffs. But he is familiar with them.
In his two games against the Bucs this season, Kamara has averaged 19.8 fantasy points and 20.3 expected fantasy points per game. 
The Chicago Bears' offense was an overall mess in this game, failing to make any big plays downfield or move the ball on the ground. Mitchell Trubisky was held under 200 passing yards and fell victim to playing with backup wide receivers.
There was no Darnell Mooney in this game due to injury. In his place, Javon Wims was the team's deep threat. Trubisky hit him for a would-be touchdown pass on an absolute laser in the end zone, but Wims just flat out dropped it. 
The Bears' QB finished with a single touchdown pass on a one-handed catch by Jimmy Graham as the clock hit double zeroes. 
Allen Robinson had just two targets (one catch for two yards) in the first half. A-Rob deserves so much better than the QBs he has played with throughout his NFL career and will surely be looking for a new signal-caller as a free agent. 
He posted career-highs in PFF grade (88.4) and catches (102) this season.
Robinson's departure means we could see Mooney potentially slide into a No. 1 receiver role. The Bears could also invest high-end draft capital into a wide receiver. Anthony Miller was projected to see a larger target share in the Bears' offense without Mooney playing in Week 18, but he was ejected after fighting with Chauncey Gardner-Johnson.
David Montgomery's hot streak came to a screeching halt, as he amassed just 12 carries for 31 yards and was unable to get bailed out in the passing game like last week. He saw only one target — the fear heading into 2021 will be whether not Monty can repeat his 54 catches from 2020 with Tarik Cohen returning to the roster. 
This game was truly insane. The Browns had everything working in their favor and the Steelers couldn't get out of their own way. That resulted in Cleveland jumping out to a massive 28-0 lead in the first quarter. 
The Browns' defense recovered a fumble in the end zone on a botched snap, Baker Mayfield hit Jarvis Landry for a 40-yard touchdown and Kareem Hunt rushed for two touchdowns. 
Austin Hooper continues to be Mayfield's favorite target, as turned 11 targets into seven catches for 46 yards. He also had both end-zone targets from Mayfield. Hooper gets a supremely plus-matchup next week versus the Chiefs, who allowed the second-most fantasy points to TEs the last four weeks of the regular season.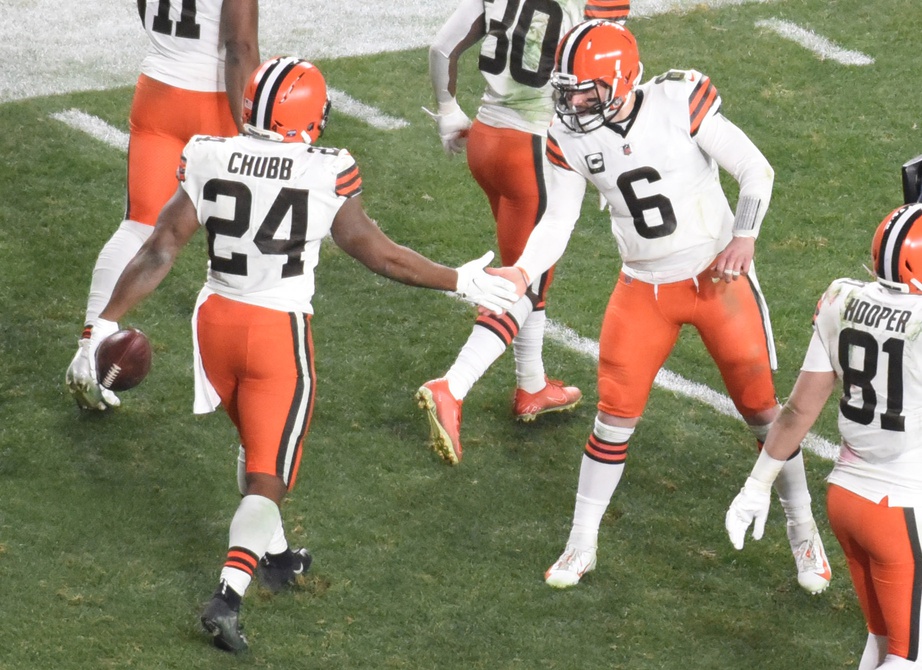 Nick Chubb also got in work as a receiver with four catches for 69 yards and a touchdown reception on four targets. Hunt usually is the pass-catching back, but Chubb was much more involved as a receiver on Sunday. Neither should necessarily be relied on to see massive work in the passing game next week as long as Hooper continues to vacuum up all the short targets in the passing game.
The Browns' duo also splits goal-line duties, and Hunt was one who benefited from in this game. But that's hardly an indication that Hunt is the new goal-line back — just last week Chubb saw all the carries inside the 10-yard line. 
In full-on comeback mode, Ben Roethlisberger went full DGAF quarterback by throwing for a whopping 501 yards, four touchdowns and four interceptions. JuJu Smith-Schuster was targeted 18 times and flashed some downfield threat ability, creating five plays of 15-plus yards.
He seems like a lock to be a free agent casualty for the Steelers, and I don't believe his final numbers do him justice as he tries to find a new home. Smith-Schuster was being pigeon-holed as a short-yardage receiver and finished with the lowest aDOT (6.8) of his career. 
The main reason for this was Big Ben, who led the league shortest time from snap to throw. In a new offensive system that lets JuJu run routes more downfield, he could be a much more productive fantasy receiver.
That being said, Smith-Schuster's departure will almost certainly mean that Diontae Johnson will be the Steelers' No. 1 wide receiver in 2021. He was targeted 17 times in this game and has seen fewer than 10 targets just once since Week 10.
With Roethlisberger coming back for another season, have faith that DJ can easily outperform his ADP in 2021, especially as the masses overrate his drops. 
Rookie Chase Claypool also had an uber-productive season and looks to be in line for an expanded role in 2021. He's obviously the team's primary deep threat, which is concerning because of Roethlisberger. Still, the alpha WR profile is going to be enticing for sure in 2021 redrafts and in dynasty formats. 
It's hard to pass up on 11 receiving touchdowns from a player in his rookie season.