One of the beauties of dynasty fantasy football is that not every team is pursuing the same strategy. There are win-now teams, building-for-the-future teams, rebuilding rosters and aging teams aiming for one last shot, all in ways that redraft leagues don't offer.
Teams that are in win-now mode, either because they are particularly stacked or because they have an aging core and need to go for it before the door slams shut, aren't that complicated. Get the best players you can as soon as you can. Next year, two years from now might stink in some cases, but flags fly forever.
The others, though, the ones building for the future, they have different questions. The easy strategy is to just get the best young players you can, and of course that's what you should do. But it's not exactly going to set you apart. Everybody wants the good young players.
Another strategy is to stockpile assets in a different way. When it comes to wide receivers, everybody wants Marquise Brown and N'Keal Harry and D.K. Metcalf. But there are other, less obvious players you might want to target. Maybe they have a chance at turning into something that can help. Or maybe they just have a shot at an expanded role and could become something you could flip in trade. Either way, these wide receivers are long shots, but might end up helping a dynasty roster that is looking to the future.
I'll start with the most obvious names and work down. (That's a subjective order, obviously.)
After a massively disappointing rookie season and only a slightly more exciting sophomore campaign that happened to coincide with a big breakout from Tyler Boyd, the shine is fully off one-time ninth overall pick Ross. And it's not unwarranted, as his 49.4 overall grade in 2018 was actually better than the almost-no-playing-time 38.1 he mustered as a 2017 rookie. He had seven touchdowns on only 55 targets, but also seven drops and five interceptions, generating only a 51.5 passer rating when targeted despite that impressive scoring rate.
Still, Ross is going to open as the No. 3 receiver in new head coach Zac Taylor's offense, with Taylor coming over from a Rams offense that made great use of three receivers the last two years. If that approach is going to work in Cincinnati, Ross will have to be a big part of it.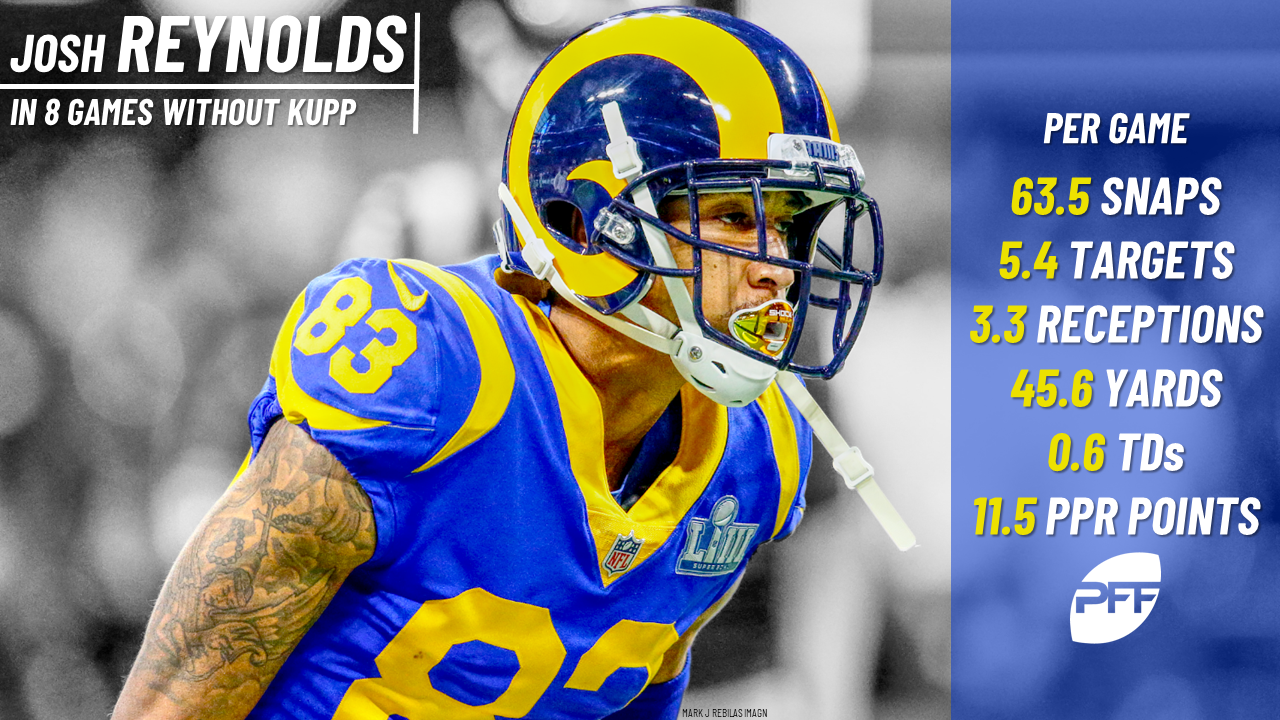 I'm low man on Cooper Kupp this offseason in our staff consensus fantasy rankings , though it has nothing to do with his talent or role in the offense. He tore his ACL in Week 10 of last year, and it seems to me that no one is questioning whether he'll be ready for the start of the season. The most recent reports are that it is the "goal" for Kupp to be ready for Week 1, but that's hardly definitive. Reynolds was a non-factor in the offense when Kupp was active last year (7.7 total PPR points in eight games), but was much more relevant when Kupp was out (11.5 PPR points per game, a pace that would have had him as a borderline top-25 receiver for the full year). If Kupp isn't ready to start the year, Reynolds will be involved.
The Ravens spent draft capital on Marquise Brown and Miles Boykin and signed Seth Roberts, rebuilding a receiving corps that was Snead and not much else. Of those, though, Roberts is the only one with much of a slot resume — Brown and Boykin combined to run 18.3% of their routes from the slot in college in 2018, while Roberts ran 76.7%. Snead, though, ran 82.6% of his routes there and was tied for sixth in the league in slot targets with 76. And while Lamar Jackson didn't throw the ball much as the Baltimore starter, a fair number of his attempts (29.7%, 15th-most) did target the slot. Snead should be the primary slot receiver in an offense that likes targeting the slot, and he's the most known quantity around rookies with a lot to prove.
Assuming Tyreek Hill misses some or all of the 2019 season, the Chiefs' depth chart as receiver starts with Sammy Watkins (who has missed 15 games across the last three years and hasn't topped 600 yards since 2015) and Mecole Hardman (who had only 60 catches in three years of college and was only Jeff Ratcliffe's No. 25 rookie wide receiver for fantasy entering the draft). If one or both of those falters, Robinson is likely the next man up, coming off a 2018 season with only 31 targets (counting the postseason), but with a catch percentage of 74.2%, 17th-best in the league, and four touchdowns (including one each in Weeks 15-17). Any receiver with a big role in a Patrick Mahomes offense is at least worth consideration.
Meredith has played all of 126 snaps since 2016, missing all of 2017 to injury and only playing six games with the Saints last year. Still, he's a player the Saints targeted in free agency last offseason and made a point to keep around this year, and if he can stay healthy, he's a receiving weapon in a Drew Brees offense with no sure things behind Michael Thomas. Grab Meredith now and keep an eye on his health in training camp and the preseason and either use him or flip him.
2018's Mr. Irrelevant played eight snaps in Week 1, got hurt, went on IR, came back for Weeks 11-12, then got hurt again and missed the rest of the year. In that Week 11-12 stretch, though, he played 99 snaps, caught 9-of-10 targets for 75 yards, and scored a touchdown. For a guy with essentially no experience, that was a positive sign. Now, with Jamison Crowder gone to the Jets and few if any sure things in the Washington offense, Quinn appears to be the early favorite to take the slot role. Even if Washington's offense isn't blowing anyone away in 2019, the arrival of Dwayne Haskins and the return of Derrius Guice means it's a team that could find itself on the upswing soon enough, and Quinn could be in on the ground floor.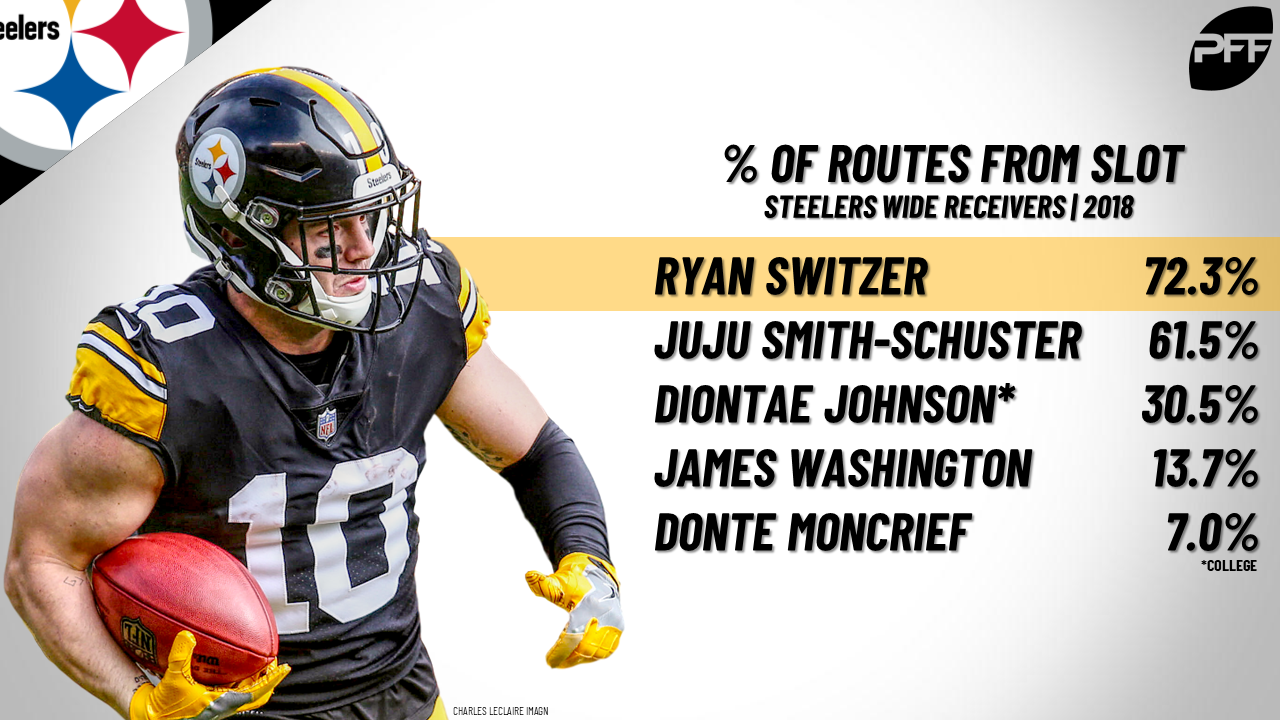 Switzer's stock comes down to what you think happens with JuJu Smith-Schuster. Smith-Schuster spent a lot of his time in the slot last year (running 61.5% of his routes there), but only saw 21.9% of his targets on slot routes. He spent less and less time in the slot as the season went on, and was only there 30% of the time in Week 17 with Antonio Brown out. And with Brown now in Oakland, you would think Smith-Schuster would line up outside more often. That leaves the slot open, and while the Steelers have several other receivers to deal with (James Washington is still around, plus they signed Donte Moncrief and drafted Diontae Johnson), Switzer is the only other receiver on the roster who has significant slot time. Moncrief and Washington barely touched the slot a year ago in the NFL, while Johnson didn't do much there with Toledo. Meanwhile, Switzer ran nearly three-quarters of his routes from the slot last year. If he can seize the slot role in the Pittsburgh offense, he could offer sneaky value.
The Packers drafted three receivers a year ago — Moore, Marquez Valdes-Scantling, and Equanimeous St. Brown. Moore was actually drafted the earliest of the three, going in the fourth round (Valdes-Scantling went in the fifth, St. Brown in the sixth). He's younger than Valdes-Scantling and was ranked higher on the PFF 2018 draft big board. Which is why, on the surface, it might be a little surprising and/or disappointing that Moore had only 15 scoreless yards as a rookie (compared to 581 yards and 2 scores for Valdes-Scantling and 328 yards for St. Brown), even with Randall Cobb and Geronimo Allison missing significant time to injury.
Except Moore was always known to be more of a project than his fellow Packers draftees. PFF's big board said he'd need to do work on the route tree, while NFL.com's Lance Zierlein called him raw and said he'd need time. We'll see if Moore can improve as much as he'd need to to put up value, but with Cobb gone and no sure things behind Davante Adams in the receiver depth chart, the door is open for Moore if he can. A receiver with a definite role in an Aaron Rodgers offense who can be had almost free is worth a shot.