• Chicago Bears QB Justin Fields is the best late-round quarterback to target in fantasy football drafts. 
• After a slow start as a rookie, Fields finished as the QB10 or better in his last four performances (Weeks 8-9 and 14-15) due to a newfound willingness to run the ball (8.4 rush attempts per game over his last five games after averaging 3.75 carries in his first four).
• Fields' newfound willingness to attack defenses with his legs is the key to him outperforming his ADP in 2022 — 11 of 12 quarterbacks to get at least 125 carries in a season went on to post top-12 fantasy production on a per-game basis.
• Click here to check out PFF's full fantasy football rankings.
---
The quarterback position has become more predictable in recent years, as a higher percentage of top-12 quarterbacks in ADP finished inside the position's final top-12 producers in 2021 than at any point since 2010:
Back-to-back decade-long highs in terms of highest percentage of top-12 ADP quarterbacks to finish in the top-12 pic.twitter.com/9D0mm232zc

— Ian Hartitz (@Ihartitz) July 21, 2022
Overall, Lamar Jackson and Russell Wilson were the only two quarterbacks with a top-12 ADP not to finish as such in 2021, and both instances were primarily due to injury. Rule changes, a plethora of dual-threat talents and general offensive explosions have helped make our ability to predict the position better than ever in recent years.
However, there have certainly still been some unexpected booms in recent history. 2018 Patrick Mahomes, 2018 Matt Ryan, 2018 Ben Roethlisberger, 2019 Dak Prescott and 2019 Jameis Winston all posted top-five fantasy finishes despite not carrying a preseason ADP inside the position's top-12.
On average, four quarterbacks have infiltrated their way into the position's top-12 finishers after not boasting a QB1 ADP since 2010. The following signal-callers presently make up the rest of the top 24 according to FantasyPros ADP data. The rounds refer to 12-team leagues, and lower-ranked quarterbacks sometimes go earlier in drafts due to at-times extreme differences in their overall rank among ADP sources:
I'm going to require that a quarterback be picked in Round 10 or later in order to be considered. Lance, Cousins and Carr each have an argument for legit QB1 treatment already. In Lance's case, he looks a lot like the next great fantasy football quarterback and comes in as the QB7 in my fantasy football rankings. I'd be shocked if Lance's ADP isn't among the position's top-10 options by the end of August, and he'll be an absolute bargain at that price if not.
After covering every signal-caller in my team preview series, discussing the findings on The PFF Fantasy Football Podcast, and profiling the potential contenders for this very honor, my official pick as 2022's premier late-round quarterback is …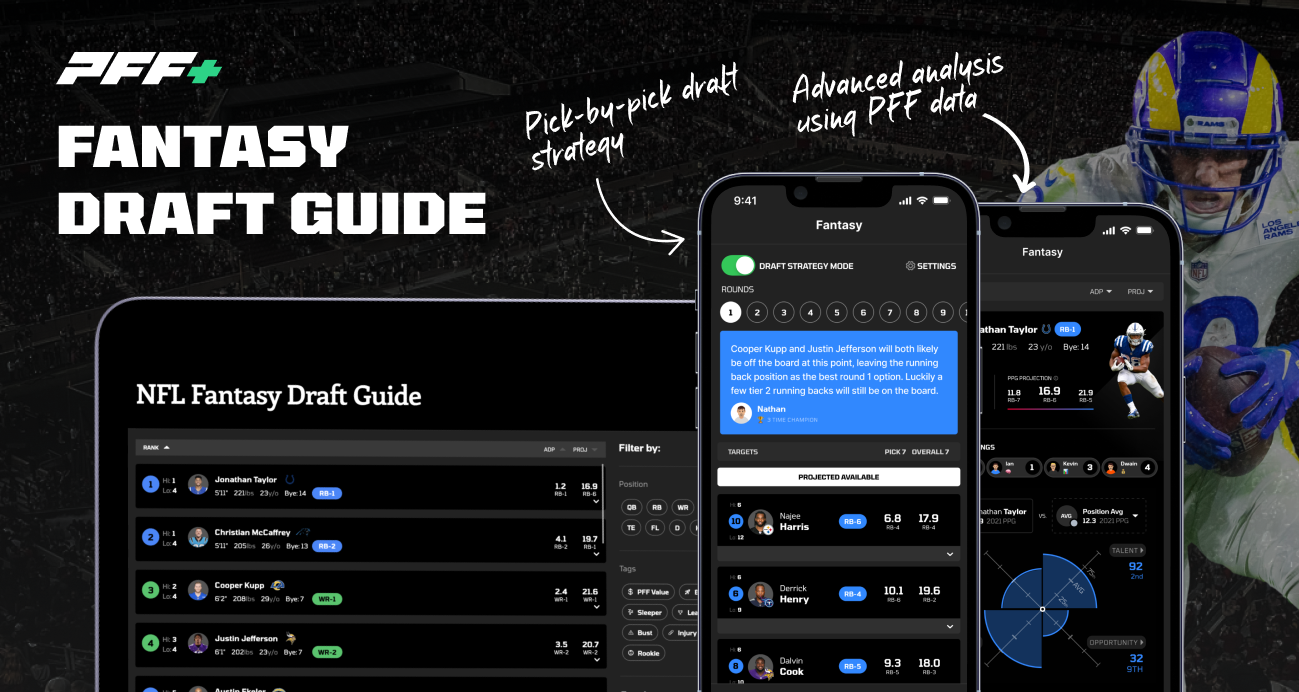 The 2021 season started off badly enough with head coach Matt Nagy's insistence on treating Andy Dalton as the team's undisputed starting quarterback while an already mediocre group of pass-catchers struggled to make life easy for whoever was under center. On the season, the Bears (38.9%) posted the NFL's lowest rate of pass-catchers considered open or wide-open last season. Not great!
The good news is that Fields doesn't need to take a major leap forward as a real-life quarterback in order to work as a solid fantasy option. Things started off rather brutal, but by the end of the season, the 2021 NFL Draft's No. 11 overall pick had racked up a handful of more-than-usable fantasy performances, flashing some truly fun big-time throws along the way:
Week 3:

QB34

Week 4:

QB31

Week 5:

QB30

Week 6:

QB19

Week 7:

QB24

Week 8:

QB3

Week 9:

QB9

Week 14:

QB8

Week 15:

QB10
The obvious boost for Fields was a newfound willingness to run as the season went on. Overall, he averaged just 3.75 rush attempts per game in his first four starts compared to 8.4 during his final five.
It's unfair to simply take Fields' most fantasy-friendly stretch and extrapolate that average over the course of a 17-game season. Still, the Ohio State product has never been a stranger to racking up yards on the ground and looked pretty good doing so in 2021.
This was cool pic.twitter.com/vfRF6hTu0P

— Ian Hartitz (@Ihartitz) July 6, 2022
There's a legitimate fantasy ceiling here should Fields keep his foot on the gas as a rusher. Overall, 11 of 12 quarterbacks to get at least 125 carries in a season went on to post top-12 fantasy production on a per-game basis, with 2020 Cam Newton (QB17) being the only exception. Seven of the 12 qualifiers finished as a top-five signal-caller on a per-game basis, so the quarterbacks aren't being overly awarded for simply staying healthy.
PFF currently projects Fields to rack up 140 rush attempts – the fourth-highest mark among all quarterbacks. Even with a potentially horrendous supporting cast, he's my QB15 ahead of Cousins and Carr at the moment. Basically, as the last quarterback fantasy managers can draft and feel even somewhat okay about entering Week 1, Fields is capable of being far better in fantasy football than in real life.
---
Other notes
Jameis Winston's average of 0.64 fantasy points per dropback led the NFL last season among 36 qualified quarterbacks. It'd make sense if the Saints' pass-play rate booms with (hopefully) Michael Thomas, Chris Olave and Jarvis Landry now in the wide receiver room.
Even an absolute boom in passing efficiency for Tua Tagovailoa could leave him outside of fantasy's top-12 quarterbacks — just look at Jimmy Garoppolo. Overall, Fields and Tagovailoa each have four career top-12 finishes.
Trevor Lawrence did show signs of a fantasy-friendly floor thanks to 19.6 rushing yards per game. Also, things can't get any worse than they were in 2022.
Matt Ryan was objectively more accurate than Carson Wentz to all areas of the field last season. The 2016 league MVP has flashed a tantalizing fantasy ceiling before, and quarterbacks don't suffer as severe of a dropoff in production while aging compared to other positions. 
Mac Jones was inarguably the best quarterback from the 2021 draft class as a rookie. He provided some legit high-end fantasy value down the stretch, putting together four top-10 finishes during the final nine weeks of the season. It'd make sense if the Patriots put more on his plate after finishing last season as the league's fifth-most run-heavy offense in non-garbage time situations.
Deshaun Watson has worked as the QB1, QB4, QB3 and QB6 in fantasy points per game during his only four professional seasons. A season-long top-12 finish is unlikely if he gets suspended for too long, but he'll be right back in the position's top-12 once eligible to start. 
Zach Wilson's biggest allure ahead of 2022 is the hope that things can't go much worse than they did in 2021. Wilson at least posted two top-eight fantasy finishes during the final six weeks of the season while Lawrence never finished higher than 10th during any given week. A healthier wide receiver room and natural Year-2 leap will hopefully bring out some of Wilson's play-making ability more consistently.
Ryan Tannehill is again set up to potentially provide some sneaky upside QB2 value.