Free agency and the 2022 NFL Draft have come and gone: It's time to fully embrace the 2022 offseason by breaking down the fantasy football aspirations of each and every team before drafts season truly gets underway in August.
What follows is a fantasy-focused breakdown of the Chicago Bears, focusing on key questions like:
How high should year-two fantasy expectations be for Justin Fields?
Is David Montgomery being priced closer to his floor than his ceiling as the offense's expected featured back?
Other than Darnell Mooney, are there any pass-catchers worth targeting inside this potentially mediocre passing game?
Every fantasy-relevant player from the Bears will be covered in the following paragraphs. Make sure to check out the PFF Team Preview Landing Page through early July for more all-encompassing fantasy football coverage.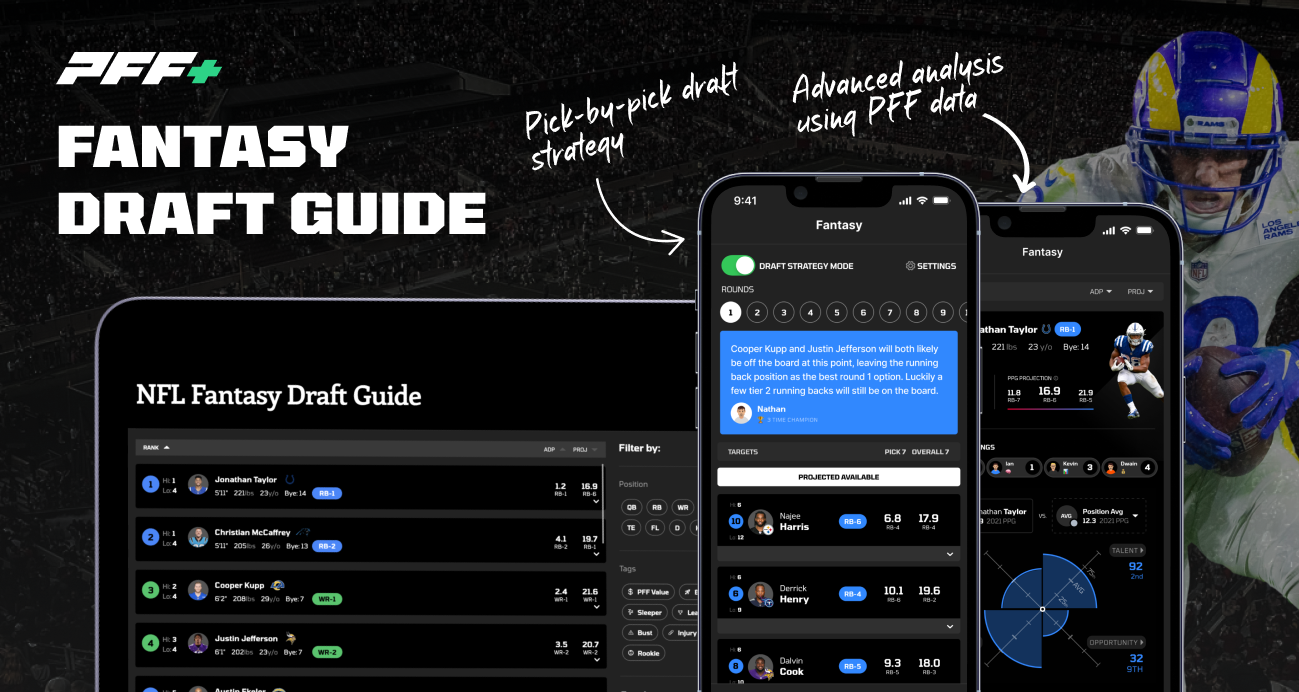 Notable offseason moves
From the front office to the coaching staff to the roster, every 2022 NFL team will be different than its 2021 version.
The Matt Nagy and Ryan Pace era is over. The promising 12-4 start of 2018 was met with back-to-back 8-8 disappointments and 2021's 6-11 third-place finish. Throw in an 0-2 playoff record, and it was clearly time for a change.
Enter head coach Matt Eberflus and offensive coordinator Luke Getsy. The former spent the last four years as defensive coordinator for the Colts, while the latter served as the passing-game coordinator and quarterbacks coach for a little someone named Aaron Rodgers from 2019 to 2021.
Of course, it's tough to know exactly how much of the offensive strategy Getsy was responsible for in Green Bay. Head coach Matt LaFleur calls plays, and now-Broncos head coach Nathaniell Hackett was the official offensive coordinator.
With that said, LaFleur's Packers haven't been afraid to establish the ole run at times while generally moving at a slow pace.
2021:

61.2% pass-play rate in non-garbage time situations (No. 16); 32.8 seconds per play in neutral situations (No. 31, Football Outsiders)
2020:

59.5% (No. 23); 32.8 (No. 32)
2019:

63.5% (No. 11); 31.1 (No. 18)
It'd be irresponsible for Getsy not to change things up in order to suit whatever he sees as the optimal strategy for the 2022 Bears, but the presence of a defensive-minded head coach doesn't help the potential for this offense to run the hell out of the ball and take their time doing it.
Additionally, the Bears have made plenty of changes to the roster. The following quarterbacks, running backs, wide receivers and tight ends have either joined or left Chicago in some way, shape or form this offseason:
QB Nick Foles:

Reunited with Frank Reich and signed with the Colts in free agency. Foles battled

Mitchell Trubisky

for the starting job throughout the 2020 season before working as the third-string option in 2021. He threw just 11 touchdowns against eight interceptions in 10 starts with the Bears.
QB Andy Dalton:

Signed a one-year, $6 million contract to serve as the Saints' backup quarterback. Dalton managed to give his team a chance to win more times than not with the Bengals (70-61-2), Cowboys (4-5) and Bears (3-3), but it's more likely than not that the soon-to-be 35-year-old veteran's best days are in the rearview mirror.
QB Trevor Siemian:

Signed a two-year, $4 million contract with the Bears. The deal includes $3,035,000 in guaranteed money, so he's clearly here to be the backup. Siemian didn't manage to lead the Saints to a victory in his four starts last season, but he did post a solid 11-to-3 touchdown to interception ratio and has a good chance of sticking around the league for a while as a backup.
RB Tarik Cohen:

Remains an unrestricted free agent. Cohen earned Pro Bowl and first-team All-Pro honors in 2018 on his way to racking up 1,169 total yards and eight offensive touchdowns to complement his returning prowess. Unfortunately, he suffered a ruptured Achilles this offseason and doesn't figure to be healthy enough to suit up anytime soon.
RB Damien Williams:

Signed a one-year, $1.6 million deal with the Falcons that includes just $500,000 in guaranteed money. Williams memorably balled out throughout the Chiefs' 2019-2020 Super Bowl run but wasn't able to earn a consistent role with the Bears in 2021 and was eventually demoted to third-string behind

David Montgomery

and

Khalil Herbert

.
RB/FB Ryan Nall:

Signed a one-year deal worth less than $1 million. Nall made his living on special teams and by blocking over the past three seasons, totaling 83 total yards and one score in 33 career games.
RB Darrynton Evans:

Set to earn a base salary of $1,005,000, he's not guaranteed a roster spot. The former third-round pick played just six games for the Titans in two injury-riddled seasons, although if healthy he could feasibly battle for a pass-down role.
RB/FB Khari Blasingame:

Signed a one-year, $965,000 contract with the Bears to presumably replace Nall as the offense's primary fullback, who is also capable of assisting on obvious passing downs.
WR Allen Robinson:

Signed a three-year, $46.5 million deal with the Rams that includes $30,750,000 in guaranteed money. Robinson turns 29 in August and is coming off easily the worst season of his career by just about any metric. Still, he's just one season removed from catching a career-high 102 passes for 1,250 yards and six scores. It'd make sense if A-Rob experiences a career renaissance of sorts ahead of a season that will almost certainly feature the best quarterback play of his life.
WR Jakeem Grant:

Signed a three-year, $10 million deal with the Browns, although just $3.035 million of the deal is guaranteed. The pint-sized speedster has flashed as a complementary receiver with the Dolphins and most recently the Bears over the years, but he figures to mostly factor in as the team's primary kick and punt returner.
WR Damiere Byrd:

Signed a one-year, $1.2 million contract with the Falcons. Byrd doesn't have much of a guaranteed role inside of the offense at the moment, but the veteran journeyman has the sort of speed (4.28-second 40-yard dash) to feasibly earn a role as a pure field-stretching threat.
WR Marquise Goodwin:

Signed a one-year, $1.2 million deal with the Seahawks that includes $152,500 in guaranteed money. The track star has averaged a robust 16.5 yards per reception while playing for the Bills, 49ers and Bears since 2013.
WR Byron Pringle:

Signed a one-year, $4.1 million contract with the Bears that includes $3.9 million in guaranteed money. Pringle caught 67-of-93 targets for 898 yards and seven touchdowns in 46 games with the Chiefs over the past three seasons, although he rarely worked as anything other than a pure complementary piece behind

Travis Kelce

and Hill.
WR Tajae Sharpe:

Signed a modest one-year, $1,035,000 contract with the Bears. Sharpe posted a modest 25-230-0 receiving line in 15 games with the Falcons in 2021 as a complementary receiver.
WR Equanimeous St. Brown:

Signed a one-year, $965,000 deal with the Bears that doesn't include a single dollar in fully guaranteed money. The 2018 sixth-round pick failed to ever really catch on in Green Bay, posting a 37-543-1 receiving line in 37 total games with the Packers.
WR Dante Pettis:

Signed a modest one-year, $1,035,000 contract with the Bears. The former second-round pick briefly flashed with the 49ers and posted a 14-163-2 receiving line in five games with the Giants over the past two seasons.
TE Jimmy Graham:

Remains an unrestricted free agent. Graham was rather inexplicably given a no-trade clause before signing with the Bears in 2020. He proceeded to post 50-456-8 and 14-167-3 receiving lines in 31 games. It remains too bad that Graham didn't end his Bears' tenure by walking off the field immediately

upon making a dope one-handed snag

on the final play of the team's wild-card loss to the Saints. 
TE Jesse James:

Remains an unrestricted free agent. The Sheriff caught just seven passes for 62 yards and a touchdown in 14 games with the Bears last season.
TE J.P. Holtz:

Signed a one-year, $965,000 contract with the Saints. Holtz has just seven catches in 44 career games and doesn't profile as anything more than a rotational backup.
TE Jesper Horsted:

Signed with the Raiders. Managed to catch two touchdowns on three targets in the 2021 regular season and added another three scores in the preseason. It's unclear what more the man was supposed to do. 
TE Ryan Griffin:

Signed a one-year, $2.25 million contract with the Bears that includes $750,000 in guaranteed money. His best season came in 2016 with the Texans (50-442-2). Otherwise, he's failed to reach even 45 receptions or 350 yards in a single season.

TE James O'Shaughnessy:

Signed a one-year, $1.12 million contract with the Bears. Played in 57 games with the Jaguars from 2017 to 2021, totaling 104 receptions for 1,022 yards and three scores. Still, O'Shaughnessy only started 34 of a possible 57 games and never reached even 30 receptions or 300 receiving yards in a single season.
Sadly, arguably the two most meaningful additions made to these position groups came in the draft. The Bears drafted elderly Tennessee WR Velus Jones Jr. with the 71st pick and dynamic Baylor RB Trestan Ebner in the sixth round. Jones figures to immediately compete for a starting spot in three-WR sets, while Ebner could feasibly find some work on obvious pass downs. Still, this might be wishful thinking for Ebner: The fantasy track record of players selected outside the draft's top three rounds isn't pretty.
Fields had some serious flashes in Year 1. Don't believe me? Watch the film.
Justin Fields pic.twitter.com/2tsbcAy69y

— Ian Hartitz (@Ihartitz) February 1, 2022
However, there was plenty of bad to go along with the good. Overall, Fields posted the single largest difference in big-time throw rank vs. turnover-worthy play rate, an "honor" that Drew Lock, Jameis Winston and Ryan Fitzpatrick claimed in the previous three seasons.
Fields' performance relative to fellow rookie quarterbacks over the past two years at least leaves some room for optimism, but as a whole, it's tough to quantify his 2021 campaign as anything other than pretty bad.
Of course, this was hardly all on Fields. The season started off badly enough with head coach Matt Nagy's insistence on treating Andy Dalton as the team's undisputed starting quarterback, all while an already mediocre group of pass-catchers struggled to make life easy for whoever was under center. On the season the Bears (38.9%) had the NFL's lowest rate of pass-catchers considered open or wide open last season. Not great!
The good news: Fields doesn't need to take a major leap forward as a real-life quarterback in order to work as a solid fantasy option. Things started off rather brutally, but by the end of the season, the 2021 NFL Draft's No. 11 overall pick had racked up a handful of more than usable fantasy performances:
The obvious boost for Fields was a newfound willingness to run as the season went on. Overall, he averaged just 3.75 rush attempts per game in his first four starts compared to 8.4 during his final five.
It's unfair to simply take Fields' most fantasy-friendly stretch and extrapolate that average over the course of a 17-game season, but the Ohio State product has never been a stranger to racking up yards on the ground and looked pretty good doing so in 2021.
This was cool pic.twitter.com/vfRF6hTu0P

— Ian Hartitz (@Ihartitz) July 6, 2022
There's a legit fantasy ceiling here should Fields keep his foot on the gas as a rusher. Overall, 11 of 12 quarterbacks to get at least 125 carries in a season went on to post top-12 fantasy production on a per-game basis, with 2020 Cam Newton (QB17) being the only exception. Seven of the 12 qualifiers finished as a top-five signal-caller on a per-game basis, so the quarterbacks aren't being overly awarded for simply staying healthy.
Including the bad with the good produces an average of 6.3 rush attempts per game — a mark that would produce 108 rush attempts across an entire year. Fields likely won't have too much room for error, given the aforementioned sad state of the rest of the offense, but his dual-threat profile isn't far removed from the likes of Jalen Hurts and Trey Lance.
None of the Bears' offseason additions at running back, wide receiver or tight end figure to bode particularly well for Fields, as PFF ranks the Bears' receiving crops as the single worst unit in the league. Throw in PFF's 31st-ranked offensive line entering 2022, and it's fair to say the Bears have absolutely zero plans on fielding an overly competitive team this season.
And yet, Fields stands out as the cheapest available potential high-end dual-threat quarterback available in fantasy. The QB16 over at Underdog Fantasy, Fields is my QB14 and an ideal second quarterback to roster in traditional re-draft formats. The likes of Kirk Cousins and Derek Carr will likely score their fantasy points in a far more aesthetically pleasing manner than Fields inside this dumpster fire of an offense, but the elite rushing upside at hand has me favoring the rising second-year quarterback ahead of these veterans with higher ADPs. Only Lamar Jackson, Jalen Hurts and Josh Allen are expected to handle more rush attempts than Fields in PFF's fantasy projections.
Montgomery has surpassed 1,000 total yards in each of his first three professional seasons while making 24 trips to the end zone along the way. Expectations have occasionally run rampant for the 2019 third-round pick, and Montgomery hasn't exactly emerged as one of the league's clear-cut better running backs:
PFF rushing grade:

78.3 (No. 32 among 93 running backs with at least 100 carries since 2019)
Yards per carry:

3.9 (No. 72)
Yards after contact per carry:

2.7 (No. 65)
Missed tackles forced per carry:

0.19 (No. 22)
Montgomery's volume has been the real key to his success. Averaging 278 touches per season since 2019, D-Mont has always worked as the offense's early-down plodder and took over the passing-down work for extended stretches with Cohen injured.
The million-dollar question: Will this usage continue? Bears beat reporters have already murmured about the idea that Herbert could handle a larger role in 2022, and both Eberflus and Getsy have quite the history of utilizing multi-back committees. While the latter coach never exactly called plays in Green bay, he did have a first-class seat to Matt LaFleur never quite giving Aaron Jones the sort of every-down role that fantasy managers were dying for.
Herbert posted superior efficiency numbers than Montgomery in every meaningful statistic as a rusher, flashing some solid open-field elusiveness along the way.
Khalil Herbert doing some fun stuff as a rookie pic.twitter.com/6Te0OL1slq

— Ian Hartitz (@Ihartitz) July 6, 2022
Hell, apparently even Ebner has impressed early in the offseason. Eberflus even noted: "Just an explosive athlete who can run the whole route tree, as you saw today on that great catch he made. … He's been really learning a lot. He's a mature young man and we like where he is in terms of learning the offense and what kind of man he is."
History tells us not to expect much from players drafted outside the top three rounds, even after their rookie season. Montgomery remains the projected starter and leader in overall production entering 2022. Still, his ceiling might be going a bit overstated, given the likelihood that this is far more of a committee system this season. Montgomery and Jones are different players; just realize the former has 14 games with at least 20 carries over the past two seasons while the latter has just four.
The league's reigning 27th-ranked scoring offense hardly looks to be on the verge of making a massive leap forward. The coaching staff and front office turnover make Montgomery's stranglehold on a workhorse role more flimsy than ever. He needs to replicate his status as the RB8 and RB9 in expected PPR points per game in order to make up for what is likely another season of sub-standard efficiency and scoring upside.
Ultimately, I'm in line with the public's present feeling on Montgomery. He's my RB20 and carries the same ADP over at Underdog Fantasy. While I'd take guys like Ezekiel Elliott (better offense) and Breece Hall (better chance of workhorse role) ahead of Montgomery, his proven three-down ability in a fairly soft depth chart has me prioritizing him ahead of backs far more likely to be in multi-player committees like Cordarrelle Patterson, Josh Jacobs, Elijah Mitchell, and Antonio Gibson.
I have far more exposure to Herbert (my RB46) at his reduced cost, but even then, don't get carried away considering he could see more of a committee role should Montgomery miss time. It's probably not a bad thing if your fantasy team isn't overly exposed to this likely bottom-10 scoring offense.
The word out of Bears OTAs is that Mooney, Pringle and Jones will work as the Bears' top three receivers as training camp beings. They're also probably the only three receivers guaranteed to be on the roster come Week 1.
Obviously, Mooney is the projected clubhouse leader. Fresh off an 81-1055-4 campaign, the Bears' 2020 fifth-round pick essentially overtook a hobbled Allen Robinson as the offense's No. 1 pass-game option. The result was a WR31 finish in PPR points per game on a robust workload that actually yielded the 18th-most expected PPR points per game on the season.
Here's the thing: Mooney hasn't exactly posted the same sort of high-end underlying metrics as the likes of Terry McLaurin and Brandin Cooks, fellow No. 1 receivers in bad passing games. Demanding a lot of targets is just about the only area in which Mooney can be considered anything more than an average professional receiver, and even then his numbers are far closer to guys like Laviska Shenault and Jamison Crowder than truthers would want to admit:
PFF receiving grade:

73.5 (No. 52 among 78 wide receivers with 100-plus targets since 2019)
Yards per route run:

1.48 (No. 59)
Yards per reception:

11.9 (No. 56)
Targets per route run:

20.1% (No. 45)
It's not impossible for bad offenses to enable a good fantasy wide receiver, although history tells us not to necessarily chase these situations. On average, the top-scoring wide receiver from a bottom-10 scoring offense has finished as the WR32 in full-PPR scoring over the last five years. There have been 20 instances of these low-scoring offenses producing a top-24 wide receiver, but also 20 of them not enabling anybody ranked higher than 35th.
Don't hate the player, hate the ADP. And Mooney's status as the WR28 over at Underdog Fantasy is plenty affordable for someone PFF projects to rack up the 13th most targets at the position. I'm fine buying Mooney at this price tag; he's my WR28 ahead of olds like Adam Thielen and Amari Cooper but behind more talented youngsters with slightly lower target projections like Rashod Bateman, Amon-Ra St. Brown and Jerry Jeudy.
And then there's Jones, who ran a blistering 4.31-second 40-yard dash at the NFL combine and is fresh off a career-best 62-807-7 receiving line at Tennessee. The problem is that Jones is already 25 years old, but this fact alone shouldn't simply make him a non-viable fantasy option. Very much projected as a starter in three-WR sets, Jones was selected with the 71st overall pick for a reason and shouldn't be discounted as a potential Day 1 contributor just because he's a bit long in the tooth.
Similar to Jones, Pringle is a viable late-round dart thanks to his projected starting spot in three-WR sets, but that's about the only real allure here. Credit to him for posting 6-103-1, 5-56-0, 6-75-2, 5-37-2, and 5-29-1 receiving lines in his only five career games with more than six targets, but his inability to lock down a consistent starting spot in the Chiefs' wide-open receiver room over the past few seasons is troubling. The former undrafted free agent turns 29 in November.
Ultimately, both Jones and Pringle are only worth throwing a late-round dart at in best-ball formats on a roster that already has Fields. I lean toward the former receiver thanks to his superior commitment from the organization, but neither should be drafted in traditional re-draft formats. Just be careful about having too strong an opinion on a third-round pick's future, for better or worse, before they have played a single professional snap.
Kmet has posted 28-243-2 and 60-612-0 receiving lines after two seasons of action, regularly losing out on fantasy-friendly red zone work due to the presence of (now free agent) Jimmy Graham. This is actually pretty solid production for a young tight end, and the 23-year-old talent has put forward quality efficiency numbers relative to other players at the position in their first two years:
PFF receiving grade:

61.3 (No. 24 among 36 tight ends with at least 50 targets in their first two seasons since 2015)
Yards per route run:

1.13 (No. 27)
Yards per reception:

9.7 (No. 29)
Targets per route run:

17.3% (No. 19)
Similar to Montgomery, Kmet also faces the prospect of not having his usual near every-down role should offensive coordinator Luke Getsy deploy a similar rotation as he did in Green Bay. Neither Griffin nor O'Shaughnessy are expected to threaten Kmet's status as the starting tight end; just realize even a small drop-off in routes could be detrimental inside of an offense not likely to make up for a lack of volume with efficiency or copious scoring opportunities.
Kmet is going off the board as the TE14 over at Underdog Fantasy. He's a fine enough stacking partner with Fields, but I find myself preferring guys like Irv Smith Jr., Robert Tonyan, Gerald Everett and Tyler Higbee at cost thanks to their vastly superior offensive environments and potential for similar target share should Kmet's role take a slight hit inside of this new offense.
PFF does project Kmet for the position's sixth-most targets, but even then he comes in as just the 11th-ranked player. That's not exactly the sort of upside worth prioritizing in the middle or even later rounds of drafts.