All four home teams emerged from the Divisional Round victorious, as the Chiefs, Rams, Patriots, and Saints took care of business on their home turfs to advance to the Conference Championship round.
What did we learn about those teams this weekend, and what does it mean for them — from a fantasy perspective — in 2019?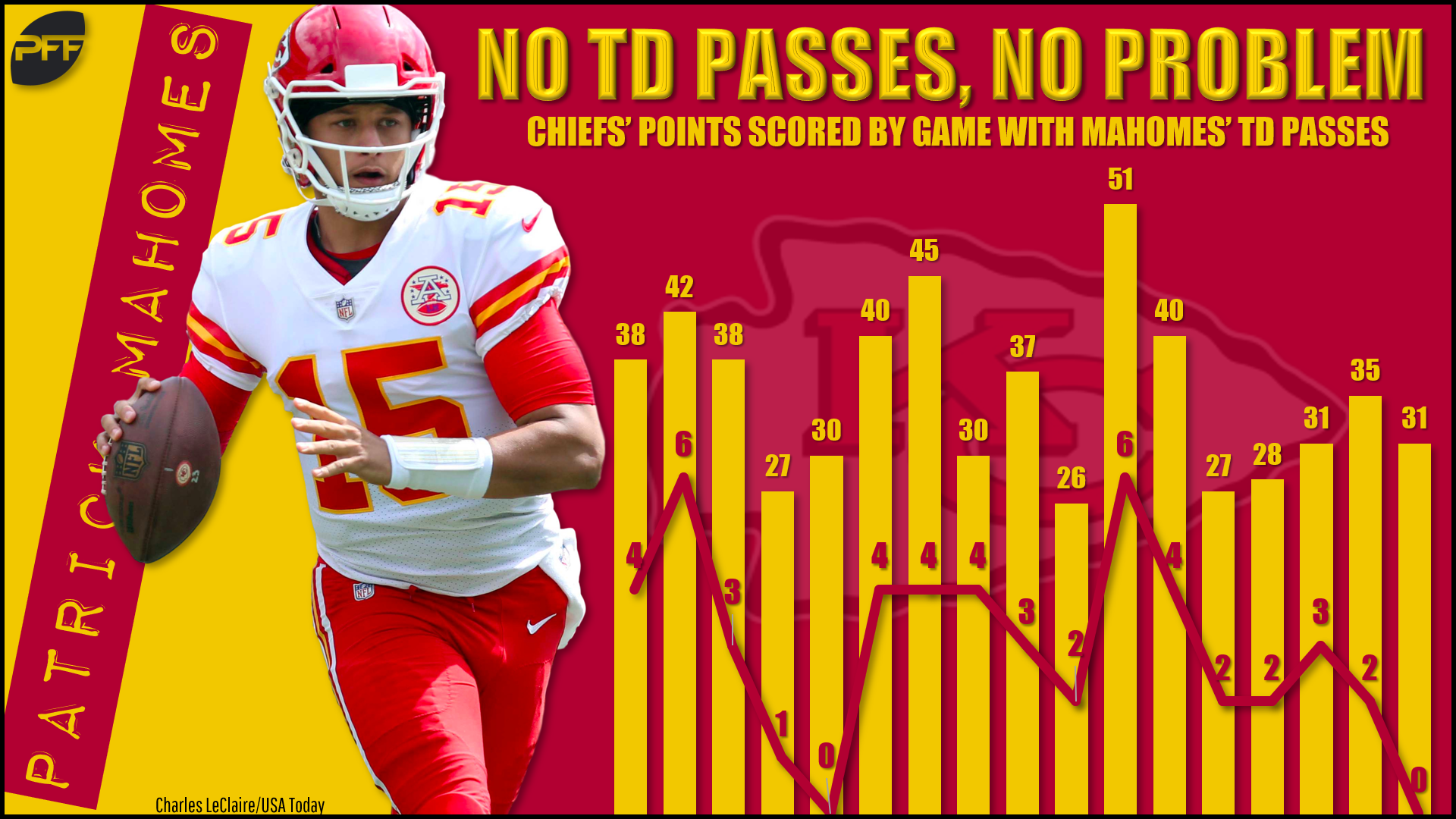 The Chiefs can ride Damien Williams to victory, and the rest of their offense can still be viable fantasy options in the process. The Chiefs dropped 31 points over the weekend despite the fact that Patrick Mahomes, he of 50 passing touchdowns this season, didn't throw for a score. Kansas City rode Williams to victory, as he parlayed 25 attempts into 129 yards and a score.
Mahomes still scored (on the ground), Tyreek Hill still topped over 100 total yards and found the end zone, while Travis Kelce caught seven passes for 108 yards. Even Sammy Watkins returned at-cost value with a 6-62-0 line. It goes to show that even with a different approach, Kansas City can still drop the hammer and produce a litany of viable fantasy options in the process.
A healthy Watkins gives this offense another big threat that they really don't need. It seems unfair that Watkins, an inconsistent but undeniably high-ceiling talent, rejoined the Chiefs in time for a playoff run. Watkins hadn't played with significant volume since early November, yet he returned to action with a strong 6-62-0 line, highlighted by a 34-yard catch and run early in the contest. In DFS, Watkins will never be as high-owned as Mahomes, Kelce, Hill, and now Williams, but he gives you access to the offense nonetheless with big-play ability.
Todd Gurley is in a full-blown committee with C.J. Anderson. C.J. freakin' Anderson. It's not even a stretch to say Anderson is leading the committee at this point. Anderson had 23 carries for 123 yards and two scores last week, compared to 16-115-1 for Gurley. Both players were solid DFS plays at the end of the day, but Anderson's heavy involvement despite a supposedly fully healthy Gurley (he was removed from the injury report) was shocking.
I know, I know … "RBs don't matter!" … but Gurley is clearly superior to Anderson is every way, and it's hard to fathom this split continuing for the rest of the playoffs. Look for Gurley to be super low-owned in DFS this weekend, while Anderson goes over-owned.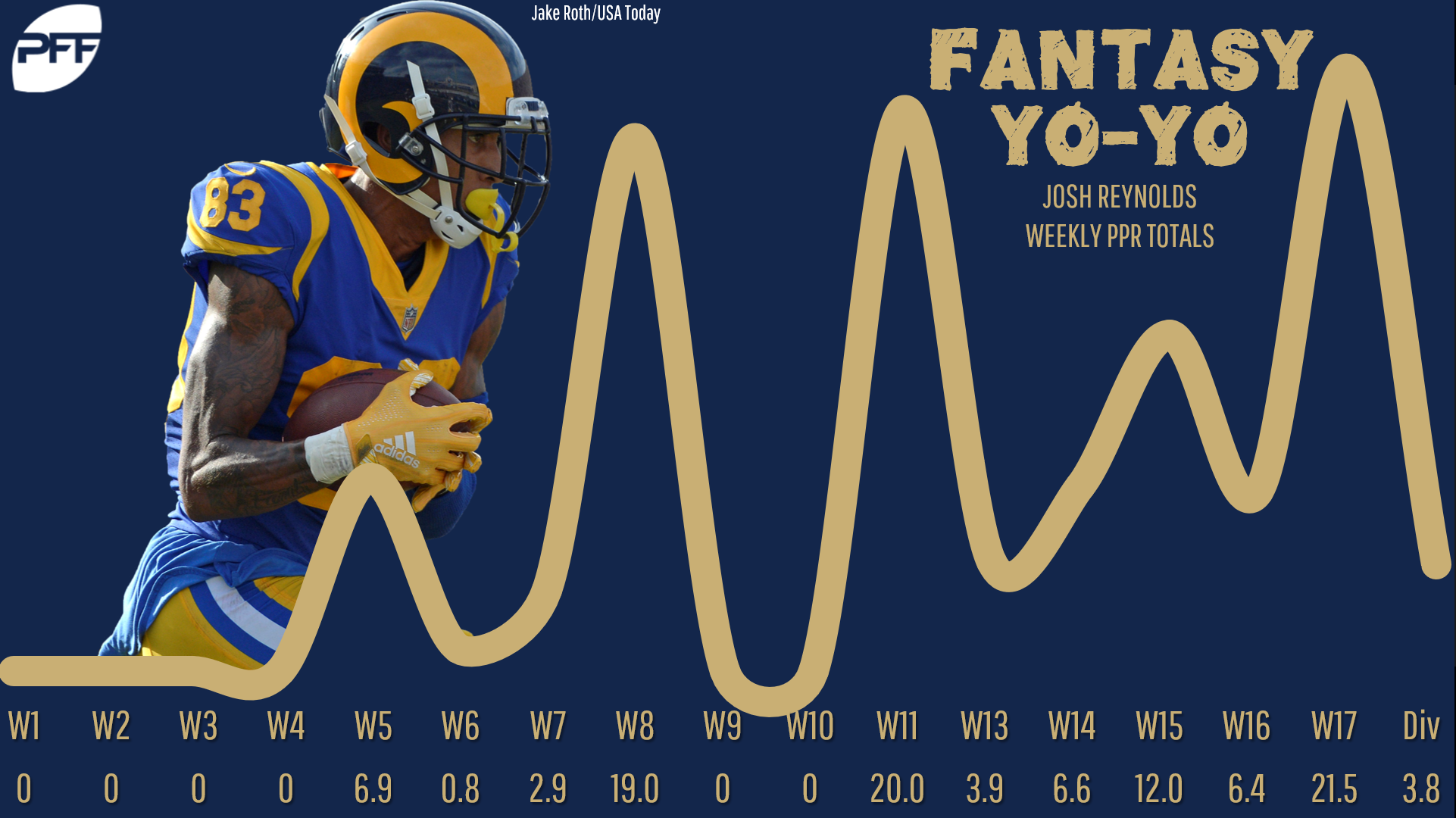 Josh Reynolds is a GPP play only. Reynolds has been maddening ever since the Cooper Kupp injury. He started the post-Kupp season with a 6-80-1 line, then had two games with under 40 yards, followed by a 5-70-0 line on 12 targets (!), immediately followed by a two-target game. He finished with a big Week 17 (4-55-2), but his playoff debut ended with just one catch for 19 yards (and a rush for nine yards). Reynolds should be a value, but the usage is unflattering. I wouldn't touch him in DFS cash games at this point.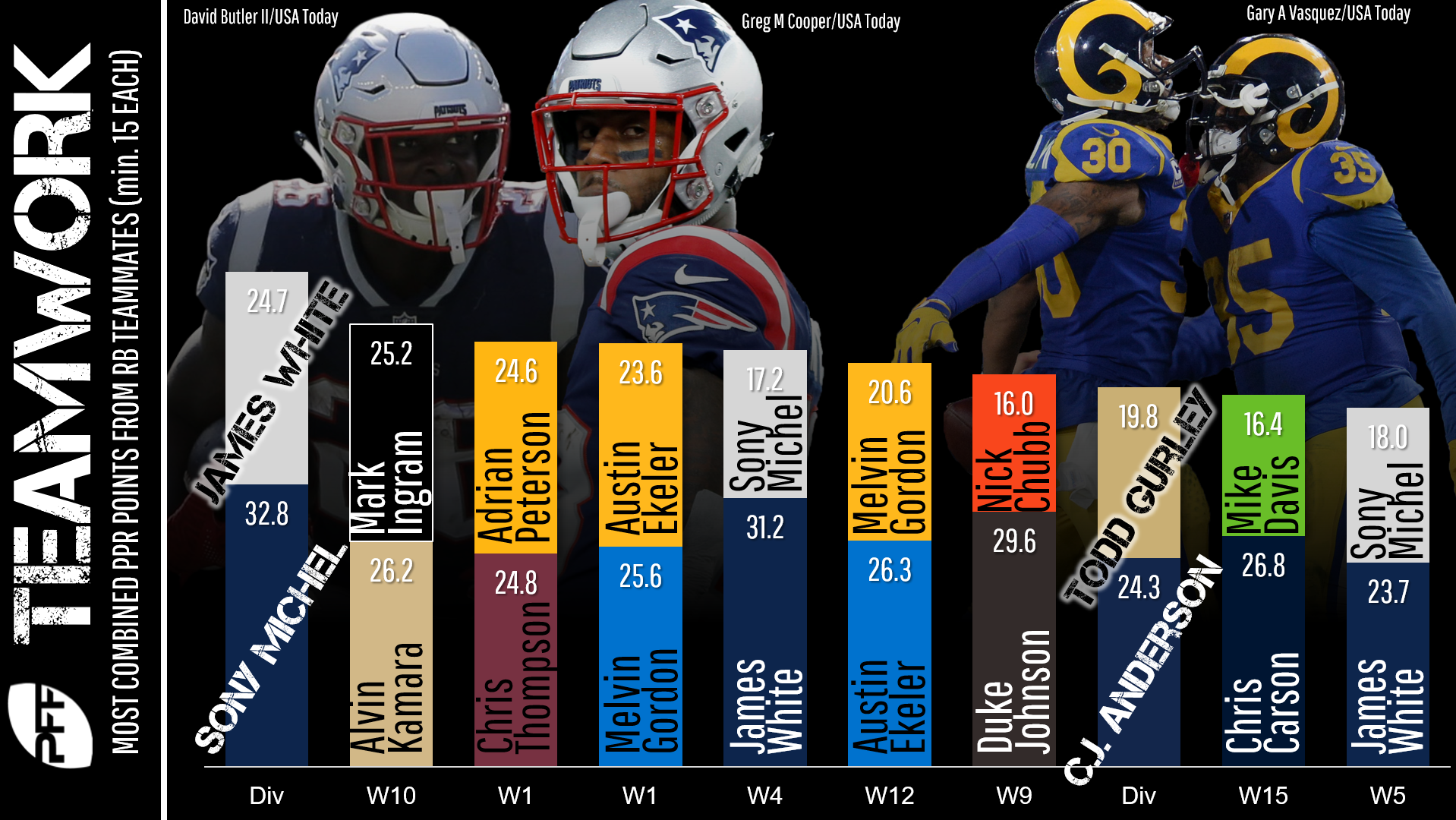 The Patriots appear to have been saving James White for the playoffs. Tom Brady completed a strong 34 passes — and 44% of them (15) went to White as he tied a playoff record for receptions in a game. White has now been a force in the playoffs for three straight postseasons, and he appears well on his way to another dominant postseason in 2018/2019. The heavy usage should quell concerns over White's usage after he had four or fewer receptions in three of New England's last four regular season games.
Rob Gronkowski is a low-percentage-play GPP option only. There was a school of thought that a banged-up Gronkowski wasn't heavily utilized over the second half of the season to make sure he was preserved for the postseason, but that theory didn't hold water as Gronkowski caught just one pass for 25 yards.
Gronkowski absolutely was a huge factor in New England's overall success last week — his blocking was phenomenal, he drew a pass interference in the end zone, and he cleared out space for Julian Edelman or James White on several occasions — but it doesn't appear in the stat sheet like it used to. It's hard to watch Gronkowski do stuff like this and think he can't dominate a game, but the opportunity isn't there anymore.
Alvin Kamara is going to be heavily utilized in the playoffs. We had a sense this was coming when Kamara rested in Week 17 while Mark Ingram played, but it was confirmed in the Divisional Round as Kamara out-touched Ingram 20 to 11. Kamara was quiet overall (for him) with "only" 106 total yards, but he did have a 45-yard touchdown catch get called back because of a penalty. The Saints didn't really need anyone other than Michael Thomas, who ran circles around the Eagles all day, but that will draw more DFS ownership to Thomas and less to Kamara for the Conference Championship game. I'll be striking on Kamara as a buy-low.
Keith Kirkwood is one of the best DFS punt options — not just on the Saints, but of all remaining teams. He hasn't ever blown up in the stat sheet, but Kirkwood does have at least two receptions in six of his last eight, at least 30 yards in five of eight, and a touchdown in three of his last six (including one last weekend). Kirkwood isn't going to single-handedly win you any big money, but in a DFS week featuring the four best offenses in football, you'll have to pay down somewhere to afford some of the studs. Take a long look at Kirkwood.