Obviously, a lot happens each week in the NFL. Less obviously, some of it means a lot for fantasy football and some doesn't. Each week in this space, I'm running through the key lessons from each game.
This is what we learned in the Week 9 games.
Coleman concerns
At his peak, Tevin Coleman is a bona fide RB1. But the problem with trusting him is that, despite being the run-heaviest team in the league, the 49ers just don't lean on Coleman like other teams do on other top-flight backs. Coleman had only 12 of the 49ers' 18 backfield carries Thursday, along with 4 of the 7 targets. As we saw in Week 8 against Carolina, the highs are going to be very high with Coleman, but the usage means the lows will be very low as well.
Bad news for Edmonds
Kenyan Drake had a monster Cardinals debut, totaling 162 scrimmage yards and scoring a touchdown only three days after joining Arizona in a trade. And while David Johnson is still David Johnson and will get his job back in relatively normal form when he's healthy, this could destroy the fantasy value of Chase Edmonds if and when he gets healthy. Even if he makes it back, there's little chance Edmonds reclaims his full No. 2 back role, and more likely he's the No. 3. Edmonds is droppable.
This is Hyde's sixth season. He's never had 1,000 rushing yards, topping out at 988 with the 49ers in 2016. Well through nine games this year, counting his massive 160 Sunday, Hyde has 704 on the year, putting him on pace for 1,252 on the year. His scoring isn't on that sort of pace, and he has barely any involvement in the Texans' passing game, but the rushing has made Hyde a borderline RB2.
Minshew Magic runs out
In his first five games this season, Gardner Minshew had a 9:1 TD:INT ratio and put up at least 16 fantasy points in every game. In his last four, he has a 4:3 ratio (with three of the scores coming in one game) and has had under 10 points twice. Nick Foles is eligible to return in Week 11 after the Jaguars' bye, and with Minshew's recent struggles, nobody should be surprised if the Jags go back to their old starter.
The switch appears to have happened
I noted in this space a week ago that Devin Singletary had jumped Frank Gore on the depth chart in terms of snaps played, but I wanted to see it happen in a game with a different gamescript before I was totally convinced. Well, we got that Sunday. With the Bills leading throughout, Singletary still played 40 snaps to Gore's 21, and had 23 touches to Gore's 11. Singletary is the only Buffalo back you want going forward.
One old man down, one old man up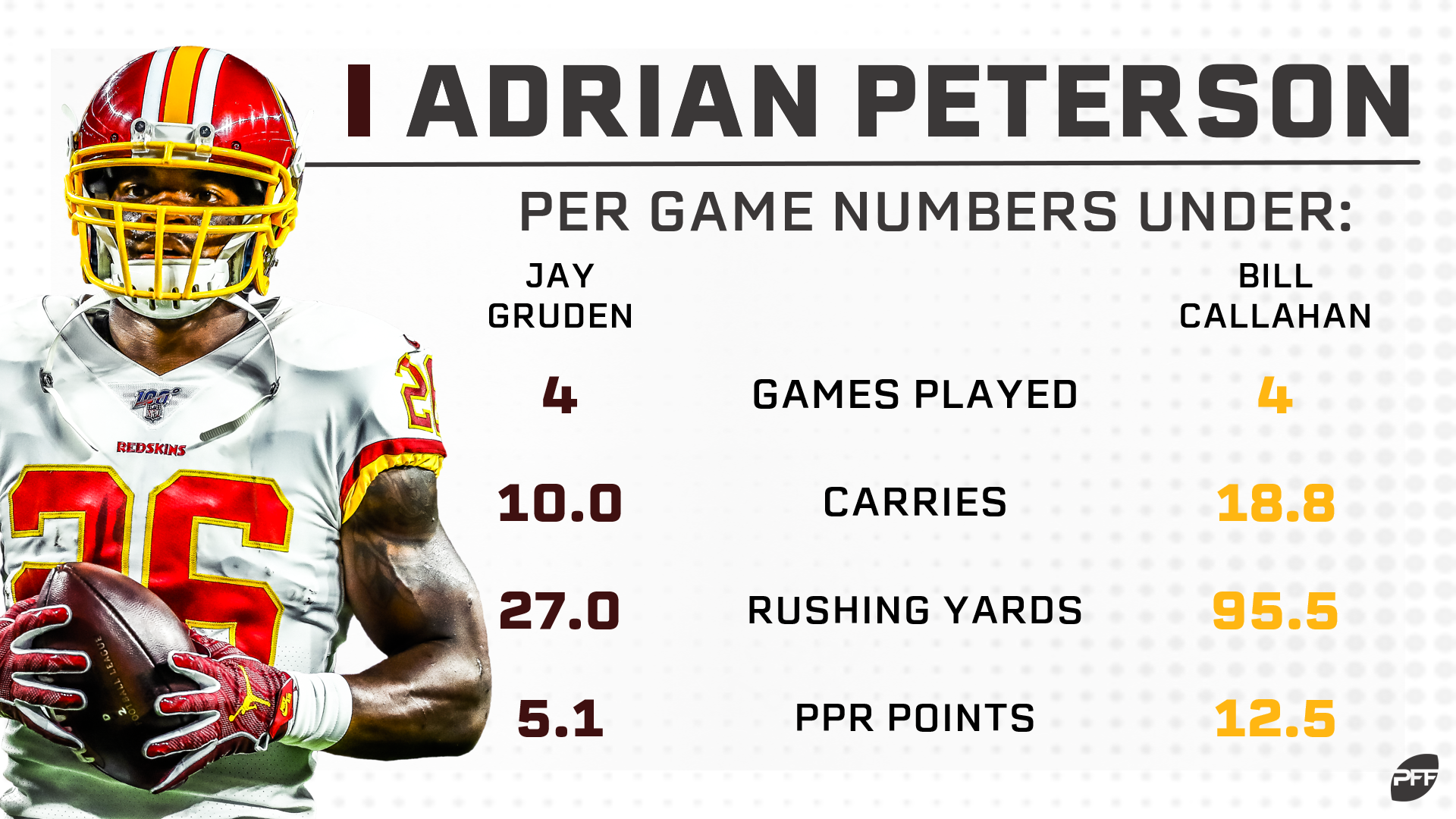 As Gore is fading into the background, the league's other oldest running back, Adrian Peterson, is coming on strong. Peterson had 108 rushing yards Sunday (on an impressive 6.0 yards per carry), his fourth straight game with 76 or more yards — he has 95.8 rushing yards per game in that span. He also added 22 receiving yards. This is going to be a running team until it finds a quarterback, and who knows when that will happen. Peterson's an RB2 for the time being.
We'll need more than a one-game sample size to say this definitively, but Sunday the Chiefs backfield belonged to Damien Williams. He had 14 touches compared to 4 for LeSean McCoy and 1 for Darrel Williams. McCoy, who has had two crushing fumbles in recent games, can't possibly be in fantasy lineups going forward unless and until something changes, while Damien Williams would be a high-end RB2 if things continue.
What a weird receiving game
Adam Thielen had one target and no receptions Sunday. Okay, that's fine, maybe he wasn't actually ready to be all the way back. But only 1 catch for 4 yards for Stefon Diggs? While Laquon Treadwell had 58 yards? Receiving touchdowns for Kyle Rudolph, Ameer Abdullah, and Olabisi Johnson? I'm not even pretending to draw any conclusions there. Just weird.
A big game with an asterisk
The Dolphins won! Ryan Fitzpatrick had one of his occasional he games, and Mike Gesicki (95 yards), Preston Williams (72 yards, 2 touchdowns), and DeVante Parker (57 yards and a score) performed as well. Obviously, we aren't betting on the Dolphins being an offensive powerhouse now, and Williams being carted off late in the game hurts. But if Williams is back going forward, he's an interesting name, and if he misses time, we don't have a choice but to give Parker a long look as the team's clear No. 1 receiver.
Anderson droppable?
Robby Anderson has only two games out of eight this season with more than 43 yards (81 yards in Week 2 and 125 in Week 6 — of which 92 came on one play). He has one score and one game with more than 4 catches. It's worth noting that the Jets schedule gets considerably easier going forward (they face the Giants, Washington, the Raiders, and the Bengals over the next four weeks), but still, it's hard to imagine ever putting Anderson in your lineup with any confidence.
Bounceback from Ertz
After a very frustrating stretch (8 receptions for 112 scoreless yards across the last three weeks combined), Zach Ertz had a breakout Week 9, catching 9 passes for 103 yards and a touchdown Sunday. Whether the return of DeSean Jackson opened the field up for Ertz or not is tough to answer, but it's not like it's a surprise that Ertz has this sort of game in him. He's still a TE1, and that was clear even before Sunday. The problem is those other games. Ertz will be in the conversation for the second tier at the position (TE4-7 range most weeks), but until this happens more often he's not going to push for the top.
Time to bail on the Chicago offense
The Bears had two players (David Montgomery and Taylor Gabriel) reach even 10 receiving yards. Only those two and Tarik Cohen topped 15 from scrimmage at all. Mitchell Trubisky could scarcely look much worse these days, and he's not getting helped by his offensive line. Montgomery saved his day with two scores to go with his 76 yards (22.6 PPR points), and Allen Robinson has mega upside most weeks, but those are literally the only two Bears worth rostering.
Samuels isn't a running back
To be clear, as long as James Conner is out, Jaylen Samuels will be the Steelers running back. But he's just not one. He had 13 receptions Sunday and only 8 carries. Trey Edmonds had 12 carries. Samuels will maintain value — especially in PPR leagues — as long as Conner is out, but it's unlikely we ever see him get the kind of workload Conner or Le'Veon Bell usually get/got.
Yes, T.Y. Hilton was out Sunday, giving Pascal the opportunity to perform. But Pascal now has four touchdowns on the year and three games of 70-plus yards. With Devin Funchess out and the Parris Campbell/Deon Cain types failing to pop, Pascal has made himself the clear No. 2 receiver in this offense, and the No. 1 for however long Hilton is out. Obviously, the Jacoby Brissett injury is one to monitor, but Pascal produced with Brian Hoyer on Sunday as well.
Moore or Samuel? Both?
Curtis Samuel had 3 receptions for 64 yards and a score Sunday, adding 10 rushing yards. D.J. Moore had 7 receptions for 101 yards. Now, since Kyle Allen took over as the Panthers' starting quarterback, Moore has 77.4 PPR points, while Samuel has 78.8. There isn't really a No. 1 receiver in Carolina, but there isn't a No. 2 either. Take either one and enjoy.
Okay, well, no. Henry's never going to be mistaken for James White out there. But he has two receiving touchdowns this year (he had one in his career before this season) and 164 receiving yards (previous career high: 137). He had 3 receptions Sunday, a modest total but his highest since the middle of his rookie year in 2016. The veritable disappearance of Dion Lewis in this offense (Sunday was his first game all year with more than 30 scrimmage yards) has made Henry ever-so-slightly more involved in the passing game, helping out his already-high value.
Workhorse Jacobs
Josh Jacobs had 28 carries Sunday, his second game with 25-plus carries this year. Only Leonard Fournette (twice) and Marlon Mack, at 29 each, have had more than Jacobs' 28 so far this year. You'd like Jacobs to have more involvement in the passing game (he went receptionless Sunday), but as long as he's getting this sort of carry load, he's a fantasy star.
Golladay and Jones can co-exist!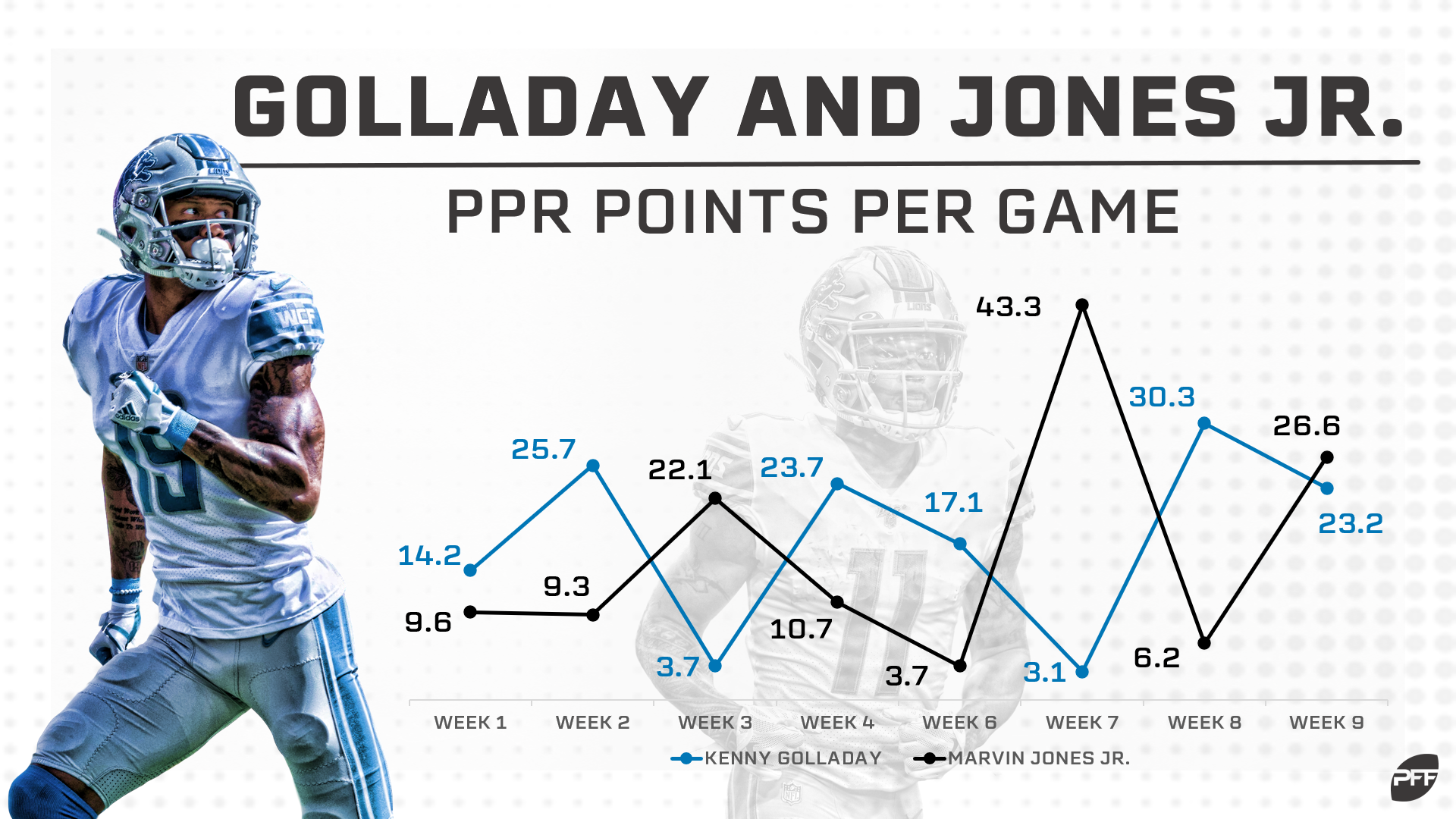 One of Kenny Golladay and Marvin Jones has topped 14 PPR points in every game this season, but never had they both done it until Sunday, when Golladay (4/132/1) had 23.2 points and Jones (8/126/1) had 26.6. Once again the Lions couldn't get a lot going on the ground, but this passing offense has been one of the league's most explosive this year, and that makes both guys strong fantasy options. Golladay is a WR1, while Jones is a low-end WR2.
Don't go crazy or anything, but Hollister absorbed the Will Dissly role Sunday and responded well, catching 4 passes for 37 yards and a pair of touchdowns, including the game-winner in overtime. The Seahawks could have activated Ed Dickson for Sunday's game and chose not to, rolling with Hollister and Luke Willson. Hollister was rumored as a sleeper in his Patriots days, which never materialized, and it's too early to say that's what's happening here, but it's at least worth watching.
There aren't that many takeaways from the Tampa Bay passing game. Mike Evans is good, Chris Godwin is too, Breshad Perriman had a touchdown that we aren't going to count on. So once again, let's look at the Buccaneers running backs, where Jones got the start and had 18 of the team's 23 backfield carries, offering 67 yards (3.7 yards per attempt) and a touchdown. Dare Ogunbowale got a touchdown as well on his lone carry. That brings Jones to 92 carries on the year (29 in two games since the bye) compared to 83 for Peyton Barber (14 since the bye). You aren't going to be excited here, but if you're rostering a Tampa Bay running back, it's Jones.
Maybe this is more an indictment of the Browns than anything else, but Allen didn't look like a sixth-rounder in his fourth seasons seeing his first game action Sunday, as he threw for only 193 yards but had 2 touchdowns and no turnovers. Ultimately, this is still Brandon Allen, and you aren't worrying about him in fantasy unless it's a super-deep league, but if Allen can be competent it will help Courtland Sutton and perhaps Noah Fant maintain value.
Last hurrah for Chubb?
Nick Chubb had 20 carries Sunday, but turned them into only 65 yards. He added 26 receiving yards. His day ended up producing 13.1 PPR points, a fairly pedestrian total for a guy who was a popular DFS pick for the week. And with Kareem Hunt eligible to return in Week 11, Chubb's days as a no-doubt RB1 might be numbered. He's still likely the team's No. 1 back, but his upside is capped.
Henry the team's top receiver?
Since his return from injury, Hunter Henry leads the Chargers in targets (33, leads by 3), receptions (25, leads by 9), receiving yards (328, leads by 29) and receiving grade (90.9). Keenan Allen's early-season dominance has worn off, and while he, Mike Williams, and Austin Ekeler are all noteworthy parts of the offense, it's Henry who has gotten the most looks, and that makes him an easy TE1 with top-tier upside.
Plenty of work for Adams
The Packers offense overall had a miserable day Sunday, not finding the end zone until the last seven minutes of the game and managing only 184 yards of offense. And while Davante Adams only had 41 yards in the game in his return after missing all of October, he led the team with 11 targets and 7 receptions. Things will be better for the Packers offense than they were Sunday, and Adams will be back to the top of the depth chart.
Jackson might have forced his way into the MVP conversation by beating up on the Patriots Sunday, but he was the only real beneficiary of his performance, as Marquise Brown led the Ravens in passing yards with only 48 and Nick Boyle caught the only touchdown pass. Mark Ingram had a good day rushing, Gus Edwards ran one in, and Mark Andrews will have better days, but as good as Jackson is, his rushing means the Ravens aren't exactly very diversified in their fantasy offerings.
Hope you moved on the Patriots D
This time a week ago, you probably could have gotten a significant trade return for the Patriots defense, and getting anything of value in a trade for a defense is vanishingly rare. (This isn't hindsight; I wrote a couple weeks ago how you should absolutely trade away the DST.) This one game probably knocks that potential return way down. If the Patriots DST has another big game before your league's trade deadline, explore the options.