Obviously, a lot happens each week in the NFL. Less obviously, some of it means a lot for fantasy football and some doesn't. Each week in this space, I'm running through the key lessons from each game.
This is what we learned in the Week 7 games.
Have the Vikings become … predictable?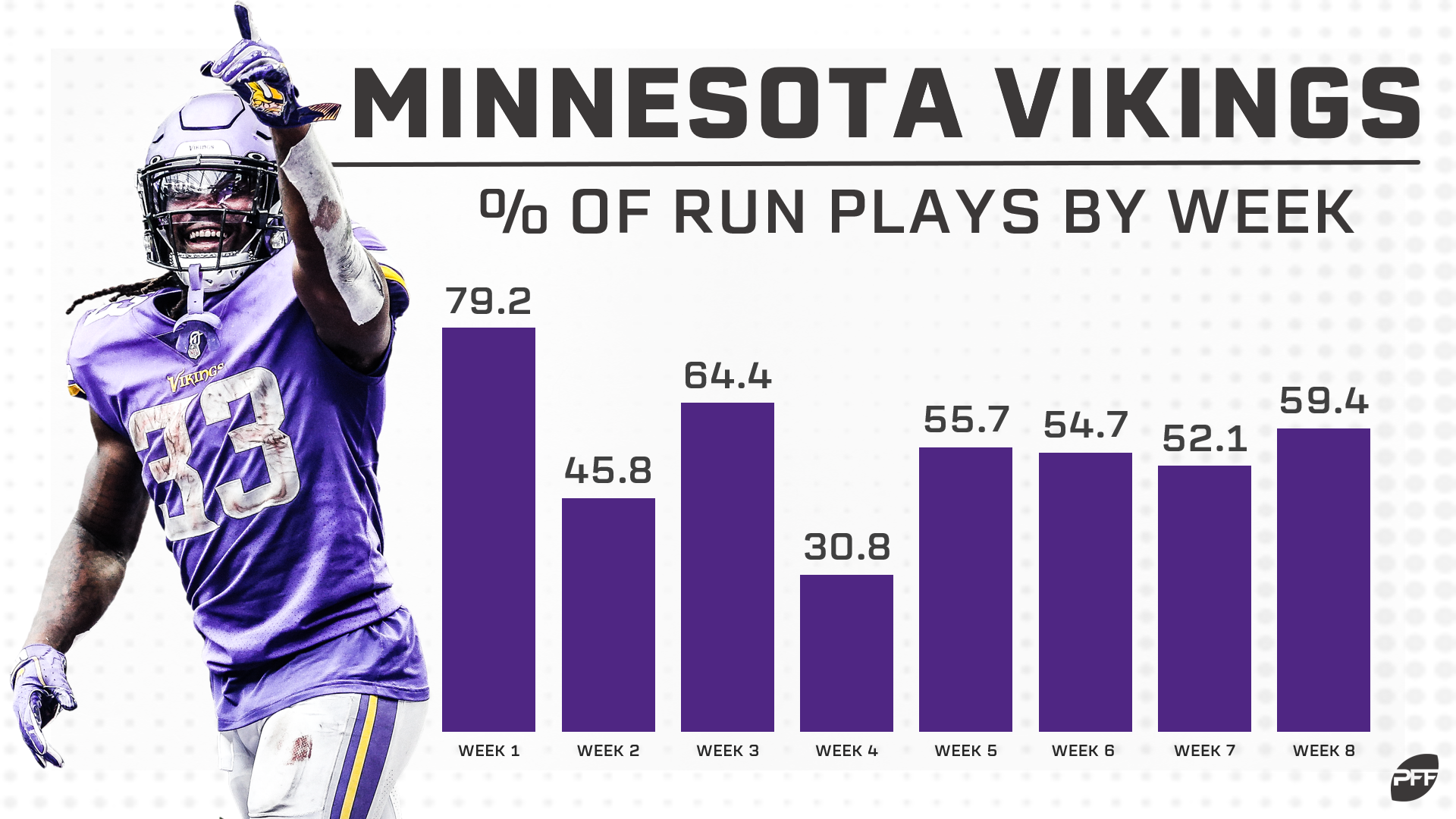 The Vikings' run-play percentage bounced around early in the season. In the first four weeks, the team called a run on 79, 46, 64, and 31% of their plays. A lot of it was dictated by gamescript, but the numbers still vacillated heavily. The last four weeks? The Chargers have run the ball between 52 and 60% of the time in each game. They won all four games, so we'll see how things go when they have tougher opponents (Kansas City in Week 9, Dallas in Week 10, Seattle in Week 13), but the team at least looks easier to comprehend lately. It's run-heavy, but not insanely run-heavy.
Peterson is a flex option despite everything
Across the last three weeks, Adrian Peterson has 106.7 scrimmage yards and 11.3 PPR points per game despite no touchdowns and despite an offense that has generated 26 total points in that time. He's not someone you want to use in fantasy at this point in his career, but as bad as the team around him is, he's going to get enough work to stay as a low-upside flex every week.
Don't go crazy about Metcalf
D.K. Metcalf had two touchdowns, and that's fantastic. He also had only three receptions and only 13 yards. He's being used as the team's red-zone and end-zone weapon, and the scoring opportunities are great, but between the Seahawks' run-heavy nature (Russell Wilson attempted only 20 passes in a game the team led throughout) and Tyler Lockett's role as the big-yardage guy, Metcalf is going to struggle to have a high weekly floor.
Junk-time masters
No matter who has played quarterback for the Falcons this year, the numbers have come in junk time. The Matt Ryan/Matt Schaub duo now sits with a 7:8 TD:INT ratio and an 84.6 passer rating in the first three quarters, but a 10:1 and a 130.1 in the fourth quarter. Considering the woeful Falcons defense, this is likely to continue, and keep whoever plays quarterback with a fine full-game outlook. Just … don't watch the games. It'll make you sad for three quarters.
Wentz worries
The Eagles put up 31 points, but Carson Wentz didn't have a big hand in that. The team got three different rushing scores (one each from Jordan Howard, Miles Sanders, and Boston Scott), meaning Wentz accounted for only one touchdown and 172 passing yards. Wentz now has fewer than 200 passing yards in four of his last five games and is averaging only 1.6 touchdown passes per game this year. And with the Eagles going Bears-bye-Patriots in their next three, Wentz needs to be benched by any fantasy manager who can do so.
Keep an eye on Singletary
On the one hand: Devin Singletary out-snapped Frank Gore 40-17 Sunday, scored his second career touchdown, and had 6 targets (4 receptions) compared to a goose egg in the receiving game for Gore. On the other, Gore had 9 carries compared to 3 for the rookie, and with the Bills down for the entire second half, gamescript favored Singletary. There is a changing of the guard happening in the Buffalo backfield, but it's not as simple as "it's Singletary's job now." We're getting there.
Don't overrate Gordon's touchdown
Melvin Gordon found the end zone on the ground Sunday, the first time he could say that all season. Despite that, he only managed 31 yards on 8 carries and added 2 receptions for 3 more yards. The Chargers ran only 42 plays Sunday compared to 77 for the Bears. That ridiculously low play volume will keep the offense in check.
Good signs from Montgomery
Take David Montgomery's best two games on the season before Sunday and he was at 129 rushing yards. But he managed an impressive 135 yards Sunday, including a touchdown and a 55-yarder, and added a career-best 4 receptions. It'll take far more than that for Montgomery to escape "fantasy bust" territory, but it's a good start.
Ignore this backfield
Maybe we'll get more clarity from the Lions running backs later. But right now, this is just a situation to ignore altogether. Tra Carson got the start and had the most carries (12), while Ty Johnson led with 13 receiving yards and J.D. McKissic had 3 targets. Johnson led the foursome (those three plus Paul Perkins) with 22 snaps — Carson had 19, McKissic 16, Perkins 6. In other words … there's no clarity and little upside here. Ignore.
Life from Danny Dimes!
Daniel Jones had been in something of a fantasy free fall lately, averaging 197.8 yards in his last four games with a 4:7 TD:INT ratio. And sure, a lot of Sunday came in garbage time against a Lions defense that was without Darius Slay. But regardless, he put up 322 yards and a 4:0 ratio Sunday, totaling more than 30 fantasy points, and no matter what extenuating circumstances you include, that's good to see.
Ryan Tannehill had a second good game starting for the Titans. He only put up 193 passing yards, but had three scores, so nobody's complaining. Unfortunately for everyone who bought in on Davis, though, he had basically no part of it. Davis had another 6 targets, but this time he only caught a pair of balls for a measly 9 yards. Jonnu Smith was the big name this week (a 6-78-1 line) and Tajae Share and A.J. Brown each scored. At a bleak position, Smith will have value as long as Delanie Walker is out, but otherwise there isn't a great name to target in the Titans passing game.
Bucs confusing, but massive upside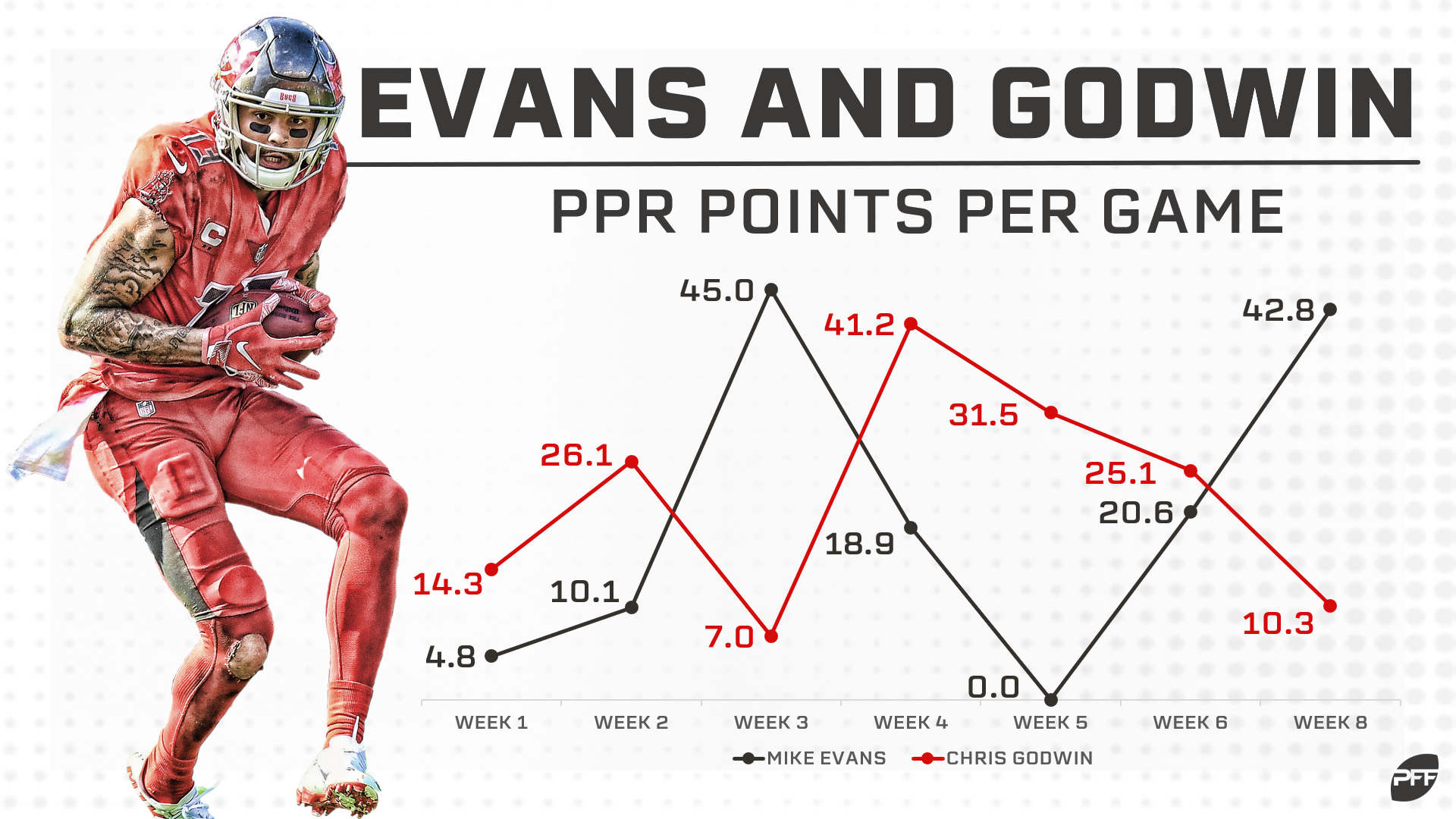 Seven games into the Tampa Bay season, Chris Godwin has 13.3 more PPR points than Mike Evans. He's outscored Evans five times, Evans has outscored Godwin twice. But the two times Evans has been the higher scorer, he's had 45.0 and 42.8 PPR points. Godwin has had at least 10.3 points in every game but one, while Evans has had a 10.1, a 4.8, and a 0.0. So Godwin is more consistent while Evans has a (slightly) higher upside, but ultimately these are two WR1s or close who are must-plays every week, and you just hope Evans' goods outnumber the bads.
Up-and-down Mack has an up
Marlon Mack has had 100-plus yards and/or a touchdown in every other game so far this year. In between those games, he's had under 10 PPR points each time. You'd like to see more consistency out of him, but his lack of involvement in the passing game (he's averaging 1.6 receptions per game) is going to make that tough. Still, when he's on, he's very on.
Beware the No. 1 receiver against the Broncos
Tyrell Williams lit the Broncos up in Week 1 to the tune of 105 yards and a score, 22.5 total PPR points. After that, the Broncos had Chris Harris Jr. shadow the next two games and has had him focus more on the opponent's No. 1 ever since. In Weeks 2-8, the Broncos have faced a tough slate of opposing No. 1s — Allen Robinson, Davante Adams, D.J. Chark, Keenan Allen, Corey Davis, Tyreek Hill, and T.Y. Hilton Sunday — and held them almost completely in check. Of the seven, Hill's touchdown in Week 7 is the only score. As a group, those seven are averaging 46.1 yards and 8.9 PPR points. Translation? Unless the trade deadline switches things up, beware Odell Beckham Jr. in Week 9 and Adam Thielen or Stefon Diggs in Week 10.
Is there only one usable receiver in Los Angeles?
Obviously, Cooper Kupp is an every-week must-play, with 220 yards and a score after a quiet couple of weeks that saw him total 67 yards across two games. But after that? Brandin Cooks left Sunday's game with a concussion, and even in his absence, Robert Woods was quiet, catching only a pair of passes for 36 yards and gaining 6 yards on 4 (!) carries. It was Josh Reynolds (73 yards and a score) who got fed with Cooks out, and he's a clear waiver add if Cooks misses time (though the Rams are heading into the bye), but ultimately, once you get past Kupp, you don't have to play any of these receivers.
It was easy to dismissed Erickson's 137-yard Week 7, considering it was one of the most out-of-nowhere performances we've had all season. But he followed it up with a team-leading 97 yards Sunday. Tyler Eifert, Auden Tate, and Tyler Boyd all had 65-plus yards and more targets than Erickson, so he's not the team's No. 1 or close, and with the possibility of A.J. Green's return after the bye, this might not be an extended run, but we can't dismiss Erickson anymore.
Put Brees back up near the top of the ranks
I still think it was crazy that the Saints, heavy favorites Sunday and heading into a bye that would have allowed two weeks of rest, went ahead and put Drew Brees back in for this week's game. But what I think is irrelevant, as Brees looked strong Sunday, passing for 373 yards and 3 touchdowns. Teddy Bridgewater was perfectly good in Brees' absence, but there's no denying that Brees has far more fantasy upside right now. He's an easy QB1 again.
Such a confounding offense
I'm not even going to get into the ridiculous frustration that is the Cardinals backfield the last two weeks. But Christian Kirk played his first game in a month and had 98 scrimmage yards. Charles Clay came into the game with 70 yards for the whole season but had 88 yards. Meanwhile, Larry Fitzgerald had 217 yards in the first two weeks, but 230 in six games since, including 20 across the last two weeks. It's just so hard to forecast here that — backfield maybe aside — I'm just avoiding the situation.
Fournette's lack of touchdowns is getting funny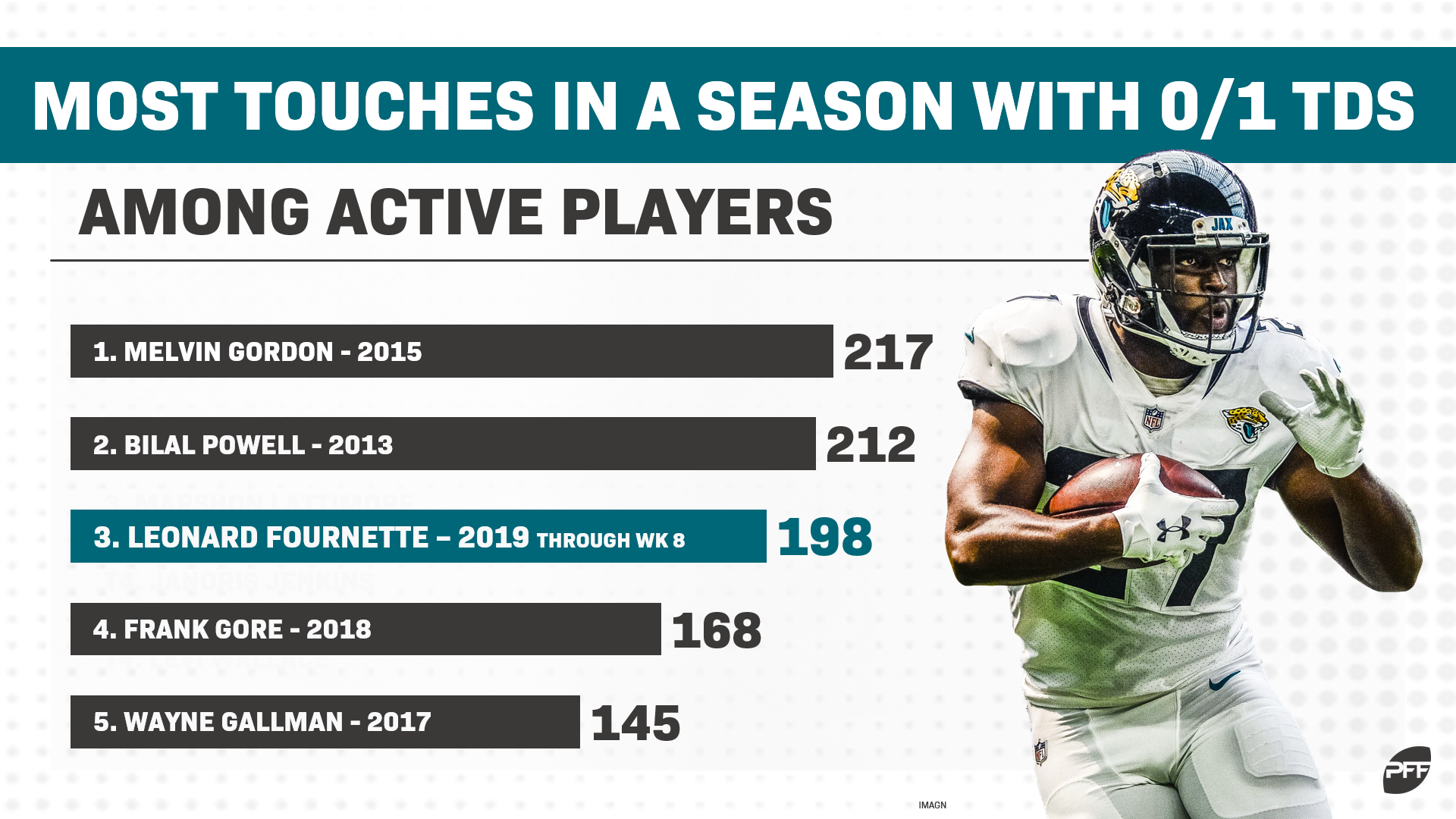 Because Leonard Fournette does have one touchdown this year, this is more of an esoteric point than anything ("zero touchdowns" just has a better ring), but he's now up to 198 touches on the season with only one touchdown. That ties for the 23rd-most touches in a single season with no more than 1 touchdown in NFL history and is third-most among active players. And it just won't continue. Fournette is getting too many touches and doing too much with them. Somehow, he's still a buy-low.
We're now eight games into Bell's Jets tenure. He hasn't topped 70 rushing yards in a game. He has only two touchdowns. He's averaging 3.2 yards per carry. He has 5 receptions across his last three games combined. Yes, the Jets offense at large makes it hard for anyone to feast, but Bell's having a very disappointing year.
He's the (Cole)man
Tevin Coleman, wow. 105 rushing yards (on only 11 carries) and three touchdowns on the ground, plus 13 receiving yards and another score on 2 receptions. Across the last five seasons, Coleman is only the sixth player with a four-touchdown game — though, oddly, the third in the last four weeks. And yes, that's above his head, but Coleman's made himself a surefire must-start every week.
Come back, Cam
I cannot remember where I said/wrote this, but I theorized during their bye week that the Panthers were going to run Kyle Allen out against the 49ers regardless of whether Cam Newton was healthy, under the thinking that either quarterback was likely to struggle, and Allen struggling would quiet any silly QB controversy. And who knows whether that factored in, but … Allen had 158 yards and 3 interceptions Sunday. It's Newton's job.
With the Patriots winning every game, doing it handily, and riding the defense to glory, Edelman isn't supposed to be having all the success he's had. But that's irrelevant. Edelman has 77 targets now (despite missing half of a game to injury), including double-digit targets in each of his last three. He's an every-week WR1.
Is there a Landry/Beckham debate?
For the year now, Jarvis Landry has 504 yards, compared to 488 for Odell Beckham Jr. Beckham has 34 receptions, Landry 30. Beckham has the only touchdown between them. Landry has more yards than Beckham in four of seven games (including four of the last five). Entering the year, most everybody assumed it would be Beckham as an easy WR1 with Landry offering flex upside, but really, both have been mid-to-low WR2s, and while you'd still project Beckham above Landry going forward, it's not by nearly as much.
Back to earth for Stills
Kenny Stills' big Week 7, combined with Will Fuller's injury absence, had many hyping Stills as a breakout candidate for however long Fuller is out. Instead, Stills was quiet Sunday, with only 22 yards on 3 receptions. Instead, it was the DeAndre Hopkins show among the receivers, with the star catching 11 passes for 109 yards, and tight end Darren Fells handled most of the scoring, finding the end zone twice. Hopkins is still a top-tier WR1, while Fells has forced his way into the tight end conversation. Stills? He's a high-ceiling, low-floor flex.
Welcome back, Tyrell
Tyrell Williams scored in each of his first four games this season. Then he missed two games around the Raiders' bye. He returned Sunday and … scored a touchdown. There's no real reason to think he's suddenly become a touchdown magnet, but that's a five-game scoring streak that is two longer than anyone else in the league (pending what DeVante Parker does Monday night).
Without Davante Adams, this offense runs through the backfield
We'll see how the Packers approach things on offense when Adams returns (which could be as early as Week 9), but without him, Aaron Jones has become a superstar, and Jamaal Williams is a big piece as well. Those two combined for 262 yards and 4 touchdowns Sunday; the rest of the team's skill players combined for 132 and 0.
Andy Reid's a miracle worker
Every time Matt Moore has ever been forced into action in his career, some in the blogosphere have said how he's sneakily better for fantasy than you think. Regardless, this is a guy who was out of the game last year battling down to the wire against one of the best teams in the league. Yes, the Chiefs are loaded with weapons, and yes, ultimately they lost, but this shows that even if Patrick Mahomes isn't ready to return next week you can pay close attention to this offense.