Average draft position is a valuable tool in fantasy football in multiple ways. The first one is obvious: It helps you draft. You don't have to follow ADP religiously, but for the uninitiated, ADP gives a really strong framework for who to pick.
The second one is slightly more subtle, and requires slightly more work, but it can be even more influential: You can exploit ADP. If you have your own rankings, or a rankings system you trust, a quick comparison of the rankings to ADP can give a quick and dirty guide of who to pick and who to avoid. A player who is ranked much better than his ADP can be a great pick in drafts; a player who is ranked much worse than his ADP is a player to avoid.
With that in mind, I applied that exercise using our own PFF Fantasy staff rankings compared to Fantasy Football Calculator ADP. Below, check out the players to target in drafts in 2019 based on the comparison. (Sunday, I'll look at players to avoid.)
Quarterback
(PFF Fantasy rank: QB2; FFC ADP: QB4)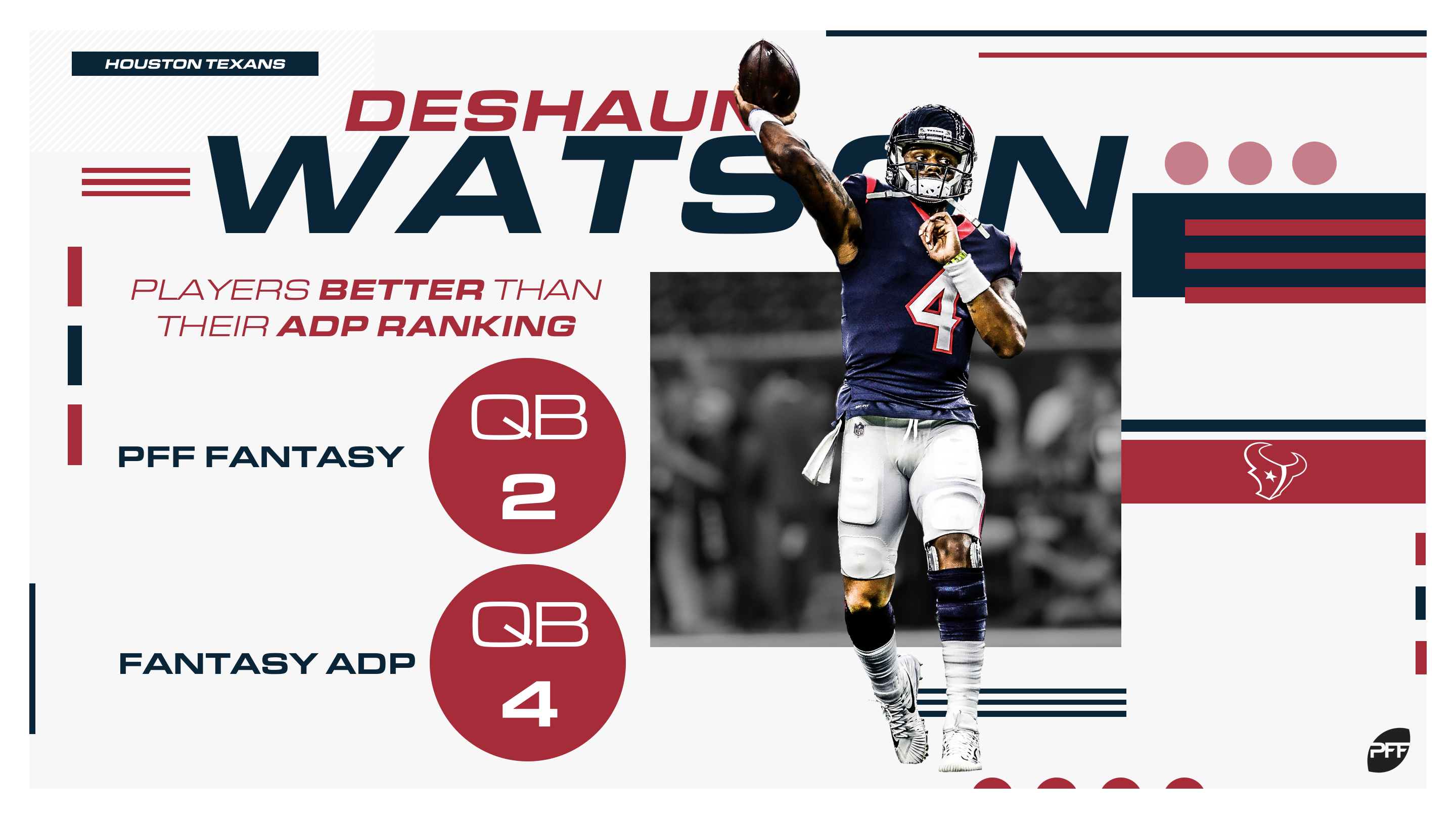 The obvious way to approach this exercise is just a simple subtraction — ADP minus ranking, biggest gaps matter. But that lacks nuance. For example, a player ranked first who is getting drafted fifth has a monster difference, but only four spots; a player ranked 57th who is getting drafted 69th doesn't have much difference at all, but it's 12 spots. As such, a percentage comparison works better, and by that measure, no player at any position has as big a gap as Watson's. He is going fourth in ADP, but our rankers have him unanimously second behind Patrick Mahomes.
(PFF Fantasy rank: QB6; FFC ADP: QB11)
Newton has finished as a top-four fantasy QB in five of his eight seasons, though another way of saying that is that he's finished out of the top-10 in three of his last five years. So our staff ranking of sixth is a spot he has literally never finished. But that's why it is a good rank: Things tend to find a happy medium. Maybe Newton has another dominant year, or maybe he struggles again, but the best bet is somewhere in the middle, making him a competent QB1.
(PFF Fantasy rank: QB11; FFC ADP: QB17)
Prescott's been in the league three years. In that time, he's finished as QB6, QB9, and QB10. If you want to argue he doesn't have elite upside, I'll listen, but drafting him at 17th seems like an overcorrection.
Highest-ranked QBs currently going undrafted: Sam Darnold (rank QB23), Andy Dalton (QB26), Marcus Mariota (QB27)
Running back
(PFF Fantasy rank: RB47; FFC ADP: RB62)
There just isn't much significant value to be had at running back this year. Johnson is an interesting late-rounder, because if his situation remains exactly what it is now, there's a chance his value will be low all year, and will actually get lower late in the year when Kareem Hunt returns. If he gets his wish to be traded, though, he could skyrocket. Our rankers trust him to have an opportunity.
(PFF Fantasy rank: RB41; FFC ADP: RB54)
Whether you trust Lewis depends on just how heavily you think the Titans will lean on the run in 2019. If it's run-heavy like last year's Seahawks, then pass-catching option Lewis might not do a lot. If it's more of a standard run-heavy offense (as opposed to all the run-heavy), Lewis should have much more value than his ADP indicates.
(PFF Fantasy rank: RB12; FFC ADP: RB15)
Our rankers see Fournette, coming off a down year, as a borderline RB1. ADP has him as more of a mid-range RB2. That's not a huge difference, but it's one worth noting if you start receiver in the first and can grab Fournette as your No. 1 starter.
Highest-ranked RBs currently going undrafted: Mike Davis (rank RB54), Jalen Richard (RB59), Chase Edmonds (RB60)
Wide receiver
(PFF Fantasy rank: WR22; FFC ADP: WR31)
In 13 games a year ago, Robinson finished as the PPR WR39. It was an underwhelming performance for the Bears' big-ticket offensive free agent of the offseason. Still, he has legitimate WR1 upside that we saw in 2015 with Jacksonville, and while no one thinks he can reach those heights, our rankers have him as a WR2, compared to his mid-range WR3 standing in ADP.
(PFF Fantasy rank: WR28; FFC ADP: WR39)
Davis finished last year as WR27. The drafting community thinks he's worth a pick 12 spots worse than that this year? I've hammered the Davis issue this offseason, and I'll continue doing it. This doesn't make sense.
(PFF Fantasy rank: WR34; FFC ADP: WR44)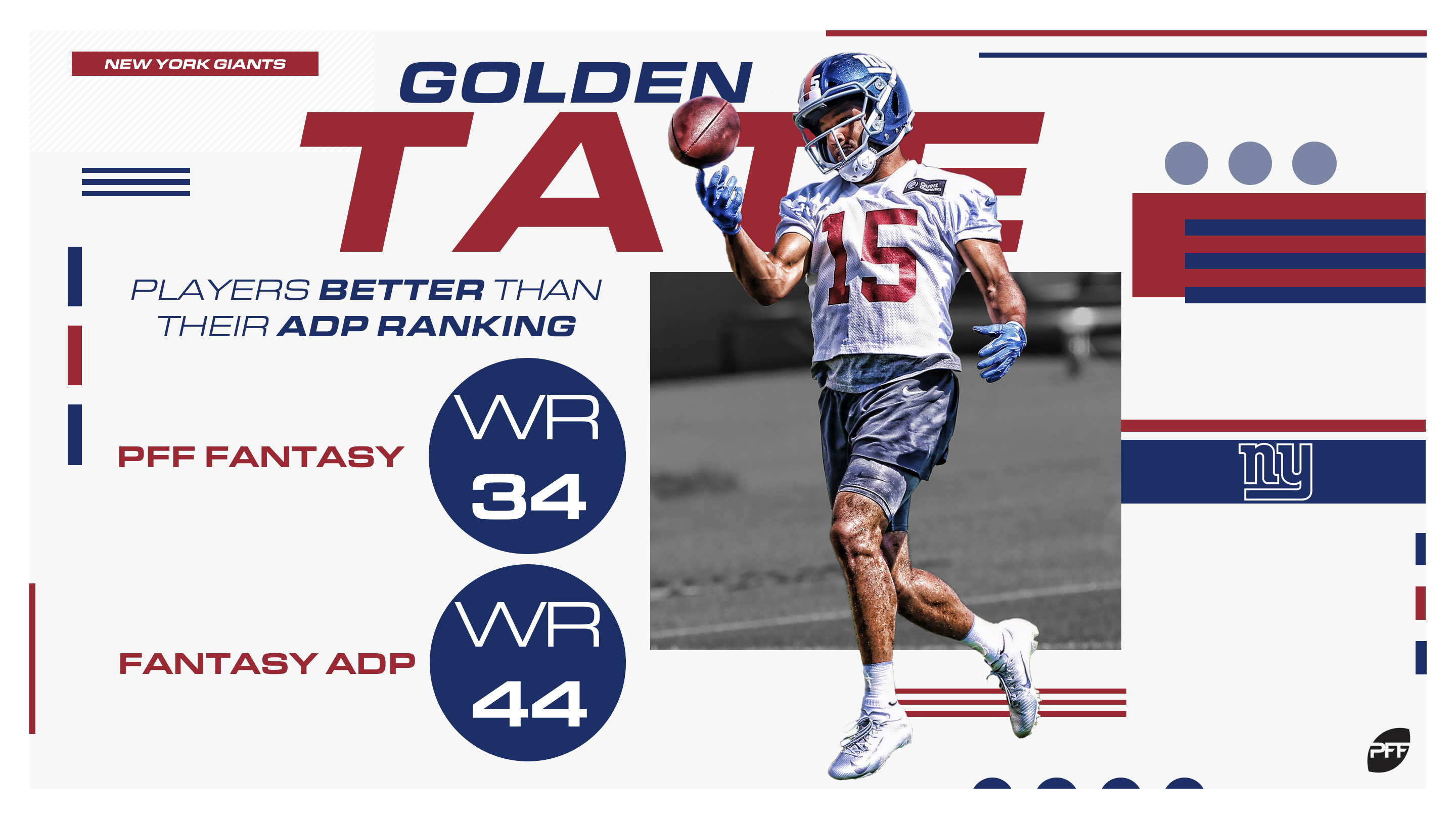 Last year, missing a game due only to a trade that messed with his bye weeks, and having to learn a new offense midstream, Tate finished as fantasy's WR28. That was his worst fantasy finish since he joined the Lions before 2014. He hasn't missed a game to injury in that time, and he averaged an 18th-place finish. Aging and the move to the Giants account for why our rankers have him at a low point of WR34. Gibberish accounts for why the drafting community is even lower.
Highest-ranked WRs currently going undrafted: Jamison Crowder (rank WR55), Albert Wilson (WR55), Paul Richardson (WR61)
Tight end
(PFF Fantasy rank: TE4; FFC ADP: TE6)
There's a clear second tier at tight end that includes Henry, O.J. Howard, and Evan Engram. Our rankers have Henry atop that list; the drafting community have him at the bottom. It's up to you to decide whether there's a reasonable gap worth exploiting there.
(PFF Fantasy rank: TE12; FFC ADP: TE17)
The drafting community is buying in on Eric Ebron's breakout 2018 season, and that comes at the expense of returning-from-injury Doyle. Doyle still has some injury concerns, but assuming he's cleared, his upside is higher than the drafting community appears to believe.
Highest-ranked TEs currently going undrafted: Chris Herndon (rank TE20), Tyler Eifert (TE21), Darren Waller (TE23)
Overall
This section is more about draft strategy, with some players landing in very different spots in the overall rankings than they do in overall ADP due to how our rankers approach drafts vs. how the drafting community does things.
(PFF Fantasy rank: 10th overall; FFC ADP: 17th)
Led by our Scott Barrett, who wrote in May why he thinks Kelce is worth a first-round pick in 2019, our rankers have him in the first or close, while the drafting community has him in the middle of the second round.
(PFF Fantasy rank: 97th overall; FFC ADP: 147th)
After basically a lost year, Walker's stock has fallen far, despite the fact that he was one of the most consistent fantasy commodities in the game in his Titans career before that. Our rankers appear to think he can shake off injury and age in 2019.
(PFF Fantasy rank: 123rd overall, FFC ADP: 183rd)
Will Stills win the slot role in Miami? It's a potentially valuable one, at least as long as Ryan Fitzpatrick is the quarterback, and would help him return value where our rankers have him.
Highest-ranked players currently going undrafted: Jamison Crowder (rank 127th), Marqise Lee (137th), Albert Wilson (139th), Mohamed Sanu (141st)