• PFF's fantasy team compiles fantasy rankings and projections that leverage the modeling capabilities of our research and development team.
• PFF's projections see value in Tampa Bay Buccaneers WR Mike Evans and Buffalo Bills WR Gabriel Davis for fantasy football leagues this season.
Estimated reading time: 3 mins
---
While acknowledging that projections aren't a substitute for rankings, in this piece I've translated our projections into positional rankings for comparison with our consensus ranking. Projections are not a better way for ranking players, but they aren't as influenced by market sentiment and can be a more independent view of player value.
---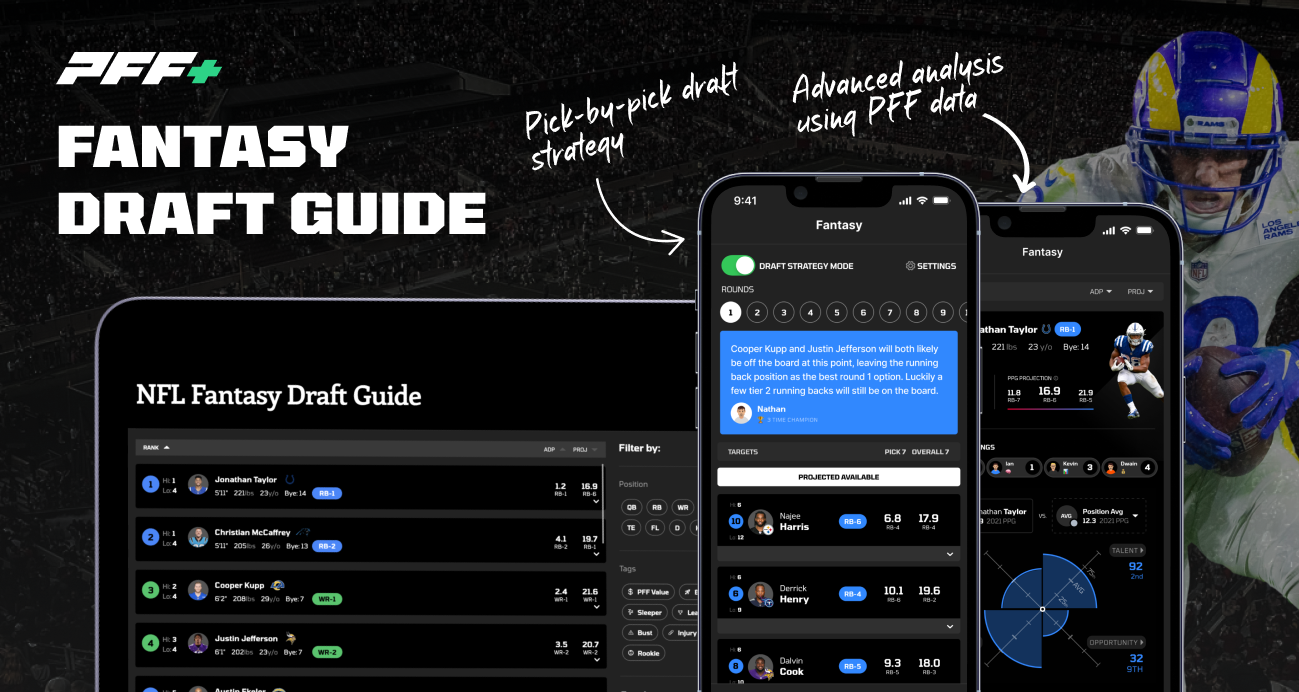 ---
THE TOP-12 WIDE RECEIVERS
The wide receivers below are listed in order of positional consensus ranking, with the blue points representing consensus rankings and the red points marking the positional rank by PFF projections. When two or more of the measures fall on the same positional rank, the point's color will represent a mix. The lines between points illustrate the magnitude of the difference between the maximum and minimum ranking for each player.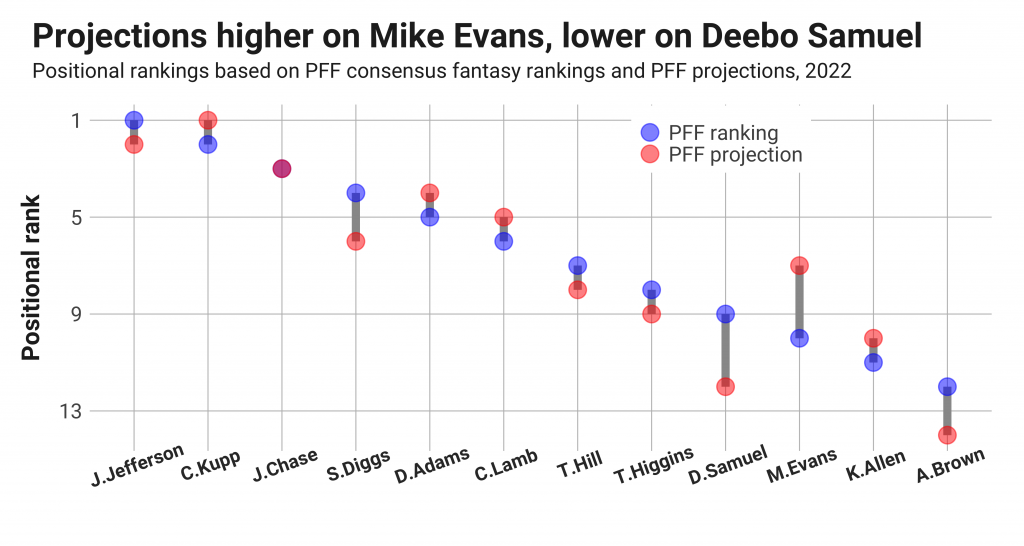 Cooper Kupp is still the top-projected wide receiver, even if Justin Jefferson has jumped Kupp in our expert rankings and best-ball ADP. Mike Evans is the top value in the top-12 wide receivers according to the projections, as a top-seven player you can get on the fringe of the top-10.
The projections are most skeptical of Deebo Samuel, who had outlier touchdown efficiency rushing and catching the ball, which we do not see continuing into 2022.
---
SECOND-TIER WIDE RECEIVERS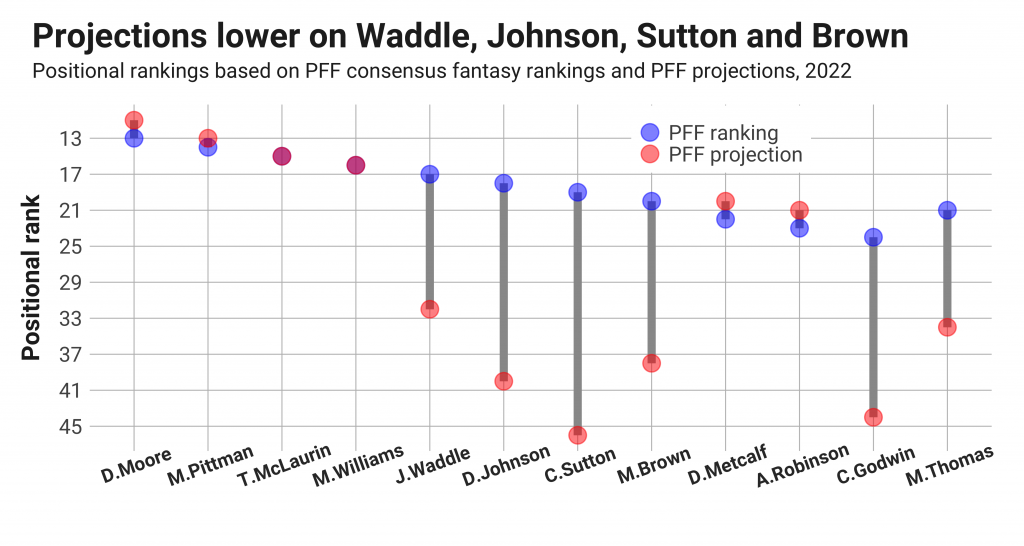 The projections are mostly down on the second tier of wide receivers, projecting much worse positional finishes for a handful of players. It makes sense that Chris Godwin is a bit lower as someone who could start the season slowly, but the projections for Jaylen Waddle, Diontae Johnson and Courtland Sutton reflect crowded receiving rooms that need to be sorted out during the season.
---
THIRD-TIER WIDE RECEIVERS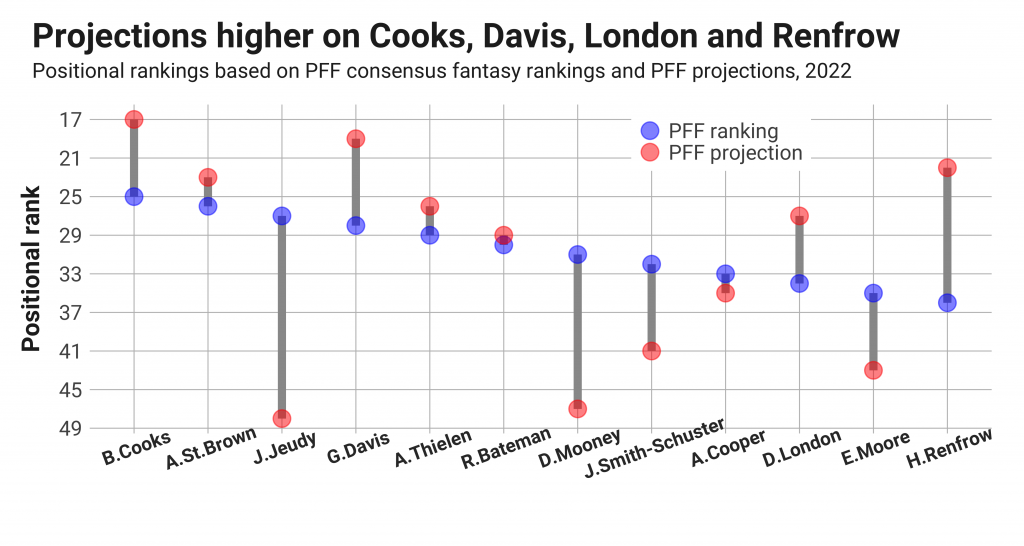 The projections like the steady production profiles of Brandin Cooks and Hunter Renfrow but are more skeptical of breakout potential for Jerry Jeudy and Darnell Mooney. Rookie Drake London also appears to be a beneficiary of a receiver room in Atlanta without much depth.
---
FOURTH-TIER WIDE RECEIVERS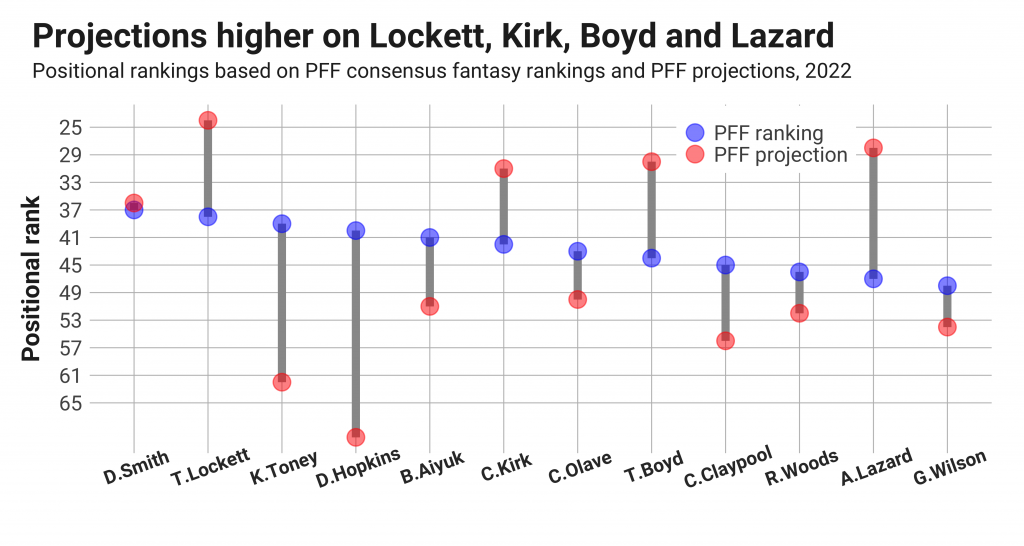 Christian Kirk and Allen Lazard are the presumed lead receivers for their respective offenses, which could both be fruitful this season.