It is officially training camp news season when it comes to 2022 fantasy football. As such, here are the top training camp storylines as camp kicks off for every NFC team.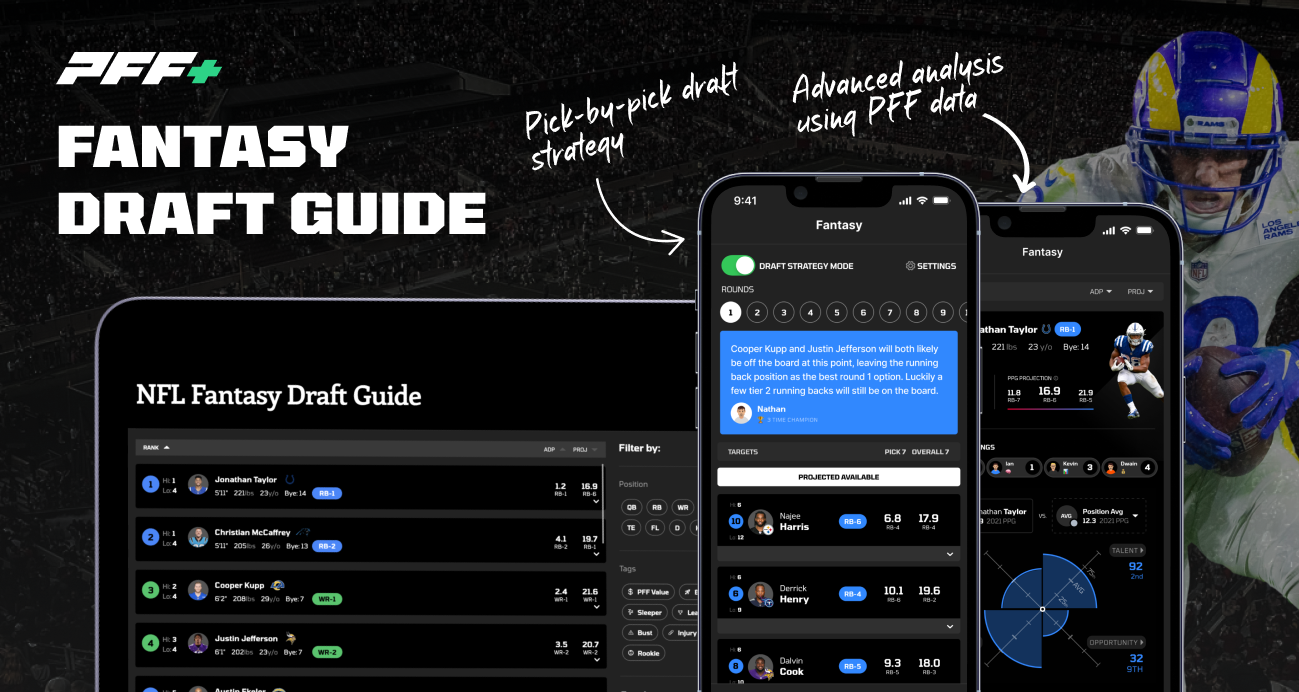 Is there a handcuff to James Conner? If so, who is it?
According to ADP, Darrel Williams is the current favorite. Still, nothing is set in stone, with Eno Benjamin getting some love in the press and rookie Keaontay Ingram also vying for touches. 
Williams is the definition of "just a guy," and we may not even have a 1:1 handcuff. However, given Conner's injury history and Kliff Kingsbury's willingness to feed one back, it is a situation we must monitor.
Will the Falcons play Kyle Pitts inside more like a tight end or slot receiver?
Pitts is already the No. 3 option in my tight-end rankings and tiers and is a centerpiece to drafts in Round 3 in 2022, thanks to a red-hot rookie profile. Amazing when you consider Pitts saw the lowest percentage of targets against linebackers and safeties (51%) of all tight ends with at least 200 routes. 
Let this man create mismatches inside, where linebackers and safeties don't have a chance of matching up with his athleticism. If this happens, you are looking at the TE1 overall in 2022.
Who is the passing-down backup to Christian McCaffrey?
D'Onta Foreman is leading the way in ADP, but Chuba Hubbard is still hanging around. Foreman did a nice job filling in for Derrick Henry last year but didn't see much work on passing downs. 
The actual storyline to monitor (if we can tease it out) is who will handle the passing-down work if CMC goes down. If the answer is Foreman, he could have an every-down role. Foreman loses appeal as an early-down banger in a potentially lousy offense if it is someone else.
Will Luke Getsy utilize more designed-run concepts to unlock Justin Fields?
Fields is the only dual-threat quarterback currently being ignored in drafts. Yes, Trey Lance has better weapons and deserves the nod to leave draft boards ahead of Fields. However, it is really hard for quarterbacks that rush for 850-plus yards to finish outside the top 12, which is in the range of outcomes for Fields.
The second-year quarterback only handled 8% of the Bears' designed-rush attempts in healthy starts. Jalen Hurts handled 23%, and Lamar Jackson averaged 24%. If Fields gets that treatment, he carries top-10 upside.
This one may be tough to decipher in the preseason since coaches don't want to tip their hand, so we may have to read between the lines on camp reports.
What is the recovery timeline for Michael Gallup, and who is the WR2 if he is out?
Gallup begins training camp on the PUP after February ACL surgery. Currently, a realistic timeline would be a November return — which would mean Gallup's ADP is too high right now and Jalen Tolbert's is too low. This one is another storyline that could be tough to unveil given how teams aren't always forthright, but Gallup has already said Week 1 isn't realistic.
Tolbert will battle James Washington for routes and targets, and one of the two could surprise in the first half of the season in an offense boasting volume and a quality quarterback. Currently, the market is far higher on Tolbert than Washington.
Will Amon-Ra St. Brown remain on the field in two-wide receiver sets?
St. Brown is a centerpiece to dominating your draft at wide receiver in 2022, thanks to his 80.0 PFF receiving grade as a rookie, among other things. He has shown an ability to dominate targets, even when defenses know he is the primary option — something most receivers can't do when given a chance.
However, the one potential chink in his armor for 2022 would be a reduction in routes thanks to multiple additions to the receiver room. Over the last seven games in 2021, St. Brown skyrocketed in route participation thanks to an expanded role beyond slot duties. One other out would be an offense centered around three-wide receiver sets like the Rams.
If St. Brown is limited to a slot role and the Lions plan to use multiple personnel groups, it could dampen 2022 production.
Can one of the rookie wide receivers lock down a starting role?
The Packers are broken at wide receiver, and as much as Aaron "Con Air" Rodgers wants to talk up Allen Lazard, the truth is Lazard has done little to suggest a leap is coming. The most likely answer to the Davante Adams void is to spread the targets more across everyone — including the backs and tight ends.
However, Christian Watson and Romeo Doubs both have an opportunity to seize the day by locking down a role opposite of Lazard, and their ADPs are far more palatable. Watson is sliding down boards due to his PUP designation (knee scope), and Doubs is undrafted in most formats.
How will the backfield split between Cam Akers and Darrell Henderson Jr. look?
We have seen Sean McVay commit to one back when out of other options over the last two seasons, but we have also seen him divide the work with a healthy roster. 
Akers projects as the lead back, but might we be overestimating his lead over Henderson? Akers currently goes in Round 3 to Round 4 of drafts, while Henderson lasts until Round 13.
Who is the slot receiver in the Vikings' offense?
Kevin O'Connell will implement the Rams' offensive scheme to the Vikings in 2022. In many ways, it will look similar to what Klint Kubiak was running by using the run game and play-action to keep defenses off balance. However, there will be one huge difference — more 11 personnel groupings.
That opens the door for three wide receivers to stay on the field more often. Justin Jefferson will do his thing from anywhere, and, honestly, the Vikings don't need to force him inside. However, Adam Thielen is in decline, and we have seen the slot role revive veteran careers like Larry Fitzgerald, Reggie Wayne and Hines Ward. 
If Thielen wins this role, we could get an efficiency boost to go along with the touchdown connection between him and Kirk Cousins. K.J. Osborn is getting some love at the end of drafts, but his profile is only so-so, and we could see him challenged by someone else on the depth chart.
Can Michael Thomas make it through camp healthy?
Thomas is practicing to begin training camp, which caught many by surprise. However, head coach Dennis Allen has been optimistic all along, calling Thomas the equivalent of having another No. 1 draft pick.
The veteran will see more target competition than in the past, but this offense could move to a more pass-centric offense given their weapons in the receiving game. Using his historical targets per route and route participation data plus the Saints' projected dropbacks (632), the following is a range of outcomes for 2022.
Projection Spectrum: Michael Thomas' Targets
Targets per Route
Routes per Dropback

75%

80%

85%

20%

95

101

108

22%

104

111

118

24%

114

121

129

26%

123

132

140

30%

142

152

161
Low = significant drop in routes and targets due to declining skills/more target competition

Mid = small drop in routes and targets due to more target competition

High = peak Thomas with a struggling supporting cast
Thomas is currently going in Round 7 of drafts but could quickly be on the move upward with the latest practice reports.
Note: The looming Alvin Kamara suspension is easily the most significant story here, but I am not sure we will get much more news as Kamara's legal team has already postponed the court date twice in an attempt to punt this situation to 2023. Drew Davenport is the best source to follow for updates on this situation.
Can Kadarius Toney secure the WR2 role?
To start camp, Toney is working with the first-string offense as an outside receiver, unlocking a viable path to an 85% route participation in 2022. Toney posted an elite 26% targets per route (TPRR) as a rookie — elite WR1 territory — albeit on a limited sample. Putting those two things together is like chocolate and peanut butter.
Toney has WR1 upside if locked into a starting role, and his ADP could end up as one of the biggest values of the 2022 season.
Will the Eagles continue to run the ball as heavily as they did to end 2022?
Over the first six games of the 2021 season, the Eagles dropped back to pass on 72% of their plays and opted to throw the ball above the league average in most game scripts:
Trailing by four or more points: 78% (+8%)

Within three points: 67% (+7%)

Leading by four or more points: 37% (-3%)
After Week 6, that equation shifted dramatically:
Trailing by four or more points: 55% (-15%)

Within three points: 49% (-11%)

Leading by four or more points: 36% (-4%)
However, the Eagles used a first-round pick on DeVonta Smith last season and traded another first-rounder for A.J. Brown in 2022.
Brown needs more passing volume to pay off his Round 3 ADP safely; Smith and Dallas Goedert could be steals in Round 8. This will be another tough one to decipher via preseason games, so we may have to lean into the beat reporters to find the bread crumbs.
Is Tyrion Davis-Price more than a handcuff to Elijah Mitchell?
Mitchell is coming off a great rookie season, but Kyle Shanahan and John Lynch spent a third-round selection on Tyrion Davis-Price. The incoming rookie offers a different skill set than Mitchell and could challenge for the early-down between-the-tackles carries that Trey Sermon let slip through his fingers in the 2021 preseason.
Assistant head coach Anthony Lynn on Davis-Price:
"We liked his size, his speed. We just thought he could bring an element to the game that maybe we don't have right now — the physicality part." 
The 219-pound rookie is going undrafted in many formats in early summer drafts, but the high-stakes players at the FFPC are all over him in Rounds 11 and 12. Shanahan is a fickle dude regarding running backs, and his offense can produce high-end performers, making Davis-Price a priority name to watch.
Can Rashaad Penny or Kenneth Walker III claim an every-down role?
The most likely answer to this question is no, given that both players are talented. Additionally, whatever answer we think we have in September could change. 
The Seahawks are saddled with the worst quarterback room in the NFL and project for a lowly 5.5 wins on DraftKings. Yes, Pete Carroll is committed to the run, but scripts will still stunt rushing opportunities, and the offensive line ranks dead last. Seattle ran two full games less worth of plays than the NFL average in 2021. Let that sink in for a moment. Two fewer games!
Lastly, D.J. Dallas and Travis Homer are still projected to snipe passing-down work, and the Seahawks face offensive juggernauts in the NFC West and AFC West that will create trailing scripts.
Neither carries an outrageous ADP, but unless we get a streamlined path to touches, there isn't a course we can reasonably plot for high-end production.
How healthy is Chris Godwin, and what role will Julio Jones play?
The Buccaneers dropped two bombshells on the same day, with Godwin avoiding the PUP and the signing of Jones to a one-year contract. These developments carry significant implications for Mike Evans and Russell Gage. 
Evans finally seemed positioned to operate as the alpha with an elite quarterback, with Godwin expected to miss time until October and the departure of Rob Gronkowski and Antonio Brown. However, now it looks like Godwin will be back sooner rather than later, and Evans' splits with Godwin were much more WR2-like than his WR1 finish without him.
Is Jones just insurance and a relief option for Godwin, or is he more?
Gage should still fill the Brown role as route technician against man coverage, but Jones could create more of a rotation once Godwin is healthy. Gage offers a promising profile, but we need him on the field for 70%-plus of the passing downs.
Will Brian Robinson Jr. steal early-down work from Antonio Gibson?
Despite rumors of a three-way committee in Washington, Gibson is still going in Rounds 4 and 5 of fantasy drafts.
J.D. McKissic signed a new deal to retain the two-minute offense, and the team drafted Robinson in the third round of the NFL draft. Ron Rivera sees them as complementary players, with Robinson profiling as a between-the-tackles back and Gibson as someone who can attack the edges.
Gibson fits the archetype of back we want to target as a pass-catching back with explosive playmaking ability. Unfortunately, if Robinson is going to mix in, his production will take a hit, and his path to a full-time role will require two injuries. Last year, at least Gibson dominated the short-down-distance opportunities, providing touchdown upside. That could be in jeopardy as well with Robinson on the roster.