Draft season is one of the most exciting times of the year for NFL and fantasy football fans alike. A new crop of players will soon be introduced as they are drafted to their teams, which means we will be feverishly debating which players should be drafted where in our rookie, startup and redraft fantasy football drafts.
Landing spot is a major deciding factor in player value for most drafts, but I find it helpful to gather some thoughts on how players would be ranked before the draft — solely based on talent and what they can bring to the IDP landscape.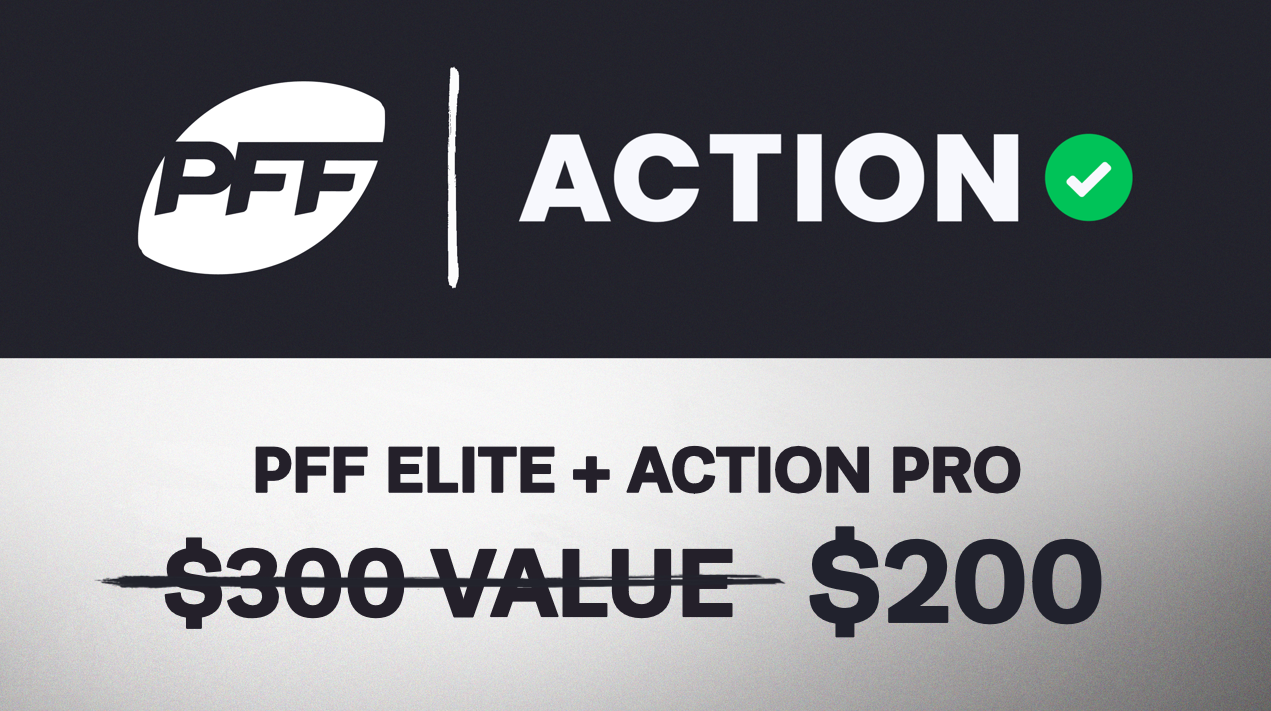 [Subscribe to PFF's ELITE – Annual subscription here now and enter promo code ACTION on checkout to take advantage of the offer.]
That is the goal of this article: to assess the strengths and weaknesses of several top linebacker prospects and rank where in IDP rookie drafts I would be taking them today. Then we'll try to decide on the best team fit for each of those players.
This one feels fairly obvious, as most mock drafts have Parsons as the first linebacker off the board. In some cases, he's the first defensive player off the board altogether. Still, character concerns could be an issue that cause Parsons to drop on draft day. This opens up more possibilities as far as landing spot for 2021.
Parsons opted out of the 2020 season but finished 2019 with the highest run defense grade we've ever given (94.8) to go along with an elite 91.6 overall grade. Parsons totaled 110 tackles and five sacks through 13 games that season, putting him second in the Big Ten in total tackles for the year. It's important to note that college production numbers are by no means a good way to evaluate potential NFL talent, as there are many other facets to a prospect's game that need to translate to the next level.
For Parsons, his pass-rushing ability is something that a lot of NFL teams could benefit from. He racked up 26 total pressures and five sacks on 94 pass-rush attempts in 2019. This led to an 86.8 pass-rushing grade for the year, as he excelled both as a blitzer up the middle and when lining up on the edge against tackles and tight ends. Parsons' pass-rush win rate was 24.5% in 2019, which ranked among the top 15 defensive players in the entire country (min. 50 attempts).
Watching Parsons, it is difficult to find any major flaws in his game. Against the run, he sheds blocks with relative ease. He can fly downhill and cover a ton of ground with his speed and athleticism. Having missed just six total tackles in 2019, he shows great awareness in playing his run gap assignments. You rarely see him make costly mistakes that would frustrate NFL coaches enough to take him off the field. While he wasn't asked to do a lot in coverage, he doesn't give much reason to think he won't be an asset on passing downs as well.
The Jets are obviously not taking Parsons at No. 2 overall, but if he falls to the back half of the first round the Jets could benefit from adding him at pick No. 23. New head coach Robert Saleh mostly ran a Cover-3 scheme during his time in San Francisco, along with a heavy dose of quarters coverage. Parsons saw a lot of both during his time at Penn State. Saleh and the 49ers also ran a blitz on about 33% of plays, which was top-10 in the NFL in 2020. Given the scheme, willingness to blitz and the need at the position, Parsons would be an immediate impact player in both the NFL and in IDP.
Collins was arguably the linebacker in this draft class who benefited the most from playing in 2020, having gone on to win the Chuck Bednarik Award for the nation's top defensive player. This was well-deserved — Collins finished as PFF's highest-graded linebacker for the 2020 season (90.5). He takes the edge over Nick Bolton at No. 2 in this list thanks to his ability to rush the passer and his decent coverage instincts.
The first thing that pops with Collins is his size. Listed at 6-foot-5 and 260 pounds, he's one of the biggest off-ball linebackers in this class. Watching his tape, he moves as if he's much smaller. Collins shows tremendous ability to cover ground, whether chasing down running backs or playing zone coverage and reacting quickly when the ball is thrown, getting to receivers at the same time as the ball — or close to it.
Much like Micah Parsons, Collins' biggest strength may be as a pass-rusher, as he finished the year with a 90.6 pass-rush grade after racking up 16 pressures and four sacks on 51 attempts in 2020. His ability to win with his size or speed is the perfect combination of weaponry to win at an NFL level, and his 25.5% win rate in 2020 is even slightly better than Micah Parsons' 2019 numbers.
In 2020, Collins was particularly good at snuffing out screen passes as the primary coverage defender, allowing -6 yards on four receptions. He showed good awareness and the top-end closing speed that makes him one of the top options at his position.
The problem for Collins comes in his ability to finish plays, with 37 missed tackles for his college career — eight of which came in 2020 on half the snaps as previous seasons. I also hope we see Collins utilize his size and strength more effectively when shedding blocks in the second level, as he did show a tendency to get washed out in the run game by offensive linemen coming up to block him.
The Dolphins may have just traded for linebacker Benardrick McKinney, but he is not someone who should stop Brian Flores from drafting Zaven Collins if the Dolphins want to upgrade at that position, especially in coverage. Miami plays a man-heavy defensive scheme — something Collins saw a fair amount of at Tulsa over the past two seasons (32.4%). Collins could be an upgrade over Jerome Baker and McKinney in their dime defense on passing downs while earning a bigger role over time as the early-down linebacker as well.
Miami blitzed at a top-10 rate in the NFL last season, which is exactly the opportunity Collins needs to continue to excel as a pass-rusher and showcase the speed and aggressiveness that will help bolster his IDP ceiling.
LB4 Zaven Collins⚡️

Highest coverage grade we've ever recorded by a LB

— PFF Draft (@PFF_College) March 18, 2021
Bolton comes in at a close No. 3 on this list, as he may not be considered a top-tier coverage linebacker, although I'm willing to make a case that it isn't a far-fetched idea. Of all the names on this list, Bolton ranks third in targets faced, first in completion percentage allowed (61.3%) and first in forced incompletion percentage (17.7%). Bolton has shown that he can cover running backs and tight ends one-on-one and make plays on the ball. The issue could be in his lack of speed, but playing in a more spot-drop heavy scheme gives me confidence that he can be a three-down linebacker in the NFL.
Bolton plays with strong instincts and hits harder than most linebackers on this list. Over the past two seasons, Bolton has led all SEC linebackers in making first contact with the ball carrier and in tackles for a loss (31). This allowed Bolton to finish among the top-five SEC players at his position in run defense grade in each of the past two seasons.
Bolton can do a lot for his IDP stock if he is able to clean up the missed tackles (28 since 2019), as he has shown some tendency to be over-aggressive, which can lead to mistakes in the open field. Bolton could also work at finishing some of his pass-rush attempts — he only has four sacks in his three years at Missouri, but he has flashed in that regard and could improve over time.
One of the Packers' biggest defensive weaknesses last season was their linebacker corps, as evidenced by the recent release of Christian Kirksey, who was replaced by undrafted rookie Krys Barnes midseason. Both linebackers had poor coverage grades that did not get above 50.0 for the season. They have a new defensive coordinator — and former linebackers coach — in Joe Barry, who came over from the Rams. He may be interested in getting a top linebacker early in the draft. Barry's Rams ran a heavy amount of Cover-4 at 24.2% of plays (tied for tops in the league) and the lowest rate of Cover-1 (man) in 2020. This could allow Bolton to utilize his biggest strength — his run defense — without being burned by the speed of players in man coverage at the next level.
Owusu-Koramoah is the player I had the hardest time ranking, mostly due to his size but also because he's really a linebacker in name only.
The majority of Owusu-Koramoah's snaps at Notre Dame came as a slot cornerback in a defense that had him playing more curl/flat zones than anything else. Notre Dame did play a fair share of man coverage (around 20%), but for the most part Owusu-Koramoah's was targeted when playing a curl/flat role that isn't typical of an NFL linebacker. That being said, his role could be best served in the NFL as a Jeremy Chinn-type safety/linebacker hybrid that can be utilized all over the field. This would certainly increase his chances of being an IDP asset. It's just a matter of whether an NFL team is willing to deploy him in that way.
Owusu-Koramoah's size is likely his biggest weakness, as he has missed tackles by sliding off bigger players or diving at their feet. He would also be easily moved in space by NFL offensive linemen and some tight ends, causing him to potentially be a liability in the run game. His biggest strengths certainly come as a coverage player, but even then we may need to see more to project him as anything more than a passing-down dime linebacker/safety.
Playing in sub-packages for a creative coach like Sean Peyton and next to a veteran linebacker like Demario Davis could be the perfect starting point for Owusu-Koramoah to earn a bigger NFL role. Davis can continue to do what he does best, which is play the run and rush the passer, while Owusu-Koramoah can come in and drop into coverage on passing downs. This could take some of the coverage burden off of Davis and allow Owusu-Koramoah to showcase his talents as a slot corner or spot drop linebacker, however Peyton sees fit. Playing strong safety and in the slot on early downs can help him earn the type of every-down role needed for IDP relevance.
Jabril Cox was in a very similar situation in 2019 as Jeremiah Owusu-Koramoah at Notre Dame. Before transferring to LSU, he too was playing more of a slot corner role at North Dakota State with less time as an inside linebacker. That changed for Cox in 2020 in LSU's defense when he very much became the inside linebacker in a man-heavy defense.
That transition wasn't necessarily a smooth one for Cox, as he still looked raw as an inside linebacker, struggling to identify his gaps and getting bullied by offensive linemen coming into the second level. He also missed the occasional tackle. Cox will likely need some work as a run-defending linebacker, but he does have the size and athleticism to make it work.
Cox's best plays are almost all in coverage. This was his strong suit during his time in the FCS and was something that carried over when he transferred to LSU. Cox has shown the ability to hang with tight ends across the middle and make plays downfield. Cox's grades also tell a story of how well he performs across both positions, as his 60.3 overall grade when lined up in the box moves to a 79.6 when lined up in the slot.
Under Ron Rivera, the Football Team has run a significant amount of Base personnel (31.6%, eighth in the NFL), and while one linebacker may not fill that significant hole in the middle of their defense, Cox can certainly help. As the biggest linebacker on the team, Cox can slot in more as the strong side linebacker and pick up tight ends in the passing game and drop into coverage. This leaves the starter opposite him (Cole Holcomb? Jon Bostic?) free to roam the middle or blitz in Rivera's Cover-3 scheme.
LSU LB Jabril Cox vs Miss St RB Kylin Hill.#SeniorBowl pic.twitter.com/ugNxL1mLGN

— Chase Goodbread (@ChaseGoodbread) January 27, 2021
I have been quickly warming up to the idea of Jamin Davis as a potential Day 1/early Day 2 prospect, as he has been rising up mock draft boards lately — he's gone as high as the No. 17 pick to the Raiders in Mel Kiper's latest mock. While I'm certainly not that high on Davis as a prospect, I can see the appeal of Davis' athleticism.
Davis' biggest strengths almost all come from his athleticism, as he wins in the second level against blocks by speeding or slipping past offensive linemen en route to making big plays. He is able to close quickly in both the pass game and the run, showing off impressive speed and range. If left unchecked in the run game, he shows confidence in attacking his gaps with authority. He led the Power 5 with 109 tackles in 2020.
Davis could use some work as a coverage player. While he didn't have to do much in coverage at Kentucky, there were some glaring issues in his tape that could be coached up in the NFL. What stuck out to me was that he had a number of costly plays where he just didn't process the play quickly enough. He was slow to react as a zone defender, often giving up a catch with a good deal of space between him and his receiver. Luckily, he could make up for that with his speed and athleticism, but it's still something to work on at the next level.
While we don't know exactly what kind of defense Dan Campbell and company are going to deploy in Detroit, Davis certainly feels like the kind of player they would want to recruit. He's big, athletic, a strong tackler and clearly has an understanding of what his job is in the run game — something that Campbell has concerns about about when it comes to the current personnel on the Lions defense. The 41st pick in the draft feels about right for Davis and the Lions to join forces, and he could be in for potential starter snaps right out the gate as a rookie.
Was definitely a little too conservative on Kentucky LB Jamin Davis on my first watch through of him. He's got great length and anyone who can scrape w/ Elijah Moore on jet motion while gaining ground into the LOS & stacking a block has all the range you'll need from a modern LB. pic.twitter.com/AoFJCOCcl4

— Kyle Crabbs (@GrindingTheTape) March 20, 2021
McGrone is the final linebacker I'm particularly interested in right now for this class. He will still just be 20 years old come draft day and showed some promise as a prospect with room to grow.
McGrone's most obvious strength was tackling, finishing the year with an 88.8 tackling grade and zero missed tackles in 2020. He was one of only 10 linebackers in the entire country who played at least 20% of snaps and did not miss a single tackle. He also shows great range going sideline to sideline to make plays, scraping over the top of blockers and beating the ball carrier to his spot.
While McGrone's strengths could earn him an early-down role in the NFL, it's his weaknesses that will likely take him off the field on obvious passing downs. On 393 coverage snaps since 2019, McGrone owns just a 41.1 coverage grade. He is often late to recognize his man when playing zone and doesn't currently possess the required skill set — including ball skills — to be trusted one-on-one. He did show off some power in 2020, mostly when getting a head of steam to take on a blocker heads-up, but he struggled in the run game to get off blocks. All of this to say that I believe McGrone could stand to develop quite a bit in the NFL, as long as he lands in the right system.
The Rams' linebacking corps could certainly benefit from some stability, coverage skills and perhaps even a veteran presence. Unfortunately, none of those options are present at the moment, so they can at least improve their run defense at the position by adding McGrone later in the draft. Raheem Morris is in as the Rams new defensive coordinator, and he can bring in a young player of his own to mold into the linebacker he needs for the future. After Micah Kiser, Troy Reeder and Kenny Young combined for 23 missed tackles in 2020, McGrone would be a breath of fresh air for this defense.