The search for the best defensive prospects in this year's draft class continues with the top safety prospects. After projecting seven of the top linebackers and defensive lineman for IDP in the 2021 NFL Draft class, we're going to do the same for the safety position. With the cornerback position being heavily based on playing time for IDP purposes, the focus will be solely on safeties, as they are the more valuable position for fantasy.
The most stable part of a safety's fantasy value comes from their ability to make tackles and play closer to the line of scrimmage. Coverage plays, such as interceptions and pass breakups, come second. While there may be potentially better NFL safeties coming out in this draft class, not all of them have great IDP potential, so the goal here is to try and separate one from the other.
Subscribe to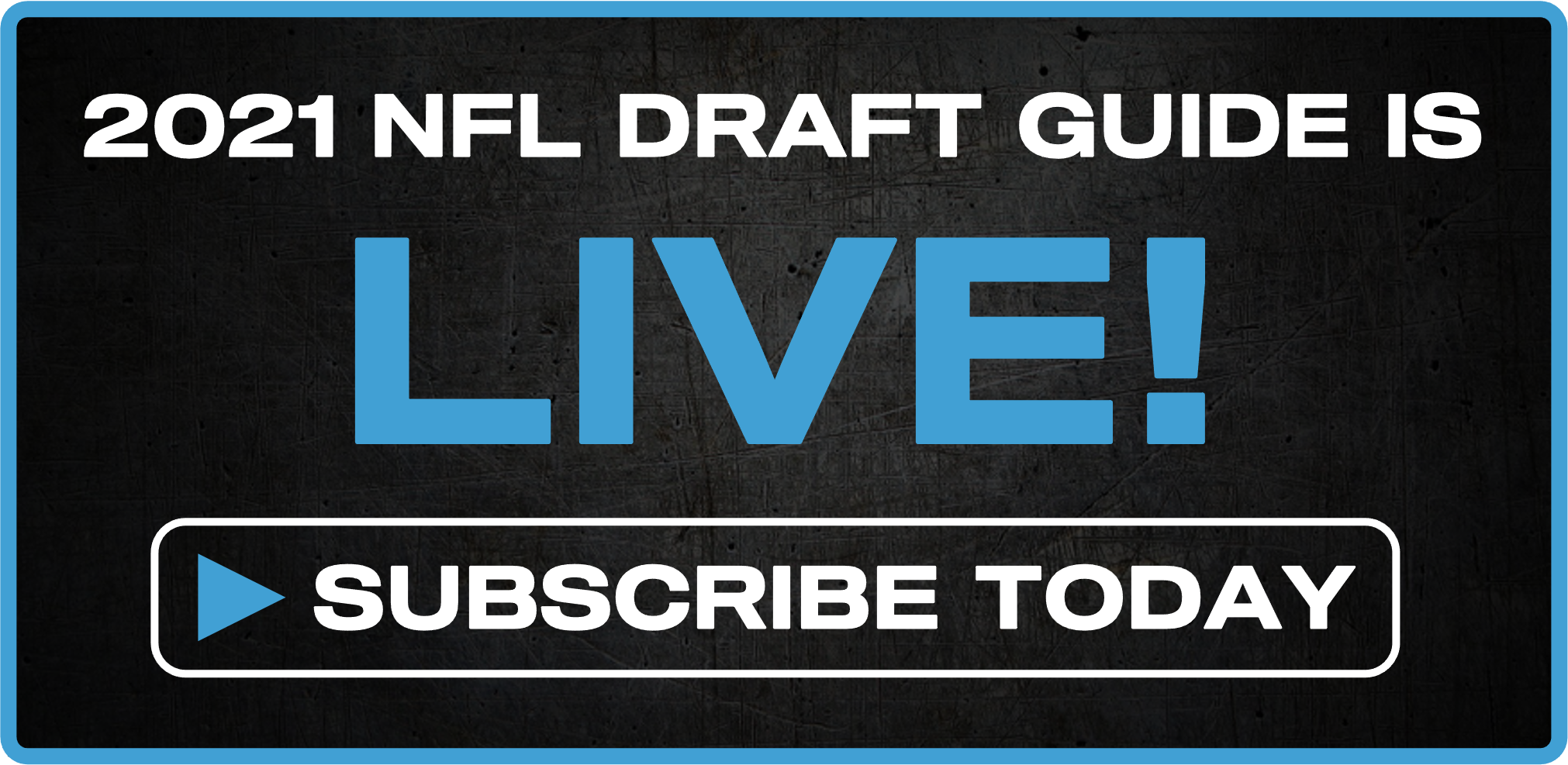 Moehrig enters the 2021 NFL Draft as the top safety on almost all big boards, and rightfully so. He brings versatility, coverage instincts, length, explosiveness and elite on-field production. Moehrig's on-field production is perhaps what he is most known for after leading all safeties in pass breakups in each of the past two seasons. He added six interceptions in that span, as well.
His biggest strength is in coverage, having forced more incompletions (22) than any other safety since 2019 while allowing just a 54.9 passer rating when targeted. Moehrig figures to have the clearest path to snaps in the NFL over almost any other player on this list. He's also projected to be a first-round pick — another reason he comes in as the top safety on this list.
Moehrig has the ability to play all over the field for an NFL defense, making him more than just a typical deep safety. Almost one-third of his snaps came in the box over the past two seasons, where he played at a high level, earning a 75.6 overall grade from that alignment since 2019. Moehrig's 91.7 overall grade and 92.2 coverage grade since 2019 rank among the best marks in the country for safeties, which bodes well for his NFL future.
Moehrig has been an absolute playmaker in coverage!

Since 2019, no safety has forced more incompletions (22) than Moehrig, allowing just a 54.9 QBR when targeted since 2019.

Here, he carries the No. 2 WR deep, stays with him the whole way and makes a beautiful play on the ball: pic.twitter.com/1ogGvMjpW5

— Jon Macri (@PFF_Macri) February 15, 2021
Joe Cullen takes over as the Jaguars defensive coordinator and should be looking for help to make his job a little easier. Jacksonville brought in Rayshawn Jenkins this offseason and still has Jarrod Wilson under contract for another year, but neither of those players should stop the team from addressing a significant need on defense. The Jags could benefit from adding Moehrig as a starter later in the first round of this draft, giving them the playmaking safety they have sorely missed over the past few years.
Grant projects to be another versatile safety who can be a strong playmaker in the NFL thanks to his instincts and coverage ability. During his four-year tenure at UCF, Grant played at various alignments, earning strong grades in coverage and in run defense over the past few seasons. He finished the 2020 season with a 90.0 run-defense grade, which ranked first in the nation among safeties with at least 50 snaps.
Much like Moehrig, Grant possesses great playmaking skills, coming up with seven forced fumbles, 10 interceptions and 19 pass breakups over his Central Florida career. While college production numbers should be taken with a grain of salt when projecting to the NFL, it at least shows Grant can make an impact. He always seems to be around the ball for a safety who plays all over the field, as he led all Group of Five safeties in making first contact with ball carriers since 2018.
While Grant is a slim 6-foot and 194 pounds, his versatility will help him stay on the field and put him in a position to make plays. He has proven he can put up big-time tackle numbers, posting over 100 in 2018 as a deep safety. He earned an 83.4 tackle grade in 2020, so concerns about his size/physicality are minimal, in my opinion.
Richie Grant laying the wood! ????pic.twitter.com/rHHkIDiZKW

— Barstool UCF (@UCFStool) September 19, 2020
Keanu Neal and Damontae Kazee, the Falcons' starting safeties in 2020, both joined the Cowboys in free agency, leaving a massive hole in Atlanta's secondary. The team can address that need on Day 2 thanks to its draft position. Richie Grant brings playmaking ability in the secondary as well as a strong tackling ability when lined up in the box, helping to fill a variety of defensive roles on a play-to-play basis.
Sherwood stands out because of his size and ability to play in the box — two things I love for IDP purposes. Measuring in at 6-foot-2 and 220 pounds while playing 45% of his snaps in the box in 2020 are certainly points of interest for fantasy football. Sherwood excels at sticking with tight ends underneath on shorter routes, but not necessarily in having to cover too deep. While he finished the 2020 season with a 57.7 coverage grade, there are reasons to believe he can minimize that exposure as a box safety in the right scheme.
He is a strong tackler, evidenced by his 91.2 tackling grade in 2020 (second among Power Five safeties) and 5.6% missed tackle rate (also among the best in the Power Five at his position). Sherwood will likely continue to work on getting off blocks if he is going to be playing that typical box safety role, but in the meantime, he can do his damage in space and take away those shorter routes in the passing game.
Sherwood intrigues me, as he has flashed a number of strengths that can translate to the NFL. His size combined with an ability to take away the tight end in coverage has me excited about what he can be in the NFL and for IDP. He looks the part of your typical box safety in the NFL, and his elite tackling ability could make him one of the top IDP assets in this class.
The Lions played more Cover 1 than any other team in the NFL last season, having a more defined box safety and deep safety in their defense. With a new coaching staff coming in, they may move away from that a bit, but even still, bringing in Sherwood gives them the personnel needed to run that scheme again if desired.
Tracy Walker's best years in terms of PFF grade came when he lined up deep, which can certainly be the key to re-igniting his relevance as an IDP, but it would also allow Sherwood to man the box among a mediocre linebacker corps and an underwhelming strong safety option in Will Harris. The Lions hold three Day 2 picks, which fits right in where our PFF Big Board projects Sherwood to be.
Nasirildeen played only two regular-season games in 2020, but he has been grading well in the PFF system for a couple of years now. One of the bigger safeties in this class, at 6-foot-4 and 220 pounds, Nasirildeen very much projects to be more of a box safety/linebacker hybrid in the NFL. And luckily for IDP purposes, he has the run-defense and tackling chops to back that up.
Nasirildeen boasts a 90.5 run-defense grade over his past three seasons, which is tops among all ACC safeties in that span. He also adds nearly 200 tackles in that time with just 21 misses, showing great efficiency and form, which will be key at the next level. Nasirildeen is not afraid to use his size and power, as he hits hard and can come up with big plays when flying downhill. FSU utilized him as a pass rusher on 46 snaps in 2019, and he managed 10 pressures and a sack, something he could further improve on if given that opportunity in the NFL.
While his coverage and playmaking abilities won't lead to a first-round selection — and perhaps not even the second round — the right team could make him a significant IDP asset as a typical box safety in the NFL.
The Eagles are yet another team with a new defensive coordinator, so it's unclear what their scheme will look like. But having some fun with it, the fit here is more for Nasirildeen to beat out Philadelphia's other starting options, leading to more playing time in Year 1.
With Anthony Harris almost assuredly playing the free safety role, we would get to see Nasirildeen step in as the strong safety in the box and rack up significant tackle numbers, not unlike Malcolm Jenkins of 2017-19 for the Eagles. I would be pretty intrigued to see Philadelphia use one of its two third-round picks on Nasirildeen.
Deablo ended up being a pleasant surprise for me as a player who hasn't been covered much this draft season. He is yet another big-bodied safety who I can see translating to a fantasy-relevant IDP with a more versatile role in the NFL. Deablo was a three-year starter at strong safety for Virginia Tech, so he has plenty of experience playing that box role.
His size and significant role allowed him to improve his tackling ability, which was one of his weak points when he first took over as a starter in 2018. Deablo brought his missed tackle rate down from 21% in 2018 to 11.3% in 2020. There's still work to be done for him in that area, though.
Deablo also brings an ability to cover well no matter where he lines up on the field, which is something that can translate to a clearer path to snaps in the NFL. From an IDP perspective, he has a ton of box safety experience from his time in college, and he brings with him a versatility that NFL teams can get creative with.
Because he can cover better than some, evidenced by his 84.4 coverage grade and four interceptions in 2020, we may not see him designated to a typical box safety role in the NFL.
I initially thought Divine Deablo would be a better player in the box, but the more I have watched him, the more I have realized that he's a pretty damn effective safety.

Here he is picking off Trevor Lawrence. pic.twitter.com/0DkFP7Xh3z

— John Vogel (@johndavogel) February 9, 2021
Bringing in Deablo as the Football Team's designated deep safety — alongside Kamren Curl, who can also play deep or slot corner as needed, while Landon Collins continues to play that box role — makes for a really nice secondary for Washington. The Football Team ran a good amount of zone last season, between Quarters coverage and Cover 3, and I'd imagine they would like to continue that trend in 2021.
Deablo is familiar with this zone scheme from his time at Virginia Tech, and it gives Washington more flexibility in how the team would like to deploy both Curl, who emerged as a big-time playmaker as a rookie, and Deablo, who can play anywhere he's needed. The Football Team has needs at linebacker and have been rumored to move Landon Collins into that spot, which once again opens up a spot on this defense for Ron Rivera and company to get creative with Deablo.
After looking at some of the biggest safeties in the 2021 class, we now dive into the smallest one: Ar'Darius Washington. He is listed at 5-foot-8 and just 178 pounds, so it's unlikely he'll get much time playing in the box in the NFL despite seeing a fair share of his snaps (41%) there at TCU.
What Washington lacks in size, he makes up for in his ability to read and react to plays as quickly and efficiently as any safety in this class. PFF's Mike Renner refers to Washington as "the single most instinctive safety in this class," and that becomes very apparent when watching his tape. Washington is consistently reading routes accurately and breaking on them to make big plays or limit any yards after the catch, accumulating seven pass breakups and five interceptions in his final two seasons at TCU. This led to Washington being PFF's highest-graded FBS safety in 2019 in both overall (91.7) and coverage (92.1) grades.
His instincts show up in the run game, as well. He can fly downhill and attack the ball carrier with a big hit, managing 19 defensive stops against the run since 2019, which was a top-eight mark for Big 12 safeties in that time. However, he did show a tendency to dive at the feet of ball carriers, leading to eight missed tackles in 2020 after missing just three in 2019. While those numbers are not high, it could be seen as a size-related concern at the next level.
The #IDP #dynasty rookie spotlights continue, with a look at a SAFETY this time around:

TCU safety – Ar'Darius Washington

– @PFF Big Board rank: 42
– Was the #1 overall graded FBS safety in 2019 (91.7)
– Redshirt sophomore
– Smaller safety listed at 5'8″ 179lbs#FFIDP pic.twitter.com/YccaHlKHCl

— Jon Macri (@PFF_Macri) February 10, 2021
The Texans were among the bottom-five teams in the NFL in PFF coverage grade, and they have been lacking a worthy running mate to play next to Justin Reid in the secondary ever since Tyrann Mathieu's one-year stint on the team in 2018. Eric Murray stepped in last season to play a slot corner/deep safety role for the Texans but struggled in coverage at times, finishing the year with a 50.4 coverage grade and allowing a 127.4 passer rating when targeted.
While the Texans have a significant number of holes to fill, an early third-round pick could be the right price for Washington to come in and upgrade the role Murray played in 2020.
Jevon Holland was one of many draft-eligible players who opted out of this past season, and he did so after putting up strong PFF grades in the two seasons prior (83.3 and 81.5, respectively). He played mostly a slot corner role during his time at Oregon, but projects to be a safety in the NFL.
On tape, Holland shows a strong ability to hang in coverage on deeper routes, as he plays with a nose for the ball. He managed nine interceptions in two seasons and added 11 pass breakups for just a 61.1 passer rating when targeted since 2018. He most likely fits in the free safety/slot corner role in the NFL, as he doesn't necessarily have the frame or ability to get off blocks to play that box role. His coverage instincts and big-play ability are what make him valuable and should allow for him to be an NFL starter early in his career.
Holland's run defense did improve from 2018 to 2019, going from a 52.8 grade with an 18.4% missed tackle rate to a 72.4 grade with an 11.3% missed tackle rate. Making tackles in the open field ended up being a strength for him in 2019, which projects well for his future as an IDP.
. @PFF_Mike: "Jevon Holland should be an immediate starter in the NFL"pic.twitter.com/22p9S6XI5b

— PFF Draft (@PFF_College) March 22, 2021
The 49ers have been without a great playmaking safety for a while now, instead rolling with Jaquiski Tartt and Jimmie Ward, who have not been anything special for them. Considering the team's investments in the defensive line, and stars at linebacker, the secondary could be the next big upgrade.
New defensive coordinator DeMeco Ryans could put his stamp on this defense with a playmaker like Holland on Day 2 of the draft. We don't necessarily know what kind of defense Ryans is going to run, but it may be something similar to what Robert Saleh installed during his time there, which was more of a zone defense, heavily utilizing Quarters coverage and Cover 3. Holland can then keep his eyes on the quarterback and take advantage of his processing speed to make plays in the NFL.