Fantasy football draft season is right around the corner and avoiding overvalued players in drafts is one of the best ways to ensure fantasy success. 
Note: All top-12 quarterbacks in addition to top-24 wide receivers and running backs were considered.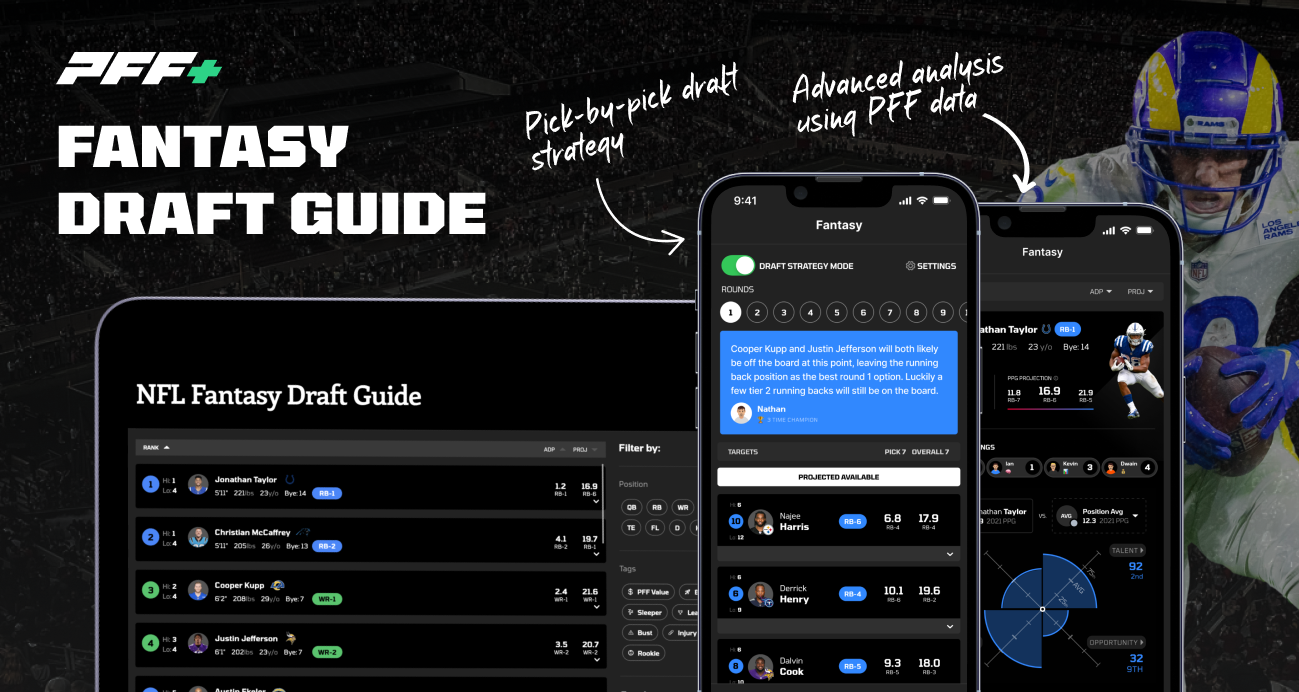 ---
ADP: QB9
Brady is coming off of a stellar 2021 season in which he put up a 92.0 PFF grade and a fantasy QB3 finish. Now entering his 23rd season and turning 45 years old, Brady has lost Rob Gronkowski while Chris Godwin will most likely start the season on the physically unable to perform (PUP) list as he recovers from his torn ACL. Mike Evans and Leonard Fournette are Brady's only top-five returning receivers from last season. 
Offensive-minded coach Bruce Arians has stepped down and defensive-guru Todd Bowles has stepped in his place, although Byron Leftwich is retaining his play-calling duties. The Bucs led the league in pass rate last season under Arians/Leftwich (69.1%) and although they were in completely different situations, the New York Jets under Todd Bowles averaged a 61.2% pass rate over his four years there. Even though he will not be the primary play caller, Bowles should still have some impact on how the offense operates.
The Bucs did bring in wide reciever Russell Gage, who has put together a solid career 69.05 PFF grade, but they need him to fill a large role in order to keep up their offensive production. It might be time to question when to draft the GOAT due to the introduction of a new defensive-minded coach, another year of age and fewer weapons surrounding him.
Brady has placed a huge amount of faith in Gage, and this season, his QB9 ADP is just too expensive to take the plunge. Instead of drafting Brady, Trey Lance and Dak Prescott are right behind him and have equal, or greater, upside for a cheaper price. Lance has all of the physical tools to be a great fantasy QB, and his rushing upside alone gives him an extremely safe floor. Dak is coming off of a QB7 finish and is still just 29 years old, and alongside his safe rushing floor, he is another year removed from his devastating ankle injury in 2020.
---
ADP: RB10
Barkley is one of the league's most talented running backs, but his career has been marred by injuries. He suffered a high ankle sprain in Week 3 of his 2019 season, which hampered him the rest of the season, and in the following season, he tore his right ACL. That injury knocked him out for the entire 2020 and slowed his start of the 2021 season. He was finally getting his season going with back-to-back top-10 fantasy performances before stepping on a Dallas Cowboys defender's foot in Week 5 and proceeded to miss the next four games.
After finishing as the RB34 last season, Barkley is the healthiest he's been since his rookie year. The Giants invested in the offensive line this past season with Evan Neal and Mark Glowinski additions. Even with their new additions, the Giants still find themselves in the middle of the pack at 18th in recent offensive line rankings. 
Barkley is surrounded by Matt Breida and Gary Brightwell in New York's backfield, and the Giants backup from last season, Devontae Booker, has yet to sign with a new team. He will receive massive volume numbers, but his low efficiency numbers will keep him on the low-end of the RB1 spectrum. Last year, he finished with 0.74 fantasy points per touch — 143rd among all flex players. Barkley also ranked 43rd among all running backs with a 65.7 rushing grade. On top of that, he averaged just 3.6 yards per carry, placing him 47th among RBs. Finally, he has just 10 runs for 10-plus-yards over the last two seasons (he posted 61 over his first years). Barkley has struggled to regain the burst that made him a home-run type player from his first two years in the league, and the lack of success on a huge number of carries just does not equal positive dividends for his ADP. 
Coming off of yet another disappointing season, Saquon still has some tantalizing potential that is attracting fantasy managers, and as the NFL season approaches, his ADP appears to keep rising, pushing him out of value territory and into being overpriced.
Javonte Williams and Nick Chubb both provide safer floors and relatively equal ceilings at nearly the same price. Williams was a far more efficient runner then Barkley and sported a 76.0 rushing grade along with a nearly league-leading 64 missed tackles. Chubb is almost on a different planet from Barkley when dissecting their efficiency. Chubb hit 5.5 yards per carry (second among starting RBs) and held an 80.6 rushing grade (13th among RBs).
---
ADP: RB11
Fournette is coming off of an RB6 finish and one of the best seasons of his career, posting the most efficient season of his career in addition to a career-high 79.2 rushing grade and a career-high 4.5 yards per carry.  He was able to take the backfield from Ronald Jones last season and was so good in the role that the Bucs chose not to re-sign Jones in an effort to give Fournette a three-year, $21 million contract. 
This offseason, the Bucs lost Ali Marpet to retirement but were able to sign Shaq Mason as a replacement. The Bucs also added third-round pick Rachaad White this offseason, as he was not only the highest graded running back in the draft (92.4 PFF grade) but he is also an excellent receiver with a 90.0 receiving grade (highest among draft-eligible RBs in 2021).
White can be a bigger thorn in Fournette managers' side than most expect. With White entering the backfield along with Giovani Bernard and Ke'Shawn Vaughn, Fournette has some competition for receiving work. With younger competition in the backfield, Fournette's high fantasy price tag may be too hard of a pill to swallow.
Travis Etienne and Javonte Williams have a ton of potential and come at a cheaper cost that accounts for their floor. Williams, as mentioned above, is an excellent running back who consistently made defenders miss, forcing 64 missed tackles in 2021 (second among RBs).
---
ADP: WR15
Brown is coming off a decent season in which he finished as the WR26 in PPR leagues. He posted his first 1,000-yard season but finished just three games with over 100 yards. For a receiver who is generally considered to be a deep threat, his 71.1 receiving grade on 20-plus-yard targets ranked just 19th in the league. He has been able to generate fantasy numbers due to his gaudy target share (26.7%), which was the 11th highest in the league. 
Assuming that Brown can make the most of Deandre Hopkins' six-game suspension, he should be able to maintain his previous target share while Hopkins is away from the team. Outside of those six games, however, Brown should be fighting with Rondale Moore and AJ Green for the Arizona's No. 2 WR spot, which would greatly hinder Brown's fantasy value. He will have to make the most out of the around 100 targets he is likely to receive. Since 2012, only four receivers have received less than 115 targets and finished as a top-10 fantasy wide receiver, and none have finished higher than ninth.
Overall, the former Baltimore Raven is being overdrafted at this time due to excitement from his trade and smash potential over the first several weeks of the season.
Jaylen Waddle, DJ Moore and Terry McLaurin all have much higher target volume and are all more talented receivers (all three have higher career PFF grades by a good margin) who can be selected earlier in fantasy drafts. Stay away from Hollywood unless his price falls to the WR20s range.
---
ADP: WR10
Higgins is a great receiver on a high-powered offense, but while he does receive a good amount of volume, his extremely high price is not going to pay off due to the inevitable point vulturing that will occur in Cincinnati. 
Higgins will always have his upside capped by Ja'Marr Chase and Tyler Boyd, and even with Cincinnati's offensive line improvements, he will not receive enough target volume to finish highly in fantasy points. Since 2018, only four duos both finished as top-12 fantasy receivers. Of those eight players, just one — Adam Thielen in 2020 — was able to do so with fewer than 110 targets. In that season, Thielen also scored 14 touchdowns, which greatly lifted his fantasy stats. 
While Higgins can — and likely will — improve, his WR19 line from last season is probably closer to his ceiling than his ADP would suggest. His 15.7 PPR points per game were good for the WR14 spot, and when factoring in his performance from last season, he would need to play at a much higher level to finish as the WR10 on the season. 
When drafting Higgins at his ADP, the expectation is that he will improve and potentially finish as a top-eight receiver, which — at this point — has a very low chance of occurring. The least amount of points that a WR8 has finished with over the past four seasons was Julian Edelman's 250.4 fantasy points in 2019. Higgins has yet to finish with over 220 in a single season so far.
Keenan Allen is a great option if fading Higgins, as he finished as the WR11 last season. Although he is a year older, he provides a safer target floor and equally high upside with Justin Herbert at QB.