Free agency and the 2022 NFL Draft have come and gone. Now, it's time to fully embrace the 2022 offseason by breaking down each team's fantasy football aspirations before fantasy draft season truly gets underway in August.
What follows is a fantasy-focused breakdown of the San Francisco 49ers, focusing on key questions like:
Is

Trey Lance

the ideal late-round quarterback for 2022?

What sort of encore should we expect from

Elijah Mitchell

?

Can both

Deebo Samuel

and

Brandon Aiyuk

ball out in a run-first offense?
Every fantasy-relevant player from the 49ers will be covered in the following paragraphs. Make sure to check out the PFF Team Preview Landing Page through early July for more all-encompassing fantasy football coverage.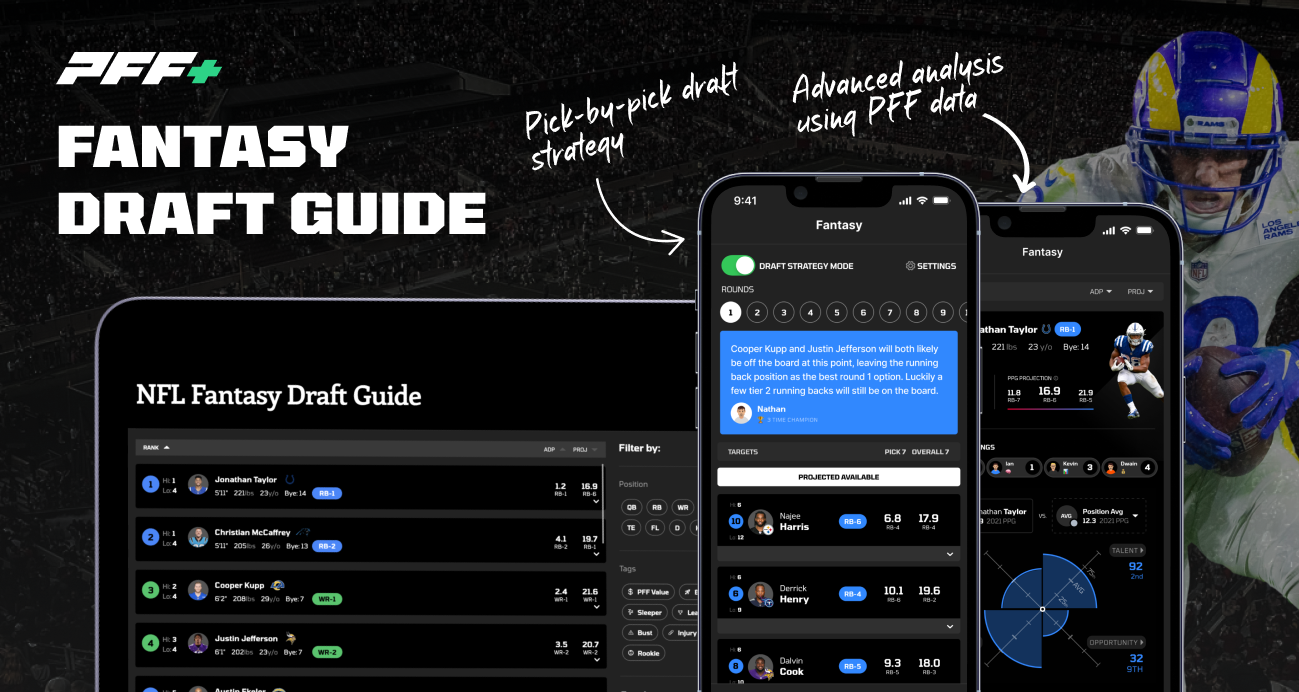 Notable offseason moves
From the front office to the coaching staff to the roster, every 2022 NFL team will be different than its 2021 version.
Head coach Kyle Shanahan is back for his sixth season as the 49ers head coach. Mike McDaniel, who served as the 49ers offensive coordinator last season, will now be running the Dolphins and will seemingly be replaced by ex-Chargers head coach and most recently Lions offensive coordinator Anthony Lynn, whose official position is assistant head coach and running back coach. Offensive line coach Chris Foerster was also promoted to run-game coordinator.
Still, this is Shanny's offense.
On the one hand, watching Shanahan's offenses regularly produce one random 1,000-yard rusher after another while scheming up plenty of explosive pass plays is a true joy. On the other, he hasn't particularly made a habit of producing top-ranked scoring offenses throughout his career.
Kyle Shanahan rank in points per game as OC/HC

Houston
2008: 17th
2009: 10th

Washington
2010: 25th
2011: 26th
2012: 4th
2013: 23rd

Cleveland
2014: 27th

Atlanta
2015: 21st
2016: 1st

San Francisco
2017: 20th
2018: 21st
2019: 2nd
2020: 21st
2021: 13th

— Ian Hartitz (@Ihartitz) June 16, 2022
Advanced analysis shows that Shanahan is arguably the single most unique playcaller in the NFL, and he ranked fourth on Eric Eager's playcaller rankings ahead of the 2022 NFL season. Still, points are points, and it's far from a given that he'll field a top-10 offense, regardless of the surrounding personnel.
Shanny's San Francisco offenses have almost always embraced a run-first, slow-paced nature. Don't expect this to change in 2022:
2017:

63.2% pass-play rate in non-garbage time situations (No. 8); 29.31 seconds per play in neutral situations (No. 5, Football Outsiders)

2018:

59.2% (No. 25); 30.39 (No. 10)

2019:

54.2% (No. 30); 31.36 (No. 20)

2020:

58.5% (No. 25); 32.63 (No. 31)

2021:

55% (No. 30); 32.62 (No. 28)
The 49ers could embrace the run more than ever with Trey Lance as their presumed Week 1 starting quarterback. This expectation, combined with the likelihood that they once again move at a slow pace, makes it unlikely that more than one, maybe two, high-end pass-game options emerge out of this offense. The history of dual-threat quarterbacks limiting the fantasy-friendly nature of their running backs could also be problematic if a single rusher fails to fully emerge from the pack.
Additionally, the 49ers have made plenty of changes to their roster. The following quarterbacks, running backs, wide receivers and tight ends have either joined or left San Francisco in some way, shape, or form this offseason:
RB Raheem Mostert: Followed former 49ers OC Mike McDaniel to the Dolphins. Injuries prevented Mostert from fully capitalizing on his breakout 2019 campaign in which he posted a 29-220-4 rushing line against the Packers in the NFC Championship. He's truly one of the fastest players in the league

.

WR Mohamed Sanu:

Remains an unrestricted free agent. Sanu appeared in eight games for the 49ers in 2021, catching just 15 passes for 177 scoreless yards. The 32-year-old receiver/electric wildcat quarterback may have played his final season as a featured player at this point.

WR Travis Benjamin: Remains an unrestricted free agent. He struggled to replicate his Shanny-induced Cleveland magic with the Chargers or 49ers, failing to record a single reception across 10 games with San Francisco in 2021.
WR Trent Sherfield:

Followed former 49ers OC Mike McDaniel to the Dolphins. Sherfield posted a 9-87-1 receiving line on 20 targets while appearing in all 17 regular-season games for the 49ers in 2021.

WR Richie James: Signed with the Giants in free agency. Despite famously posting a 9-184-1 receiving line against the Packers when all of the 49ers' wide receivers caught COVID-19, James was regularly a return man first and wide receiver second in San Francisco. However, his backflips in the victory formation will be tough to replace

.

WR Ray-Ray McCloud:

Signed a two-year, $4 million deal with the 49ers that includes $2.8 million guaranteed. Son of universe-saver Fox, Ray-Ray projects as the 49ers' new primary return man and will also battle for the No. 4 wide receiver job. McCloud set career-high marks in targets (66), receptions (39) and receiving yards (277) in 2021 while serving as

JuJu Smith-Schuster

's primary replacement in the slot.

WR Malik Turner: Signed a one-year, $1.1 million deal with the 49ers. The contract includes just $300,000 guaranteed, so he's not certain to make the active roster. Turner has posted two rather productive seasons with the Seahawks in 2019 (15-245-1) and Cowboys in 2021 (12-149-3) despite seeing just 22 and 16 targets in those campaigns, respectively.
WR Marcus Johnson: Signed a one-year, $1.035 million deal with the 49ers that includes $250,000 guaranteed. Johnson has bounced around with the Eagles, Colts and Titans during his five-year career, averaging a robust 16.5 yards per reception while serving as a backup field-stretching option.
TE Tyler Kroft: Signed a one-year, $1.2 million deal with the 49ers that includes just $25,000 guaranteed. The Bills somewhat surprisingly signed Kroft to a three-year, $18.75 million deal in 2019, but he struggled to stay on the field and make an impact. Overall, Kroft has played in just 35 of 65 games since 2018.
The 49ers' first offensive draft pick was LSU RB Tyrion Davis-Price with the 93rd overall pick. PFF's highest-graded pass-blocking back from the class, TDP came on strong for the 2021 Tigers with 22-147-2, 36-287-3, 17-53-1, 23-104-0, 28-106-0, 21-82-0 and 19-84-0 rushing lines across his final seven collegiate performances.
While Davis-Price's third-round draft capital indicates a large rookie-year role is certainly possible, Shanahan's history of featuring one running back after another leaves a very wide range of outcomes ahead of 2022.
San Francisco also added SMU WR Danny Gray in the third round. Gray has speed for days — he ran a 4.33-second 40-yard dash — and could compete for snaps early due to the lack of an established field-stretching WR on this roster. Of course, it seems unlikely he garners a particularly large target share with Deebo Samuel, Brandon Aiyuk and George Kittle in town.
The 49ers also added Iowa State QB Brock Purdy in the seventh round. Obviously, he won't be competing for a realistic role in 2022 and likely beyond. The fantasy track record of players selected outside of the draft's top three rounds isn't pretty.
First things first, I fully expect Lance to be the 49ers' quarterback come Week 1 — regardless of whether Jimmy G remains on the roster. This is because head coach Kyle Shanahan literally stated himself that he expects Garoppolo to be traded. Not a reporter, not a source close to the situation, not the general manager, but Shanahan.
In what world would the Niners head coach confirm that the team is attempting to trade Garoppolo only to turn the job back over to him? While Shanny hasn't explicitly named Lance the starter, he's noted that he believes Lance can handle the pressure of being the starting quarterback and also indicated as much when discussing QB coach Brian Griese.
Lance was already in the minority as one of just five top-10 quarterbacks to not start double-digit games as a rookie. The four additional exceptions to the rule went on to start 11, 13, 15 and 16 games in their second season.
Working under the assumption that Lance will work as the 49ers' starting quarterback, it's tough not to be excited about what he can bring to the table as a fantasy quarterback. He racked up 31 carries in three extended appearances last season — even a more conservative estimate of eight carries per game would lead to 136 rush attempts across a 17-game season.
Overall, 11 of 12 quarterbacks to get at least 125 carries in a season went on to post top-12 fantasy production on a per-game basis, with 2020 Cam Newton (QB17) being the only exception. Seven of the 12 qualifiers finished as a top-five signal-caller.
Trey Lance had 31 carries in three extended appearances as a rookie. Let's say that's a bit extreme and go with an average of 8 carries per game (136 across 17 games, 128 across 16)

Per-game fantasy ranks of QBs with 125+ carries in a season:
1
1
2
3
4
4
5
6
7
8
12
17 (2020 Cam)

— Ian Hartitz (@Ihartitz) June 16, 2022
Again, this is on a per-game basis, so the signal-callers aren't being overly awarded for simply staying healthy.
Yes, Lance has a ways to go as a passer. Also yes, he ranked fourth in the NFL with an average of 8.5 yards per attempt last season, finishing just 0.1 yards behind Garoppolo himself. Obviously, Lance was working with a small sample size that included some blown-coverage-induced big plays, but that's also life in an offense that has playmakers such as Deebo Samuel, George Kittle and Brandon Aiyuk.
There were moments when Lance's more aggressive mindset and cannon for a right arm demonstrated the sort of upside this new-look offense could have.
Football pic.twitter.com/TpCLAxdKaC

— Ian Hartitz (@Ihartitz) June 19, 2022
Lance is far from free in fantasy land at the moment, as evidenced by his QB11 price tag. This is where I have him ranked too — it's tough to be all in ahead of proven QB1s like Dak Prescott, Russell Wilson, Tom Brady or Joe Burrow when Lance did only post QB20, QB18 and QB10 finishes in his lone three extended appearances of 2021. Still, this affordable spot makes him as good a bet as any to be this year's late-round quarterback gem.
In 2018, there was Patrick Mahomes (ADP QB15) as a prime late-round quarterback. The 2019 season had Lamar Jackson (QB11). The 2020 campaign featured Josh Allen (QB11) and 2021 Jalen Hurts (QB12). Don't be surprised if Lance is the latest young signal-caller to leap from outside the top 10 in ADP right into top-five territory as early as 2022.
The Shanahan family has quite a history of enabling random running backs to all sorts of production. Kyle has been forced to lean into this more than ever in recent years due to a constant string of injuries, as he's produced five different lead backs in five seasons running the 49ers.
Kyle Shanahan running back history. Fantasy football ranks refer to PPR points per game among all backs that played at least eight games for that year. pic.twitter.com/yuPKl6RHQJ

— Ian Hartitz (@Ihartitz) June 19, 2022
There are once again plenty of options in this backfield, although Mitchell certainly deserves to be treated as the favorite after his largely excellent rookie campaign. He never gave Shanahan a chance to put him in the doghouse, thanks to racking up a league-high 288 touches without a drop of fumble (including playoffs). The next-closest running back was Devonta Freeman (167), and after him, the mark drops all the way to just 63 touches.
The potential problem for Mitchell is his questionable role in 2022. There wasn't anything wrong with his 262-1,132-6 rushing line in 14 games, but Hasty (29) wound up out-targeting Mitchell (27) on the season (including playoffs).
Enter Davis-Price, who could feasibly eat into the early-down rushing share in addition to obvious pass-down situations. He carries the sort of theoretical three-down skill set that threatens Mitchell every step of the way. Running backs coach Anthony Lynn noted that the 49ers were drawn to Davis-Price's size, specifically saying, "We just thought he could bring an element to the game that maybe we don't have right now — the physicality part."
Ultimately, the fact that the 49ers have seemingly gone out of their way to not feature the running backs that they have devoted the most resources to makes it awfully difficult to fully trust Mitchell as the 2022 workhorse.
The larger issue could be the switch from Jimmy G to Lance under center. I looked at the performance of running backs tied to high-end mobile quarterbacks from 2011 to 2020 and came away with the following two takeaways:
1) In all, 22 of 37 (59%) highly mobile quarterbacks enabled a top-24 fantasy running back. This is quite a bit lower than our expected hit rate of 75% (24 running backs divided by 32 teams).
2) The larger concern was that only 10 top-12 running backs emerged from this group: 2020 Alvin Kamara, 2017-2018 Christian McCaffrey, 2016-2017 LeSean McCoy, 2012-2014 Marshawn Lynch, 2012 Alfred Morris and 2019 Mark Ingram. The former three backs caught at least 50 passes in each season, while the latter three all participated in top-10 offenses.
All this uncertainty has Mitchell going as the RB24 over at Underdog Fantasy. Davis-Price (RB50) is also on the rise. I'm slightly higher on Mitchell (RB22) than consensus, while TDP (RB49) also isn't someone I'm actively shying away from. The constant string of injuries has robbed fantasy managers of a consistent Shanahan RB1 in recent memory; don't fully shy away from the chance to nab the lead running back in one of the game's most run-heavy offenses in Round 6.
There isn't much reason to believe these other complementary backs will take over a significant role, but be ready to pounce throughout the offseason and into the regular season if there begins to be smoke behind a specific back. Of course, we can't even guarantee we'll all be alive by next Sunday, so who knows.
Samuel has always gotten a rush attempt here and there, but Shanahan really started featuring him as a running back starting in Week 10, 2021. While Samuel had no problem keeping up his high-end fantasy production, there certainly was a stark difference in usage:
Weeks 1-9:

6.1-110.3-0.5 receiving, 0.8-2.8-0.1 rushing, 21.2 PPR points per game

Weeks 10-NFC Championship:

3.5-61.5-0.3 receiving, 7.3-43.6-0.7 receiving, 20 PPR points per game
However, Samuel averaged 17.1 expected PPR points per game in Weeks 1 to 9. And in Weeks 10 through the NFC Championship, he went for just 12.7 expected PPR points per game. The heart and soul of the 49ers offense made it work because he's a baller, but a full-time role at wide receiver sure would make things a lot easier.
With that said, my goodness is Samuel great at football. His rushing usage is far from a fluke — good things happen when the ball is in his hands.
Deebo Samuel running back edition pic.twitter.com/X3DR4oOAPs

— Ian Hartitz (@Ihartitz) June 19, 2022
Somehow, Samuel averaged more missed tackles forced per carry (0.33) than everyone other than 2014 Marshawn Lynch (0.34) in PFF's entire database dating back to 2006 (minimum 50 carries, including playoffs).
Overall, Samuel's average of 18.3 yards per reception ranked first among 134 players with at least 50 targets. His average of 6.3 yards per carry ranked fourth among 91 players with 50-plus carries. While his workload is uncertain — especially with Lance under center — it's tough to find another player worth betting on winning with nothing other than sweet, sweet efficiency.
Meanwhile, Aiyuk managed to come on rather strong down the stretch in 2021: He was stuck in Shanahan's doghouse and only played 75% or more of the offense's snaps once in Weeks 1 through 7, but from there on out he resembled the sort of second-year stud that many expected:
Weeks 1-7:

1.5-16-0.2 (2.7 targets); 4.1 PPR points per game

Weeks 8-NFC Championship:

4-61.8-0.3 (5.9 targets); 11.9 PPR points per game
Aiyuk worked as the overall PPR WR16 from Weeks 8 through 18, but that's a bit deceiving, considering he got to play 11 games during that stretch. On a per-game basis, Airyuk was the WR25 during the stretch.
Ultimately, this is a slow-paced, run-first offense with three fairly high-end pass-catchers to keep involved. The 49ers proved to be more than willing to feature Samuel well ahead of Aiyuk until they needed to use him more at running back, only at this point did the 49ers' 2020 first-round pick emerge as a viable fantasy option.
Samuel comes in as my WR10, a bit below his Underdog Fantasy ADP as the WR7. The man is far too good to fully fade, but I'd take guys like Mike Evans, Tyreek Hill and Tee Higgins ahead of him due to their respective potential to see far more receiving-heavy and fantasy-friendly workloads should Samuel again be forced to play far more running back than anyone would prefer.
Aiyuk is far tougher to get behind. The following table denotes the top-scoring PPR running back, wide receivers and tight end on a per-game basis from offenses with a run-heavy quarterback since 2010. The "run-heavy" moniker is defined as 80 rush attempts in a season (five per game).
| | | | | |
| --- | --- | --- | --- | --- |
| Team + Season | RB1 | WR1 | WR2 | TE1 |
| PHI + 2021 | 36 | 40 | 82 | 8 |
| BAL + 2021 | 39 | 23 | 59 | 1 |
| BUF + 2021 | 28 | 9 | 46 | 9 |
| ARI + 2021 | 8 | 19 | 32 | 10 |
| BAL + 2020 | 29 | 43 | 79 | 4 |
| NE + 2020 | 31 | 53 | 81 | 56 |
| ARI + 2020 | 23 | 5 | 51 | 27 |
| BUF + 2020 | 39 | 3 | 31 | 29 |
| HOU + 2020 | 13 | 8 | 17 | 25 |
| SEA + 2020 | 11 | 10 | 12 | 35 |
| BAL + 2019 | 10 | 48 | 88 | 5 |
| BUF + 2019 | 27 | 23 | 36 | 35 |
| ARI + 2019 | 13 | 31 | 45 | 45 |
| HOU + 2019 | 39 | 5 | 38 | 25 |
| BAL + 2018 | 31 | 55 | 63 | 18 |
| CAR + 2018 | 3 | 43 | 49 | 14 |
| HOU + 2018 | 23 | 4 | 45 | 38 |
| BUF + 2018 | 41 | 47 | 70 | 43 |
| CAR + 2017 | 13 | 25 | 48 | 32 |
| SEA + 2017 | 81 | 16 | 50 | 7 |
| BUF + 2017 | 9 | 48 | 73 | 11 |
| BUF + 2016 | 4 | 52 | 66 | 19 |
| CAR + 2016 | 25 | 35 | 55 | 5 |
| CAR + 2015 | 15 | 34 | 68 | 6 |
| BUF + 2015 | 7 | 14 | 59 | 17 |
| SEA + 2015 | 34 | 15 | 49 | 11 |
| KC + 2015 | 41 | 18 | 82 | 9 |
| Average | 24.9 | 26.9 | 54.6 | 20.1 |
| Median | 25 | 23 | 51 | 17 |
Aiyuk comes in as my WR46 behind guys like Chris Olave, Tyler Boyd and Rondale Moore. Perhaps the target share swings his way in 2022, but the potential for even less overall volume, combined with Samuel and Kittle potentially seeing far more work, makes him tough to squeeze inside the position's top 40 options.
Last season, nobody reached even 40 targets other than Samuel, Kittle and Aiyuk. Expect Jennings to once again start from the slot, and it'd make sense if Gray immediately gets a chance to contribute as a complementary field-stretcher. Still, the persistent presence of FB Kyle Juszczyk alongside the occasional two-RB or two-TE formation hasn't left much meat on the bone for the offense's No. 3 receiver. Overall, the 49ers were one of just five offenses to run fewer than 500 total plays in 10 or 11 personnel last season.
Kittle is my pick for planet Earth's starting tight end should the aliens invade us and force us to play one game to decide the fate of mankind. It's tough to argue otherwise given the absurdly efficient numbers he's posted since entering the league in 2017:
Overall PFF grade:

92.8 (No. 1 among 60 tight ends with at least 100 targets since 2017)

PFF receiving grade:

93.4 (No. 1)

PFF run-blocking grade:

77.5 (No. 5)

Yards per route run:

2.49 (No. 1)

Yards per reception:

13.4 (No. 5)

Yards after the catch per reception:

7.5 (No. 1)

Targets per route run:

25% (No. 1)
Kittle's ranks among tight ends don't do his true receiving upside justice. Since entering the league in 2017, he ranks seventh in yards per route run (2.49), trailing only Julio Jones (2.65), Justin Jefferson (2.62), A.J. Brown (2.61), Michael Thomas (2.6), Ja'Marr Chase (2.51) and Deebo Samuel (2.51). Madness.
Somehow, the star tight end doesn't have a season with more than six touchdowns to his name just yet, but Travis Kelce (15.4), Rob Gronkowski (14.7) and Pete Retzlaff (13.7!) are the only tight ends in NFL history to average more PPR points per game than Kittle (13.6) for his career anyways.
Kittle played 17 games in 2021 (including playoffs), catching 78-of-108 targets for 1,018 yards and seven touchdowns. Though he'll be 29 in October, tight ends historically have far more late-career success than running backs or wide receivers.
PFF projections actually have Kittle earning the third-most targets among all tight ends, behind only Kelce and Andrews. There's an argument he again belongs in the position's big-three options. While Darren Waller deserves to be in the same tier as Kittle, I believe there's a decent-sized talent gap between the pair to warrant prioritizing the 49ers stud, even though Waller does indeed carry a more proven quarterback under center inside of a likely more pass-happy offense.
The only tight ends I'd draft ahead of Kittle are Travis Kelce, Mark Andrews and Kyle Pitts, who each have a realistic (if not expected) path to the top of their team's target totem pole. While Kittle also has a chance to lead the 49ers in targets, he's dealing with far more established wide receiver competition than the former three tight ends in addition to likely working inside of one of the league's more run-heavy offenses.
And yet, Kittle's version of a boom season might just be bigger than any other player at the position due to his status as quite possibly the greatest tight end on the planet at the moment. I'm eating him up over at Underdog Fantasy (ADP TE5, overall 49.6) — he's my 42nd-ranked player and someone you should confidently buy in the fifth round in drafts of all shapes and sizes.