Tight end tiers are an important weapon in your fantasy football arsenal. Instead of the rigid approach of fantasy football rankings, tiers allow you more flexibility on draft day, which is key to dominating your opponents. With a tier-based approach, you can see how each player stacks up at his respective position.
Tight end is extremely thin this season. As you'll see in the tiers below, you don't want to wait too long on draft day because the position dries up fast. But don't worry, these tiers will help you attack the tight end at the exact right time in your 2019 fantasy football drafts. Let's take a look at the 2019 fantasy football tight end tiers.
[Editor's Note: Follow along with all of Jeff Ratcliffe's fantasy rankings tiers. All EDGE and ELITE subscribers can access the PFF Fantasy staff rankings.]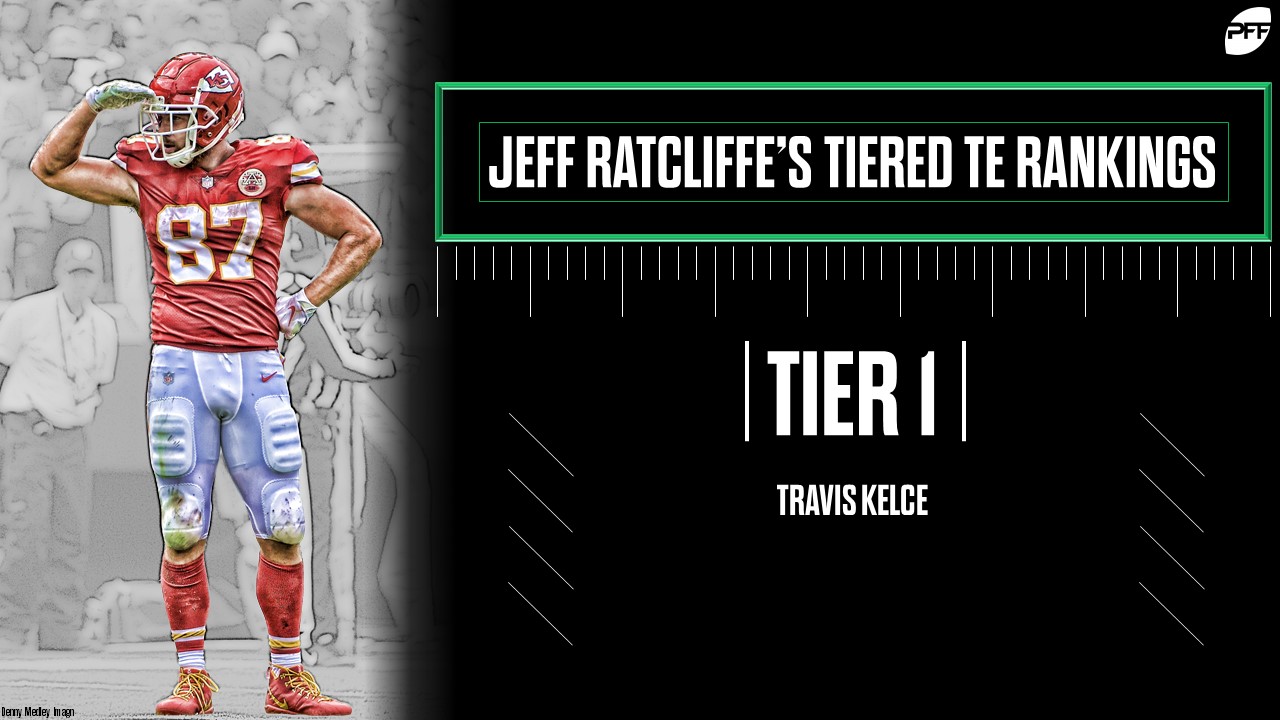 Tier 1 – Alone at the top
Travis Kelce, Kansas City Chiefs
While it's tempting to put the Big 3 in Tier 1, Kelce really stands out from Zach Ertz and George Kittle. He's coming off his third straight No. 1 fantasy finish among tight ends and posted some of the best numbers we've ever seen from the position. With Patrick Mahomes' massive ceiling and Kelce's extremely favorable role in Andy Reid's offense, Kelce is locked in as this year's top fantasy tight end. Expect him to come off the board in the first round of your 12-team PPR drafts.
Tier 2 – Still elite
Zach Ertz, Philadelphia Eagles
George Kittle, San Francisco 49ers
Ertz and Kittle don't quite match Kelce for fantasy purposes, but they aren't that far off either. Ertz is coming off a massive 116-catch season. That floor is very appealing, but he doesn't have Kelce's ceiling. Additionally, we could see a bit more of Dallas Goedert in the Eagles offense this year. Kittle is coming off a breakout 2018 season with an enormous 15.6 yards per catch. His ceiling is still massive, but regression in efficiency could depress his fantasy numbers slightly this year. Either way, these two are studs who will likely be drafted within the first 24 picks this year.
Tier 3 – The next five
Evan Engram, New York Giants
Hunter Henry, Los Angeles Chargers
O.J. Howard, Tampa Bay Buccaneers
Jared Cook, New Orleans Saints
Eric Ebron, Indianapolis Colts
They aren't the Big 3, but this group of tights all have enough upside to crack elite fantasy territory. Engram's numbers took a step back last year, but opportunity knocks in the Giants' offense with Odell Beckham Jr. out of the mix. We didn't get to see Henry last season, but he's poised to be one of the bigger fantasy breakouts of 2019 with his favorable role in the Chargers offense. Howard had seven top-10 fantasy finishes in 10 games played last year. Cook finally put a full season of production together and now is paired with Drew Brees in the potent Saints offense. Likewise, Ebron managed to put four years of disappointing production in Detroit behind him and racked up double-digit touchdowns in Indy. This is an excellent area to target your tight end this year. Look for these guys to go in the fifth-seventh rounds in 12-team drafts.
Tier 4 – High-ceiling options
Vance McDonald, Pittsburgh Steelers
David Njoku, Cleveland Browns
Austin Hooper, Atlanta Falcons
Trey Burton, Chicago Bears
If you miss on tight end earlier in your drafts, this is the group to target for upside starting in the late-seventh round. McDonald flashed upside last year with four top-10 fantasy finishes, and he has the potential to see more volume with Jesse James out of the way. Njoku was extremely inconsistent last year, but there's no denying the fact that he has a high fantasy ceiling. Njoku posted five top-10 fantasy finishes last year. Likewise, Hooper took owners on a fantasy roller coaster ride last year, but still managed to finish as the No. 6 tight end on the season. Burton didn't quite break out last year, but he was also a top-10 fantasy option.
Tier 4a – Low-ceiling options
Delanie Walker, Tennessee Titans
Jack Doyle, Indianapolis Colts
Greg Olsen, Carolina Panthers
Jordan Reed, Washington Redskins
Kyle Rudolph, Minnesota Vikings
Jimmy Graham, Green Bay Packers
These players are going in the same range of drafts as the upside options, but they're much less appealing given their lower fantasy ceilings. Walker missed nearly all of last year and is entering his age-35 season. Olsen is also getting up there in age and has suffered significant injuries in each of the last two seasons. Graham rounds out the trio of old heads in this tier and is coming off just two touchdowns last year.
Doyle could legitimately out-target Ebron this season, but his minimal use in the red zone puts a cap on his value. Reed just can't stay healthy and has missed a combined 31 games over the last six seasons. Rudolph ranked seventh among tight ends in fantasy scoring, but don't get too carried away. He did so while only scoring four touchdowns on the season.
Tier 5 – Late-round darts
Mark Andrews, Baltimore Ravens
Noah Fant, Denver Broncos
T.J. Hockenson, Detroit Lions
Dallas Goedert, Philadelphia Eagles
Tyler Eifert, Cincinnati Bengals
Chris Herndon IV, New York Jets
Waiting until the end of your draft to pick a tight end isn't an advisable strategy, but this group is in play if you miss on the first four tiers. Andrews really stands out at the top. The Ravens tight end posted a solid 552 receiving yards in his rookie season and is poised to break out this year. Fant and Hockenson are big-name rookies, but keep in mind that it often takes young tight ends several seasons before they become consistent fantasy options. Goedert has received some buzz in the offseason, but it may be tough for him to put up consistent numbers with all of the mouths to feed in Philly. Eifert might be higher on the list if he could ever stay health. Herndon was higher on the list, but he's facing a four-game suspension to start the season.
Editor's Note: The fantasy football season is quickly approaching, and we have more fantasy content than you could ask for:
Fantasy Rankings | PFF 2019 Fantasy Playbook | Fantasy Projections