The first two weeks of free agency are almost over, and our own Jeff Ratcliffe has his opinions on the biggest fantasy football winners and losers. While Ratcliffe's article is a comprehensive look from a qualified expert, we also have resources to assess free agency's impact on players according to hundreds of best ball fantasy drafters. This article builds on the process from yesterday's on the winners of free agency according to best ball ADP.
I took average draft position info from bestball10s.com from before and after the free agency period began and calculated who the biggest movers were at the running back, wide receiver and quarterback positions. In this article, I'm going to focus on players whose ADPs have fallen the most, relative to the starting point. The analysis focused on ADPs roughly a week before and after the beginning of free agency for calculating the biggest fallers.
Fallers in New Surroundings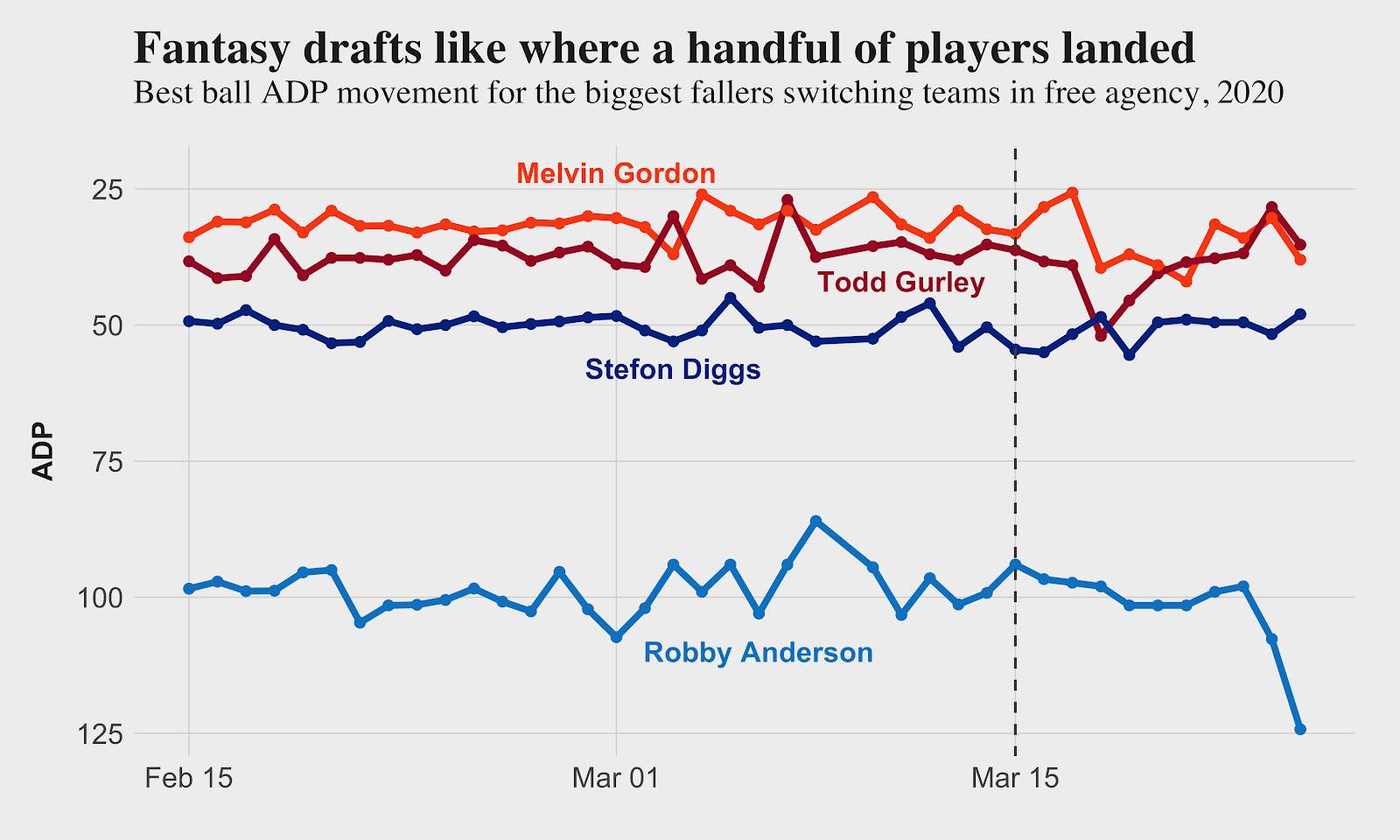 Most of the players in this and the risers article see turbulence after the beginning of free agency, as fantasy drafters have to process a lot of new information for players who left for another team. In general, the fallers fell less than the risers rose, which makes sense as teams are generally signing players at positions of need where, presumably, there will be opportunity for the new arrival.
Robby Anderson is the only faller who dropped significantly after his signing with the Carolina Panthers was announced on March 24. Anderson's ADP immediately drops on the 24th, then falls further on the 25th (the last data point on the plot). Drafters don't like his opportunity alongside D.J. Moore and Curtis Samuel with Teddy Bridgewater at quarterback.
Stefon Diggs only fell ever so slightly after being traded to the Buffalo Bills. Todd Gurley's ADP recovered most of its losses after the Los Angeles Rams cut him and the Atlanta Falcons signed him a day later. Melvin Gordon isn't a big faller, but the three-headed backfield of Gordon, Phillip Lindsay and Royce Freeman isn't seen as an upgrade for a player eveyone knew would not be back with the Los Angeles Chargers in 2020.
Here are all the numbers for the biggest fallers who switched teams this offseason.
| | | | | | | | |
| --- | --- | --- | --- | --- | --- | --- | --- |
| Player | Position | 2019 Team | Pre-FA ADP | 2020 Team | Post-FA ADP | Diff | Gain |
| Melvin Gordon | RB | LAC | 30.4 | DEN | 33.4 | -3.0 | -4.7% |
| Todd Gurley | RB | LA | 36.9 | ATL | 38.4 | -1.5 | -2.0% |
| Stefon Diggs | WR | MIN | 50.5 | BUF | 50.9 | -0.4 | -0.4% |
| Robby Anderson | WR | NYJ | 98.3 | CAR | 102.8 | -4.5 | -2.2% |
Fallers Hurt From Lost Opportunity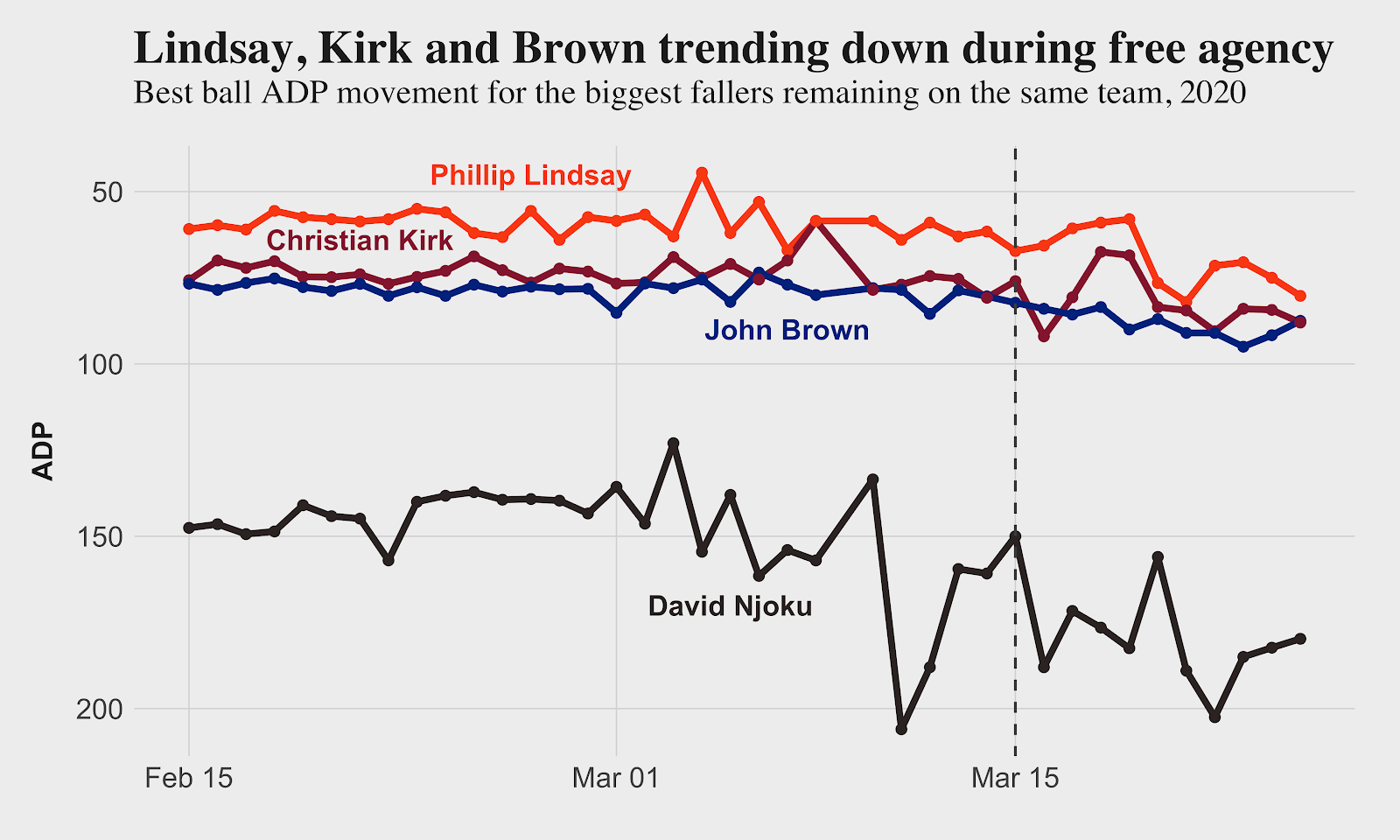 Phillip Lindsay has fallen more than Gordon when the latter was signed by the Denver Broncos, and there's a decent chance it's only the start of a bigger decline. In the weeks leading up to free agency, Lindsay was a top-30 running back by ADP.
Christian Kirk and John Brown have analogous situations with DeAndre Hopkins and Stefon Diggs joining their respective teams. It's interesting to me that Kirk hasn't fallen more proportionally, as Hopkins has been one of the biggest target hogs in all of the NFL the last few seasons.
David Njoku has had a volatile ADP since the beginning of March, and drafters still haven't figured out exactly where he should stand after the Cleveland Browns added Austin Hooper. There's additional variance in Njoku's ADP now that he's not even selected in some recent drafts.
| | | | | | | |
| --- | --- | --- | --- | --- | --- | --- |
| Player | Team | Position | Pre-FA ADP | Post-FA ADP | Diff | Gain |
| Phillip Lindsay | DEN | RB | 62.2 | 72.3 | -10.1 | -7.5% |
| Christian Kirk | ARZ | WR | 77.0 | 86.3 | -9.3 | -5.7% |
| John Brown | BUF | WR | 80.6 | 92.6 | -12.0 | -6.9% |
| Daivd Njoku | CLV | TE | 166.3 | 189.9 | -23.6 | -6.6% |