Deshaun Watson played in only seven games as a rookie. He was a starter (and, connected, a potential fantasy play) in six. In those six games, he never offered fewer than 18 fantasy points. Small sample caveats abound, but that's incredible. In 2016, Matt Ryan had 12 or more fantasy points in every game, but no one did better than that. 18? That's nuts.
Fantasy floor maters. It doesn't matter as much as ceiling, and it's not exactly predictive, but it matters. My oft-cited example: It's Week 11. You're 6-4 — probably in the playoffs, just needing to not make a mistake. Your game host predicts you to be a winner by 10 or so points. So what sort of player do you look for?
If you're the underdog, you look for the volatile types — the DeSean Jackson archetype, who might put up 25 but might have 1 catch for 6 yards. If they get shut out, who cares, you were supposed to lose anyway. If they have their big game? You get the upset.
But if you're the favorite? Maybe you play it safe. Maybe you go for the guy you can be reasonably sure will put up 7 or 8 points and keep your cushion going. Maybe that's the running back with no reliable backup, or the wide receiver who is his team's only good weapon. But a high fantasy floor matters.
Below are some notes from the high fantasy floors of 2017. (Standard scoring, because that's my spreadsheet.)
Quarterbacks
The aforementioned Watson put up 18 fantasy points every time he started. (I think it's fair to ignore games quarterbacks didn't start, as there weren't any fantasy implications if they were backups.) The next-best? Carson Wentz, who offered 13-plus every game he played before his injury. Jimmy Garoppolo only five games, but had 12 or more in all of them.
The highest floor for any quarterback who played all 16 games? Drew Brees, who had at least 12 points in every game he played. A healthy Brees is just a cheat code when it comes to the fantasy floor, and that's one part (of about a billion) why I'm calling for a big bounceback for him in 2018.
Other quarterbacks who put up double-digits in every game they played:
Some surprises:
On the bad side:

Because of his injury against Minnesota, Aaron Rodgers had a 1-point fantasy floor.
Running backs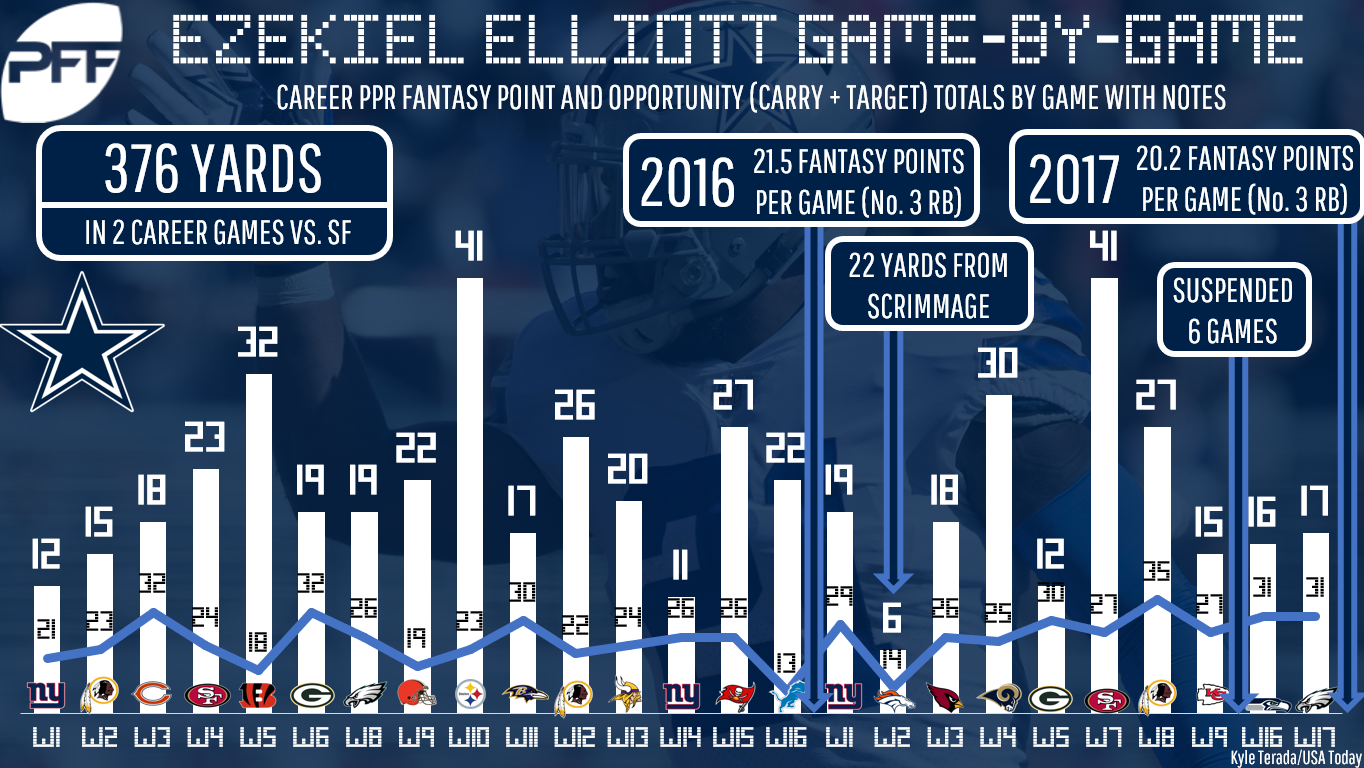 Elliott was held to 8 rushing yards and 14 receiving yards in Week 2. That game happened. And it's the only time in 25 career games that he's been held to single digits. He's still the king of the high floor.
Potentially surprising names:

Mike Gillislee was inactive for several games, but every time he played he put up at least 3 points.
Alex Collins was a backup for a big chunk of the season before taking over as the starter, but even without being the bell cow, he managed 3-plus.
Everyone likes to dump on Lamar Miller, and 3 isn't exactly dominant, but he did manage a floor higher than a lot of guys.

Alvin Kamara's floor was 3 points, because he left the Saints' Week 14 game against Atlanta on the first drive with a concussion. But because he started the year behind Ingram and Adrian Peterson in the pecking order, his floor was only 4 points otherwise.
Wide receivers
DeAndre Hopkins takes the prize here, with at least 7 points in every game, easily the best of all non-quarterbacks. He and Keenan Allen are the only wide receivers with at least 4 in every game.
Jarvis Landry is the PPR poster boy, but in standard, he still had 3 every game (in PPR, his floor was 8).
Injuries again: Antonio Brown's floor was only 2, because of his Week 15 injury against New England, but he was held to only 34 yards in Week 4 against Baltimore as well.
Tight ends
Only one tight end managed multiple fantasy points in every game played: Rob Gronkowski, who had at least 3 every game. Literally every other tight end managed at least 1 or 0 (only 8 other quasi-regular tight ends even managed at least 1 every game, not including Travis Kelce).
Kickers
Josh Lambo didn't take over as the Jacksonville kicker until Week 7, and Harrison Butker didn't take over in Kansas City until Week 4, but they, plus Stephen Gostkowski and Wil Lutz, were the only kickers with at least 4 fantasy points every game.
Blair Walsh had a fantasy floor of -3 points. Man, remember that game?
Defense/special teams
Only one team managed at least 3 fantasy points in every game. No, not Jacksonville. Philadelphia. They and Atlanta were the only teams that put up 2-plus in every game.
There are 32 team defenses. Only eight managed positive fantasy output every game. Only 14 avoided ever having a negative-point game. 18 teams (including three of the top five at season's end) had at least one game with negative fantasy points.