Playing preseason DFS is wild, but playing preseason DFS in Week 4 is insane.
We have a full 16-game preseason showcase on tap for Thursday night, and with it comes the final preseason DFS slate before the real deal begins next week. Prepare to read about a bunch of guys you might never hear about again.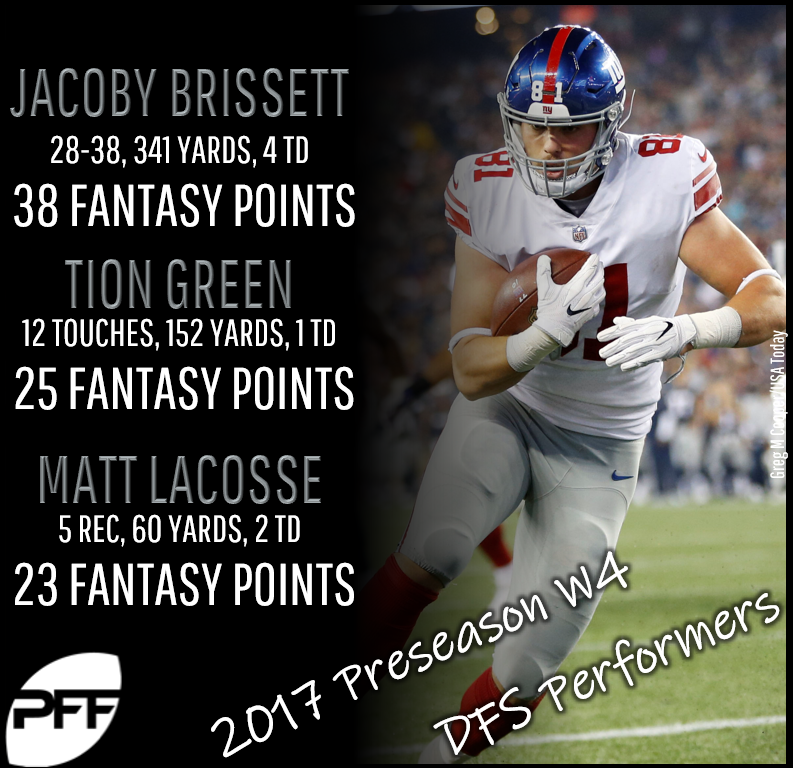 Below are some of my thoughts on the slate.
Quarterbacks
There are a handful of quarterbacks to choose from for the final preseason game.
New England only has three quarterbacks on its roster, and Danny Etling looks like a distant third. In last year's preseason finale, Jacoby Brissett (then New England's No. 3) took all of the snaps and attempted 39 passes. In 2015, Ryan Lindley took all the snaps. In 2014, Jimmy Garoppolo took all the snaps. You get the picture. (In 2016, Tom Brady actually attempted 26 passes in preseason Week 4. Don't expect that again on Thursday night.)
Paxton Lynch is expected to get the entire second half for the Broncos, while Brandon Allen and Luis Perez are set to play one half each for the Rams. We could also get a good look at Tyler Bray, who attempted 34 passes for the Bears in the Hall of Fame game. Additionally, Joshua Dobbs will start for the Steelers and could see extended run.
In Atlanta, Kurt Benkert is expected to see plenty of snaps. He already leads all Falcons quarterbacks with 45 dropbacks this preseason, but he really doesn't have much to show for it (46.2 completion rate, 244 yards, no touchdowns, two interceptions).
I'd also expect to see a decent amount of Phillip Walker (Colts). With Andrew Luck and Brissett locked in at the top of the roster, Walker is battling Brad Kaaya for the No. 3 spot. Kaaya has only attempted four passes this preseason, while Walker is 11-of-18 for 183 yards, two scores, and a pick.
Running backs
Philadelphia's Josh Adams will "get a lot of work" in the team's preseason finale. So far this preseason, he has 10 attempts for 63 yards (6.3 YPC). He's also averaging an impressive 4.10 average yards after contact.
Josh Adams will get a lot of work on Thursday, Pederson said. Eagles want to see him get some work.

— Zach Berman (@ZBerm) August 28, 2018
New York Jets running back Trenton Cannon may see some play in the team's final preseason game as the Jets figure out whether or not they want to keep him on the roster. Cannon has 16 attempts for 63 yards this preseason, but, importantly, he also has eight targets and seven receptions in two games.
Los Angeles Rams third-stringer John Kelly might actually be the second-stringer once preseason ends. He has been dominating across the board, with 46 snaps, 46 attempts, 197 rushing yards and three rushing touchdowns.
Jeremy McNichols will be looking to make the 53-man roster for the 49ers. He has eight receptions (nine targets) in three preseason games to go along with 15 rushing attempts for 48 yards and a score on the ground. The rushing performance isn't so good, but the cheap targets are worthwhile.
Zach Zenner and Ameer Abdullah could be vying for roster spots in Detroit. Abdullah has posted a line of 13-53-1 so far this preseason, while Zenner is at 8-17-0. Abdullah has two catches for five yards and Zenner has one for 11.
Wide receivers
Corey Coleman didn't start in Buffalo's dress rehearsal and played into the fourth quarter. In two games with the Bills, he has three receptions for seven yards. He probably won't be cut, but he's certainly not a darling there. A first-round talent from 2016, I'd hope Coleman could run circles around preseason Week 4 defenders.
New England wideouts Devin Lucien and Riley McCarron should be on your radar, especially if you're looking for someone to pair with Etling. Lucien ranks third on the Patriots so far this preseason with nine targets, while McCarron has seven.
Markus Wheaton will be vying for the No. 6 wideout spot on Philadelphia's 53-man roster. He was sidelined with a hamstring injury, so the Eagles will likely want to see him in action before deciding whether or not to keep him around for the regular season. An interesting side note: Wheaton's contract becomes guaranteed if he's on the roster in Week 1, so there's some additional financial motivation to see whether or not they want to keep him around.
Richie James Jr. has been productive this preseason. pic.twitter.com/MUxTI7CmDg

— Pro Football Focus (@PFF) August 29, 2018
Richie James Jr. is tied for the team lead among San Francisco wideouts in targets (10) and receptions (8) and touchdowns (1) so far this preseason. With the starters unlikely to play, Dante Pettis and Aaron Burbridge both injured and not available, James could see some more work in the finale. He has been one of the best rookies wideouts this preseason across the entire league.
Tight ends
Thanks to the strong preseason performance from Hakeem Valles, Detroit's Michael Roberts could be a surprise cut. Any (relatively) big name that is on the roster bubble will likely see work in the final preseason game, but I like Roberts' chances of collecting a few targets.
Buffalo's Jason Croom has three catches for 60 yards and a score this preseason working behind Charles Clay, Nick O'Leary, and Logan Thomas. Two of his receptions went for at least 20 yards, and his other reception went for 17 yards. A "big play" tight end is tough to find in preseason Week 4.
Preseason hero Rico Gathers will be battling for a roster spot. He has caught eight of 11 targets so far this preseason, including a line of 7-5-30-0 in preseason Week 3. The team could give Gathers another long look on Thursday night to decide whether to keep potentially four tight ends on the roster.