One of the biggest takeaways from my piece last Thursday on players who succeeded over short stretches of 2017 was the path Tom Brady has followed over the last few seasons. He has, for example, averaged 23.1 fantasy points a game in Weeks 5-8, but only 15.8 over Weeks 14-17, and the path from one to the other is fairly steady.
Just speaking to 2017, 23.1 fantasy points per game would have given Brady 370 fantasy points for the season, or nine more than Russell Wilson, who finished in a comfortable first place. On the other hand, 15.8 per game would have been 253 for the season … or 10 points behind Blake Bortles. In other words, in recent seasons, early-season Tom Brady has been the best quarterback in fantasy, and late-season Tom Brady has been Blake Bortles in fantasy. There's a gap there.
Football players aren't robots. Nobody averages the same level of performance over every four-game stretch (though Jameis Winston, who has never had a stretch under 15.2 points or over 17.6, comes real close). And there are many reasons — from health, to exhaustion, to opponents, to simple variance — why numbers can change over certain stretches. Averages that bounce around are likely random chance. But a trend like Brady's — a player's graph moves in one consistent direction over a whole season — at least sets off some sensors and invites more investigation.
There are a handful of trends you'll find — Golden Tate gets better as the season goes on! Stefon Diggs does worse! — but the most notable ones live in the Pacific Northwest. The Seahawks have, over the past three years, seen the most change in their fantasy players' fortunes from early-season to late than any other team.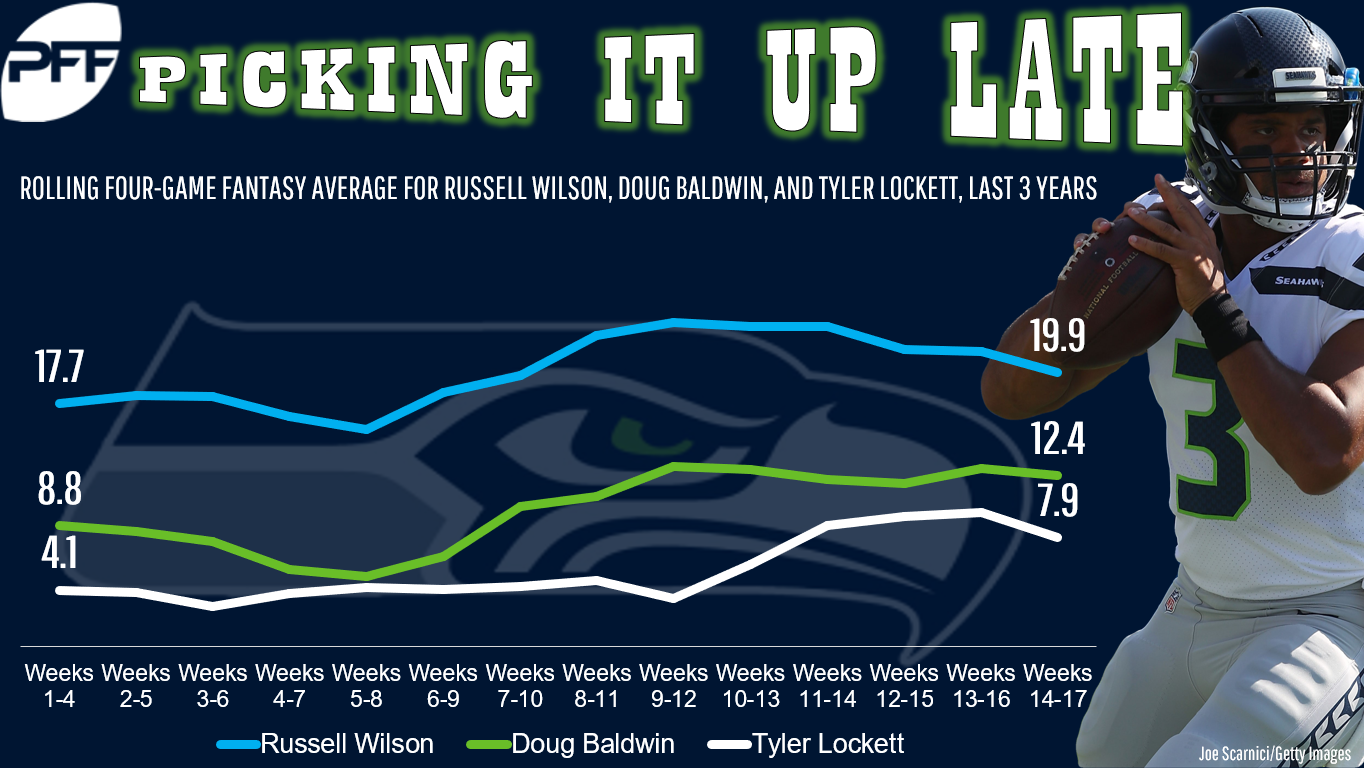 Naturally, if a quarterback's numbers improve, his receivers' numbers should as well. But no team shows this as much as the Seahawks of the last three years. Early in the season, Russell Wilson is a back-end fantasy starter, while Doug Baldwin is a flex play and Tyler Lockett is waiver fodder. By the end of the year, Wilson is a record-breaker, Baldwin is an easy WR1, and Lockett is a decent WR2.
I have a hypothesis about why that is. It's not the deepest, grandest hypothesis in the world, but if it's accurate, it could mean bad things for the fantasy stock of these Seahawks in 2018.
Seattle running game
Marshawn Lynch was the Seattle running back in 2014. And he was very good. He had more than 1,600 yards from scrimmage and scored 17 touchdowns. He was the No. 3 fantasy running back, behind DeMarco Murray and Le'Veon Bell. In PPR, he was also behind Matt Forte, but come on, that's a legendary season from any perspective.
Since then, the Seahawks have had not much at all from the position. Lynch got hurt, Thomas Rawls performed in fits and starts, and the team offered up such a subpar offensive line that there was no room to perform. Rawls was the No. 26 back in 2015, and other than him, the best fantasy finish by a Seattle back has been … Christine Michael, who put up No. 37 RB numbers during his time in Seattle in 2016, but he was underwhelming enough that he got to finish the season in Green Bay after the Seahawks released him.
The thing about it is, though, the Seahawks entered each of the last three seasons with at least some semblance of hope from the position. Entering 2015, Lynch was healthy and coming off that huge season. Entering 2016, Rawls was supposed to be the heir apparent. And entering 2017, Rawls was theoretically in line for a bounceback and the team had another bounceback candidate in Eddie Lacy. Looking back, it's not altogether surprising any one of those plans failed, but in the moment, there was hope.
And with hope comes work. And when running backs get work, there's less to go to the wide receivers. Wilson targeted wide receivers an average of 17.3 times a game in Weeks 1-4 from 2015 to 2017. That fell off afterward, bottoming out at 14.3 targets a game in Weeks 3-6. But as the running backs floundered each year, the wide receivers saw more work — up to 19.7 targets a game in Weeks 13-16 and 19.2 in Weeks 14-17.
In short, the failures of the Seahawks to successfully employ a running game (beyond, of course, Wilson's own legs) led to Baldwin and Lockett (and Paul Richardson and Jermaine Kearse, etc.) getting more work and, ergo, more fantasy points.
Enter Rashaad Penny. (And Jamarco Jones, and a full season of Duane Brown, and, for that matter, blocking tight end Will Dissly.) The team made a first-round investment in Penny at running back, ostensibly to give him first crack at a bell-cow role in the offense. The others should help an run-blocking unit that sorely needs the help after several years of below-average play.
If all goes according to the Seattle plan, the running game should be better in 2018. (Of course, you could say this before each of the last few seasons as well, but still.) And an improved running game means less work for the team's receivers.
Add to this the advancements made on defense around the division — the 49ers should go from abysmal to approaching competence, the Cardinals remain good, and the Rams could be other-worldly — and that's why I'm a bit worried about Wilson this year. Baldwin and Lockett have the virtue of the departures of Richardson and Jimmy Graham, which could help to offset the other problems, but for Wilson, I'm worried.
Currently, in our staff consensus rankings, Wilson is the No. 3 quarterback — three of our five rankers have him at No. 2. For me, though, he's No. 5, behind Aaron Rodgers, Brady, Cam Newton, and Drew Brees. It will be a surprise, barring injury, if Wilson isn't a QB1 this year, but his 2018 ceiling is as low as it's been since Wilson was a rookie, and considering the draft capital it will take to acquire him, I'm comfortable saying he won't be on any of my rosters this season.