We're about two weeks away from one of my favorite pieces of baseball writing every year — SB Nation's Grant Brisbee's annual end-of-May piece about "What we'd be talking about if April didn't exist." He imagines a world where the baseball season started in May instead of a month earlier, ignoring the storylines that started the season.
For example, right now, Yankees shortstop Didi Gregorius is a borderline MVP candidate, having an April for the ages. In May, though, he's been in a major slump. Without April, the New York papers would be clamoring for Gregorius' head on a spike, and I would be shocked if that storyline isn't in Brisbee's piece.
(If he decides not to do the column this year, I'll be surprised and very sad.)
The point is that our impressions are often colored by early-season numbers and narratives, and while dividing the season into chunks doesn't necessarily give a better understanding of reality (arbitrary endpoints and all), it does allow for different stories to pick up steam.
So I've divided the 2017 fantasy season into four-week chunks. For the most part, there aren't any revelations (Antonio Brown was the best fantasy wide receiver in Weeks 4-7! Wow!), but a few times, a name pops up that you might not have considered, or you might have forgotten about. That doesn't make them great full-season fantasy options, necessarily, but it does make them interesting.
Quarterback
Most of the season, the top of the quarterback fantasy charts was dominated by names you'd have expected. Deshaun Watson might have led the league in fantasy scoring if not for his injury, and he was the No. 1 quarterback in Weeks 2-5 and 3-6. Carson Wentz also might have been No. 1 if he hadn't been hurt; he led Weeks 4-7, 5-8, 6-9. Russell Wilson did lead the position after being No. 1 in Weeks 7-10, 8-11, 9-12, and 10-13. Even Ben Roethlisberger, who led in Weeks 11-14 and 12-15, isn't a surprise. But there are some noteworthy names nonetheless:
Weeks 1-4: Tom Brady, New England Patriots (1,399 passing yards, 10 TDs, 0 INTs, 98 fantasy points)
Brady finished the season as the No. 3 fantasy quarterback, so the fact that he was No. 1 for a monthlong stretch isn't that notable. The fact that he did so to open the season, though, is interesting, as it further illustrates Brady's recent tendency to start out strong and slack off later in the season; the last three years, he's averaged 25 fantasy points per game in Weeks 1-4, but only 15.8 in Weeks 14-17, and the trend is fairly steady over the course of the season.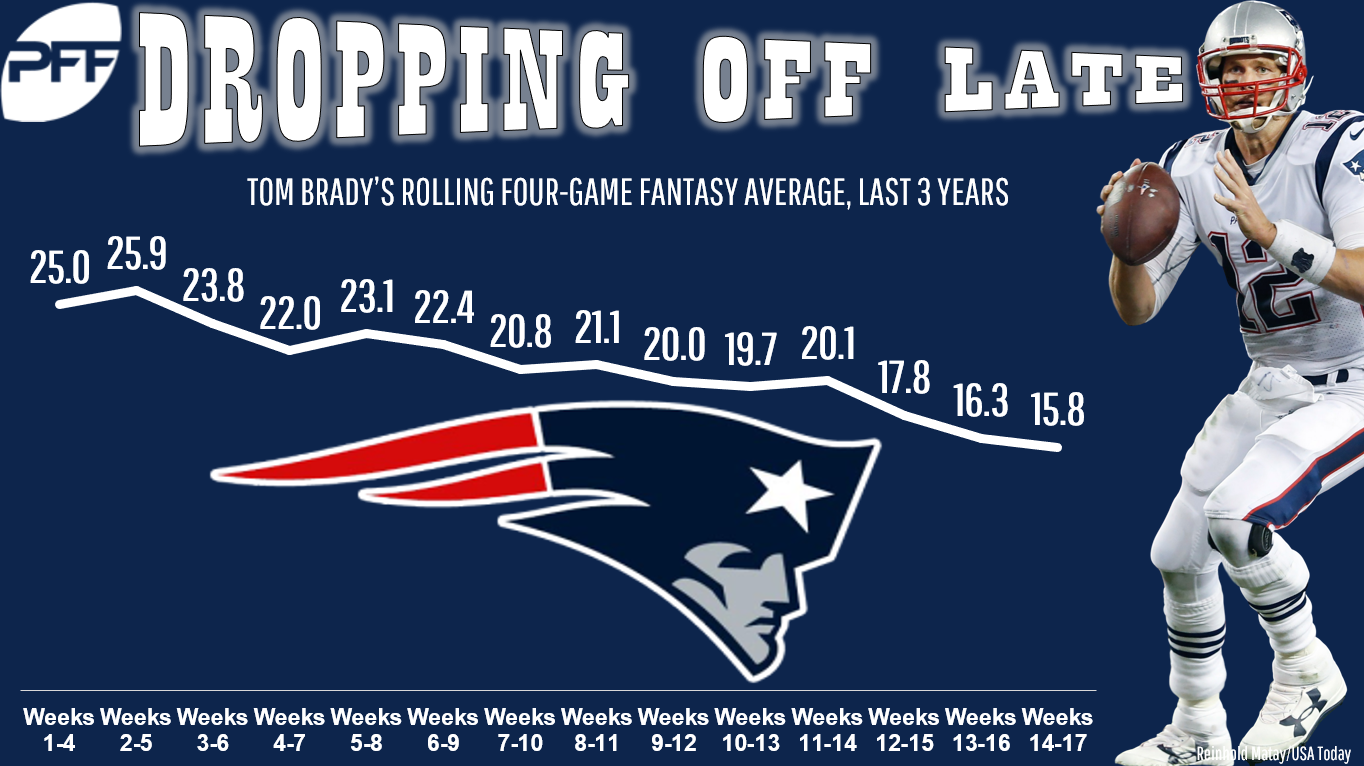 Weeks 13-16: Blake Bortles, Jacksonville Jaguars (1,285 passing yards, 9 TDs, 3 INTs, 90 fantasy points)
In a season in which he was only the 20th-graded quarterback by PFF grades (at 78.4), Bortles caught fire for what was actually a three-game stretch late in the season. He had his highest, second-highest, and fourth-highest game grades of the season in Weeks 13-15 against Indianapolis, Seattle, and Houston (if this study looked at three-week stretches instead of four, Bortles would be doing even better; he fell flat in Week 12 and Week 16 outside of that stretch). It prompted thinkpieces wondering whether the Jaguars actually had something in Bortles at last — thinkpieces that went quiet in a hurry when he had two touchdowns against five interceptions in Weeks 16 and 17. For fantasy, Bortles is less tantalizing now that the Jaguars aren't playing behind every week, and even the occasional short stretch of performance isn't going to change that.
Weeks 14-17: Jameis Winston, Tampa Bay Buccaneers (1,314 passing yards, 7 TDs, 5 INTs, 88 fantasy points)
Winston finished as the No. 19 fantasy quarterback last year in 13 games. Want some fun loosey-goosey math? He and backup Ryan Fitzpatrick combined for 302 fantasy points; if Winston had done that all on his own, he'd have tied with Alex Smith as the No. 4 fantasy quarterback over the whole season. Winston's missed games last year were the first of his career; if you believe in his per-game performance of last year and his health, he could be a sneaky value as the No. 20 quarterback off the board by current ADP.
Running back
There weren't many surprises at the running back position, which stands to reason; as noted in my Tuesday piece on one-game wonders, running backs by and large stay with a workload once they earn it, barring injury. Todd Gurley was the leader for the season, and in standard leagues, he led four different four-game stretches. The interesting part of this isn't who led the sections; it's how often it changed early on.
Weeks 1-4: Kareem Hunt, Kansas City Chiefs (659 yards, 6 TDs, 101 fantasy points)
Weeks 2-5: Todd Gurley, Los Angeles Rams (550 yards, 6 TDs, 87 fantasy points)
Weeks 3-6: Leonard Fournette, Jacksonville Jaguars (547 yards, 5 TDs, 85 fantasy points)
Weeks 4-7: Le'Veon Bell, Pittsburgh Steelers (662 yards, 3 TDs, 83 fantasy points)
Weeks 5-8: Melvin Gordon, Los Angeles Chargers (496 yards, 5 TDs, 80 fantasy points)
Weeks 6-9: Ezekiel Elliott, Dallas Cowboys (466 yards, 6 TDs, 82 fantasy points)
After the Week 6-9 stretch, things leveled off, with Gurley, Bell, and Alvin Kamara having extended stretches atop the running back position, but we took a while to decide who was going to be the dominant running back of 2017. Everyone in the above list is likely to have RB1 value or close in 2018, so there's not much to learn beyond that.
Wide receiver
It's not to quite the same extent as running back, but wide receiver is dominate by the obvious names; of 14 different four-game stretches in 2017, Antonio Brown or DeAndre Hopkins led in nine of them.
The biggest knock on Diggs at this point in his career is health; he and teammate Adam Thielen had essentially the same per-game average in 2017, but Diggs only played 14 games and was limited in one or two others. But he opened the season with two-touchdowns games in Weeks 1 and 3 and 93 or more yards in Weeks 1, 3, and 4. In a small sample (postseason included), Diggs was held scoreless in Vikings' losses last year.
It feels like Green had a lost 2017, but the reality is that over the whole year he finished as the No. 8 fantasy receiver (No. 10 in PPR). Still, he averaged only 67.4 yards per game last year, the lowest total of his seven-year career to date. Despite the Bengals starting 0-3 and having 9 points combined in Weeks 1-2, Green went into the Bengals' Week 6 bye as the No. 1 fantasy quarterback in standard leagues. He's flying a bit under the radar heading into 2018, but Green is still an easy WR1.
Weeks 14-17: Keelan Cole, Jacksonville Jaguars (426 yards, 2 TDs, 54 fantasy points)
Cole is here in part because some bigger-name receivers didn't play down the stretch, with Brown and Hopkins both missing time and others sitting because playoff decisions were made. Still, he had 99-plus yards three times in four games and scored twice. Unfortunately, this has led to Cole having a reasonable ADP so far this offseason (per My Fantasy League, he's the No. 77 receiver off the board), ahead of guys like Zay Jones, Quincy Enunwa, and DeSean Jackson. This despite the fact that Cole essentially vanished from the Jaguars' game plan once they reached the postseason and the team having probably five different wide receivers ahead of Cole in the pecking order, plus Austin Seferian-Jenkins and Niles Paul at tight end. Cole can be forgotten.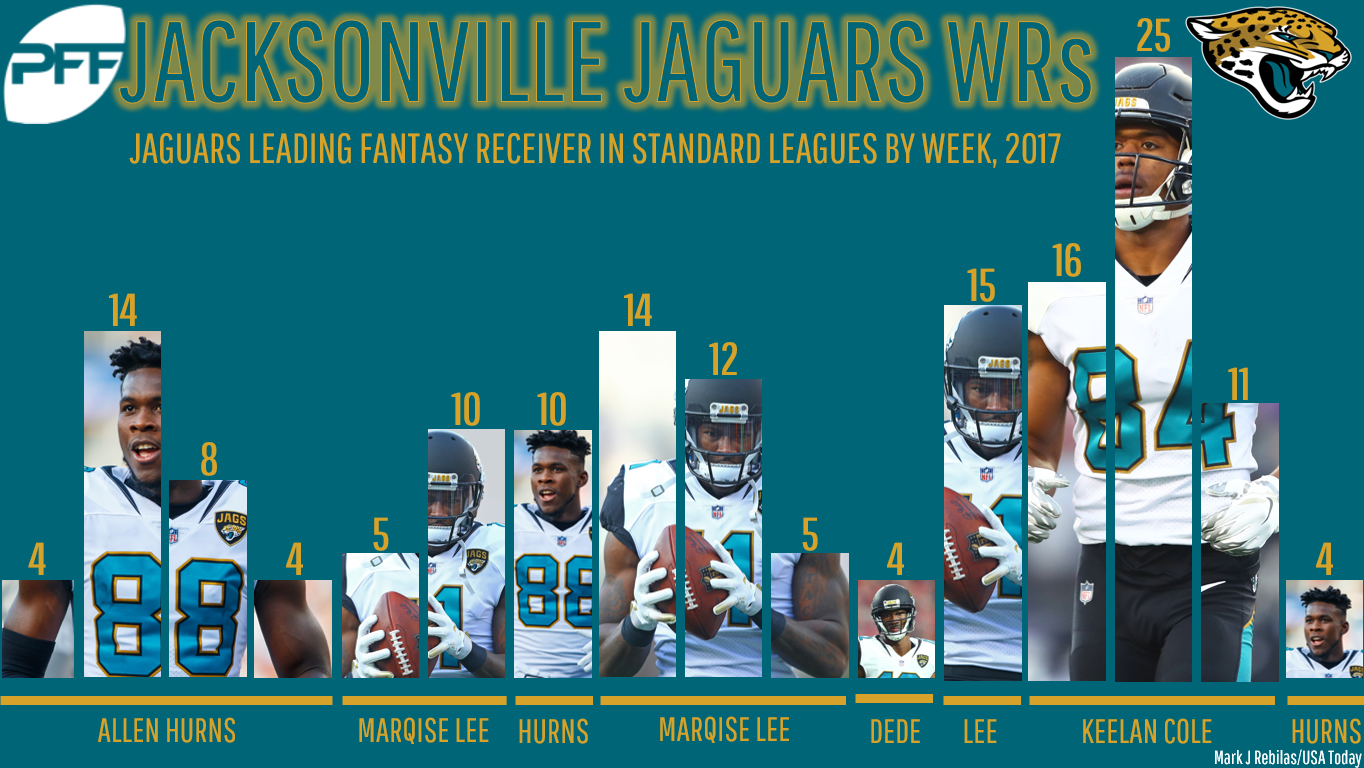 Tight end
Rob Gronkowski, Travis Kelce, Jimmy Graham, Zach Ertz, and Kyle Rudolph combined to lead 12 of the 14 four-game stretches at tight end last year, so there are only two interesting stretches here for our purposes.
Weeks 3-6: Cameron Brate, Tampa Bay Buccaneers (257 yards, 4 TDs, 50 fantasy points)
The most fun part of this is that Brate's hot stretch included Tampa Bay's Week 6 game against Buffalo, which also happened to be O.J. Howard's biggest game (and the No. 3 game by a tight end all season). Brate scored half of his season touchdowns in Weeks 3-6 and had nearly half of his total yardage. The takeaway here, though, is more frustrating: As long as Brate and Howard occupy the same position on the same team, it's hard to trust either as a weekly fantasy option. Each guy will have stretches, but good luck predicting them.
Weeks 14-17: Eric Ebron, Detroit Lions (219 yards, 2 TDs, 33 fantasy points)
The tight end position didn't have a great 2017, but it really didn't have a great Week 14-17 stretch — 33 points is a sad position-leading number. Still, for fantasy owners who have been waiting for Ebron to show something, even a sad No. 1 stretch is still a No. 1 stretch. With Ebron now in Indianapolis with Jack Doyle, this looks like something of a Brate/Howard problem, but if Doyle were to go down with injury, Ebron has fantasy-starter potential for short stretches.