The wisdom of the crowd means that over the long run, the fantasy football drafting community gets it fairly close to correct. Sure, in an individual draft there's going to be the occasional crazy person doing crazy-person things, but if you look at overall ADP, it's rare you're just going to see something that looks insane.
That said, even the crowd isn't perfect. Every year, some players are regularly over- or underdrafted by enough as to make their ADP not reflect what it should be (at least subjectively). So today, we're looking at the players who are the most out of line so far, per Fantasy Football Calculator ADP.
Below are the players most undervalued by round so far this drafting season. Tuesday, we looked at the most overvalued by round.
Round 2
(Current ADP: 2.06, 18th overall)
There's no one who stands out as undervalued in the first round (because it's the first round) and frankly, there aren't that many screaming values in the second, either. After the top 3-6 picks (depending on your faith in Ezekiel Elliott, Melvin Gordon, and/or David Johnson), there's a group of about 10-15 guys who could go in almost literally any order and no one could confidently say you were wrong. So we have mostly a shrug emoji here. But it is worth highlighting Kelce, who has a legitimate case to be a first-round pick at a position that rarely warrants such a lofty slot.
Round 3
(Current ADP: 3.01, 25th)
I went on the record last week with the fact that I'm not dropping Elliott or Gordon in my rankings, and won't do so until it gets so late in the preseason that I think their Week 1 performances could be affected. I put my money where my mouth is, drafting Gordon in the second in my first draft since everything came down. Just trust in the lengthy track record that says these guys aren't going to miss significant time and enjoy the profit that comes with taking a top-six back this late.
Round 4
(Current ADP: 4.01, 37th)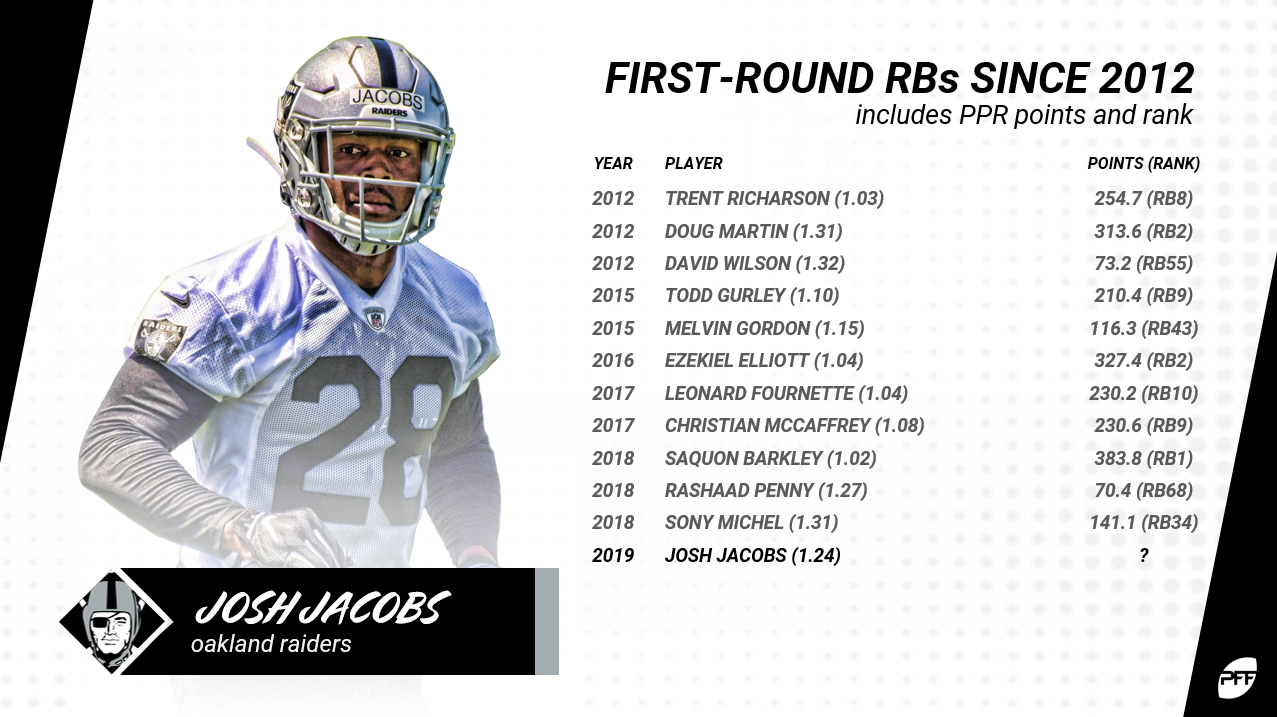 My well-believed hypothesis: The hardest place to find real value in any fantasy draft in any sport in any year are the fourth and fifth rounds. Players taken there don't have enough upside to be sure things, or they'd go higher, but they don't have enough downside to be lottery tickets and upside plays later in the draft. No one has ever been excited about their fourth- or fifth-round picks. So I'll highlight Jacobs here, who leads off the fourth round as the 19th back off the board but is the 31st player off the board in our PFF Fantasy consensus rankings and is 22nd in my personal ranks, 13th running back off the board. The other running backs going in the fourth round — guys like David Montgomery, Phillip Lindsay, and Chris Carson — might be the leads in their respective timeshares, but they are still in timeshares. Jacobs has only Doug Martin and Jalen Richard to contend with, and if he loses touches to those guys, things have taken a seriously bad turn.
Round 5
(Current ADP: 5.08, 56th)
I'm a known Curtis Samuel stan this preseason, but I still have him ranked behind Moore … and I even have Samuel higher than this spot. Moore was maybe the most elusive receiver in the league as a rookie last year, and he finished as the No. 36 receiver despite awful touchdown luck (two scores on 76 targets). Normalize that a little, remove Devin Funchess from the equation, and give Moore a second year of seasoning, and he has enormous upside.
Round 6
(Current ADP: 6.07, 67th)
There's a cap on Jeffery's production by dint of being in such a crowded offense and having exactly two hundred-yard outings in 34 games with the Eagles (counting the postseason). But he also has a high floor, with 18 touchdowns in those 34 games. He had four touchdowns in his first four games last year before cooling off, and while DeSean Jackson is always inconsistent and JJ Arcega-Whiteside could be as well as a rookie, Jeffery is nothing if not steady. Take him as a rock-solid WR2 and just don't expect him to go much above that.
Round 7
(Current ADP: 7.01, 73rd)
There's no great option in the seventh round, either, but I'll use this as an opportunity to say that Robinson just had about a 10th-percentile season. He finished as fantasy's WR39 despite 13 games played and 94 targets, one of the bottom receivers in the league in fantasy points per target. He had only 4 touchdowns on those 94 targets. And it was all in his first year back from a torn ACL. If you believe Robinson just isn't very good, well then he might not improve. But if you believe Robinson is anything like the player he was in Jacksonville and can improve with another year of health and creating rapport with Mitchell Trubisky (which I do), then he is a safe bet to rise.
Round 8
(Current ADP: 8.06, 90th)
Through Week 9 last year, Watkins was fantasy's WR24, with two hundred-yard games and three touchdowns. He's never going to be a dominant weekly force on an offense with Tyreek Hill and Travis Kelce (to say nothing of if Mecole Hardman becomes a producer), but he'll have big games, and he has extreme upside. And the benefit of the receiver position is that if Watkins does get hurt again, there is so much depth that you'll be able to find a competent replacement.
Round 9
Curtis Samuel, WR, Carolina Panthers (Current ADP: 9.05, 101st)
Corey Davis, WR, Tennessee Titans (Current ADP: 9.09, 105th)
Dede Westbrook, WR, Jacksonville Jaguars (Current ADP: 9.02, 98th)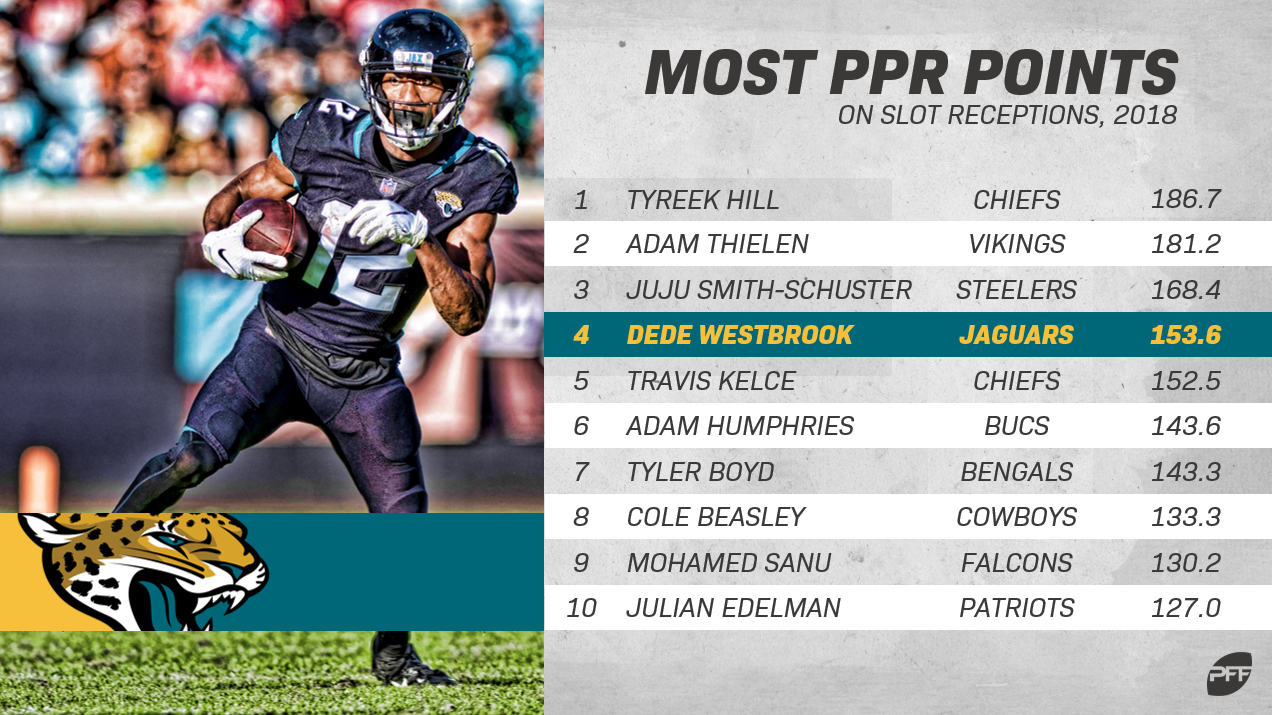 I've talked Samuel and Davis so much this offseason that if I devote another section to them my bosses will think those guys are bribing me under the table. (I did name them both as boring-but-worth-it fantasy draft picks two months ago — the "boring" part of Samuel's profile has worn off, but still.) So I'll pivot to Westbrook, who finished last year as WR35, just got an immeasurably better quarterback (even if Nick Foles isn't a superstar), has minimal secondary receivers to take targets away … and is now going as WR38? That doesn't make sense, and he should be going higher.
Round 10
(Current ADP: 10.09, 117th)
It's not so much that Winston is being underdrafted overall, because quarterbacks almost never are. But within his position, he's going off the board 13th, yet he's in an offense that produced the second-most QB fantasy points last year, now has Blaine Gabbert backing him up (so his job's safe), still has three great pass-catching weapons, has a bad running game and a bad defense, and now has a head coach who has a history of getting the most out of his quarterbacks. QB13? Winston's my QB7, and I wonder if I'm too low.
Round 11
(Current ADP: 11.03, 123rd)
Virtually every report out of Steelers camp so far this preseason and training camp has indicated that Moncrief is all set to open the season as the No. 2 receiver opposite JuJu Smith-Schuster, yet drafters are still treating it like it's a toss-up between him and James Washington (going later in the same 11th round). Washington's performance in the first preseason game could sway things, but generally, when that many people agree on a single guy as the No. 2, I'm going to trust it, and the No. 2 receiver in the Pittsburgh offense has crazy value.
Round 12
(Current ADP: 12.09, 141st)
Yes, Walker missed virtually the entire 2018 season and is 34 as of Monday. But he's a guy who had played at least 14 games every year 2007-2017 before that 2018, had at least 60 receptions and 800 yards in four straight years 2014-2017, doesn't have much competition behind him on his team, and now his old TE coach is the team's offensive coordinator. The drafting community is out on Walker, but it shouldn't be,
Round 13
(Current ADP: 13.06, 150th)
DeSean Jackson is going three rounds earlier than Brown despite being three years older, in a more crowded offense, and being at this point in their respective careers … basically the same guy. Brown isn't going to be a week-in, week-out dominant receiver. But pairing him with Josh Allen allows the Bills to capitalize on both guys' strengths, which is the deep ball. No quarterback attempted deep passes more than Allen last year, and only a few receivers had a higher percentage of their yards on deep targets than Brown. Allen's accuracy issues means a lot of those targets might drop to the ground, but Brown will haul in enough of them to offer serious value in certain weeks.