(All offseason long, PFF Fantasy editor Daniel Kelley will attempt to figure out the solution to some of the biggest fantasy football draft conundrums for the 2019 season. This is The Decider.)
Melvin Gordon and Todd Gurley were both drafted in the first round of 2015, five spots apart (Gurley 10th, Gordon 15th). At that point, Gurley headed to St. Louis, while Gordon headed to Los Angeles.
Fast forward four years, and now both first-rounders are headquartered in Los Angeles, with fate conspiring to bring their teams together to one city. By current average draft position (per Fantasy Football Calculator), drafters are siding with Gordon for 2019 (he's going fifth at the position, while Gurley is down at 10th), but by current PFF Fantasy staff rankings, it's much closer — Gordon is still fifth, but Gurley is eighth.
So which should you opt for in 2019?
The contenders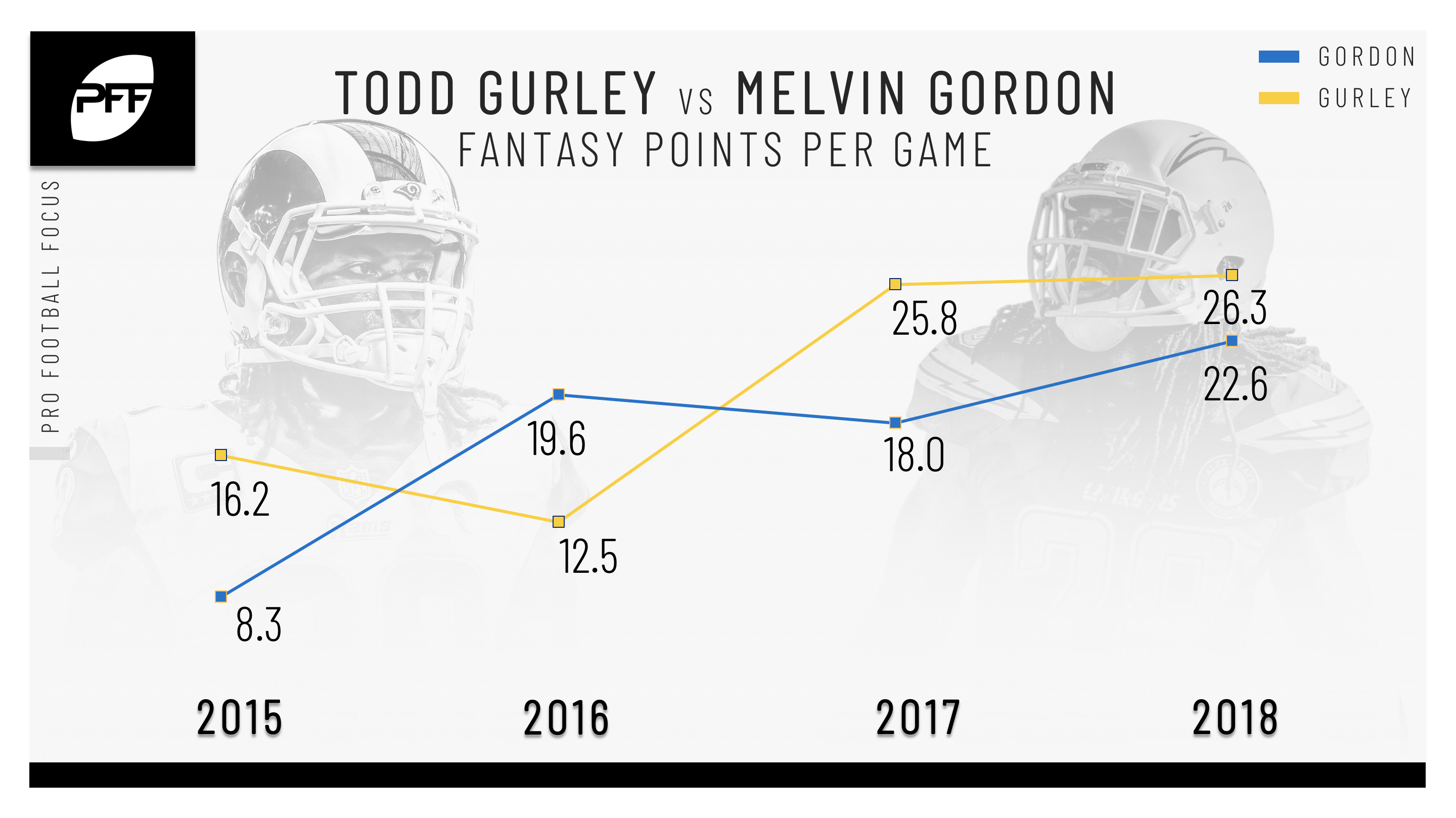 Gordon's rookie year could have gone worse, but not by much. He had only 833 scrimmage yards (and only 3.5 yards per carry) with zero touchdowns. He's the only player since 2003 with 200-plus touches in a season not to find the end zone, and it was reflected in his PFF rushing grade of 53.1, 57th of 59 qualified backs that year.
Since then, though, Gordon has only gotten better. His rushing grade has climbed each year, reaching 90.5 in 2018, best in the league. His surface numbers have climbed as well, as he reached 5.1 yards per carry (his first season above 4.0) last year and put up a career-best 22.6 PPR points per game. Only injury (he was limited to 12 games) kept Gordon from 1,000 yards or finishing higher than RB8 in fantasy scoring.
Gurley's path has been a bit different. He missed the first three games of his rookie year as he recovered from an ACL tear, then went on a whole different kind of tear. He topped 1,100 yards in only 13 games and scored double-digit touchdowns, so while his receiving production wasn't much (188 yards, no scores), he still finished as RB9.
Subscribe to PFF Edge to continue reading

Already have a subscription? Sign In