(All offseason long, PFF Fantasy editor Daniel Kelley will attempt to figure out the solution to some of the biggest fantasy football draft conundrums for the 2019 season. This is The Decider.)
Our own Scott Barrett has been touting the glory of the bell cow running back as the avenue to fantasy football success for years now. (Case in point: His piece earlier this week on the likely bell cows of 2019.) The point is that opportunity is king for ball-carriers, and the ones who dominate their teams' opportunities will almost inevitably put up bigger numbers.
The problem? Well, even Barrett's piece above only got through 17 backs who could conceivably be bell cows in 2019, and that list includes three rookies (including two on teams who already have starters) and multiple guys who have never had bell cow workloads before. In other words, yes, of course you want as many bell cow types in your fantasy backfield as possible, but it isn't always possible.
Whether you go receiver-heavy early and need to find a No. 1 running back later or get a bell cow at the top of the draft and just wait on your No. 2, there's every chance you'll be looking through the non-bell cows (or at least the non-guaranteed bell cows) for a fantasy starter in your draft. According to current average draft position data on Fantasy Football Calculator, Derrick Henry and Aaron Jones are currently going back-to-back in fantasy drafts, 18th and 19th at the position and one spot apart in overall drafts.
But which should you prefer for 2019?
The contenders
Both Henry and Jones had quasi-breakouts in 2019. Jones missed the season's first two weeks to suspension and then the Packers took their time giving him the full-time role (he didn't top 40 offensive snaps in a game until Week 9), but from that week until Week 14 (Jones suffered a season-ending injury in Week 15) he had 611 scrimmage yards, 7 total touchdowns, and 123.1 PPR points — fourth-most among running backs behind 2019's presumptive top three picks (Christian McCaffrey, Ezekiel Elliott, and Saquon Barkley). For the year, he finished as the PPR No. 24 RB despite playing in only 12 games. By points per game, he was 17th.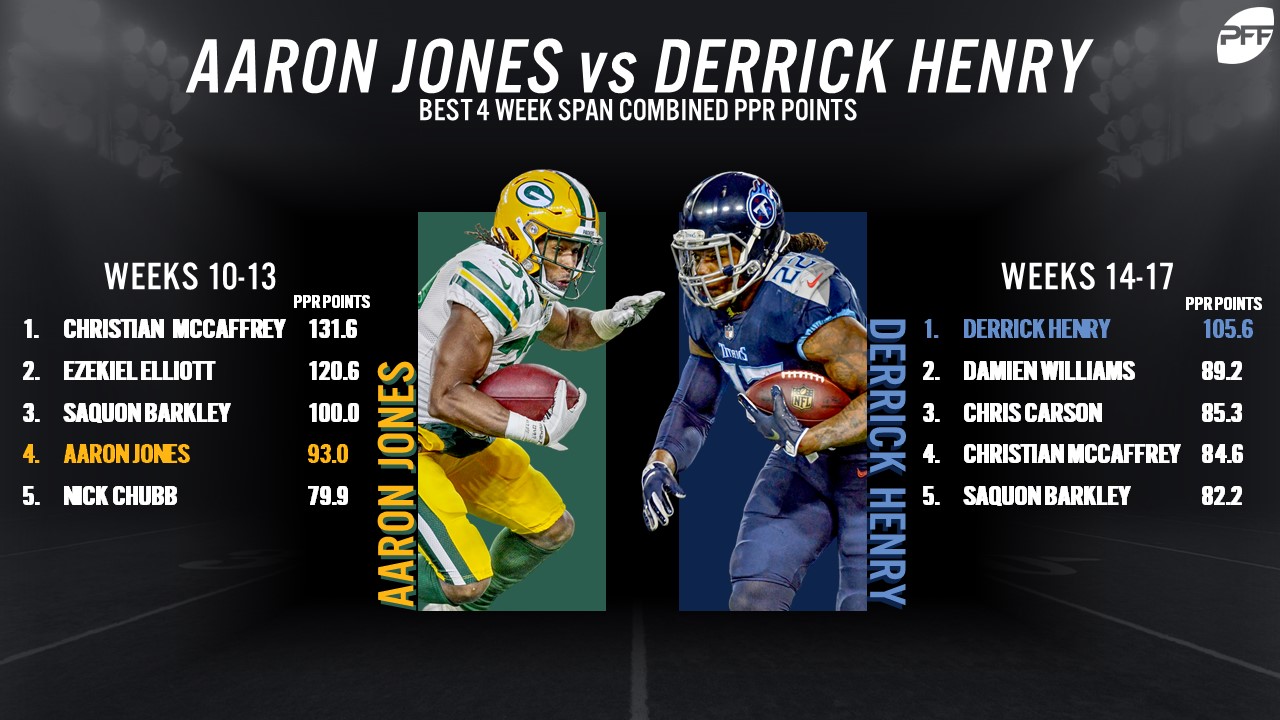 Subscribe to PFF Edge to continue reading

Already have a subscription? Sign In