In my previous article on the best and worst fantasy passing schedules, I touched on the interdependence of pass and run defense. That will really become clear as you compare the passing table from that article to the rushing table from this one. Many of the teams like Jacksonville, Indianapolis, and Washington that had the best fantasy passing schedules correspondingly have the worst fantasy rushing schedules thanks to the strengths and weaknesses of the defenses they will face. Still, there are some notable teams with unmirrored passing and rushing schedules that demand a detailed look.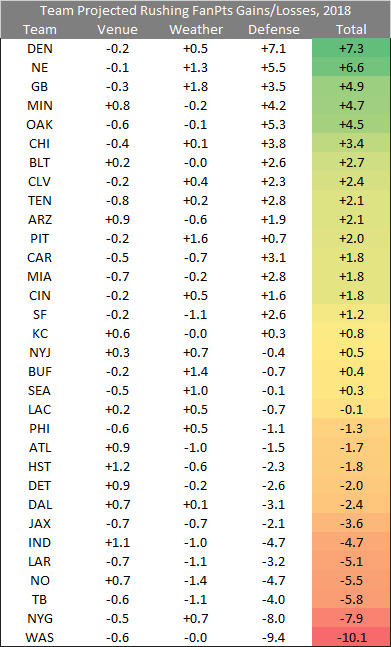 The first of those teams is the team with the No. 1 schedule for fantasy rushing, the Denver Broncos. The Broncos actually had a slightly favorable fantasy passing schedule, but their rushing outlook is even cheerier, in particular after the first month of the season when they start to face teams including the Rams, Chiefs, Steelers, and Chargers that I project will allow more rushing yards per attempt than an average defensive team. The timing of those favorable matchups could align well with the development of rookie Royce Freeman, who I could see shedding his apparent time share with Devontae Booker after the first month or two if he impresses. Denver also enjoys the rushing version of the Jaguars passing bump by not having to play their own defense, which my system sees as the biggest restrictor of rushing yardage and one of the biggest of rushing touchdowns in football.
I opined in my previous article that Green Bay could rely more heavily on their rushing game this year, and they aren't the only NFC North team that may favor that approach. Minnesota and Chicago join the Packers in the top-six of most favorable rushing schedules. The Bears showed that leaning last season in rookie quarterback Mitchell Trubisky's rookie year, and his size and athleticism should help him take advantage of rushing opportunities for fantasy production like Aaron Rodgers can, albeit with lesser results I'm sure. Kirk Cousins doesn't share their skill set, and with his hopefully having a fully healthy Dalvin Cook in his backfield, I would project fewer than the 540-pass-attempt threshold Cousins has cleared each of the past three seasons, even in the dome. If you miss out on one of the top fantasy quarterbacks like Rodgers, Russell Wilson, or even Drew Brees, wait to the end of your shallower leagues to snag one. I don't see Cousins as offering any greater fantasy potential than his Washington replacement, Alex Smith, or a handful of other QB2s of average draft position.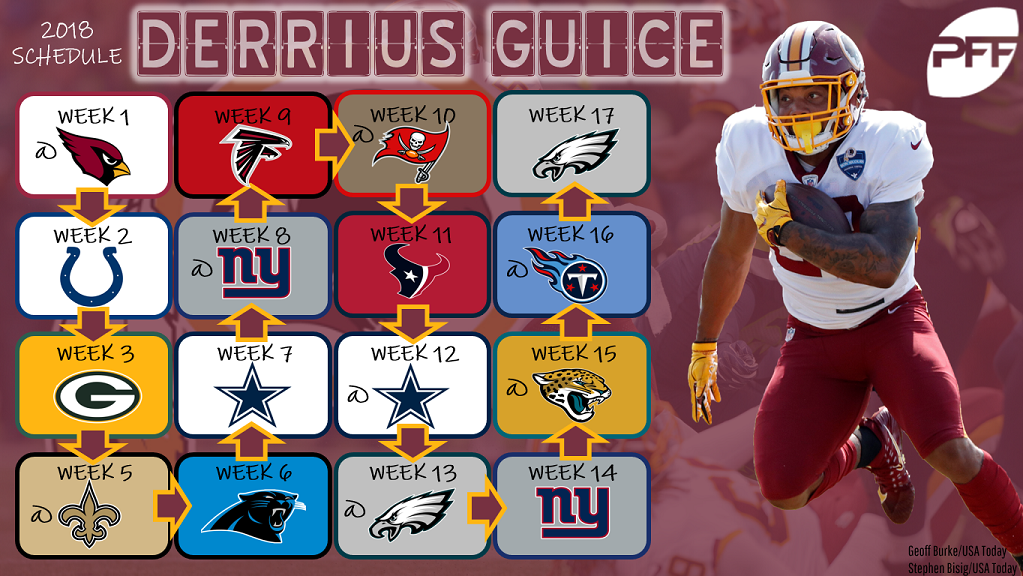 The bad side of the fantasy rushing schedules may have you panicking about touted Giants rookie Saquon Barkley, but don't. He's even more dangerous as a pass-catcher than as a runner, and so he should be pretty much immune to his schedule. In contrast, I believe that Derrius Guice could be in line for a frustrating freshman fantasy season. My prospect projection model projects Guice to have the lowest ratio of receptions to carries of all of the important rookie backs. I wouldn't be surprised to see him on the sidelines frequently in favor of third-down back Chris Thompson against those tougher run defenses on their schedule like Arizona, Tennessee, and Philadelphia.
Ronald Jones in Tampa Bay may face similar obstacles, although the backs on his team's roster do not fit as cleanly into early-down and passing-down buckets. Charles Sims has been a third-down back in his career to date, but his effectiveness on passing downs has dropped precipitously from 65 Receiving Yards Added in his first two seasons to -5 in his most recent two. He isn't a special player like Thompson is, and that gives Jones a better chance to emerge as an every-down back if he can pass Peyton Barber on the depth chart.