Free agency and the 2022 NFL Draft have come and gone. Now, it's time to fully embrace the 2022 offseason by breaking down each team's fantasy football aspirations before fantasy draft season truly gets underway in August.
What follows is a fantasy-focused breakdown of the Baltimore Ravens, focusing on key questions like:
Will 2022 be

Lamar Jackson

's most-productive season since 2019?

Could both

J.K. Dobbins

and

Gus Edwards

supply weekly fantasy goodness?

Is there enough volume for both

Mark Andrews

and

Rashod Bateman

to put up big-time numbers?
Every fantasy-relevant player from the Ravens will be covered in the following paragraphs. Make sure to check out the PFF Team Preview Landing Page through early July for more all-encompassing fantasy football coverage.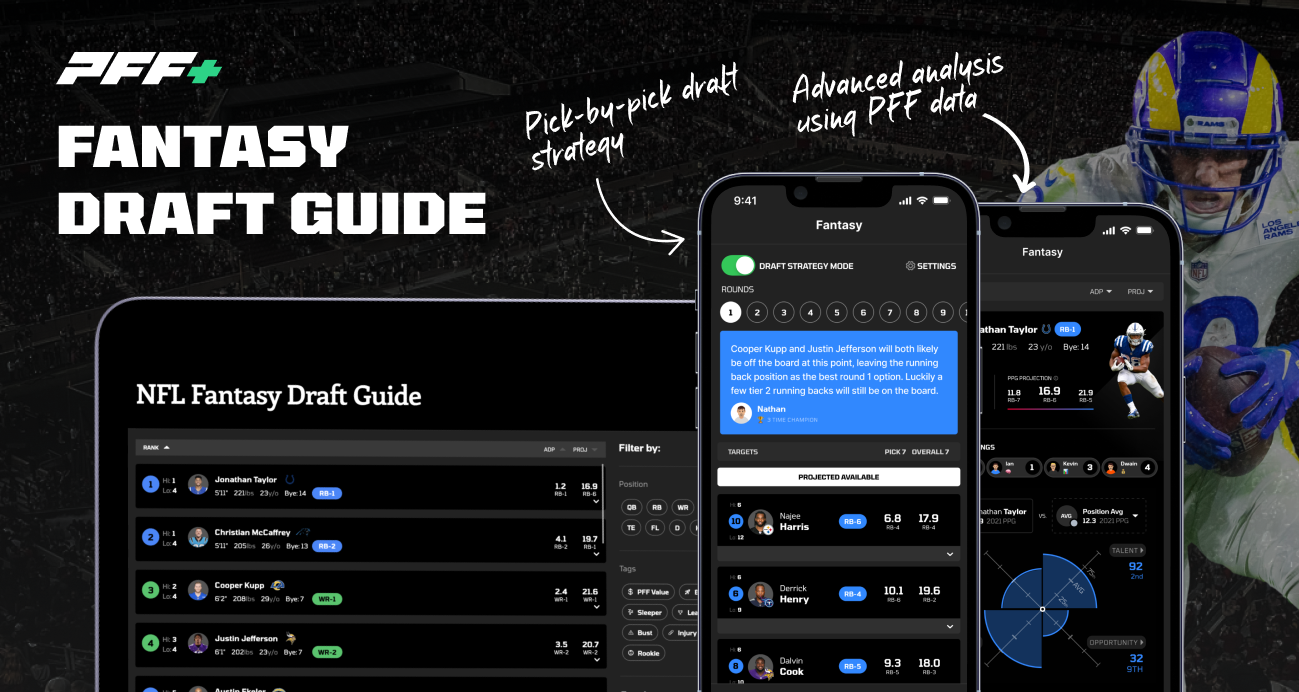 Notable offseason moves
From the front office, to the coaching staff, to the roster: Every 2022 NFL team will be different than its 2021 version.
Head coach John Harbaugh is back to lead the Ravens for the 14th straight season. He's joined by longtime offensive coordinator Greg Roman, who has helped direct Lamar Jackson and company since 2019.
Offseason reports continue to indicate that the Ravens are looking to party like it's 2019 again on offense. Obviously doing whatever it takes to work as the league's top-ranked scoring offense seems like a good idea, but in Harbaugh and Roman's minds this likely just means getting back to running the da*mn ball:
2019

: 50.1% pass-play rate in non-garbage time situations (No. 32); 32.22 seconds per play in neutral situations (No. 27)

2020

: 51.1% (No. 32); 32.63 (No. 30)

2021

: 62.6% (No. 11); 32.42 (No. 26)
The Ravens rank first in total run plays run since 2019 … and 27th in dropbacks. There's little reason to expect a different disparity in 2022: This offense is looking to run the hell out of the ball while taking their time doing so. Don't expect more than one, maybe two, high-end pass-catchers to emerge out of this offense due to the limited pass-game volume at hand.
Additionally, the Ravens have made plenty of changes to their roster. The following quarterbacks, running backs, wide receivers and tight ends have either joined or left Baltimore in some way, shape or form this offseason:
The Ravens made a trio of skill-position draft picks on Day 3 of the 2022 NFL Draft. Iowa State TE Charlie Kolar and Coastal Carolina TE Isaiah Likely were both selected in the fourth round and each add depth to the position behind Mark Andrews. There's a better chance that sixth-round Missouri RB Tyler Badie finds his way into some meaningful usage in 2022; just realize the fantasy track record of players not selected inside of the draft's top-three rounds isn't pretty.
The Lamar slander has gone too far. Mainstream media continues to dish out the same tired talking points about his inability to win from the pocket. Maybe they should take a page out of their own book and "watch the film."
Lamar Jackson pic.twitter.com/srKHuWxFPx

— Ian Hartitz (@Ihartitz) June 27, 2022
Of course, Jackson doesn't win as consistently in the pocket as the likes of Peyton Manning and Tom Brady have over the years, but that's largely because he's already one of the single-best rushing talents the position has ever seen. Regardless: Jackson's passing numbers since entering the league are at worst average:
PFF passing grade:

78.4 (No. 21 among 60 quarterbacks with 300-plus dropbacks since 2018)

QB rating:

98.1 (No. 12)

Big-time throw rate:

4.7% (No. 17)

Turnover-worthy play rate:

3.2% (No. 24)

Yards per attempt:

7.5 (No. 20)

Adjusted completion rate:

74% (No. 37)
Disparaging Jackson because defenses sometimes utilize more basic coverages to account for his rushing threat is like saying Patrick Mahomes wouldn't be all that great without his arm strength. Style points don't matter in real life or fantasy football; Jackson has been one of the toughest puzzles for defensive coordinators to solve ever since his first professional snap.
Quarterback comparisons between Jackson and the rest of the league's signal-callers never seem to include this latter variable. At the end of the day, a quarterback's job is to lead their offense to points: Only the Chiefs, Buccaneers and Saints have more total points than the Ravens since they drafted Jackson in 2018.
Of course, Jackson's place at the top of the position's fantasy echelon has never been in question. He finished the 2018 season as the fantasy QB5 in Weeks 11-17 upon taking over for Joe Flacco. To this day, no QB in NFL history has averaged more fantasy points per game in a single season than Jackson in 2019. While his 2020 season was a bit more up and down, he finished as the QB9 in fantasy points per game. Jackson managed to beat this mark by working as the QB6 on a per-game basis in 2021.
History tells us that quarterbacks run less as they get older, but professional football has never quite seen a quarterback like Jackson. His average of 62.3 rushing yards per game is easily first in NFL history ahead of Mike Vick (42.7), while he would own four of the position's top-five single-season rush attempt marks without an injury in 2021. This workload in 2021 helped Jackson score more expected fantasy points per game than any quarterback other than Josh Allen.
Ultimately, Jackson comes in as my QB5 behind only Allen, Kyler Murray, Justin Herbert, and Patrick Mahomes. This is certainly a tier; I don't fault anyone for having Jackson as high as QB2 ahead of 2022. The difference between Jackson and the rest of the top-tier quarterbacks is the reality that he carries the lowest passing ceiling of the group. He's productive enough on the ground to overcome just about any quarterback on the fantasy stat sheet even in the absence of enhanced passing stats, but expecting a similar finish as 2019 without a serious upgrade in pass-game weaponry feels like wishful thinking.
The Ravens featured the following running back usage from Week 8 to the AFC Divisional Round in 2020 upon phasing Mark Ingram out of the offense (excluding Week 12 which Dobbins missed due to Covid):
Dobbins:

53% snaps, 128 rush attempts, 16 targets

Edwards:

33% snaps, 105 rush attempts, 10 targets
Dobbins was clearly the lead back, but he ultimately finished with just 29 additional carries and targets in an 11-game sample.
Yes, Dobbins averaging 6.0 yards per carry as a rookie was objectively cool as f*ck. The only other running backs to do so since 2010: Jamaal Charles, Rashaad Penny, Alvin Kamara, Adrian Peterson and C.J. Spiller.
Also yes, Edwards has averaged at least 5.0 yards per carry in each of his first three career seasons. The only running backs to reach that threshold in at least three seasons since 2000: Charles, Nick Chubb, DeAngelo Williams, LeSean McCoy, Brandon Jacobs and Tiki Barker.
It's legal for one NFL team to have two great running backs in the year 2022. Enough with mainstream media pretending like Edwards doesn't even exist.
Gus Edwards does this shit while averaging 5 yards per carry on an annual basis and the mainstream media still acts like he doesn't even existpic.twitter.com/6PzB9kuG9f

— Ian Hartitz (@Ihartitz) June 27, 2022
Of course, injuries are the key factor when breaking down this backfield ahead of 2022. Dr. Edwin Porras recently joined me on The PFF Fantasy Football Podcast to discuss every injured fantasy-relevant player. His thoughts on Dobbins were rather concerning compared to Edwards, as the former back suffered additional ligament damage in his ACL injury. While Edwards doesn't boast the same sort of draft capital or age that historically helps predict the most success after ACL injuries, he does seem to have a real shot to make it back to the field before Dobbins.
There's also the reality that the Ravens haven't exactly enabled consistent high-end fantasy backs with Jackson under center. As much as dual-threat QBs can help the efficiency of their offense's rushing attack thanks to defenders needing to account for an extra number in the run game; generally they don't produce fantasy-friendly RBs due to their tendency to 1) scramble instead of checking the ball down, and 2) take off on their own near the goal line. Credit to Ingram for converting 228 touches into 15 touchdowns back in 2019; it's tough to expect that sort of scoring efficiency from either Dobbins, Edwards or anybody really, ahead of 2022.
Dobbins (ADP RB21) is far too rich for my liking at the moment as long as an early-season stint on the PUP list remains a real possibility. I'd much rather take Edwards (ADP RB52) in the 14th round or later. The disparity in ADP is simply far too wide here for my liking, particularly with decent enough reason to believe that Edwards will be the healthier back come September.
Davis, Badie and Hill profile as complementary pieces at best who could lose their job at any moment to a newfound veteran in a similar manner as what happened to Ty'Son Williams last season. None are recommended late-round darts in a backfield that ranks just 28th in expected fantasy points per game over the last two seasons.
Bateman never quite had a real chance to find his groove in 2021, as he strained his groin in August and wound up missing the first five games of the season. Another groin issue in early November could have been the root cause of his sub-standard playing time until mid-December.
Bateman's season-long 46-515-1 receiving line wasn't exactly what truthers were hoping for, and the 2021 NFL Draft's 27th overall pick's mediocre efficiency stats among 46 rookies with at least 50 targets over the past five seasons aren't ideal:
PFF receiving grade:

65.2 (No. 34)

Yards per route run:

1.26 (No. 36)

Yards per reception:

11.2 (No. 37)

Targets per route run

: 15.9% (No. 38)
Of course, the absence of Marquise Brown and Sammy Watkins leaves a rather absurd 195 targets up for grabs. Bateman looks like a lock to lead all Ravens wide receivers in targets; the question is exactly how much that will be worth inside of what has the potential to be the league's most run-heavy offense.
Baltimore wide receivers rank dead last in targets and receiving yards since 2019; Bateman is going to need to absolutely dominate target share in order to meet rising expectations and function as a legit WR2 in fantasy land in 2022. Note that Brown worked as the PPR WR48, WR43 and most recently WR23 on a per-game basis during his three-year career.
Ultimately, I'm slightly ahead of Bateman's WR25 ADP, although it's plenty reasonable to go after the likes of George Kittle or Jackson himself at a similar valuation. Bateman is locked in as this offense's No. 1 wide receiver and at worst No. 2 pass-game option; don't be surprised if it's more of a 1.A/1.B situation between him and the offense's stud tight end. Give me Bateman ahead of veterans like Allen Robinson and Adam Thielen, although the allure of more pass-happy offenses in Arizona and Buffalo has me going after Marquise Brown and Gabriel Davis ahead of the rising second-year stud.
It's tough to be overly optimistic about another wide receiver in this offense given the potential for the Ravens to 1.) add another veteran to the room via free agency, and/or 2.) continue to embrace multi-TE sets at a top-10 rate.
Duvernay has just 73 total targets in 32 games over the past two seasons and is typically used in more of a gadgety manner. Proche has 23 targets in 28 games over the past two seasons. Wallace managed to get just six pass-game opportunities last season despite everyone other than Brown seemingly dealing with an injury at one point or another. Only Duvernay is a viable late-round dart, and even then I'd rather take handcuff running backs like D'Onta Foreman, Chris Evans and Hassan Haskins at ADP.
Andrews racked up an astronomical 153 targets last season, smashing his previous career-high mark of 98. He accordingly set career-high marks in receptions (107) and receiving yards (1,361), generally making life a living hell for whatever poor linebacker or safety was tasked with guarding him. 
Yes, Andrews finished the season on a tear with 11-115-1, 10-136-2 and 8-125-1 receiving lines in Weeks 14-16 with Tyler Huntley and Josh Johnson under center. Also yes, he was the overall PPR TE2 behind only Travis Kelce in Weeks 1-13 with Jackson playing all but one game.
Andrews is a top-three tight end in PFF receiving grade, yards per route run and targets per route run among 48 tight ends with at least 48 targets since 2018. He'll be 27 in September — there's a chance the world hasn't even seen the best version of him just yet.
You don't need more than one hand to count the number of tight ends better than Andrews in real life, and his PFF target projection makes his fantasy placement even easier. Just five tight ends are projected for triple-digit targets ahead of 2022:
Kelce (143 targets)

Andrews (137)

George Kittle

(113)

Kyle Pitts

(!11)

Darren Waller

(101)
I'm riding with Kelce as the overall TE1 under the reasonable enough assumption that Mahomes will put up better overall passing numbers than Jackson, but Andrews is the clear-cut TE2 with the potential to (again) steal top honors. The target volume at hand would be enough to elevate Andrews to this spot even if he wasn't all that as a football player; the reality that he's an elite talent makes this an easy choice. My 17th ranked player overall, Andrews is firmly in play in the second round of typical one-QB re-draft formats.