Each week in this space, we're taking a look back at Sunday's games to find five of the most interesting or most important stats for fantasy football owners. With 14 of 15 games from NFL Week 14 in the books, here are the five stats you need to know:
1. George Kittle caught seven passes for 210 yards and a touchdown in the first half of Sunday's game. That's just four yards shy of the modern tight end record (Shannon Sharpe, 2002). He didn't catch a pass in the second half, but this was probably still enough to send you out for a shower cry if you were playing against him in fantasy.
Subtitle: Lack of parity at the tight end position makes four historic seasons stand out that much more.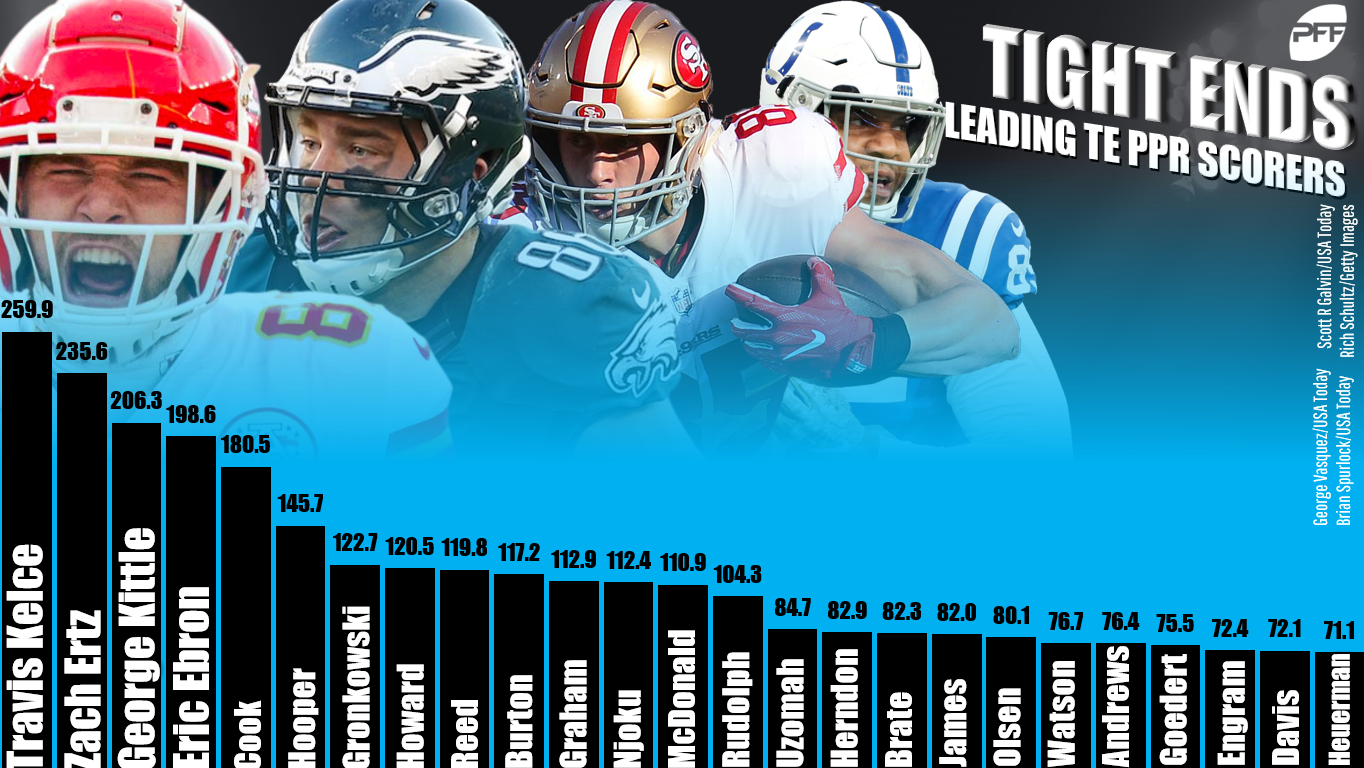 This season, Kittle is averaging 2.81 yards per route run, which is easily the best rate we've ever recorded from a tight end. Kittle has been great, but there are four tight ends each putting together historically great seasons. Travis Kelce and Kittle are both on pace to break the single-season receiving yardage record by a tight end. Zach Ertz is on pace to break the single-season reception record by a tight end. Eric Ebron leads all receivers in touchdowns (13). Among all tight ends, since 2000 and through the first 14 weeks of the season, Kelce ranks second, Ertz fourth, Kittle 17th, and Ebron 22nd in fantasy points scored. Among wide receivers this year, Kelce would rank seventh, Ertz 10th, Kittle 14th, and Ebron 16th in fantasy points scored.
As impressive as this is, I might be burying the lede here. While there are a number of tight ends who stand out at the top, this has otherwise been a dreadful year at the position. Against the tight end currently ranking sixth at the position in fantasy points (Austin Hooper) just two spots below Ebron, Kelce outscores him by 114.2 fantasy points, or 8.8 per game. Moving down to the tight end ranking 12th, that number jumps to 11.3 per game. Even for Ebron, it's a 4.1 and 6.6 fantasy-point-per-game advantage.
The underwhelming production from all other tight ends only makes those at the top stand out that much more. I suspect, with that in mind, Kelce's added value to your team (specifically positional advantage) might make him more valuable than any wide receiver you could own. And I wonder what percentage of teams winning the championship this year will own one of the big four tight ends. I suspect that number will be high.
2. Over the last six weeks of the season, Julio Jones ranks behind only Keenan Allen among wide receivers in fantasy points, averaging 21.2 per game. Over this span, Jones has caught five touchdown passes from Matt Ryan. Over his previous 33 games, he caught only five touchdown passes from Ryan.
Subtitle: Julio Jones is back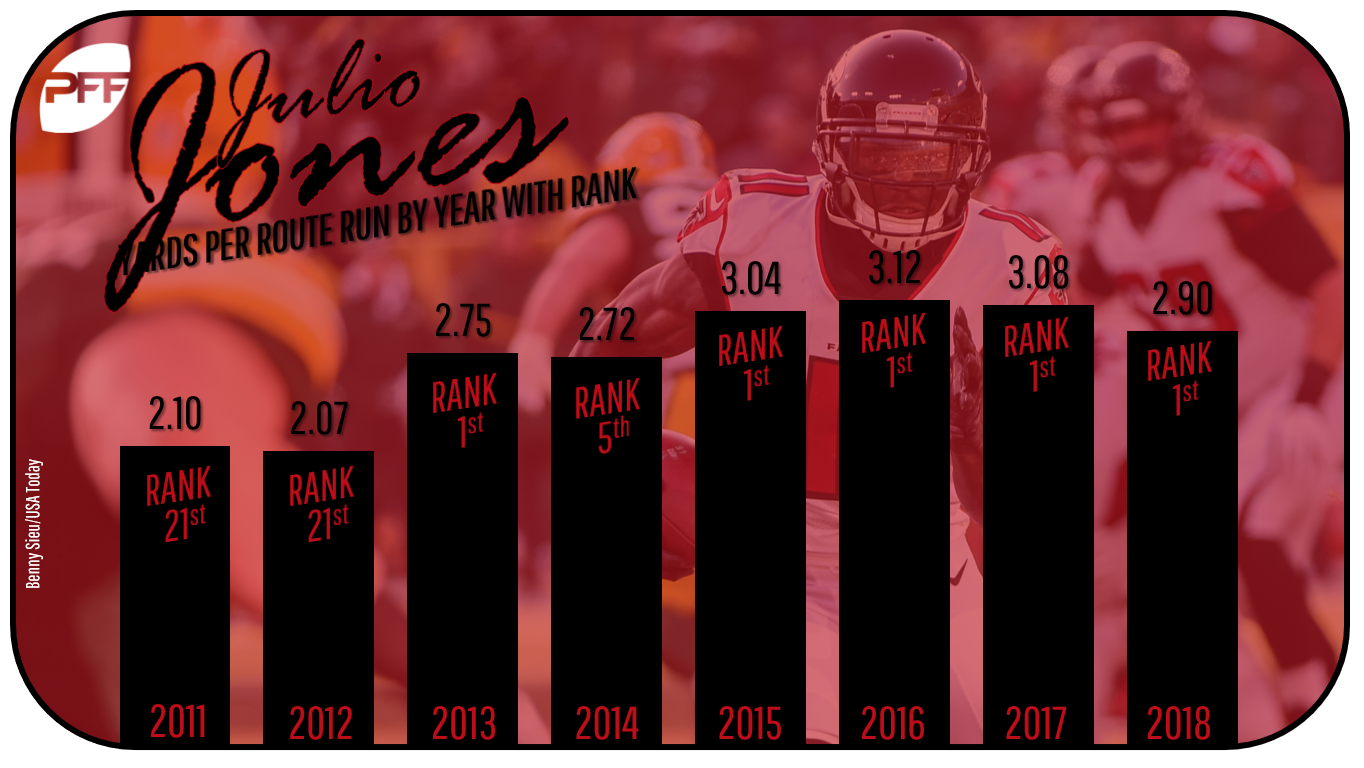 Julio is back! Or, rather, back to scoring touchdowns. Really, this is the same Jones we've always had. Jones currently leads all wide receivers in yards per route run (2.90), just as he did in 2017 (3.08), and 2016 (3.12), and 2015 (3.04), and 2013 (2.75). Jones has always been one of the league's most efficient wide receivers in terms of yardage. However, touchdowns have been a rare commodity for Jones in recent years. Unfortunately, near-end-zone volume actually hasn't been great over this six-week stretch (just three end-zone targets), so maybe another regression is coming, but it is encouraging rapport seems to be improving with Ryan where it matters most.
3. Last season, Todd Gurley set the record for most postseason (Weeks 14-16) fantasy points scored (123.1) by any player at any position ever. After scoring just 8.8 fantasy points in Week 14 – his worst fantasy performance in 23 games – it's safe to say he's off to a rough start this fantasy postseason. However, despite Sunday's dud, Gurley still leads all non-quarterbacks in fantasy points. Not only that, but his 337.7 fantasy points is the ninth-most by any non-quarterback through a team's first 13 games all-time. However, his relative dominance this year, is not as great as it was in 2017. Right behind him is Saquon Barkley ranking 10th (333.3), and then, Christian McCaffrey ranking 16th (324.7). [Chart]
Subtitle: Rise of the uber-back
The "Zero-RB" strategy rose to prominence following the 2015 season, and that was not a coincidence. In 2015, WR1s outscored RB1s by 901 total fantasy points, or 12.1 times the typical average. In almost every other year over the past decade, a "Zero RB" approach was probably a losing strategy – as I outlined here. While I do think that we should be devaluing running backs in the middle rounds of our drafts, I suspect we'd be putting ourselves at a disadvantage by passing on a potential bell-cow running back in the first two rounds. The elite running backs have a much higher ceiling and floor compared to the elite wide receivers – these have typically been your fantasy league-winners – and that's never been truer than this year, with running backs being more frequently than ever in the passing game.
McCaffrey is on pace to break Matt Forte's 2014 record for most receptions in a single season by a running back. Barkley is on pace to rank eighth and James White 11th all-time. Just in terms of receiving fantasy points (excluding all rushing production), all of McCaffrey, Barkley, and White would rank as WR2s in terms of total receiving fantasy points.
Against the lowest-ranking RB1 (David Johnson, the running back ranking 12th in fantasy points), Gurley's advantage is 135.7 fantasy points, or a whopping 10.4 per game. For Barkley that number is 10.1, for McCaffrey 9.4. Like with the "big four" tight ends, this is a massive advantage if you're a fantasy owner of one of the "big three" running backs.
Melvin Gordon deserves some praise here as well – he actually ranks between Barkley and McCaffrey in fantasy points per game. Alvin Kamara, Ezekiel Elliott, and James Conner are also outscoring the highest-scoring wide receiver in total fantasy points. Elliott, in recent weeks, definitely deserves the "uberback" title. Despite failing to find the end zone, he led all running backs Sunday in fantasy points (31.2), on the back of 40 touches. Since Week 10, he's averaging 23.8 carries, 8.0 targets, and 30.4 fantasy points per game. Across these five games, those 40 targets are more than Elliott has had in any full season in the NFL. In terms of "weighted opportunity," this might be the best score I've ever seen from a running back through any five-game stretch ever.
4. Hue Jackson had three wins across 40 games as head coach of the Cleveland Browns. Across the five games since, the Browns have won three games. With Jackson as head coach and Todd Haley as offensive coordinator, Baker Mayfield ranked 27th of 32 quarterbacks in passer rating (78.9). Across the six games since, Mayfield ranks fourth of 35 quarterbacks (114.4).
Subtitle: Coaching matters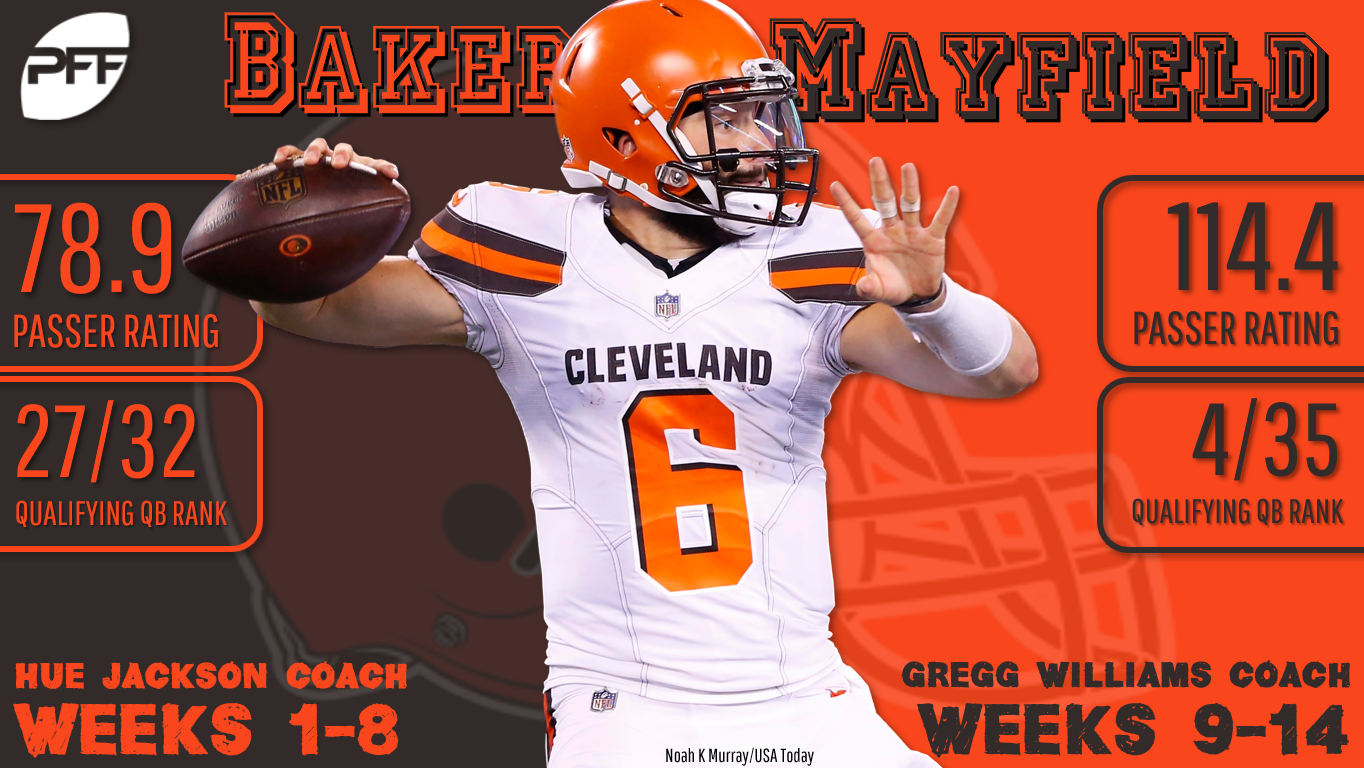 As Mayfield's biggest fan coming out of college, of course I'm going to gush over him as much as I can. Mayfield's numbers look even more impressive when we factor in that Cleveland's receivers rank third-worst in dropped passes (28), and your humble author can't help but wonder what this passing game might look like if the team had held onto Josh Gordon, who ranks 11th among wide receivers in receiving yards since Week 7. That said, I'm not sure how much Mayfield's efficiency matters for fantasy. Regardless of coaching, Cleveland has been a run-first team this year, and it's not hard to see why. Rookie running back Nick Chubb leads all of 50-plus running backs in PFF grade, yards after contact per attempt (4.5), and elusive rating (99.0). This surely has contributed to Cleveland ranking sixth-lowest in dropbacks per game (33.0) since Freddie Kitchens' first game as offensive coordinator.
Of the rookie quarterbacks, the one with the most fantasy upside appears to be the one with the most rushing potential, and surprisingly, that's not Lamar Jackson…
5. Josh Allen has 335 rushing yards through three games, which is the most by any quarterback (min. 15 total pass attempts) of the modern era. Michael Vick (in 2016) held the previous record with 294 in 2006.
Subtitle: The #KonamiCode lives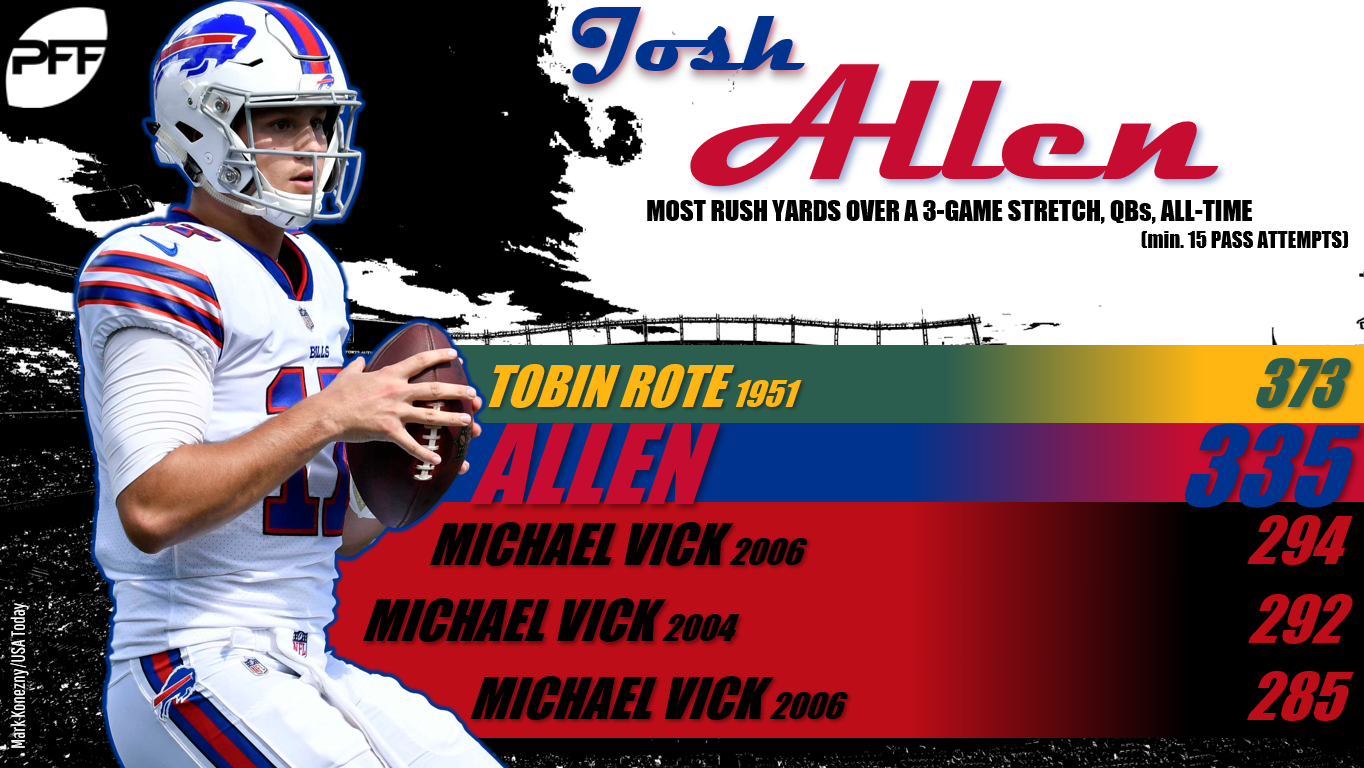 Whereas Mayfield's hyper-efficiency hasn't really translated into massive fantasy success (he ranks 10th in fantasy points per game since the Jackson-firing), Allen's hyper-inefficiency (ranking dead-last of 36 quarterbacks in passer rating [62.8]) hasn't impacted his fantasy success. Over the last three weeks, Allen leads all quarterbacks in total fantasy points, while averaging 24.5 per game. 62% of that has come on the ground. Among all running backs over this span, Allen ranks second in rushing yards and fifth in rushing fantasy points. For a quarterback, rushing yards are worth 2.5 times as much as passing yards, and rushing touchdowns are worth 1.5 times as much as passing touchdowns. As I explained here, owning a quarterback who is even half as productive on the ground as Allen has been is basically a cheat code for fantasy football.
Bonus Stat: Through the first six weeks of the season (with Oakland), Amari Cooper ranked 59th among wide receivers in fantasy points per game (9.5). Then he had two straight bye weeks before playing his first game with Dallas in Week 9. Over the last six weeks of the season (Weeks 9-14), Cooper ranks second among wide receivers in fantasy points per game (23.0).