Each week in this space, we're taking a look back at Sunday's games to find five of the most interesting or most important stats for fantasy football owners. With 15 of 16 games from NFL Week 2 in the books, here are the five stats you need to know:
1. James Conner exited in the fourth quarter of Sunday's game with a knee injury. In his absence, Jaylen Samuels played on 24 snaps to Benny Snell's one.
If Conner is out for an extended period of time, Samuels has league-winning potential at best, or low-end RB1 upside at worse.
Historically, Pittsburgh has always opted to use one running back in a bell cow capacity (regardless of who that running back might be) rather than use multiple running backs in a committee. That sort of volume is especially valuable at the running back position, where weighted opportunity and raw snaps correlate better to fantasy points than any other stat.

Since 2013, Pittsburgh's non-Le'Veon Bell RB1 (by snaps) — players like Conner, Samuels, DeAngelo Williams, Felix Jones, Fitzgerald Toussaint, Isaac Redman, and Jonathan Dwyer — averages 18.5 fantasy points per game (across 37 games), or just 3.6 fantasy points per game off Bell's average in Pittsburgh. For perspective, 18.5 fantasy points per game would have ranked ninth-best last year, and Samuels' average of 16.9 would have ranked 11th-best.
2. Through two weeks, Cooper Kupp leads the Rams in targets (19, by four) and receiving yards (166 yards, by 53).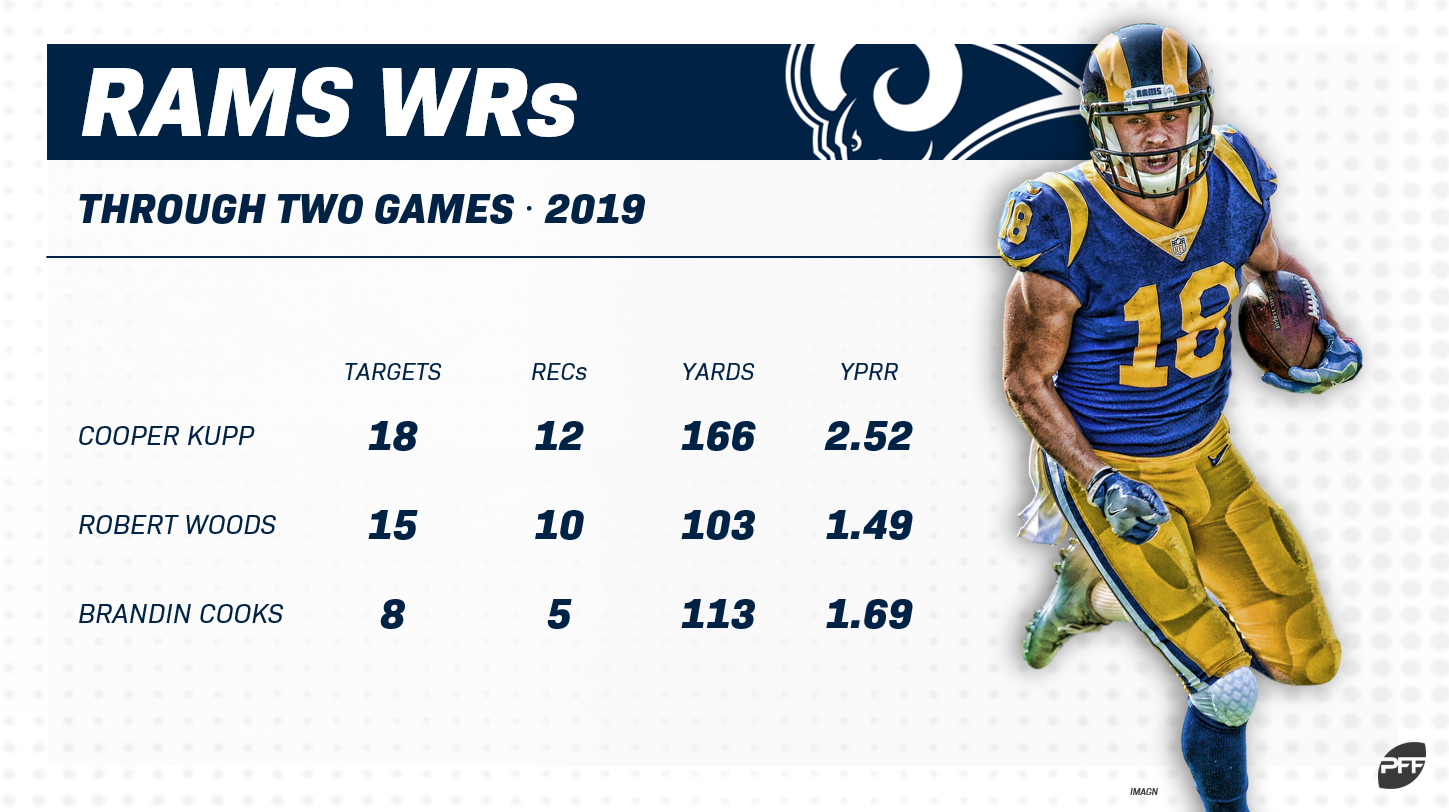 Kupp is just 10 months removed from a full ACL tear, but he looked spry on Sunday, catching five of nine targets for 120 yards and adding an additional six yards on the ground. This backs an earlier report from Jay Glazer, who wrote, "All his test scores, coming out of his breaks, agility, quickness, every test timed better than it was before he tore his ACL. It's incredible."
With Kupp's health no longer in question, perhaps it's time we started treating him not only as the team's WR1, but also as a fantasy WR1. Since Kupp entered the league, Jared Goff averages a 101.8 passer rating in games Kupp was active. When Kupp has been inactive, Goff averages a passer rating of only 85.7. For perspective, that would have been the difference between finishing eighth-best and seventh-worst (of 32 qualifiers) last year.
Kupp now averages 19.2 fantasy points per game over the last 10 games he's started and finished (would have ranked eighth-best last year), or 16.9 fantasy points per game across his last 16 healthy games (would have ranked 14th).
3. For the second straight week, Lamar Jackson and Dak Prescott both ranked top-three among quarterbacks in fantasy points scored.
In Week 2, Jackson became the first player in NFL history to record at least 250 passing yards and 120 rushing yards in a single game. Jackson currently leads the league in passer rating (145.2), followed closely behind by Prescott (142.9). Jackson's 64.4 fantasy points through the first two weeks of the season is the fourth-most by any quarterback in NFL history. Prescott's 61.1 fantasy points rank sixth on that list.
Both Jackson and Prescott should be treated as top-five fantasy quarterbacks moving forward, and if you'd been paying attention this offseason, you'd know why that's not an overreaction. Here's why: In August, I said "Jackson was the single-greatest fantasy value in 2019 drafts (at any position)". In July, I said "Prescott is one of the best quarterback values in current drafts and now has legitimate top-end upside with Kellen Moore calling plays for the team."
Still a doubter? That's fine, but I'd wait another week before looking to sell high. In Week 3, Jackson plays the Chiefs, while Prescott faces off against the Dolphins. Since the start of 2018, Kansas City has given up the fifth-most fantasy points per game to opposing quarterbacks (24.9). This season, no defense has given up more fantasy points to opposing quarterbacks (71.8), or with worse per-pass efficiency (155.9 opposing passer rating) than the Dolphins
The only quarterback to outscore Jackson and Prescott in Week 2? That would be Patrick Mahomes. (So much for that regression to the mean.) In just the first quarter of Week 1, Mahomes totaled 211 yards and two touchdowns on nine attempts. In just the second quarter of Week 2, Mahomes totaled 278 yards and four touchdowns on 17 attempts. Mahomes looks poised to break every record in the book, so long as opposing offenses can keep up with him and force the Chiefs to keep their foot on the gas. Attention DFS players: perhaps the Ravens (who lead all teams in points scored) can be that team in Week 3.
4. For the second straight week, Mark Andrews has scored a touchdown and exceeded 100 receiving yards. Through two weeks he leads all tight ends in fantasy points scored (50.0). Through nine career starts, Andrews has been Jackson's favorite and most productive receiver, with team highs in target share (15.3%) and yardage share (30.7%).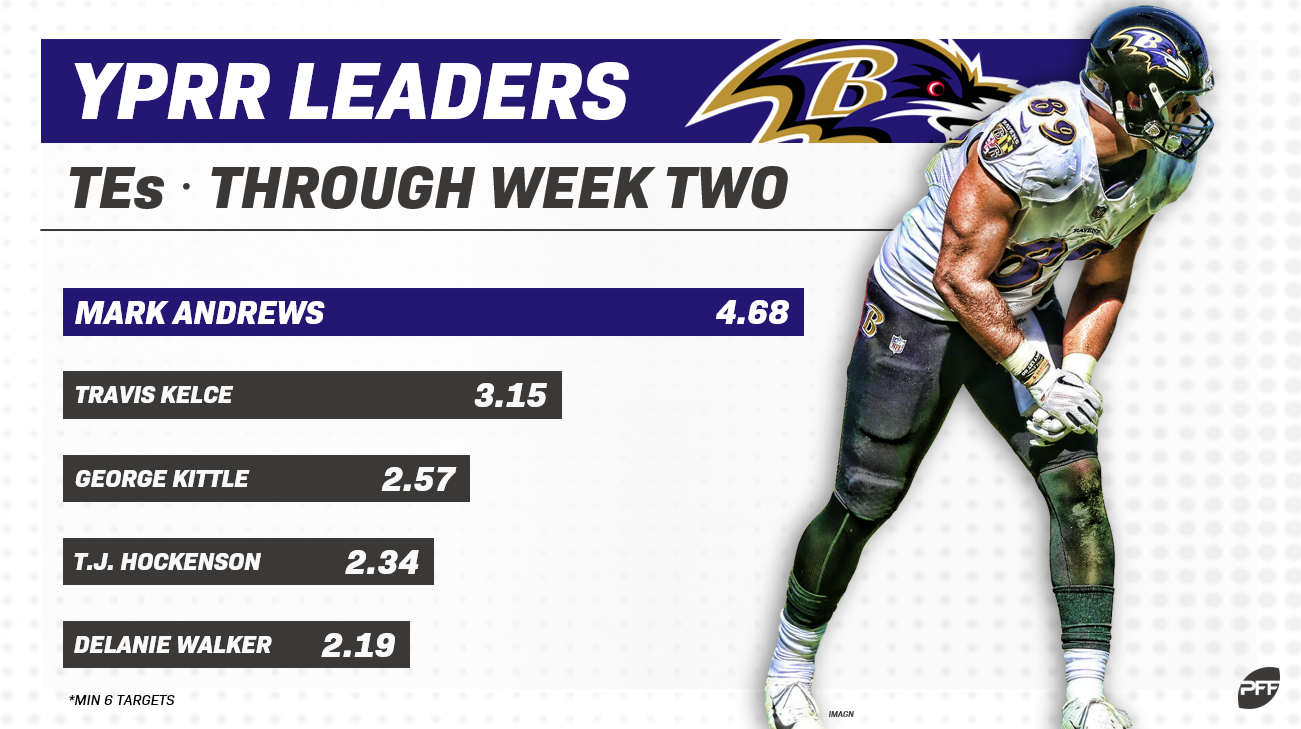 Through two weeks, Andrews averages a ridiculous 4.68 yards per route run. For perspective, the PFF-era (2007-2018) record for a tight end was set by George Kittle in 2018 at 2.83.
In 2018, Andrews averaged 2.01 yards per route run, which ranks 35th-best of the PFF-era, and best by any rookie tight end in PFF history.
In his junior year at Oklahoma, Andrews averaged 2.63 yards per route run — the second-best rate of the PFF College-era (2014-2018), bested only by Dallas Goedert in 2017 (3.00).
No exaggeration, we could be looking at a Kittle-esque breakout from Andrews this year, with decent odds he breaks Kittle's YPRR record. However, that doesn't mean he's necessarily a lock for top-three production. He ranks first in air yards (189) and third in targets (18) but has run a route on just 64% of Baltimore's dropbacks this year, while Kittle was much closer to an every-down role in 2018 (82%).
Andrews has legitimate league-winning upside, but maybe not as much as rookie Marquise Brown. In Week 1, Brown ran just eight routes, turning five targets into four catches, 147 yards, and two touchdowns. In Week 2, he ran 37 routes (84%) while leading the team in targets (13), catching eight for 86 yards. Brown was one of my top sleepers and favorite prospects in this class for reasons outlined here, here, and here. I'd start him with confidence next week as a high-end WR3.
5. John Ross leads all wide receivers in fantasy points scored (45.0).
Wait… what?
Is Ross now a must-start heading into Week 3? Or would that just be an overreaction to a small two-game sample? Or, if we left him on the bench, are we moving too slow to embrace the new reality of the 2019 season? These are the sort of questions you're always going to be asking yourself this early into a new season.
It's hard to fully trust Ross after his first two seasons in the NFL. He carries good draft capital (a top-10 pick in 2017) and blazing fast speed (4.22 40-yard dash), but he failed to catch a single pass in his rookie season. Last year, he ranked worst of 82 qualifying wide receivers in yards per target (3.62), well below the league-average rate among qualifiers (8.3).
Through two weeks, Ross ranks 13th in air yards (232), seventh in targets (20), first in yards (270), and first in touchdowns (three). So, Ross has been terrific, while also seeing terrific volume. It seems as though he's locked into "the Brandin Cooks role" in Zay Taylor's Sean McVay-influenced offense. Even so, it's unlikely Ross keeps up this pace, but I do think it's possible he returns mid-range WR3 volume at least until A.J. Green returns from injury. Week 3 will be the real test. He's probably better left on your bench this week, up against a Buffalo Bills defense that, in each of the last two seasons, has surrendered the fewest fantasy points per game and the fewest fantasy points per target to receivers on deep passes.