Obviously, a lot happens each week in the NFL. Less obviously, some of it means a lot for fantasy football and some doesn't. Each week in this space, I'm running through the key lessons from each game.
This is what we learned in the Week 12 games.
Sayonara, Stills
If you count Week 7, when he played only 3 snaps before getting hurt, as a missed game for Will Fuller, then Kenny Stills has played four Fuller-less games this season, compared to five with Fuller on the field. The difference is noticeable: 26.0 snaps and 3.0 targets in games with Fuller, 68.0 and 5.3, respectively, without. Fuller's return Thursday pushes Stills to fantasy waiver wires, and he can safely stay there barring another Fuller injury.
We have a Mack replacement … probably
With Marlon Mack out Thursday, the Colts had Jonathan Williams, Jordan Wilkins, and Nyheim Hines to sort through for the backfield. And for one game at least, it was clear that Williams was the man. He had 26 carries and 3 receptions in the loss, totaling 121 scrimmage yards and a touchdown. Hines had 11 touches, while Wilkins didn't have a touch and in fact played only a single snap. With the caveat that it's possible Wilkins sees his playing time increase as he gets further from his injury, it seems reasonably safe to pencil Williams in as a high-floor RB2 for however long Mack's absence lasts.
Never mind on that whole Brate thing
After Cameron Brate had a whopping 14 targets with O.J. Howard benched a week ago, he was an appealing plug-and-play for Week 12. Instead, he had 1 target, and he didn't even catch that. Howard didn't get that work, with only 2 targets himself. No, it seems at this point that the Tampa Bay passing offense is Chris Godwin and Mike Evans, and everyone else on the team will be battling for the leftovers, with no one likely to get enough to be fantasy-relevant for more than an unpredictable game at a time.
No backfield without Freeman
By playing time, Brian Hill smoked Qadree Ollison Sunday, outsnapping him 47-21. He also had 3 receptions compared to Ollison's 1. But it was close by carries, 9-8 in Hill's favor, and Ollison had the rushing yardage lead and scored the touchdown. On the other hand, that "yardage lead" was all of 20-14. Yes, the Falcons trailed for most of this game, but ultimately, until Devonta Freeman returns, it's pretty clear we can't trust any Falcons running back in fantasy.
Cook is back
It was a slow start to the New Orleans tenure for Jared Cook, averaging 2.0 receptions, 22.5 yards, and 0 touchdowns in his first four games. In five games since then, though (sandwiched around an injury), those numbers have risen to 5.2, 56.8, and 0.8, respectively. He's played like the tight end who was a solid top-10 draft pick this draft season, and he can comfortably be an every-week starter the rest of the way.
Moore several steps ahead of Samuel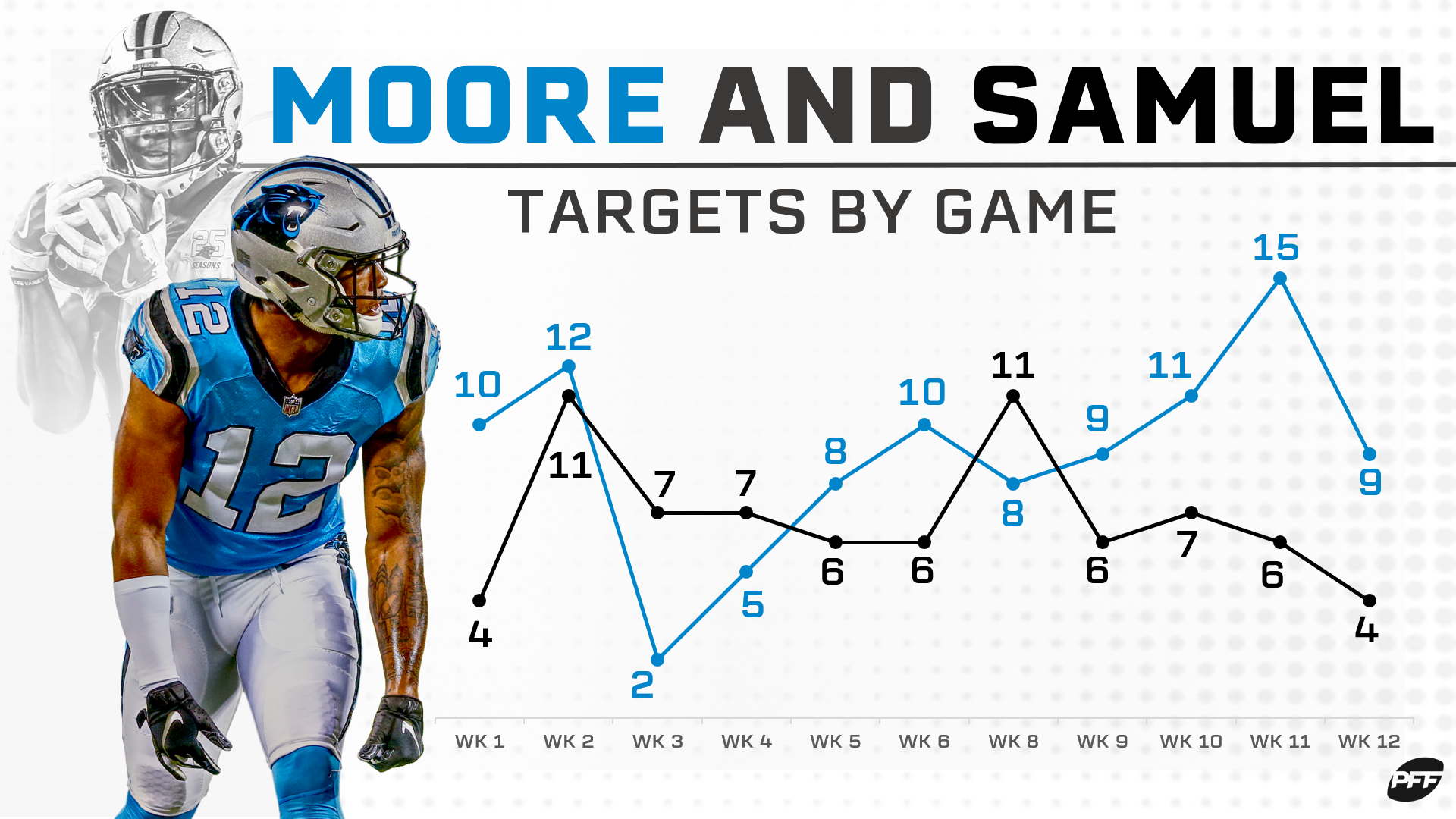 Never mind the production differences between D.J. Moore and Curtis Samuel Sunday (which were massive; Moore had a 6/126/2 line, Samuel had a 1/9/0, albeit with 40 rushing yards) — their respective opportunities have gone in different directions. Kyle Allen looked Samuel's way more than Moore's when he first took over as the starter (14 targets to 7 in his first two games), but it's been heavy on Moore lately, with 44 targets for Moore compared to 23 for Samuel over the last four games. Moore is solidly an every-week starter, bordering on WR1 status, while Samuel is only a desperation play.
Singletary has arrived
Devin Singletary had a bit of a slow start to his career, if for no other reason than he missed a month to injury. But even around that, he averaged 5.0 carries and 57.5 scrimmage yards in his first four games. Over his last four, those numbers have risen to 16.0 and 95.8, respectively. He's not the safest option in the world, but his upside has started to show itself.
Cinder-Allen hit midnight
The first two starts for Brandon Allen went better than most probably predicted, with 433 yards and a 3:1 TD:INT ratio. Sunday, it all came crashing down, with only 82 yards on 25 pass attempts and no touchdowns (and an interception). Things won't be this bad going forward — the Broncos' schedule lightens up down the stretch — but any "oh, maybe" emotions about Allen all but vanished Sunday.
One Bear, and one Bear only
Chicago led Sunday's game for almost the entire second half. Despite that, the team's running backs (Tarik Cohen and David Montgomery) combined for 47 rushing yards on 19 carries. Mitchell Trubisky managed a rushing score to savage his fantasy day, but all in all it wasn't much. Anthony Miller had 77 yards, which was nice, but ultimately, the only Bear who should be anywhere near a fantasy lineup (and maybe even a fantasy roster) is Allen Robinson, who is doing the most with the least of any player in the league this year.
Three-man attack at Giants receiver
Sterling Shepard returned to action Sunday after having been out since Week 5. He didn't have a huge day — 5 receptions for 15 yards plus a 22-yard rush — but he played a lot, on the field for 55 of the Giants' 58 offensive snaps. Darius Slayton and Golden Tate played a lot as well (49 and 48 snaps, respectively). And after a questionable matchup with the Packers in Week 13, the Giants face Philadelphia, Miami, Washington, and Philadelphia again down the stretch. These receivers could all close well.
Move on from McDonald
It's hard to draw any conclusions about the Steelers offense from Sunday. JuJu Smith-Schuster and James Conner were out, and Mason Rudolph got benched halfway through the game. It could be an entirely different Steelers team in Week 13. That said, at this point, we can feel comfortable moving on from tight end Vance McDonald. McDonald has played 10 games this year and is averaging 22.0 yards per game. He hasn't had more than 40 yards in a game. He's scored 1 touchdown since Week 2. Even with the big names out this week, he had only a single catch for a single yard. I know tight end is rough, but it's not that rough.
Squeaky Wheel Boyd
The "squeaky wheel" narrative is having a good year, and Tyler Boyd was this week's example. After some squeaks in the week leading up to this game, Boyd had his best game since Week 5, with 101 yards and a score. With so many questions surrounding the rest of the Bengals' receivers, this is the Boyd show for however much production Ryan Finley can offer.
Beckham is … kind of back?
Sure, Odell Beckham Jr. scored his first touchdown since Week 2 (and only his second on the year). But in a game his team produced five offensive touchdowns and generated 467 yards of offense, Beckham had only 8 targets and 84 yards. Those are fine numbers. They just aren't Beckham-like, eye-popping, week-winning numbers. Jarvis Landry and Nick Chubb both had better days. If you had Beckham Sunday, you aren't upset, but you certainly aren't kicking back, happy that your WR1 is back.
Since taking the starting job back six games ago, Fitzpatrick has topped 20 fantasy points three times, including putting up 23.1 Sunday. He rushed for his third touchdown in his last six games this week as well. And down the stretch, the Dolphins have an amazing schedule, facing the Eagles, Jets, Giants, and Bengals over the next four weeks before a Week 17 matchup against the Patriots, and even that one could be meaningless for New England. Fitzpatrick's not a must-use in fantasy by any means, but in a pinch he has some decent potential to close the season.
Even in a win, no fantasy options in Washington
The return of Derrius Guice to the lineup has made Adrian Peterson (10 carries for 27 yards, 1 reception for 22 more Sunday) unusable for fantasy, but hasn't made Guice much of a factor in his own right. Terry McLaurin had a decent day Sunday (5 catches for 72 yards), but decent is about all it was. Even with Washington winning the game, there just isn't anything for fantasy on this team.
Bo knows backfield
When Bo Scarbrough got 14 carries a week ago, it was worth being interested, but not worth trusting. But he followed it up with 18 carries in Week 12 (the team's other running backs combined for 5) and nearly reached 100 yards. He is a total non-factor as a receiver, so Scarbrough isn't likely to crack the must-start ranks even if this continues, but at this point he's a weekly flex option.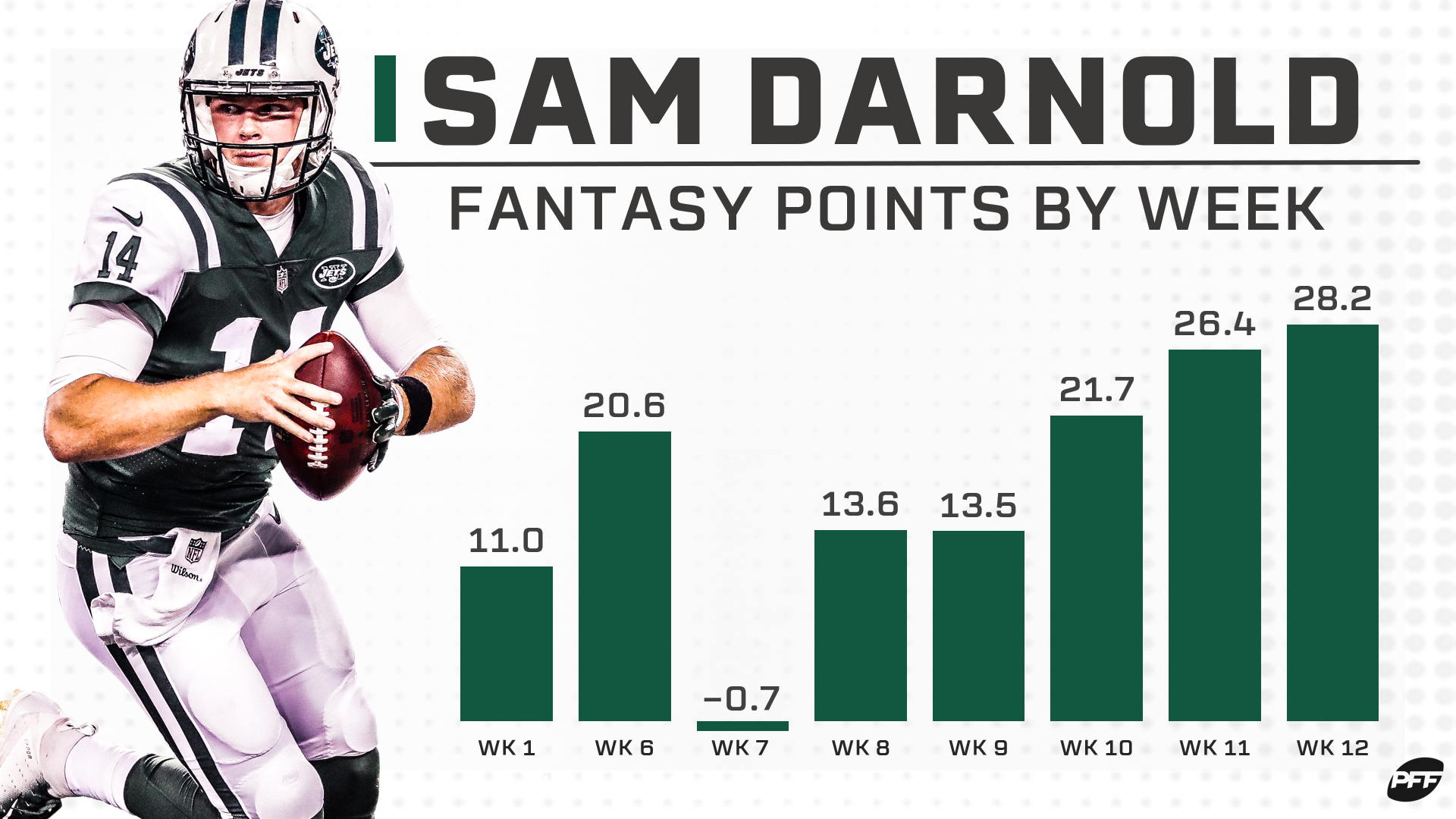 It's not a revelation by any means, but Darnold is in the middle of a productive stretch that could carry him to the end of the season. Over his last three games (all Jets wins), Darnold has 279.3 passing yards per game with a 7:1 TD:INT ratio and 2 rushing scores. And with games the next two weeks against the Bengals and Dolphins, he could keep it rolling — at least until a Ravens-Steelers-Bills stretch to close the season.
Over-raided
Forgive the overrated/Raiders pun there. But the Raiders came into the week with a 6-4 record and murmurs about a possible playoff run that artificially inflated the team's fantasy perception as well. (I was absolutely guilty of this). The reality is that this is a team that now has a -56 point differential, hasn't won a game by more than 8 points all year, has lost four different times by 18-plus. Derek Carr hasn't thrown for 300 yards yet and only has one game with more than 2 passing touchdowns. Tyrell Williams hasn't scored in a month. Darren Waller only has two games with a touchdown this year. This is a mediocre-at-best fantasy offense masquerading as a contender.
Penny time?
Chris Carson fumbled again Sunday, giving him seven on the season and four in his last three games. Whether that was a factor in Rashaad Penny getting a career-best 14 carries and 129 yards or if it was just a coincidence, we'll see as the week goes on, but if Penny hit the waiver wire in your league, he is an absolute must-add going forward.
Ertz is back
Over his last three games, Zach Ertz has 30 receptions on 34 targets for 288 yards and 2 touchdowns, an otherworldly pace that would actually put his monster 2018 to shame. We can't completely forget about his (relatively) down performances on the season before these last three, but this version of Ertz is right back at or near the very top of the weekly tight end rankings.
Where did this Tannehill come from?
Ryan Tannehill's worst fantasy day since becoming the Tennessee starter is 18.9 points in Week 10. He's averaged 23.0 points, which would have been the fourth-best number among quarterbacks entering this week. The Titans schedule down the stretch doesn't scare you. Could Tannehill keep it going? It's hard to bet against him right now.
Fournette, finally
It's not been a bad year for Leonard Fournette by any stretch of the imagination. But his lack of touchdowns was getting almost comical, with a single score over the whole year on 225 touches entering the week. He worked to fix that Sunday, touching the ball 33 times and scoring twice. This was always on the table, but it was still nice to see it.
Pump the brakes on Harry
That rookie N'Keal Harry scored his first touchdown Sunday will get the headlines, but it's worth noting that it came on his only catch of the game, and his 4 targets lagged behind not only Julian Edelman, but also Jakobi Meyers and Rex Burkhead. By all means stash Harry if you have the roster space, but he's nowhere near a priority.
You can use running backs against New England
Ezekiel Elliott had 126 scrimmage yards Sunday, the third running back in the last four games to have at least that many yards. The Patriots have that ridiculous pass defense, which means that even with gamescript messing up the works, teams are going to run the ball, and that has led to productive days lately. Carlos Hyde, Damien Williams, and Joe Mixon are the next ones up.
Upside: George Kittle; downside: running backs
Kittle is incredible. You don't need much more information than that. But the 49ers backfield? Collectively, they had 19 carries for 111 yards and 2 touchdowns, plus 3 receptions for 32 yards. The problem was, that work was largely split between Tevin Coleman and Raheem Mostert, with Jeff Wilson getting a taste himself. That makes it tough to count on any one of the group (or Matt Breida) as a weekly starter. Coleman's a flex play with upside, the rest are just lottery tickets.
Adams had a fine week in a bad situation
The Packers had a miserable Sunday night, but I'm comfortable chalking up at least a good chunk of those struggles to the 49ers defense and not panicking (yet). It is worth noting, though, that Davante Adams finally scored his first touchdown of the year, also notched a two-point conversion, and had 7 catches. His 19.3 PPR points was a perfectly acceptable game, considering the misery going on around him. He's still Adams, if not quite the high-ceiling option he was last year.