Running back fantasy football strength of schedule is one of the most misused pieces of information during fantasy football draft season. Strength of schedule charts are almost always based on last year's data, so they don't give you much insight at the present. That's exactly why we changed things up at PFF and took a new approach to strength of schedule. Instead of basing this information off last year's stats, we put our strength of schedule together based on the current defensive rosters. Using PFF grades, we can establish the overall matchup outlook for each position based on a team's schedule.
Keep in mind that fantasy strength of schedule data is a small piece of the overall puzzle and should not be considered the be all, end all in your fantasy decision making process. While the difference between the best and worst schedules may look significant, it isn't. There isn't anywhere near as wide of a gap between the best and worst defenses in the NFL as there is at the college level. In fact, the best schedule at running back this year is only 6.0% better than the worst schedule at running back. So resist the temptation to move players up or down significantly based on their schedules. Instead, use this information to tweak your rankings and break ties between players who are very close on your draft board.
Below, you'll find the 2019 fantasy football running back strength of schedule sorted in order from the best to worst schedules. We also included the strength of schedule for the fantasy football playoffs in Weeks 14-16. The chart is color-coded with a heat map to give you a better sense of the good and bad schedules at a glance. The greener the box, the better the matchup. Likewise, a red box indicates a bad matchup.
Matchups are also ranked for each week with one being the best matchup. Keep in mind that the bye weeks will mean that the worst matchup for the week isn't always 32. For example, in Week 9, there are four teams on bye, so the worst matchup is ranked 28 for that week. You'll also notice that Washington is the best matchup for quarterbacks based on PFF Grades. However, the Redskins are on their bye in Week 10, so the Jets get the No. 1 matchup for the week against the Giants.
One other very important note is that this strength of schedule is subject to change as defensive personnel changes on each roster. Injuries, cuts, suspensions, and depth chart movement will all impact the strength of schedule. Most of these changes will be minor, but an injury to a standout player could have a bigger impact. If you want the most updated version of this chart, you can get it in PFF's 2019 Fantasy Playbook.
(Check out the quarterback strength of schedule.)
(click to enlarge)
Best schedules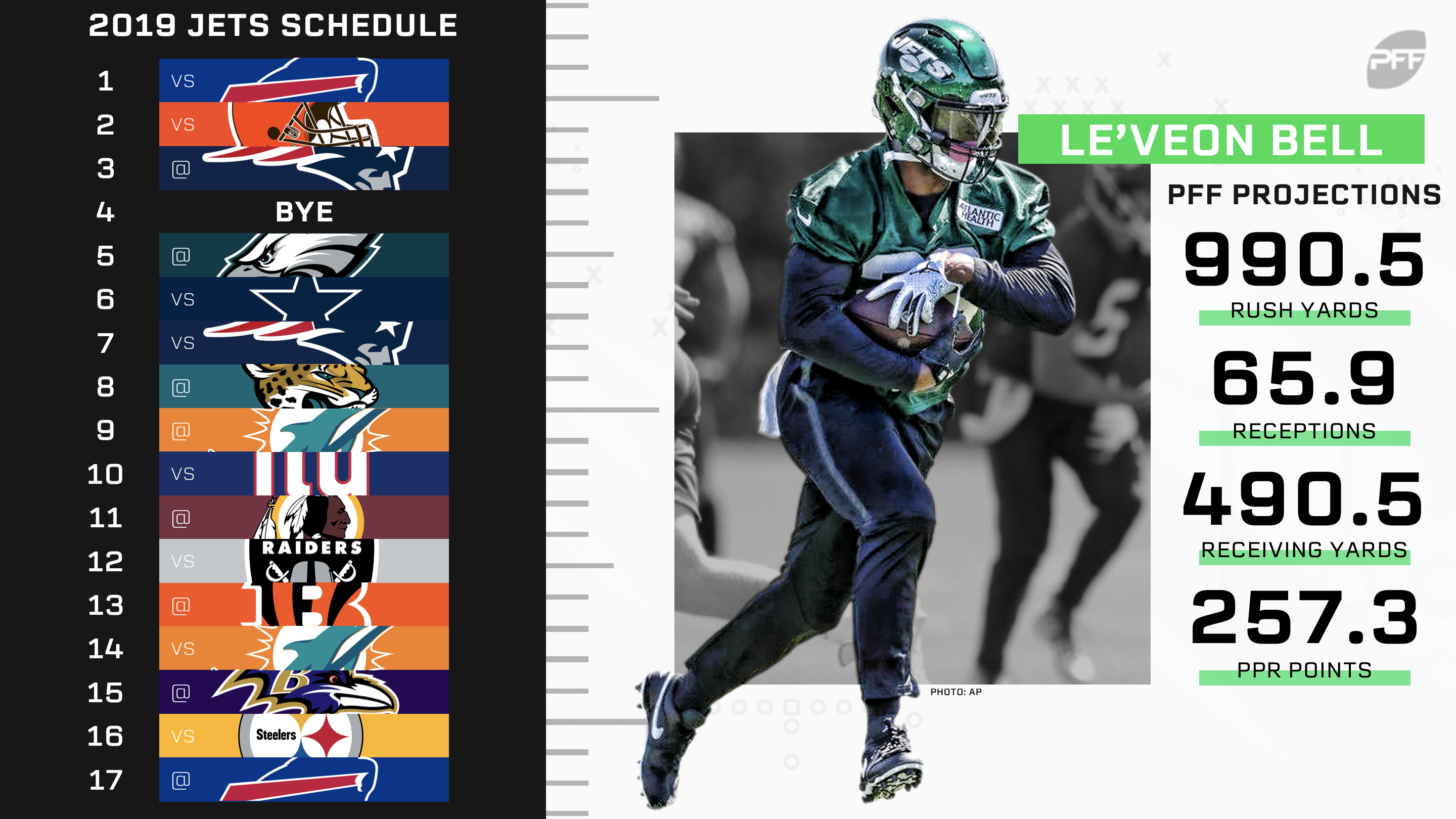 Many fantasy players are still bitter about last season, but it's time to put the past behind us with Bell. He's in a great spot to see heavy volume on a Jets depth chart with minimal competition for touches. Bell also gets a favorable slate with just two matchups outside of the top 20. Of course one of those matchups is in Week 16 against the Steelers. Still, Bell is in a rock-solid position to produce RB1 numbers this year.
There's no denying the fact that it's tough to trust Drake in fantasy. Not only did he take fantasy owners on a roller coaster ride last year, but he's also on an offense that could struggle to move the ball this year. That being said, the Dolphins do have some plus draws on tap this season with matchups against the Giants and Reskins and two contests against a Bills defense that struggled against the run last year and grades out third-worst based on its current roster. Given the risk that comes with Drake, we should also keep our eye on Ballage.
Getting to face the Redskins and Giants twice each bodes well for the Philly backfield. The Eagles brought Howard into the fold this offseason and drafted Sanders on Day 2 of April's draft. Howard figures to have the first crack at early-down duties, but Sanders offers significantly more fantasy upside. He's the more intriguing target of the two and has the potential to hit the ground running given the Eagles' favorable schedule for the run game.
The schedule looks good, but will Elliott be on the field for the Cowboys? At this point, it's tough to envision a scenario where a holdout would last into the season. But anything can happen. For now, let's circle Aug. 6 on our calendars. That's the date Elliott needs to report in order to accrue a year toward free agency. If he doesn't report by that point, we'll have the re-evaluate where he stands for fantasy purposes.
We have a bit of a mess on our hands in New England right now, as Michel missed offseason practices and opened camp on the active/PUP. While that doesn't mean he won't be ready for the season, Michel's nagging knee and the Pats' Day 2 selection of Harris in the draft are enough to bump Michel down the board slightly. That said, his schedule is good enough that Michel could provide a solid return on investment at his current ADP. Keep Harris in mind in the late rounds. Also, note that James White isn't included here due to his minimal work in the run game.
Worst schedules
Last season was massively frustrating for Fournette owners. While we do expect the Jags back to rebound, his schedule doesn't do him any favors. Fournette has an absolutely brutal stretch in the middle of the season that will likely put a damper on his efficiency. That said, if he stays healthy, Fournette should be able to overcome efficiency issues with significant volume. He's still a front-end RB2 with RB1 potential.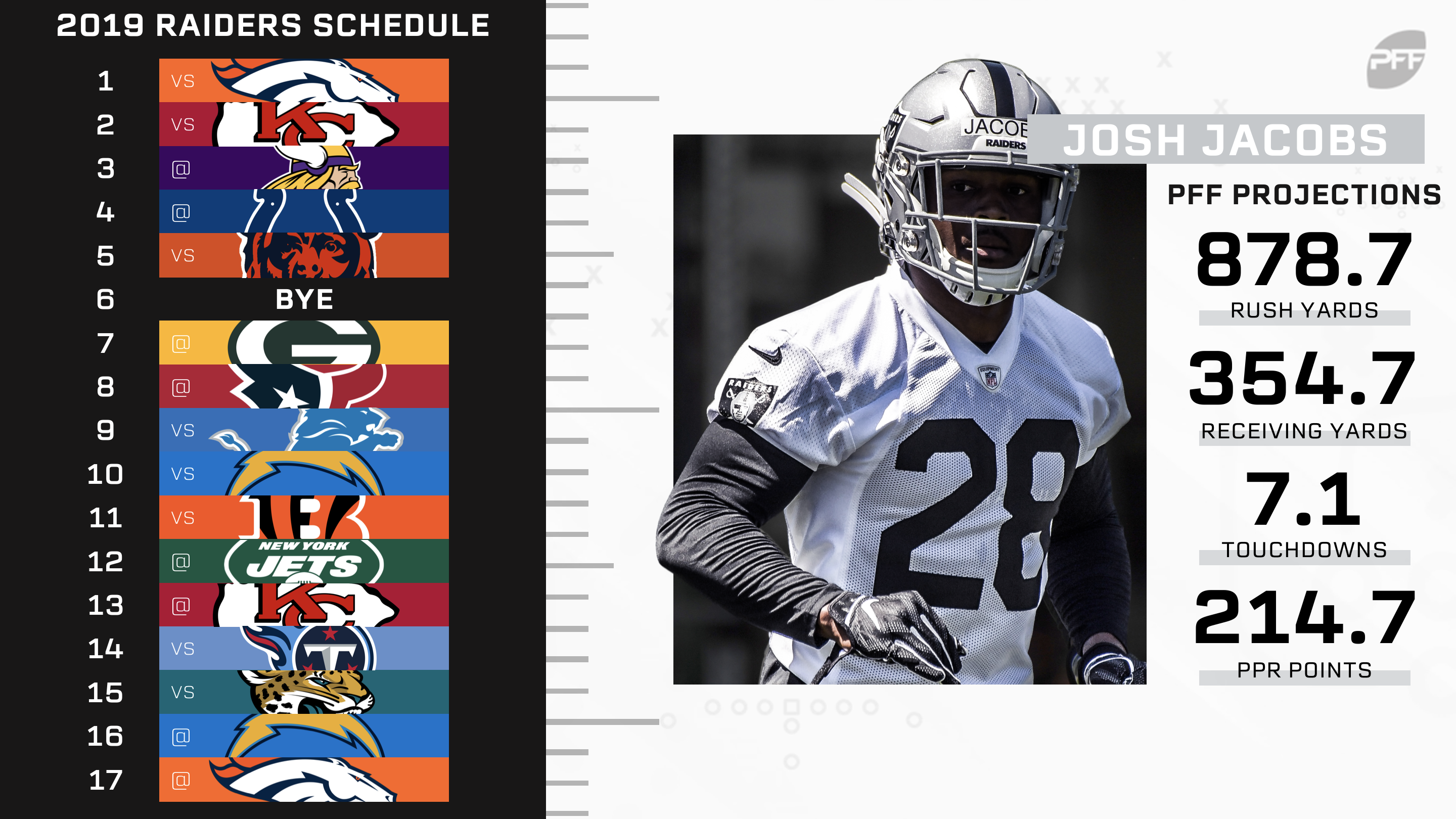 The rookie is in the driver's seat to lead the Raiders' backfield in touches, but he could get out of the gate slowly. Over the first five weeks of the season, he'll face matchups against the Broncos, Vikings, and Bears. Those are the three worst matchups on the board based on current defensive rosters. Ultimately, we're confident Jacobs will be fine in his rookie season, but that start could have a lot of fantasy owners panicking.
He's one of the popular bounceback candidates this season, but it's wise to not get too carried away with Freeman. Not only does he face a tough slate of games, but he's also coming off a season where he missed 14 games and is now 27 years old. It's fine to view Freeman as an RB2 option, but be careful to not overvalue him on draft day.
At this point, we have no idea whether Gordon will be on the field for the Chargers this season. If he doesn't end up holding out, he'll get a schedule that's nearly as bad as Jacobs'. However, unlike Oakland, the Chargers don't face Minnesota until Week 15. And that contest is the cap of a brutal three-game stretch that also includes the Broncos in Week 13 and Jags in Week 14. If he suits up for the Chargers, Gordon is a prime regression candidate, especially when it comes to touchdown efficiency.
There's some buzz surrounding Mack as we head into fantasy draft season. He's certainly positioned well as the lead back in a potent offense. But Mack isn't likely to add much as a receiver. He also draws a relatively tough slate this season with all three of Indy's divisional foes grading out well against the run along with some tough matchups against the NFC South. He'll face the Saints and Panthers in the final two weeks of the fantasy playoffs, neither of which is a favorable matchup.