Our annual post-free-agency look at vacated handoffs and targets in the AFC and the NFC offered a near-complete picture of unclaimed opportunity around the league. The final snapshot comes via the NFL draft, and which teams addressed or ignored the unaccounted-for workload left behind by departing members of their 2017 rosters. Let's take a look at several situations that stand out in the aftermath of this year's draft.
The Giants have 219 handoffs unaccounted for (57 percent; sixth-highest), along with the third-most running back targets (79). Not that Saquon Barkley needed to step into a boatload of available opportunity to make a year-one fantasy footprint, considering he cost the second overall pick, but he has it anyway. Similar to how Jerry Jones and company were motivated to justify the draft capital spent on Ezekiel Elliott two seasons ago, Barkley will be fed incessantly. The ghost of Jonathan Stewart and other ghouls still haunt New York's running back depth chart, but they are nothing to be scared by.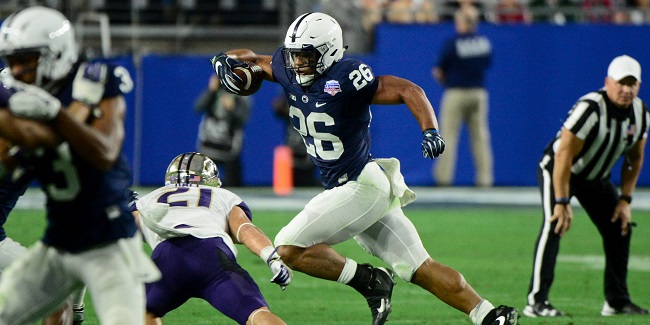 Barkley lands a coveted feature-back workload — complete with upward of 70 targets — while free agent offensive tackle Nate Solder and our third-highest-graded draft-eligible guard, Will Hernandez, reinforce New York's rickety line. A hodgepodge of Giants backs averaged 4.1 yards on between-the-tackles carries last year, which is replicable even for the sometimes-contact-averse Barkley. Dominating in all other phases, he has the filthy talent and outsized opportunity to justify a first-round fantasy cost, even if his real football price is hard to swallow.
No team has more unclaimed handoffs than the Broncos (314), who saw 78 percent of their carries vacated with the departure of C.J. Anderson and Jamaal Charles. The addition of Jared Veldheer at right tackle further shores up a once-pathetic blocking unit, while signing Case Keenum at least moves their quarterback situation out of clown-car territory. This amounts to a more favorable environment in which to run the ball. Devontae Booker truthers, of which there are a surprising number, took one on the chin early in the third round with the drafting of Royce Freeman.
Freeman is seemingly ticketed for a significant role, as GM John Elway labeled him a "bell-cow type for first and second down." He also had 751 receiving yards on 79 receptions at Oregon and graded well as a senior (86.3) after crashing last season (77.1) from a standout sophomore campaign (92.4). It is no sure thing he secures a three-down role right out of the gate, as Booker showed far more as a second-year back in 2017 than as a rookie – albeit on limited snaps (32 percent). However, from touch-competition and available-volume perspectives, few rookies stepped off the draft podium and into a better situation than Freeman.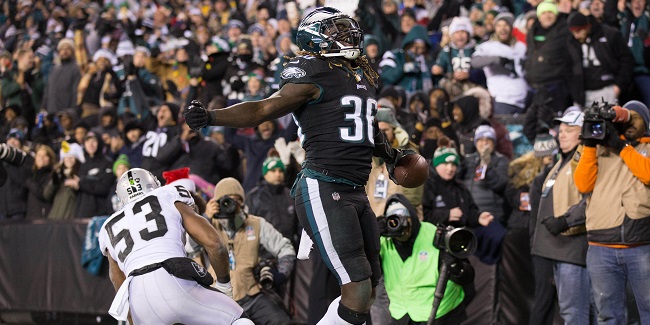 It was hard to find a mock draft without Derrius Guice going to the Eagles. While some connected dots well enough to project a trade, dark fantasy clouds were gathering above Jay Ajayi's head. As it turned out, those clouds parted, revealing a mountain of opportunity. Instead of Guice landing atop Philadelphia's depth chart with a first-round resume, the Eagles dusted off Darren Sproles to vie with Corey Clement for passing-down work. Concern over Ajayi losing goal-line work to Clement is, at this point, merely speculation. Over the last two seasons, Ajayi converted 34 first downs or touchdowns out of 48 attempts with three yards or fewer to go. Clement had only three goal-line carries last season (converting one).
The Eagles have 190 unclaimed handoffs (44 percent), and the diminutive Sproles and his new ACL weren't re-signed to tote the rock often. Ajayi is first in line for that role after slowly increasing his workload down the stretch and leading up to the Super Bowl. He lapped the field in elusive rating once he received double-digit carries for the first time in Week 13, and after Ajayi joined the Eagles, his 3.9 yards-per-carry rate on between-the-tackles runs jumped to a ridiculous 7.8-yard average. He enjoyed 2.2 yards before initial contact with Philadelphia after seeing only 0.6 with Miami. Ajayi avoided getting usurped on the depth chart and is now set to dive into a deep pool of opportunity in one of the league's best offenses.
The Colts rank in the top-five for most unclaimed handoffs (262). However, despite having 63 percent of their runs from last year available and two of their 11 draft picks spent on running backs, they invested relatively lightly at the position. Indianapolis sunk a fourth-round pick (104) into the 5-8, sub-200-pound Nyheim Hines, and used a fifth-rounder (169) on non-athlete Jordan Wilkins. The speedy Hines projects as a passing-game asset, and Wilkins ranked ninth in elusive rating among 75 draft-eligible backs. While they are each intriguing in their own way, neither immediately bumps incumbent Marlon Mack down the pecking order.
While bringing in a veteran runner like DeMarco Murray would surprise no one, GM Chris Ballard recently bid adieu to a high-mileage snap-sucker by letting Frank Gore shuffle down to South Beach. While his recovery from offseason shoulder surgery bears monitoring, we at least know Mack is explosive. He produced five times as many 20-plus-yard runs as Gore last year, on 168 fewer carries behind the same shaky line. Mack also had nearly as many negative-yardage runs as Gore (19 versus 26) and needs to find more down-to-down consistency behind what will be vastly improved blocking. Judging by draft capital spent, he will get every chance to show it, and has a sizeable opportunity load if he remains atop the depth chart.
Not since 2006 have the Patriots spend a first-rounder on a running back, but Sony Michel surprisingly came off the board with the 31st pick on Thursday night. He steps into a typically crowded New England backfield, albeit one with ample opportunity. A whopping 42 percent of their handoffs from last year are unclaimed (180), in addition to 33 running back targets. Michel should push for at least 200 total touches in one of the league's top scoring offenses. New England have finished outside of the top-three in total points scored only once since 2009, when they were fourth-best in 2014.
The Patriots annually rank at the top of the league in inside-the-5 handoffs, and if Michel gets a piece of that role, his fantasy value skyrockets in year one. Of course, he's had fumbling issues – a quick ticket to Bill Belichick's bench – losing two in each of his four seasons at Georgia. Despite Michel's 2018 salary equaling all of them combined, history says Rex Burkhead, James White, and (one of) Mike Gillislee or Jeremy Hill will remain backfield factors. Taking the cheapest pieces of crowded Patriots depth charts is usually preferred, but there's a legitimate chance Michel bucks that fantasy trend given his draft status and available opportunity.
The Cowboys have 155 vacated wide receiver targets (52 percent), which is the league's fifth-most, courtesy of Dez Bryant's ill-conceived release. They have the third-most unclaimed tight end targets (88), which accounted for 98 percent of their team total, courtesy of Jason Witten's sudden retirement. To say their depth chart is thin without these longtime weapons would be like calling their 2017 offense just a little bit stale. Dallas even traded second-year slot receiver Ryan Switzer for Jihad Ward, who played only 125 shaky snaps last season after finishing 2016 as our 51st-graded 3-4 defensive end — out of 51 defensive ends. The Cowboys also traded a sixth-rounder for Tavon Austin to play him at running back, which is probably for the best.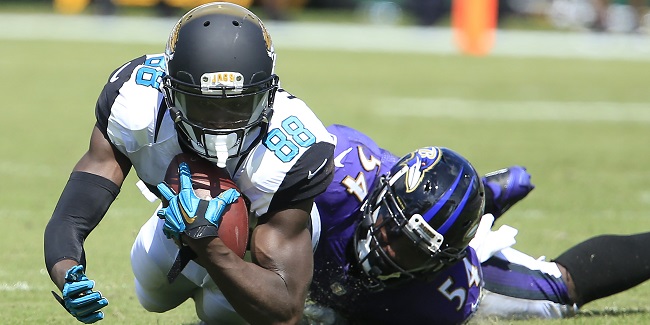 While this is all bad news for Dak Prescott's chances of a serious rebound, it's good news for the fantasy prospects of new additions Allen Hurns and third-round rookie Michael Gallup. Hurns is already the best veteran wideout on the team before playing a snap, and Gallup stands an excellent chance of making the rare year-one fantasy impact at wide receiver. While we'd expect them to quickly surpass Cole Beasley and Terrance Williams, respectively, Cowboys decision-makers have historically stuck to their guns on less-than-talented pass-catchers. Still, with the pile of available targets, both new Cowboys should prove to be worth their modest draft cost.
The Raiders imported Martavis Bryant to help stretch the field and soak up some of their 140 unaccounted-for wide receiver targets (sixth-most). This leaves the Steelers with 117 vacated wideout looks (eighth-most). However, across all offensive skill positions, neither Oakland (29 percent, 12th-highest) nor Pittsburgh (21 percent, 19th-highest) is missing an especially large chunk of their passing pies. While Bryant walks into slightly more available opportunity, the largest fantasy impact comes from his departure. JuJu Smith-Schuster, who had his most productive game as a rookie when Bryant sat out Week 8, stands on even firmer fantasy ground after the trade and stands as good a shot as any No. 2 wideout of cracking the fantasy top 12.
Aside from the hefty 140 available receiver targets, Bryant arrives in Oakland amid uncertainty over how Jon Gruden's offense will unfold. The Raiders lined up in 11-personnel on 71 percent of snaps last year – the same as Pittsburgh, and a top-five rate league-wide. Will Bryant, who likely sees the field as Oakland's third wideout behind Amari Cooper and Jordy Nelson, enjoy a similar three-receiver rate? Will the Raiders pass during neutral situations even 57 percent of the time (17th-highest), as they did last year? Does Gruden truly want to "throw the game back to 1998," or is he just playing dumb? One thing is definitely not smart: investing significantly on the assumption a fantasy-friendly portion of Oakland's seemingly available targets go to Bryant.
Not many offenses have more than 120 unclaimed wide receiver targets – seven of them, to be exact. Even fewer teams have received less buzz than the Cardinals. While trading up for Josh Rosen earned headlines, the bet here is Arizona will draw scant fantasy attention in the coming months. Larry Fitzgerald may be Hall-of-Fame bound, but most drafters consider him boring. Last season's fifth-highest-scoring PPR wideout remains a near-lock for 150-plus targets and, on multiple levels, remains the oldest bargain in fantasy.
Arizona's newest wideout, second-rounder Christian Kirk, also excels in the slot — where he posted the third-most receiving yards on the fourth-most catches last year at Texas A&M. He will be thrown right into the mix with incumbent speedster J.J. Nelson, 2017 third-rounder Chad Williams, and fantasy-Twitter favorite Brice Butler. Despite their outsized available opportunity, they were easier to ignore when Sam "Stiff Breeze" Bradford was the only thing standing hobbling between them and Mike Glennon. With Rosen at least acting as a theoretical cushion of quality, we'd be wise to take a closer look.
The Cardinals do not have a ton of vacated tight end targets (22). Of course, under Bruce Arians, they rarely had many tight end targets, period. Arians is gone, along with Troy Niklas and, at least for the foreseeable future, top tight end Jermaine Gresham – who tore his Achilles' in Week 17. He had essentially every other tight end target for the Cardinals last season (45). The rest were ticketed for Ricky Seals-Jones, and he delivered when given a chance.
Seals-Jones, an early producer at Texas A&M, is the only tight end remaining in Arizona who earned a positive passing game grade last season. He racked up 170 yards and three touchdowns on 16 targets during a limited-snap three-week stretch in November. With a clear shot at more playing time, and 124 additional wide receiver targets vacated from 2017 that could spill over, Seals-Jones is positioned to outperform his dirt-cheap fantasy cost for drafters who prefer inexpensive dart-throws.
For the most part, the teams atop the unaccounted-for tight end target list did little to address it at the draft. The Seahawks have a league-high 112 of them available and drafted Will Dissly, a non-athlete blocker, in the third round. The Lions have the second-most vacated tight end looks (104) and didn't draft one at all. The Jets will try to soak up their 77 unaccounted-for tight end targets with fourth-rounder Chris Herndon, who graded better as a blocker than as a receiver last season.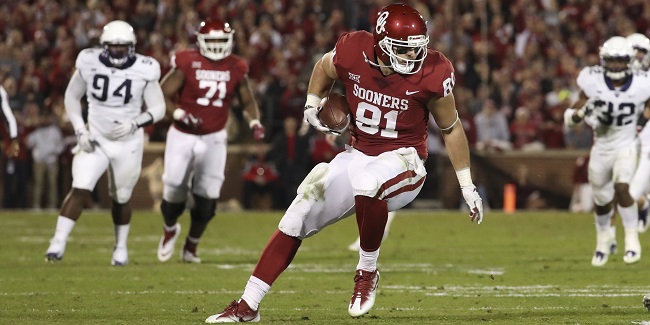 The Ravens, who also have 77 unclaimed looks at the position, carpet-bombed it with two tight ends. First-rounder Hayden Hurst – who's so old he may beat Ozzie Newsome to retirement – and third-rounder Mark Andrews will be relied upon to have a year-one impact not typical of the position. Speaking of atypical tight end things, the Cowboys had a Hall of Famer retire in the middle of the draft. They "recovered" by picking Dalton Schultz in the fourth round. He graded 62nd in the passing game among draft-eligible tight ends.
None of the teams with top-five vacated tight end target totals have exciting options waiting in the wings. Luke Willson has pole position in Detroit, but has long been an athletic tease. Nick Vannett is more exciting than Ed Dickson in Seattle, although that's saying very little. The Jets don't have anyone of the departed Austin Seferian-Jenkins' caliber, and even he was a fantasy disappointment. Good luck picking which rookie tight end Joe Flacco might make relevant.
If Rico Gathers earns the requisite playing time in Dallas, he will be an interesting late-round fantasy filer in an offense crying out for viable weapons. Sadly, an "interesting flier" is about the best we can hope for from teams with the most available tight end opportunity, and we are likely better served projecting some of that workload to secondary wideouts more deserving of it – such as Tyler Lockett, Kenny Golladay, Quincy Enunwa, and Willie Snead, as well as Gallup and Hurns.