Greg Dulcich's fantasy value is in trouble:

Adam Trautman

started and played on every first and second down with the starters.

Marvin Mims is low on the Broncos depth chart: The Denver Broncos lost

Tim Patrick

and

K.J. Hamler,

which was supposed to help Mims reach WR3, but he's at best WR5 at the moment.

Rondale Moore is back in the slot:

Moore was at times an every-down wide receiver for Arizona last season, but is now back to playing as the primary slot receiver.
Estimated Reading Time: 6 minutes
---
PFF's fantasy football recap focuses on player usage and stats, breaking down all the vital information you need to achieve fantasy success in 2023. Check out PFF's 2023 Fantasy Draft Kit for even more content to help you dominate your league.
Player Profiles
More Rankings: PPR | Half-PPR | Standard | Superflex
Dynasty Rankings: PPR | Rookie | Superflex | Superflex Rookie
Position Rankings: QB | RB | WR | TE
Sleepers: Top-10 | QB | RB | WR | TE
League Winners: QB | RB | WR | TE
12-Team Draft Strategy: Overall strategy | Picks 1-3 | Picks 4-6 | Picks 7-9 | Picks 10-12
10-Team Draft Strategy: Overall strategy | Picks 1-3 | Picks 4-7 | Picks 8-10
---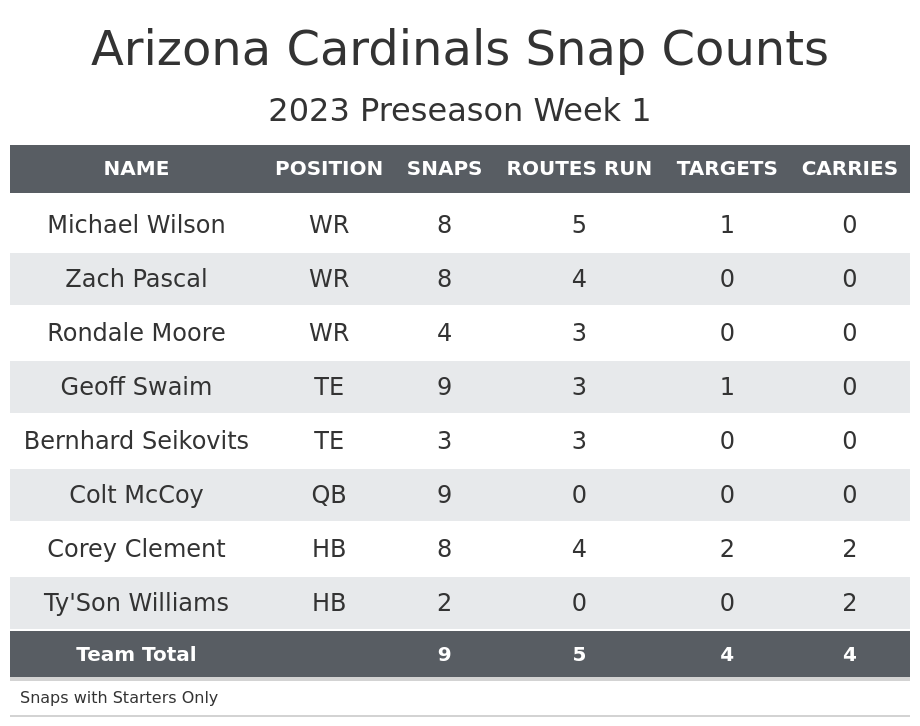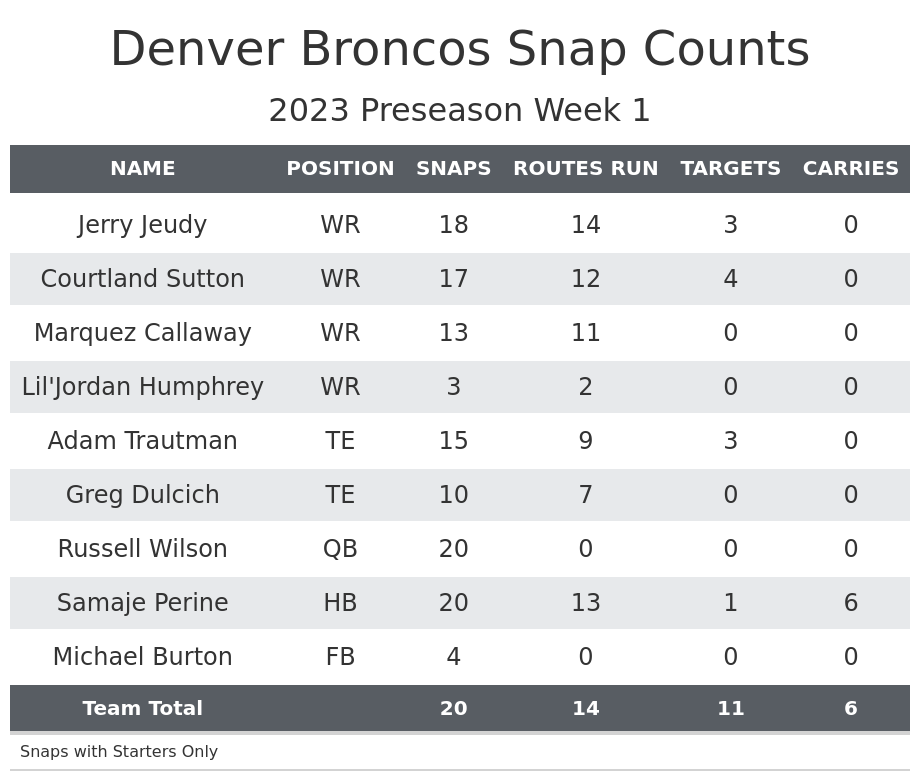 Greg Dulcich's playing time is in trouble: Adam Trautman was not just the Broncos starting tight end, but he played on all first and second downs.
Trautman caught two passes in the first half for 18 yards while Dulcich wasn't targeted.

Dulcich only joined the field for third downs and two-tight end sets. Last season, he would play significantly on early downs and third downs.

Trautman has a history in Sean Payton's offense, and he was consistently playing in over 80% of his team's offensive snaps the last time he was healthy with Payton as his coach.

Trautman was listed as the starter on the unofficial depth chart, so it wasn't surprising to see him in 21 personnel, butthe fact that he played in 11 personnel on early downs is a problem for Dulcich's fantasy value.

If this carries on into the regular season, then Dulcich likely won't be able to be a fantasy starter.

Chris Manhertz

was a Broncos free agent signing who could also play in run-blocking situations. He was not in uniform Friday night, but he could take some of the snaps in 12 personnel away from Dulcich.

Payton did refer to Dulcich as a "Joker" in the offense, similar to

Taysom Hill

or Darren Sproles. The Broncos didn't use Dulcich in these kinds of creative ways Friday night, but this could help his fantasy value even if Trautman is seeing significant playing time.
Marquez Callaway is currently WR3 for the Broncos: Callaway is another former Sean Payton player who saw played with the starters.
Tim Patrick

and

K.J. Hamler

being injured/off the roster have opened the door for Callaway to move up the depth chart.

While it's not surprising to see Callaway ahead of

Marvin Mims

at this point of the preseason, it was surprising that Mims didn't see a single snap with the starters in the team's first four drives.

Callaway also took some snaps in two-receiver sets in place of Jerry Jeudy.

Jeudy and Sutton were targeted more than Callaway to no surprise.

Lil'Jordan Humphrey

,

who is another former Sean Payton player, played a few snaps in

Courtland Sutton

's place

on the Broncos' fourth drive, also ahead of Mims.

We can fully expect Mims to see play more as the season progresses, but it's possible Callaway always stays part of the offense, potentially preventing Mims from seeing his potential as a rookie. 
Rondale Moore only played in the slot: The Cardinals, at times, used Moore in two-receiver sets, but he appears to mostly be a three-receiver set player this season.
The Cardinals typically used

Zach Pascal

and

Michael Wilson

in two-receiver sets instead of Moore.

He pretty consistently lined up in the slot when he was on the field.

The fact that he was playing while several other starters had the night off is another sign the Cardinals might not view him as highly as we thought.

The one piece of good news is

Greg Dortch

didn't play until the third drive when several Cardinals starters were done, so Moore appears to be clearly ahead of Dortch at this point.

Pascal and Wilson are likely fighting for the other outside receiving spot across from

Marquise Brown

. There was no difference between them in playing time. Wilson caught two passes for eight yards.

There is at least a chance Brown plays at times in the slot with Pascal and Wilson out wide.

Moore can still be considered a late-round sleeper if he's consistently in the slot in 11 personnel, but it's a little less likely to work out based on Friday night.
Monitor Corey Clement's health: Clement took a big hit and went to the locker room after.
About 40 minutes later he was spotted on the sideline with his helmet. His night would have likely been done by that point regardless, but he was kept out.

Clement is fighting with Keaontay Ingram for the backup job behind

James Conner

.

Conner was among the starters sitting Friday night out while Ingram has been out of action with an abdomen injury.

This game didn't tell us much about the Cardinals' backup running back situation, outside of Clement being ahead of

Ty'Son Williams

on the depth chart.

It wouldn't be all that surprising to see the Cardinals bring in a free agent, especially after adding

Marlon Mack

before he landed on injured reserve a few days later.
Miscellaneous Notes
Samaje Perine

took every snap with the starters. This wasn't surprising considering

Javonte Williams

wasn't playing, but it was at least good to see they trust him in every situation in case Williams misses regular season time.

Trey McBride

is the Cardinals starting tight end, but it's unclear if he didn't play because he's that established of a starter, or if it's because he missed some practice last week and early this week.
---
Table Notes
Snaps include plays called back due to penalties, including offensive holding or defensive pass interference. The other three stats have these plays removed.

Targets may differ from official NFL sources. The most likely discrepancy would be from a clear thrown-away pass, where the NFL may give the target to the nearest receiver, while this data will not.

Carries are only on designed plays. Quarterback scrambles won't count for the total number of carries in the game.