Small samples are rife with inequalities in football, so it is often futile to project running back sleepers based on impressive yards per carry averages or touchdown rates over fewer than 150 carries. That's why I love Yards Added. It measures player success or failure against expectations that account for the context of plays like the down and distance, distance from the end zone, and quality of run-blocking. That way, backs are rewarded and punished for their own contributions and not the circumstances of their carries that are beyond their control.
Heading into 2019, there are eight backs whose efficiency in Yards Added suggests could enjoy breakout seasons.
Overlooked rookies
Kalen Ballage, Miami Dolphins
Kenyan Drake was the object of many football sabermatricians' obsessions in 2018 thanks to an unusually low 0.5 yards before contact and unusually high 4.3 yards after contact per attempt the prior year. It's little wonder then that the rookie Ballage fell by the analytical wayside as writers argued over Drake's carry volumes alongside undying veteran Frank Gore. But Ballage was excellent, adding 26 yards on 36 carries in his rookie season. A 75-yard scamper buoyed his yards per carry to an unsustainable 5.3 yards, but he also met or exceeded the expectations of his attempts 41.7% of the time, better than Drake's 38.3%. Ballage also caught a pass on a very high 15.4% of his college touches. He could see his workload explode in 2019 if the Dolphins agree that he is their best back and feature him as a checkdown option.
Rashaad Penny, Seattle Seahawks
Like Ballage, Penny is poised to start his sophomore season behind an incumbent coming off an RB2 season. But as tremendous as Chris Carson was by both traditional and advanced metrics — he was the No. 4 runner with 86 Yards Added — Penny was similarly effective over his smaller volume. By rate, Penny added 0.26 yards per carry and produced 3.40 yards after contact per attempt, both in line with Carson's rates of 0.35 and 3.36. At worst, that makes Penny one of only a handful of handcuff backs you'd trust as an RB2 if something happened to the starter in front of him. At best, that makes Penny one of the most effective runners in football, where that level of talent tends to manifest a workload sooner or later.
Royce Freeman, Denver Broncos
Conventional wisdom is that Freeman already lost Denver's running back battle to fellow rookie Phillip Lindsay. But Yards Added suggests that contest may be closer than their fantasy totals and yards-per-carry averages would lead one to believe. Compared to Freeman, Lindsay enjoyed a disproportionate number of his carries with 5 or more yards before contact. But Freeman also excelled in his fewer well-blocked opportunities and performed much better than Lindsay when he was hit at or behind the line of scrimmage.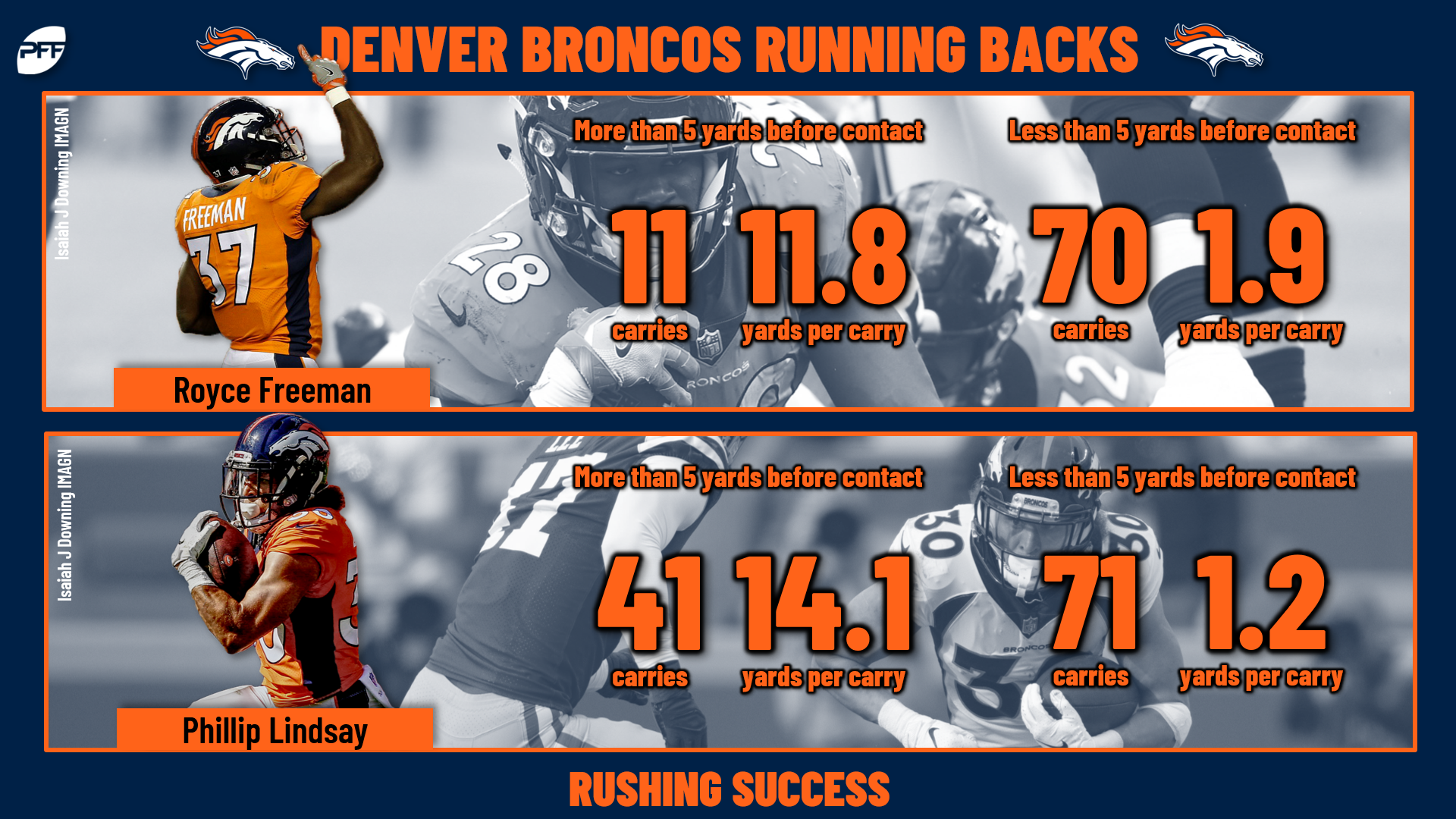 Yards Added indicates that Freeman performed better (16) on his more difficult set of carries than Lindsay did (-11) on his easier set of carries. The critical question might be whether Lindsay is somewhat responsible for his more favorable yards before contact average. Yards Added considers any point of contact prior to 5 yards down the field the domain of the run-blockers, but Lindsay's speed, vision, and decisiveness may do something for that that other backs cannot. I plan to investigate that further in a future column. For now, I think it's fair to consider Freeman the team's lead candidate for short-yardage touchdowns — which on its own should produce fantasy value — with an upside for much more.
Josh Adams, Philadelphia Eagles
Even after Jay Ajayi tore his ACL in early October, the Eagles relied on a running back committee that made it difficult to trust any of Adams, Wendell Smallwood, Corey Clement, and Darren Sproles in fantasy. Three quarters of those late-season options should return to the team in 2019, but I expect their disparate levels of effectiveness should skew the team's workload toward Adams. On just 120 carries, he added the seventh-most yards of the 21 qualified rookie runners. And he is the only returning Eagles back who was a positive contributor in Yards Added a year ago.
Inexplicable free agents
C.J. Anderson
Anderson is a victim of his own success. With 4.6 yards after contact per attempt in his two regular season games with the Rams last December, he went from the streets to maybe the best back in football at one of its lowest salaries. Still, I think Anderson is justified in his frustrations for free agency.
Lol the disrespect is real guess It is what It is. It's the same story over and over. All I ever wanted was a full opportunity to play 16. My 16 vs anybody else 16 with no front office / coach trying to move me out the way or play we like this guy game. Just want a 16 all I ask.

— Cj Anderson (@cjandersonb22) March 22, 2019
That's because Anderson's small-sample 2018 success is nothing new. He's been almost exclusively a positive contributor since he entered the league in 2013. He routinely produces 40 yards over expectations across a season's worth of games.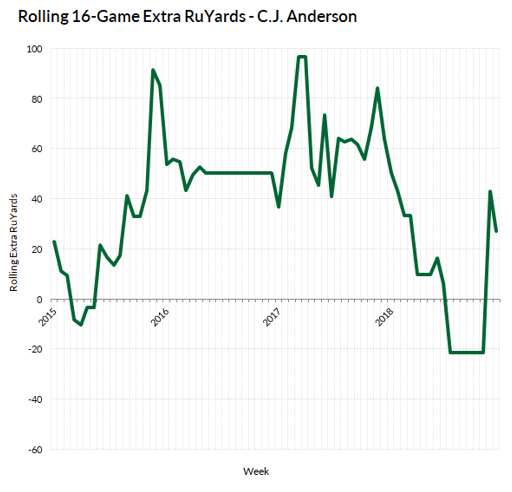 Running backs should probably earn a smaller cut of a team's cap than they used to, but Anderson's play should earn him a starting job for a team, whatever that means for salary.
Spencer Ware
The Chiefs have been a factory for productive running backs for my entire career, but Yards Added shows that Ware himself has been a positive contributor when some of the backs in line in front and behind him have sometimes not been. He added 12 yards as a runner and 15 as a receiver on just 51 carries and 22 catchable targets in 2018. That pushed him over 50 Yards Added as both a rusher and receiver since the effective start of his career in 2015. Only five other backs can make that claim, and three of them — Todd Gurley, Ezekiel Elliott, and Kareem Hunt — have been three-down fantasy stars.
Backs with 50 Rushing and Receiving Yards Added, 2015-18
Player
Att
CTgt
RuYards Added
RecYards Added
Todd Gurley
1042
212
164
135
Ezekiel Elliott
868
148
177
64
Kareem Hunt
453
87
123
55
Spencer Ware
337
62
71
56
Chris Ivory
591
97
52
54
Austin Ekeler
153
73
53
51
Ware's injury history would make him a precarious workhorse. But if he finds that opportunity with a new team, then I definitely want him in my fantasy lineup whenever he's healthy.
Forgotten veterans
Kareem Hunt, Cleveland Browns
Hunt's half-season suspension should damage his draft value, but I expect him to fall further because of the perception that he is a luxury signing. The Browns already employ Nick Chubb, whose total of 136 RuYards Added in 2018 was second-best at the position behind only Derrick Henry's 144. So why then do they need Hunt? It's because of his receiving work. Chubb cost the Browns 12 yards on 26 catchable targets as a receiver last season and barely eclipsed a yard per route run. In contrast, Hunt added 41 yards on his 31 catchable targets in 2018 and has already reached the 50-50 Rushing and Receiving Yards Added club in just two professional seasons. Incumbent third-down option Duke Johnson is an efficient receiver, but he cannot offer the versatility that the plus runner and receiver Hunt does. In what looks to be an explosive offense, Hunt could be a PPR RB2 in the second half next season even if Chubb outcarries him 2-to-1.
Jalen Richard, Oakland Raiders
Richard is a non-traditional sleeper pick entering his fourth season and coming off one with a career-high 68 receptions that still barely landed him in the top-30 PPR backs. But that uptick in receiving work demonstrated that Richard is one of the premier receiving backs in the league. He was tied for seventh with Alvin Kamara with 23 RecYards Added and was second outright with 2.26 yards per route run at the position.
Yards Per Route Run Leaders, RB, 2018
Player
Team
Tgts
Rec
Yards
Routes
YPRR
Tarik Cohen
Bears
87
71
725
306
2.37
Jalen Richard
Raiders
77
68
607
268
2.26
Austin Ekeler
Chargers
47
39
404
188
2.15
Alvin Kamara
Saints
98
81
709
334
2.12
Melvin Gordon
Chargers
61
50
490
240
2.04
Leonard Fournette
Jaguars
25
22
185
96
1.93
James White
Patriots
116
87
751
408
1.84
Christian McCaffrey
Panthers
122
108
874
487
1.79
Minimum 25 Targets
Meanwhile, Richard failed to score on any of his 68 catches after scoring three times on just 56 catches the two seasons prior. He should score more frequently in 2019 and could have more work in general with both Marshawn Lynch and Doug Martin hitting free agency.