It's NFL draft season, and with that comes a lot of excitement about success for both real and fantasy football. Some of that is short-term excitement and some of it is long-term, but it's excitement.
Short-term excitement is great! Everybody remembers, say, Jonas Gray's four-touchdown game or that famous Matt Flynn outing. But sometimes even when we're on the lookout for the dangers of the small sample size, we underestimate. Alex Smith drew plenty of sleeper buzz in 2018 after his QB4 2017 season and the move to Washington, then regressed heavily. Guys have fluke seasons all the time — please remember Peyton Hillis.
So today, we're broadening our sample size. These are the best fantasy producers (both in total and on a per-game basis) over the last two seasons. Who have had the most productive two-year runs? And what do those numbers mean for fantasy in 2019?
Quarterbacks
Best two-year point totals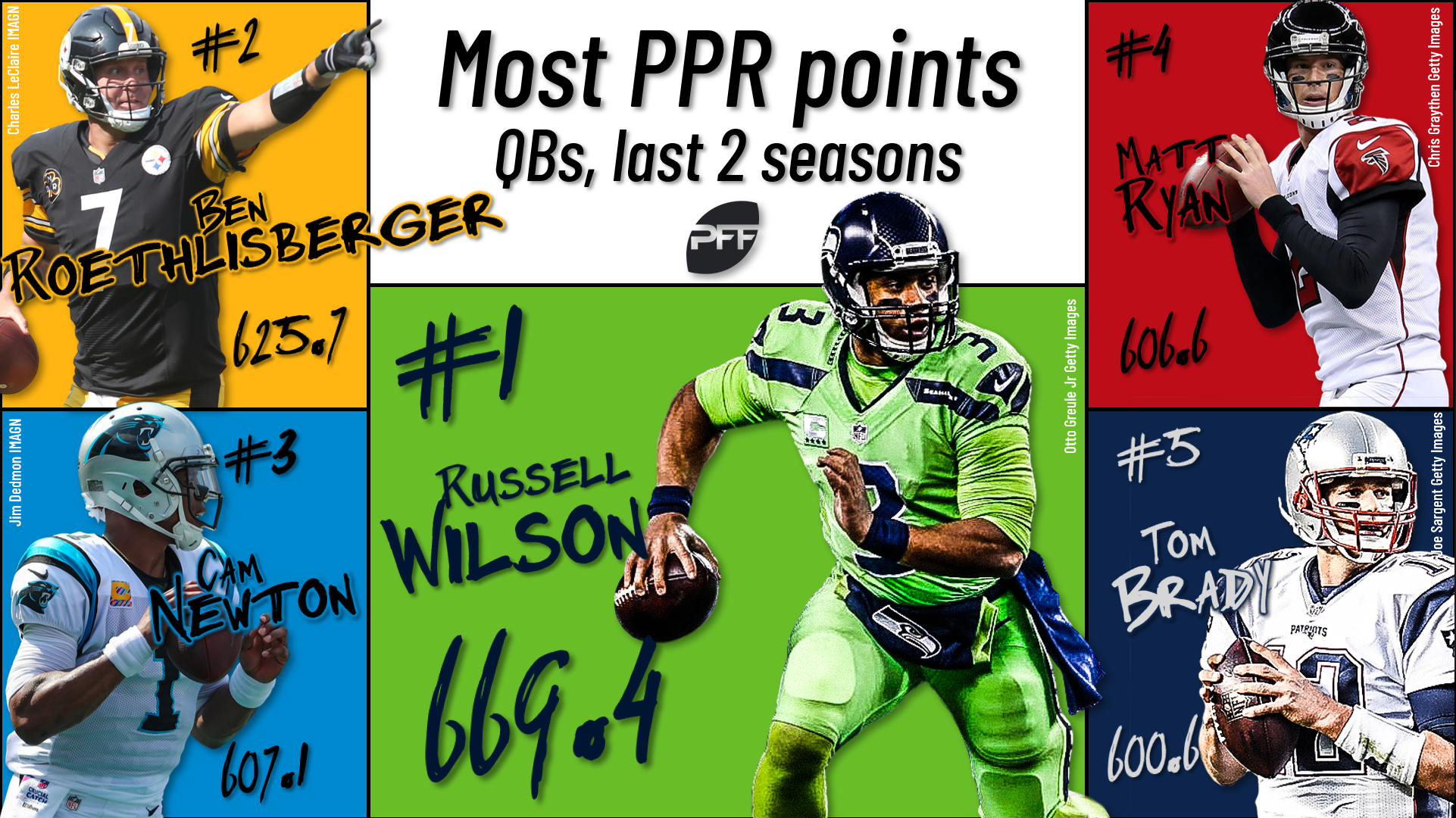 The most interesting thing, to me, is that there isn't a single quarterback who has been top-five each of the last two years — it was a total turnover at the top of the charts. As a result, the two-year top-five is made up of the top three quarterbacks from 2017 (Wilson, Newton, Brady) and two of the top three from 2018 (Ryan, Roethlisberger), with Mahomes' dominant season the other top-three season.
Also notable here is the quarterback completely absent from this chart. Aaron Rodgers was hurt for a big chunk of 2017 and disappointed in 2018, but the end result is that for whatever reason Rodgers has only one top-five season in the last four years and two in the last six.
It's only fitting that Newton and Ryan are so close to one another given their respective recent histories.
Best two-year points per game
Quarterback fantasy points per game
2017
2018
Combined*
1
Deshaun Watson
25.0
Patrick Mahomes
26.9
Patrick Mahomes
26.0
2
Russell Wilson
22.6
Matt Ryan
22.5
Deshaun Watson
22.7
3
Carson Wentz
22.1
Ryan Fitzpatrick
22.2
Russell Wilson
20.9
4
Alex Smith
20.1
Ben Roethlisberger
22.1
Carson Wentz
20.7
5
Cam Newton
19.7
Deshaun Watson
21.7
Cam Newton
20.2
(*min. 1 game played each season)
It feels almost like cheating to have Mahomes make it, but the point is to have players whose points were accumulated in both years and, well, Mahomes did play in 2017. Watson's ridiculous average in 2017 helps him to a solid second-place, and unlike the raw totals, his appearance does give us one repeat top-five guy.
On a per-game basis, Wentz has been a very strong quarterback the last two years, but his injury issues have kept his raw totals in check.
Fitzpatrick's average in 2018 was pretty ridiculous considering he was benched two different times, but he's always good for a huge game or two in any given year.
Running backs
Best two-year point totals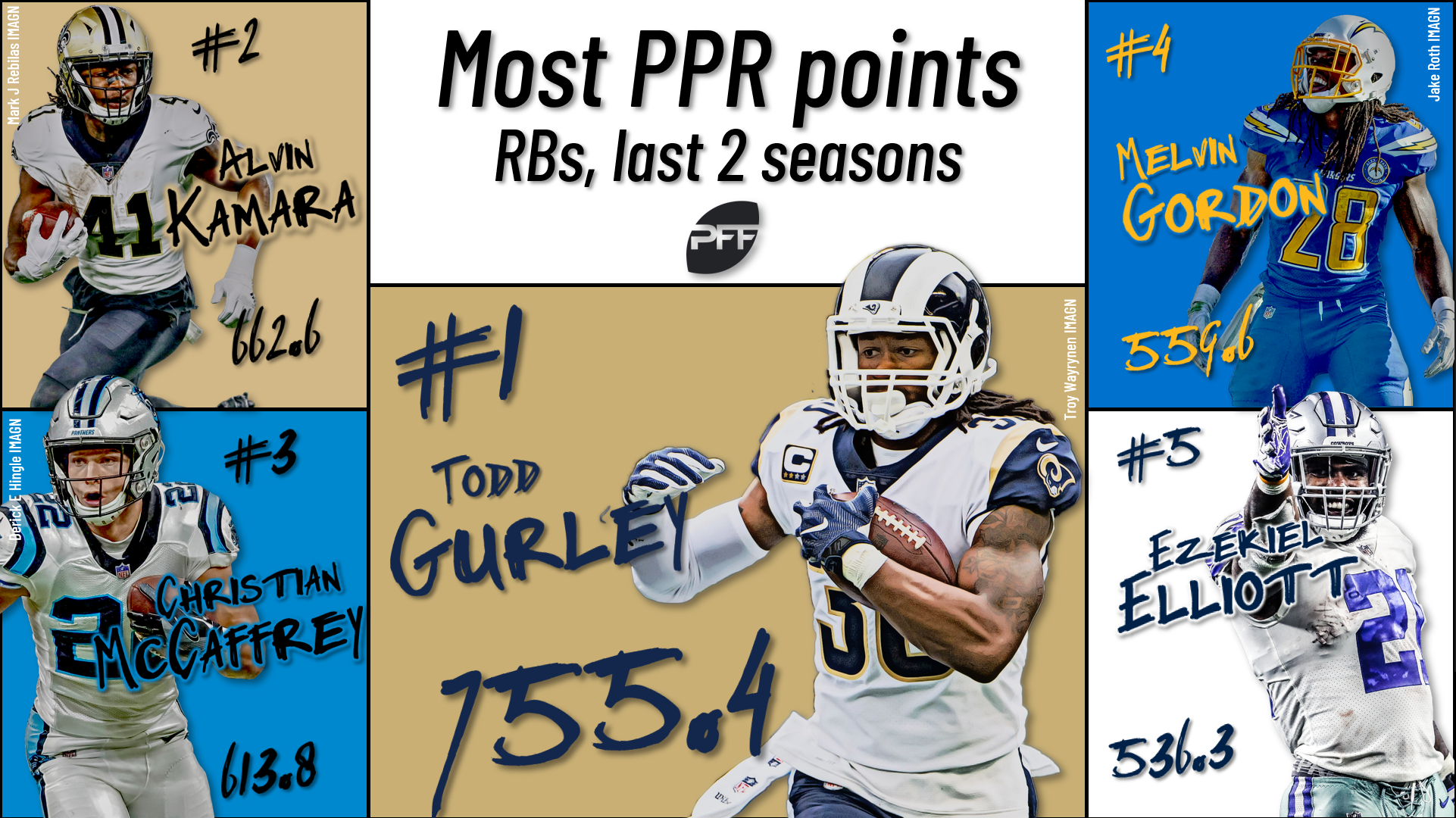 Over the five-year period 2013-2017, Bell's 2016-2017 was the only time a running back repeated as a top-five PPR back. So of course we had two repeaters in 2017-2018, with Gurley and Kamara cracking the top both years. Gurley's two-year run is especially dominant, as he's 90 points ahead of second-place Kamara and more than 140 ahead of third-place McCaffrey.
Had he played in 2018, Bell would have only needed a below-average season for his standards to make the two-year list. He could have averaged 12 points per game across a 16-game schedule and cracked the two-year top-five.
Best two-year points per game
Running back PPR points per game
2017
2018
Combined*
1
Todd Gurley II
25.8
Todd Gurley II
26.3
Todd Gurley II
26.0
2
Le'Veon Bell
23.0
Saquon Barkley
24.0
Ezekiel Elliott
21.5
3
Ezekiel Elliott
20.5
Christian McCaffrey
24.0
Alvin Kamara
21.4
4
Alvin Kamara
19.7
Alvin Kamara
23.2
Melvin Gordon III
20.0
5
Kareem Hunt
18.6
Melvin Gordon III
22.6
Kareem Hunt
19.5
(*min. 1 game played each season)
The one-game minimum cuts Bell and Barkley from this group, but it helps Elliott, who missed six games to suspension in 2017. Interestingly, he averaged more points per game in 2018 than 2017, but he didn't make the most recent top-five because a lot of running backs had even higher averages.
Gurley remains ridiculous. He led the league in fantasy points per game in consecutive years and has the two-year PPG average by 4.5 points. That's destroying the field.
Wide receivers
Best two-year point totals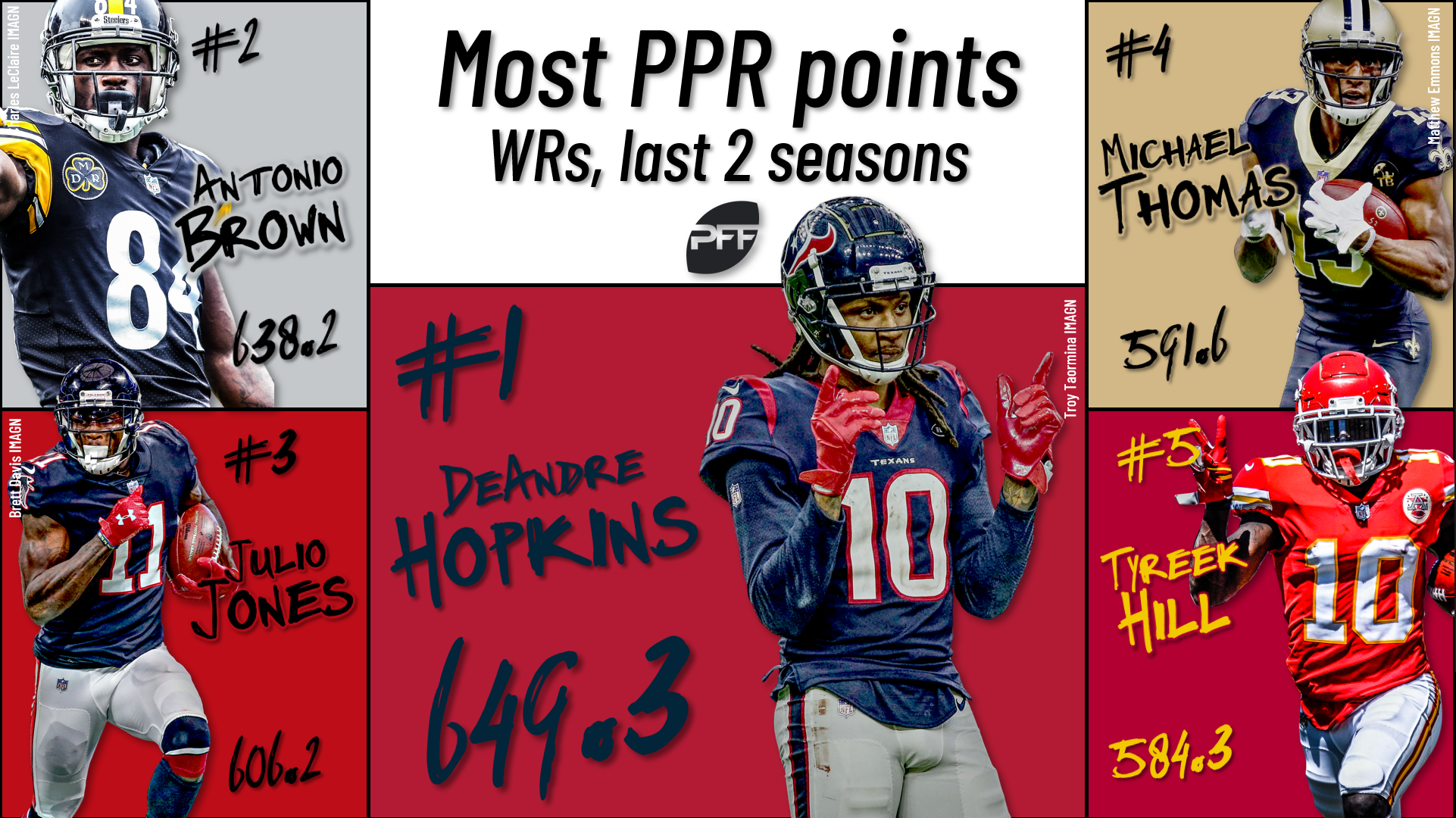 Hopkins led the position two straight years, so it's only logical he'd lead in the two years combined. But considering that, the face that he's only 11 points ahead of Brown is notable. In fact, Hill in fifth place is closer to first at wide receiver than second-place Kamara was to the first-place running back. There's an elite class at wide receiver and they're all pretty close to one another.
Fourteen points separated the top five receivers in 2018. More than 50 separated them in 2017. And on top of that, the No. 1 2017 receiver wouldn't have had a top-five total in 2018. Scoring was way up last year, friends.
Michael Thomas: Not a top-five fantasy receiver either of the last two years, but fourth in scoring across the last two years combined. He's finished sixth each of the last two years after finishing seventh in 2016 as a rookie.
Best two-year points per game
Wide receiver PPR points per game
2017
2018
Combined*
1
Antonio Brown
22.0
Davante Adams
21.8
Antonio Brown
21.8
2
DeAndre Hopkins
20.8
Antonio Brown
21.6
DeAndre Hopkins
20.9
3
Odell Beckham Jr.
18.5
DeAndre Hopkins
21.1
Davante Adams
19.0
4
Keenan Allen
17.4
Julio Jones
20.6
Odell Beckham Jr.
18.4
5
Jarvis Landry
16.5
Tyreek Hill
20.5
Tyreek Hill
18.4
(*min. 1 game played each season)
Because wide receivers tend to be less injury-prone than the other skill position players, these charts bear a lot of resemblance to one another. The notable difference is Beckham, who cracked the top five in 2017 and makes the two-year list. Overall, though, you aren't learning much here that you wouldn't learn from raw totals.
Tight ends
Best two-year point totals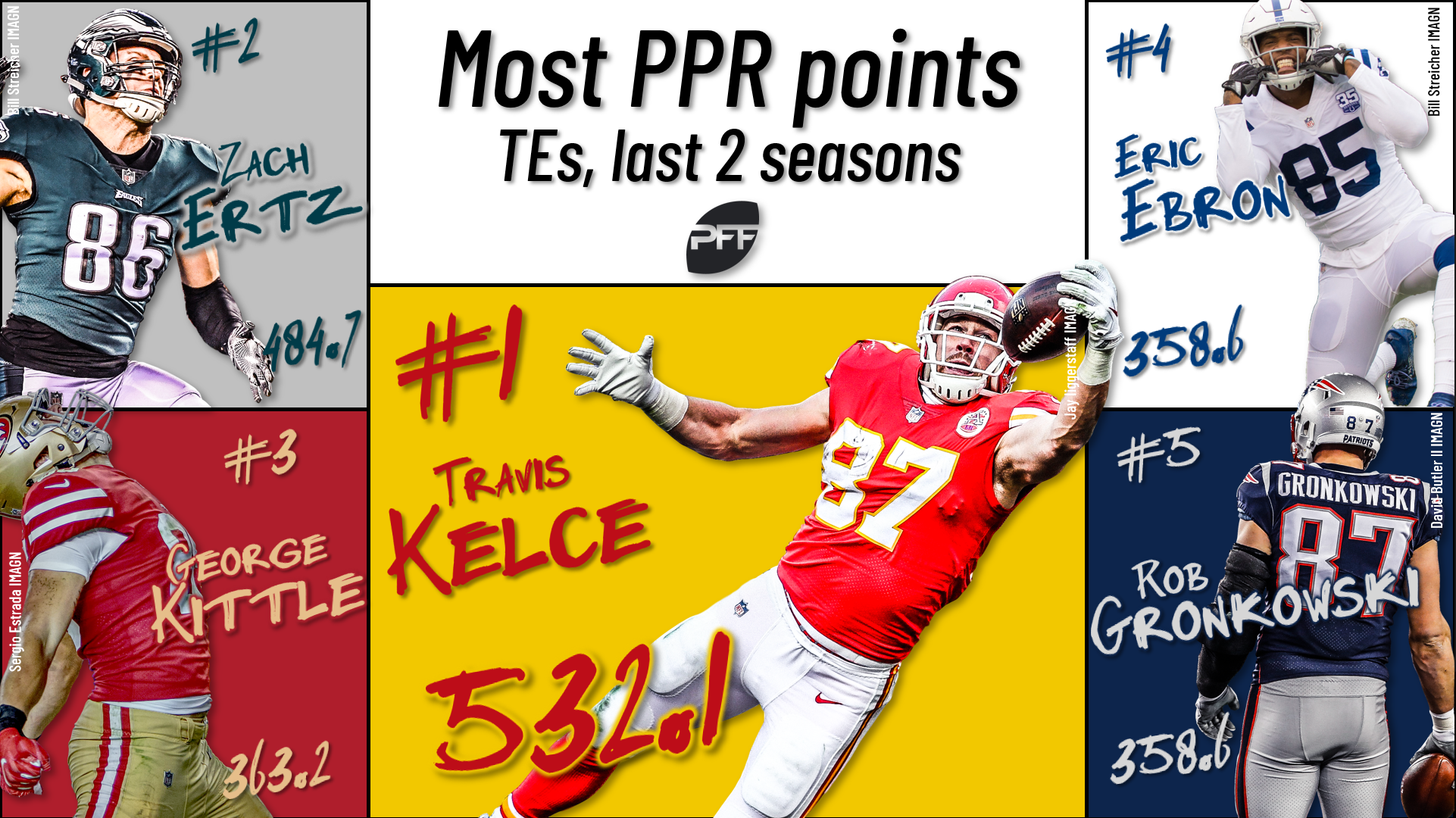 Gronkowski's strong 2017 plus his underwhelming 2018 is exactly equal to Ebron's disappointing 2017 and his breakout 2018. I don't know what that means, exactly, but it's interesting. And with the top-four across the last two years exactly matching the top-four from 2018 alone, basically what we are seeing is the changing of the guard at a struggling position.
Best two-year points per game
Tight end PPR points per game
2017
2018
Combined*
1
Rob Gronkowski
16.1
Travis Kelce
18.5
Travis Kelce
17.2
2
Travis Kelce
15.7
Zach Ertz
17.5
Zach Ertz
16.2
3
Zach Ertz
14.6
George Kittle
16.0
Rob Gronkowski
13.3
4
Evan Engram
11.6
Eric Ebron
14.0
George Kittle
11.7
5
Jack Doyle
11.5
Jared Cook
12.1
Evan Engram
11.5
(*min. 1 game played each season)
There is a little more interest in the PPG rankings across the two seasons, if only because Engram cracks the list after missing some games to injury. Still, the disparity between Kelce and Ertz (and Kittle if you don't want to discount him for his rookie season being included) and the field at tight end is dramatic.
Kicker
Best two-year point totals
Best two-year points per game
Kicker fantasy points per game
2017
2018
Combined*
1
Greg Zuerlein
13.1
Greg Zuerlein
11.6
Greg Zuerlein
12.4
2
Caleb Sturgis
13.0
Ka'imi Fairbairn
10.6
Harrison Butker
10.6
3
Harrison Butker
12.3
Justin Tucker
10.0
Justin Tucker
10.1
4
Stephen Gostkowski
10.8
Mason Crosby
9.7
Wil Lutz
9.8
5
Robbie Gould
10.6
Giorgio Tavecchio
9.7
Stephen Gostkowski
9.7
(*min. 1 game played each season)
I wrote two years ago about the inconsistency of kickers — at the time, the only kickers in 10 years who were finished in the top five in back-to-back years were Steven Hauschka in 2013-14, David Akers in 2008-10, and Gostkowski in 2007-09 and 2011-16. Since then, Gostkowski did it again in 2017, but exactly one name has been added to the list — Tucker, each of the last three years. You're drafting your kicker last because you just can't guess what's going to happen.
Defense
The Jaguars and Bears led each of the last two years, but it's actually the Rams who lead over the two-year stretch. Considering the strength of that offense, and the productivity of the defense, the Rams are the best full roster for fantasy purposes in the league, and it's not especially close.