(All offseason long, PFF Fantasy editor Daniel Kelley will attempt to figure out the solution to some of the biggest fantasy football draft conundrums for the 2019 season. This is The Decider.)
I had a fun little observation on Twitter last week, noting that if you had been alternating between drafting Cam Newton and Matt Ryan over the last six years, you've either had a very successful run at the position or a very middling one:
If you alternated drafting Matt Ryan and Cam Newton each year, you ended up with either:
QB4, QB7, QB1, QB3, QB2, QB2
or
QB11, QB16, QB18, QB16, QB14, QB13

— Daniel Kelley (@danieltkelley) April 8, 2019
Because of the fantasy community's propensity for overcorrection, both quarterbacks' ADPs have bounced around as well. This year, though? They're meeting in the middle. Based on early ADP data from Fantasy Football Calculator, Ryan is currently going off the board as QB7, while Newton is QB10. In our PFF staff rankings, it's even closer — Ryan is QB5, Newton QB6.
So which one should you opt for in 2019?
The contenders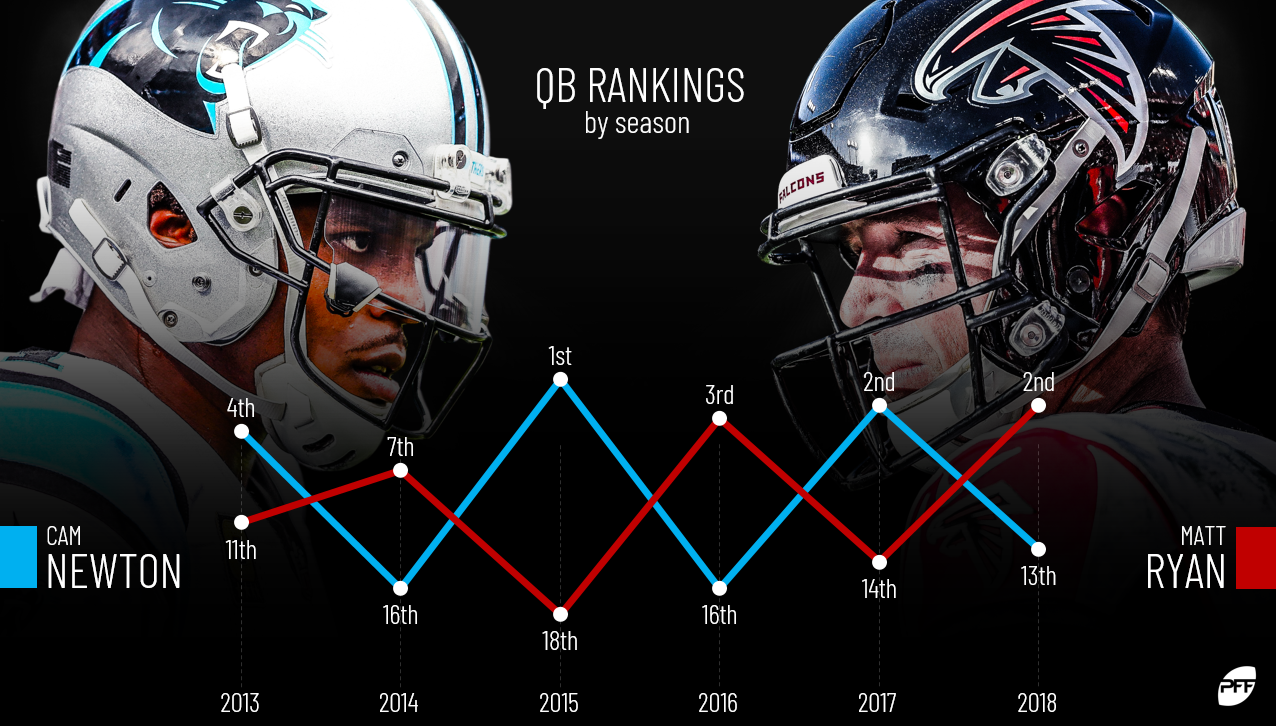 As mentioned above, both quarterbacks have bounced around in their scoring across the last six years. Each has been a top-10 fantasy quarterback three times since 2013, never both doing it at the same time. Obviously, that's not actually predictive (if it were, I could say "draft Newton" right now and call it a day), but it does show that we have a wide range of potential outcomes to deal with. Ryan just had the 14th-best QB fantasy season of all time in 2018, but Newton has two of the seasons above Ryan on the list — 2011 and 2015.
How they've gotten there has been very different, though. Ryan has passed for 4,000-plus yards each of the last eight years, with 32 or more touchdown passes three times. Newton hasn't topped 4,000 passing yards since his rookie year in 2011, and 2015 was his only season with more than 24 passing scores. Obviously, Newton has made up the difference with his rushing; he's topped 500 rushing yards six times in eight seasons, and 2018 was his first season with fewer than five rushing scores — he's reached double digits twice. Rushing just isn't a real part of Ryan's game; he has 1,148 rushing yards across his entire career and went without a rushing touchdown from 2013 to 2017 — though he did have three rushing scores in 2018, helping boost his overall point total. Ryan has the best single receiver on either of these teams by a wide margin in Julio Jones, and Calvin Ridley is a strong No. 2 after a promising rookie year.
Free for 7-days. Subscribe to continue reading and unlock

All premium content with the best insights + analysis in the game

NFL Draft Guide, Big Board + Mock Draft Sim

Fantasy Draft Kit and Nathan Jahnke's award winning rankings

Bet smarter with PFF player mismatches and expert betting insights

NFL and CFB player grades and premium stats

Unlock all PFF data trusted by all 32 NFL teams

Already have a subscription? Log In