Every NFL season brings considerable roster turnover. Injuries, poor play and the rise of young players cause every franchise to make moves starting as early as training camp. For fantasy football purposes, it's important to see these changes in playing time coming.
Subscribe to
There are certain clues to look for: veterans clearly on the decline; free agent additions and early-round rookies on the roster; injury histories; and scheme changes. I've focused mostly on these situations when compiling the following list of 10 players who are currently slated as starters but might not end the season in the same role. Time to adjust our rankings of them — and their backups — accordingly.
Carr's career has been confusing. In certain years, he could be considered underrated, while in others he looks like he might not make it to the end of the year as the team's starting quarterback. Ultimately, Carr graded out decently last season — his 7.9 yards per attempt ranked ninth in the league and his 82.3% adjusted completion percentage ranked second, but his average depth of target ranked a measly 41st (6.9) among all quarterbacks.
While Carr does possess some rushing ability, it isn't the focal point of his game. He ranked 16th in total fantasy points (258.4) and 15th in points per dropback (0.46) last year. One of the issues is his reliance on his pass-game weapons to create after the catch — the Raiders' receivers ranked third in receiving yards after contact (917) and fourth in receiving yards after the catch (2252).
The lack of deep pass attempts (29th) may speak to a philosophical programming in Carr — maybe he doesn't have the trigger to throw the deep passes many other quarterbacks relish. Speaking of which, his reliance on checking the ball down and refusing to attack the deeper parts of the field has certainly helped boost his efficiency metrics but ultimately hurts the Raiders' offense.
While Carr has been merely average, the Raiders could look to replace him if he struggles with new weapons at wide receiver in Henry Ruggs III and Bryan Edwards. The main beneficiary in this situation would be backup Marcus Mariota, whom the Raiders just signed during the offseason. There may not currently be a battle between these two, but a stretch of shaky performances could certainly change that.
PFF's fantasy projections anticipate another average season out of Carr, ranking him as the QB19. The Raiders' quarterback schedule is neither great nor terrible, as it ranks 16th among all QB schedules in 2020, per PFF's strength of schedule metric.
'Ol reliable. On a pound-for-pound basis, there may not be an NFL player more exciting and fun to watch than Fitzpatrick, aka the Harvard Rifle. His lack of fear, propensity to push the ball downfield and fieriness combine to build one hell of a player — and one of the most randomly productive fantasy football quarterbacks. Fitz ranked 18th in total points and points per dropback among all quarterbacks last season. While neither mark is wildly impressive, his ability to achieve them was — the Dolphins lacked talent at every position across the roster.
Fitzpatrick may lose his job at some point this season, and it might not have anything to do with his performance. Miami invested a first-round draft pick in Tua Tagovailoa and may stand to benefit by transitioning to the future of the franchise earlier rather than later.
Whether they make the change or not, Fitzpatrick has provided a steady level of play — the Dolphins ranked fifth in deep pass attempts (83) and 14th in explosive plays passing (92), while Fitz ranked 20th in yards per attempt (YPA) and seventh in average depth of target (aDOT). Fitz's penchant for pushing the ball downfield is admirable and helped serve a team sorely lacking in talent.
Tua ranked sixth in touchdowns, threw only three interceptions, ranked third in YPA and 10th in adjusted completion percentage last season among all quarterbacks in college football. The hip injury Tua suffered may keep him sidelined to begin the season, but the Dolphins could eventually turn to the future of their franchise if Fitzpatrick or the team as a whole struggles. 
PFF's fantasy projections anticipate Tua outscoring Fitz, ranking the former as the QB29 and the latter as the QB36. Both players present interesting late-round value, especially when you factor in their 13th-ranked schedule, according to PFF's SoS metric.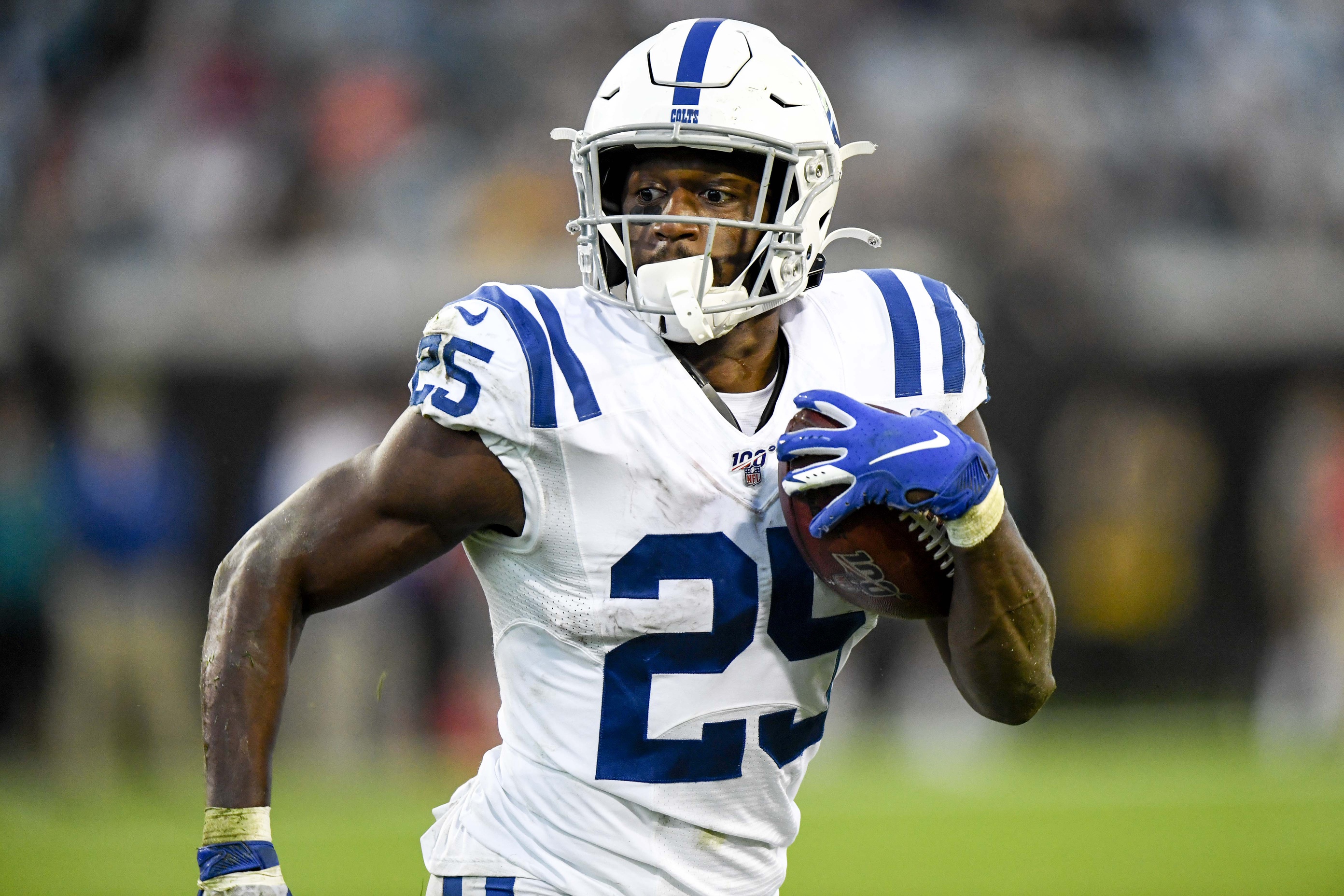 It's tough to say whether the Colts will elect to start Mack or immediately turn to rookie Jonathon Taylor, but we'll give the benefit of the doubt to the veteran for the time being. Mack has proven to be a decent NFL running back — he ranked 12th in rushing yards after contact but only 33rd in missed tackles forced per attempt and 28th in yards after contact per attempt (min. 100 attempts). In addition, Mack ranked 23rd in total fantasy points (179.3) and 52nd in points per touch (0.69) among all running backs. While Mack was a steady performer, he's an uninspiring option who lacks the ability to create yardage after contact.
This is where Taylor factors in. The Colts spent a second-round pick on the wildly talented runner out of Wisconsin, nearly guaranteeing him a significant role early in the season. Dating back to 2017, Taylor ranks first in rushing yards, yards after contact, touchdowns and missed tackles forced and was 12th in missed tackles forced per attempt and third in yards after contact per attempt among all college running backs. Taylor's decorated and illustrious college career may lead to a Week 1 starting role, particularly if he can outperform Mack throughout training camp.
PFF's fantasy projections expect Taylor to surpass Mack rather quickly, ranking the rookie as the RB25 and the veteran as the RB48. PFF's SoS metric views the Colts' running back schedule as the sixth-easiest in 2020 — that ranking surely heightens the intrigue surrounding both players.
The Ravens are no stranger to productive ground games, and Ingram was the most recent recipient — he ranked 11th in total points, fourth in points per snap and 18th in points per touch in 2019. The veteran proved to be a revelation, looking like he recaptured his youthful running style while marching his way into end zone after end zone. In terms of creating yardage, Ingram ranked around league average in missed tackles forced per attempt (11th) and yards after contact per attempt (20th).
The Ravens elected to spend a second-round draft pick on former Ohio State running back J.K. Dobbins. While Dobbins likely won't start the season as a starter, he does possess the natural talent, ability and potential to eventually seize that role, particularly if he can outproduce Ingram over the first half of the season or so. Dobbins ranked seventh in yards after contact but only 39th in yards after contact per attempt.
The Ravens' rushing attack is a goldminen for various reasons. They run the ball more than any other NFL team (first in run-play percentage), while also ranking first in explosive-run percentage and third in goal-line plays.
PFF's fantasy projections anticipate a nearly dead-even split between the two, ranking Ingram as the RB30 and Dobbins as the RB31. One major positive for both players is their fifth-ranked schedule, according to PFF's SoS metric.
Some may argue that Watkins has already been jumped by Mecole Hardman, but it makes sense to view their usage before we get to a conclusion. Watkins still ranked second on the team in targets (88) last season, though Tyreek Hill would've slid Watkins down another spot had he registered 16 games of playing time. While Watkins has never truly developed into the player people expected when he was a top-five draft pick, he's still become a very solid option — he ranked first on the team in YAC (304), second in first downs (29), fourth in aDOT (9.6) and second in total points (138.5) among the team's receivers.
While Watkins proved to be a reliable weapon once again, it was Hardman who provided another source of huge plays and game-breaking potential. Hardman totaled 117.5 points on 52 fewer targets than Watkins. In addition, Hardman ranked first in yards per target, yards per reception and YAC per reception among all NFL receivers. It feels like it's only a matter of time until Hardman jumps Watkins on the depth chart for good. This following chart displays their weekly output from 2019.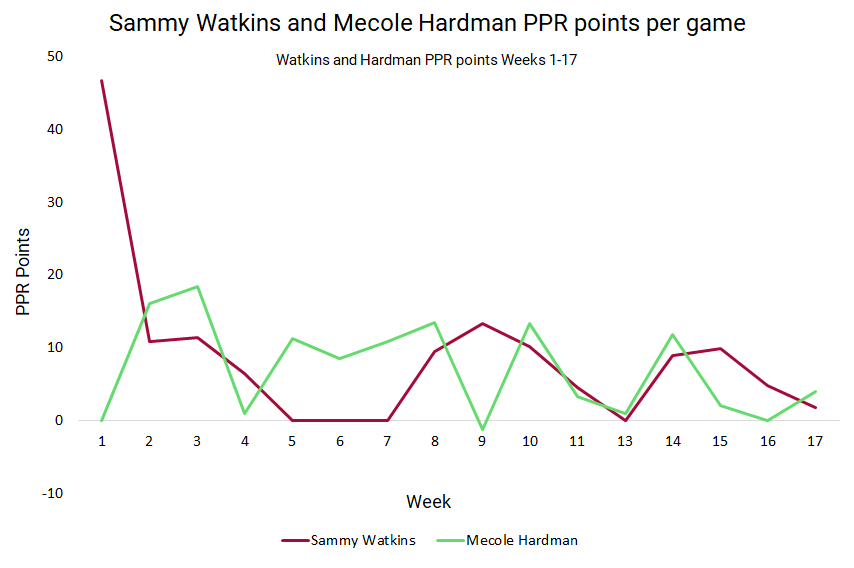 PFF's fantasy projections expect Hardman (WR58) to surpass Watkins (WR69) but not by a large margin. Both players receive a boost with their 13th-ranked schedule.
Williams ranked second on the team in targets last season with 64, but that number may be trending downward with the additions of rookies Henry Ruggs III and Bryan Edwards. Williams was actually surpassed in targets and PFF grade by rookie Hunter Renfrow last season and could ultimately lose more ground to both Ruggs and Edwards. Williams' 651 receiving yards, six touchdowns and 14.0 aDOT led the receiver room (min. 10 targets) in 2019.
It's fair to expect Ruggs to immediately take over the deep usage Williams received last season, as Ruggs has game-breaking speed Williams just doesn't have. It's interesting to consider whether Edwards can surpass Williams at some point. While they aren't exactly similar players, the presence of Ruggs makes Williams' skillset expendable, and Edwards offers something Williams can't — tackle-breaking ability and a knack for creating yardage after the catch. Edwards ranked 17th in YAC and 25th in missed tackles forced among all college football receivers in 2020 (min. 70 targets). As mentioned, Carr relied on his receivers to create plays after the catch, and Edwards fits that mold perfectly.
PFF's fantasy projections rank Williams (WR67) behind Ruggs (WR54) and Renfrow (WR55), but higher than Edwards (WR142). The Raiders' receiver schedule ranks right in the middle of the league as the 16th-easiest in 2020, according to PFF's SoS metric.
We saw how the Colts operate in a two-tight end system just last season when they employed both Doyle and Eric Ebron. Doyle out-snapped and out-targeted Ebron (69 to 50) but not by a considerable amount. While Doyle has proven to be a solid option (ranked 15th in total points among tight ends), he doesn't offer the same upside as a player like Trey Burton. The Colts added Burton this offseason after a failed experiment with the Chicago Bears.
Burton hasn't been very productive for the last few seasons, mostly due to injury as well as a bad quarterback situation with the Bears. Dating back to 2017, during his time with the Philadelphia Eagles, Burton ranked second in points per snap (0.26) and seventh in points per touch (3.38) among all tight ends. He doesn't have the same history of consistent production as Doyle, but he's more than proven to be a dangerous mismatch at the "move" tight end position.
PFF's fantasy projections don't expect there to be much of a battle between the two, as they rank Doyle as the TE19 and Burton as the TE56. Neither player benefits much from their 21st-ranked schedule, either. Philip Rivers ranks 10th in pass attempts to tight ends dating back to 2017 (273), ensuring there will likely be a steady usage rate for the position group this season.
Like Ryan Fitzpatrick, Olsen continues to defy the odds as a true veteran of the game. Regardless of age, he continues to produce — Olsen ranked 13th in total points last year, though his efficiency metrics dipped as he ranked 23rd in points per snap and 43rd in points per touch. For the third time in his career, Olsen will be joining a new team. While we don't yet know how his usage share will look, we can expect him to factor in significantly, particularly while Will Dissly recovers from injury.
Dissly's potential return could spell some issues for Olsen and his workload, though, as the young tight end has proven to be highly effective in small sample sizes. Dissly ranked eighth in points per snap and 17th in points per touch among all tight ends in 2019 after ranking seventh and sixth in those metrics in 2018. Dissly has yet to prove he can remain healthy, but he's ranked highly in every important metric available: yards per target, yards per reception and YAC per reception. While Olsen may begin the season as a starter, it's hard to envision keeping a player as explosive as Dissly on the sidelines for extended periods of time.
PFF's fantasy projections expect Dissly to slightly outproduce Olsen, ranking them as the TE25 and TE30. Both guys receive a strong boost to their floors and ceilings due to their fifth-ranked schedule, according to PFF's SoS metric.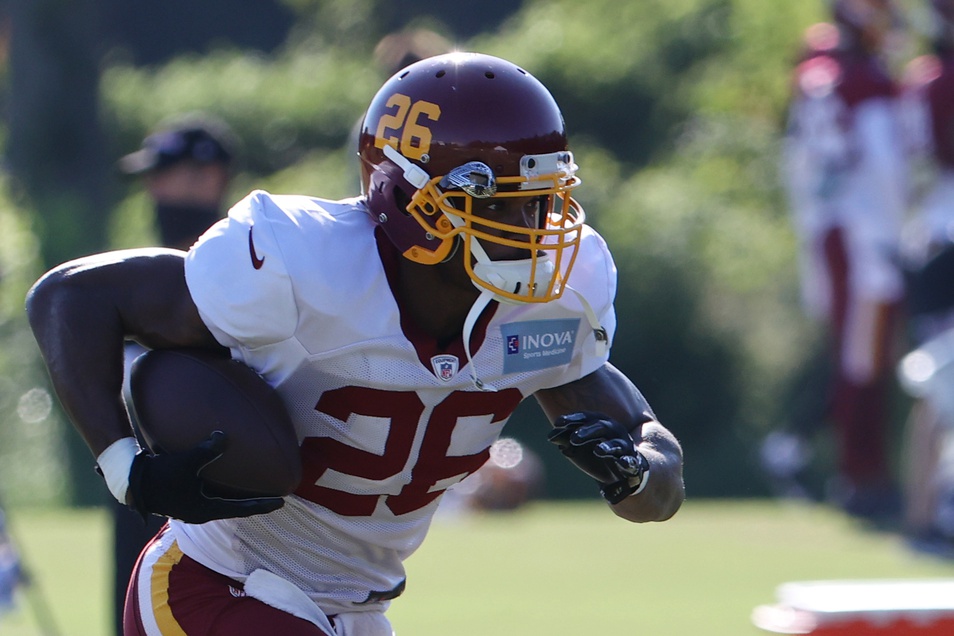 AP continues to defy the odds, ranking inside the top-15 in yards after contact and inside the top-20 in missed tackles forced and missed tackles forced per attempt last season. The issue for AP is the selection of Antonio Gibson in the third round of the NFL Draft. Gibson doesn't have much experience, but he led the Memphis Tigers in missed tackles forced per rushing attempt and yards after contact per attempt, in addition to ranking second in missed tackles forced on receptions and first in YAC per reception — he's the real deal.
Sanu did not look good last season — he ranked sixth among the team's receivers in yards per route run, seventh in aDOT (mostly due to his lack of speed) and ranked dead last in receiving yards per reception. At this point in his career, Sanu is strictly a short-yardage tough-nosed player with a low ceiling and low floor. He could be jumped by either of two second-year players in Jakobi Meyers or N'Keal Harry — both ranked higher in receiving yards per reception and aDOT and Meyers topped Sanu in yards per route run. Expect Harry to get the first crack, but Meyers is the superior option of the trio.