We blinked and it's here. A quarter of the NFL season is already behind us. Four games is a small sample size in the scope of a player's career, but it's a large chunk of the fantasy football season. What would 16 games' worth of production look like if every player maintained his current pace through the end of the season?
I thoroughly enjoy this exercise because it puts paces in context of NFL history and forces me to look at leading indicator metrics with an actionable eye. It's important to understand what's driving production (or the lack thereof) to decide which players are buys, holds, and sells as you chase the titles. In 2017, we correctly identified that selling Kareem Hunt for Le'Veon Bell could be a league-winning move after Week 4. Let's review a few of the more unexpected fantasy football and statistical paces and see what the numbers behind the numbers tell us. There may be some league-winning bets ready for the making.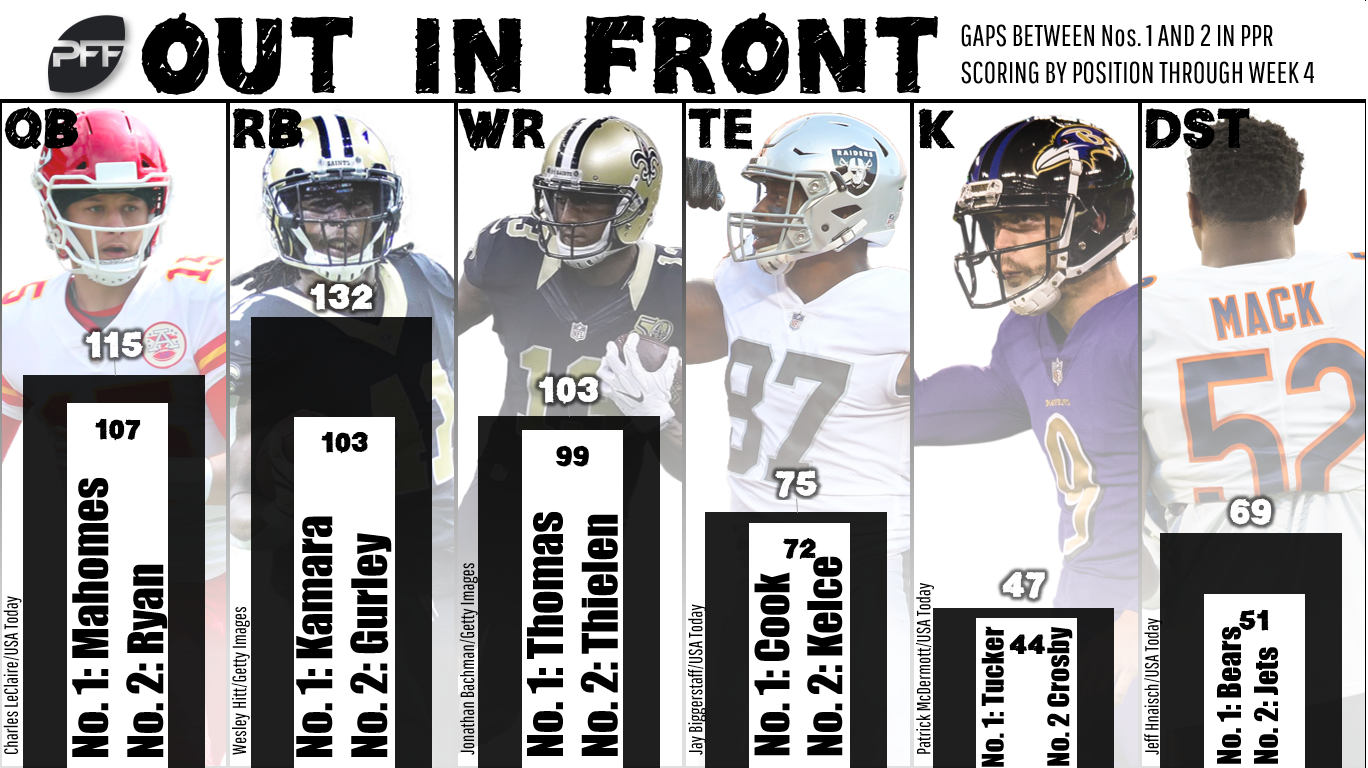 Quarterbacks
Current pace: 4,800 passing yards, 56 passing touchdowns, 0 interceptions, 460 fantasy points
Mahomes has unlocked the full upside of Andy Reid's offense during one of the most impressive Septembers we've ever seen by a quarterback. His 115 fantasy points to-date are the third-most through the first four games of a season during the PFF era, trailing only Aaron Rodgers (116 in 2011) and Peyton Manning (122 in 2013). The main driver of his fantasy production has been touchdowns, as his pace of 56 passing touchdowns for the season would set a new NFL record.
Can he sustain it? His first four games were the most efficient in the PFF era, as he very effectively scored 0.77 fantasy points per dropback. Manning posted 0.76 PPDB during the opening month of his record-setting 2013 season but fell off to 0.64 PPDB over the course of the season. If Mahomes does maintain this pace, his 460 fantasy points would shatter Manning's record of 432 fantasy points that season. I will fade the notion that Mahomes will have the best fantasy quarterback season ever in 2018, but he's absolutely a hold. Both Rodgers and Manning went on to finish as the overall QB1 after their white-hot starts, and while some slight regression is probably coming for Mahomes, it's hard to imagine him not being a top-five fantasy quarterback the rest of the way. After all, Alex Smith was fantasy QB4 under Reid last year.
Other notable paces:
Ben Roethlisberger, Pittsburgh Steelers
Current pace: 5,656 passing yards
Roethlisberger would crush Manning's 2013 mark of 5477 yards if he maintains this pace. But spoiler alert – he won't. He's on pace for a jaw-dropping 744 passing attempts this season, which would be just the second time a quarterback has attempted over 700 passes in a season (Matthew Stafford, 727 in 2014). Roethlisberger's previous season-high is just 608 passing attempts. The Steelers have had a unique first four games, with a handful of shootouts and a fill-in running back whose dropoff in production has helped prop up the need for the all-out aerial attack. The whispers of Le'Veon Bell's return are growing louder by the day and I expect the team to ride him hard when they get the chance.
Deshaun Watson, Houston Texans
Current pace: 640 rushing yards
Watson is tied for QB6 in fantasy through four games, and a huge contributing factor has been his 22 fantasy points through rushing production. He leads all quarterbacks in rushing yards and is second in attempts, trailing only Cam Newton. If he maintains this pace, his 640 yards would be the third-most by a quarterback over the past five years. This development is huge for Watson's season-long outlook. Since 2013, the leading rusher among quarterbacks has finished as a Top-5 fantasy QB four times. The Texans haven't been getting much from Lamar Miller and the offense revolves around Watson at this point. I think Watson can sustain this pace – he paced for over 600 yards as a rookie in 2017.
Running backs
Current Pace: 2,444 yards from scrimmage
The sophomore phenom is pacing for what would be the second-most yards from scrimmage in a single season in NFL history (the record is held by Chris Johnson with 2,509). I don't think he'll hit the mark because Mark Ingram returns this week and should take some of Kamara's rushing work.
Let's just take a moment to appreciate how impressive Kamara has been so far this season. He's 29 points clear of PPR RB2, Todd Gurley. Kamara's 132 points are the most by any player (including quarterbacks!) through four games in the PFF-era (2007-present). If you strip away all of Kamara's rushing production, he would still be PPR RB8. Using only those same receiving stats, Kamara would be PPR WR17, just in front of Antonio Brown. His 44 targets are tied for fifth-most among all players and his current pace of 176 targets would've led the NFL in 2017.
There is no reason to doubt Kamara as a bona fide difference-maker the rest of the season, even with Ingram returning to action.
Other notable pace:
Current pace: 1,140 rushing yards, 20 rushing touchdowns
Hyde has exceeded expectations for many this season, as his role was somewhat questioned due to the presence of Duke Johnson Jr. and Nick Chubb. He hasn't been getting much receiving work (just six targets), but he leads the NFL in carries with 83. On the strength of that volume and his league-leading five rushing touchdowns (tied with Kamara), Hyde is PPR RB10 at the quarter-mark. I think his production will fall off over the course of the season and he won't achieve anything resembling his current production pace. Chubb has looked fantastic in limited work and will earn a larger role, perhaps as soon as Week 5. Hyde is a sell.
Wide receivers
Current pace: 2,008 receiving yards
Jones is somehow getting negative attention in fantasy circles this season despite his PPR WR7 status. From a fantasy perspective, Jones' pace of 320 fantasy points would've been good for PPR WR1 in 2016 and 2017. This is all despite the fact that Jones isn't scoring touchdowns. Let me be clear — I don't care about that. Jones is on pace for the first 2,000-yard receiving season in NFL history and would also become the first receiver to post multiple seasons of greater than 1,800 yards.
Is the pace sustainable? None of Jones' metrics are outlier level when looking at his career. His 17.3 yards per reception would mark the third time he's achieved at least 17.0 YPR. His average of 7.3 receptions per game would only be the third-highest of his career. Jones also has impressive rookie Calvin Ridley to help keep opposing defenses honest. I really think he has a shot at breaking 2,000, and if he produces at anything resembling that kind of pace for the rest of the season, he'll be a top-half WR1 and his touchdown numbers won't be very relevant anyway.
Other notable pace:
Keenan Allen, Los Angeles Chargers
Current pace: 96 receptions, 1,128 receiving yards, 4 touchdowns
Allen's current projection line is respectable, but it's a far cry from his 2017 line of 102/1,393/6. If this trend holds, he'll finish more than 52 PPR points off of last year's output and fall more in line with high-end WR2 production versus high-end WR1 production. This is a disappointing development for those who thought the Hunter Henry injury could help prop up Allen once again. Instead, we've seen Mike Williams (12/204/3) emerge as a big play threat and the backfield is crushing it in the receiving game too – Melvin Gordon has a line of 24/199/3 and Austin Ekeler has 13/163/2 to his name. There are a number of talented players in the offense that are stealing scoring opportunities and siphoning away volume. I think Allen's current pace is the truth.
Tight end
Current pace: 104 receptions, 1,480 receiving yards, 8 touchdowns
I'm not sure everyone is fully appreciating Cook's quarter-season. He's tied for 22nd among all flex players (RB/WR/TE) with 75 PPR points. He's outscoring Antonio Brown, Travis Kelce, and Odell Beckham Jr. He has more receiving yards than Tyreek Hill and Stefon Diggs.
A hot topic over the summer was Jon Gruden's love for older receivers – he famously helped Jerry Rice, Tim Brown, and Keenan McCardell to some of the best seasons we've ever seen from players in their mid-thirties. For the "history repeats itself" types, Jordy Nelson became an interesting mid-late round target in fantasy drafts. Gruden has certainly used an older pass-catcher as a central part of the offense so far, but it's been Cook. He leads the Raiders in targets, receptions, and receiving yards.
How hot is this start for a tight end? Cook's pace of 104 receptions would place second all-time (Jason Witten, 110). His pace of 1,480 receiving yards would obliterate the current record of 1,327 (Rob Gronkowski). He's on pace for 300 PPR points, which would've beaten 2017 TE1 (Travis Kelce) by an astonishing 64 points.
Though I think Cook is an extreme longshot to hit the receptions and receiving yards numbers, I still think he's a buy for the rest of the season. He's been a post-hype sleeper so many times in his career that I can almost feel the entire community rolling their eyes at this early season production. However, with all of the tight end injuries so far this season, it's actually a position where buying production can give you a weekly edge over your opponent.