Last week, I introduced my opportunity scores model, which combines a few metrics for position group strength with best ball average draft position (ADP) to quantify which teams have the most opportunity for rookie wide receivers and running backs in 2022. After Round 1, I looked into the opportunity for all wide receivers and running backs drafted and added commentary around where I expect average draft positions (ADPs) to move post-draft.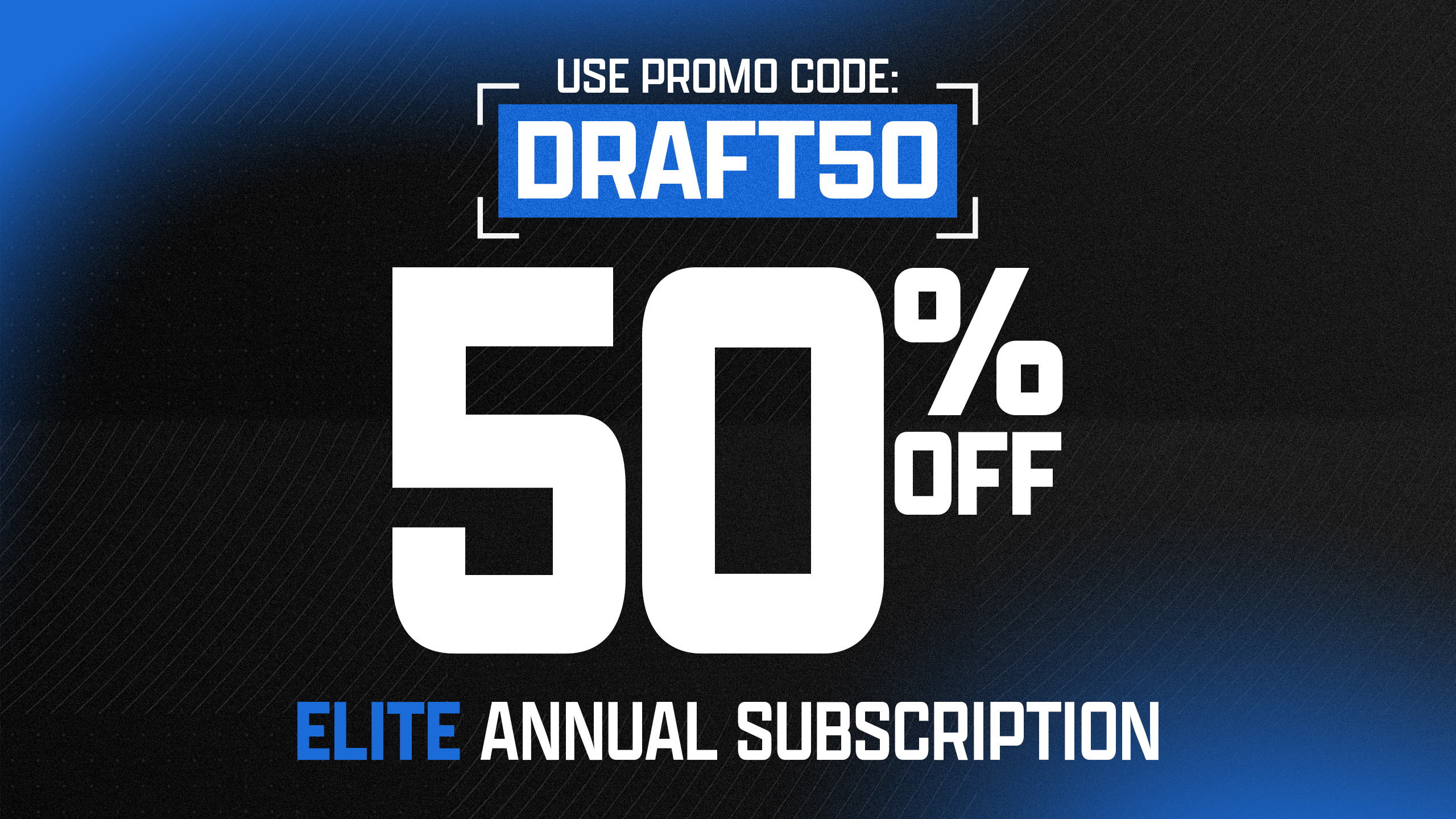 Below, I'll update the opportunity scores for wide receivers and running backs drafted in the second round. I'll also walk through the ADPs of the position group each selection is joining, highlighting whether the rookie addition should slot in immediately as a strong producer and have a clear window to WR1 or RB1 status in the near future.
The Packers had the highest opportunity score that I've calculated since beginning this exercise five drafts ago. Watson didn't have a stellar profile but will have every opportunity to prove himself on the field.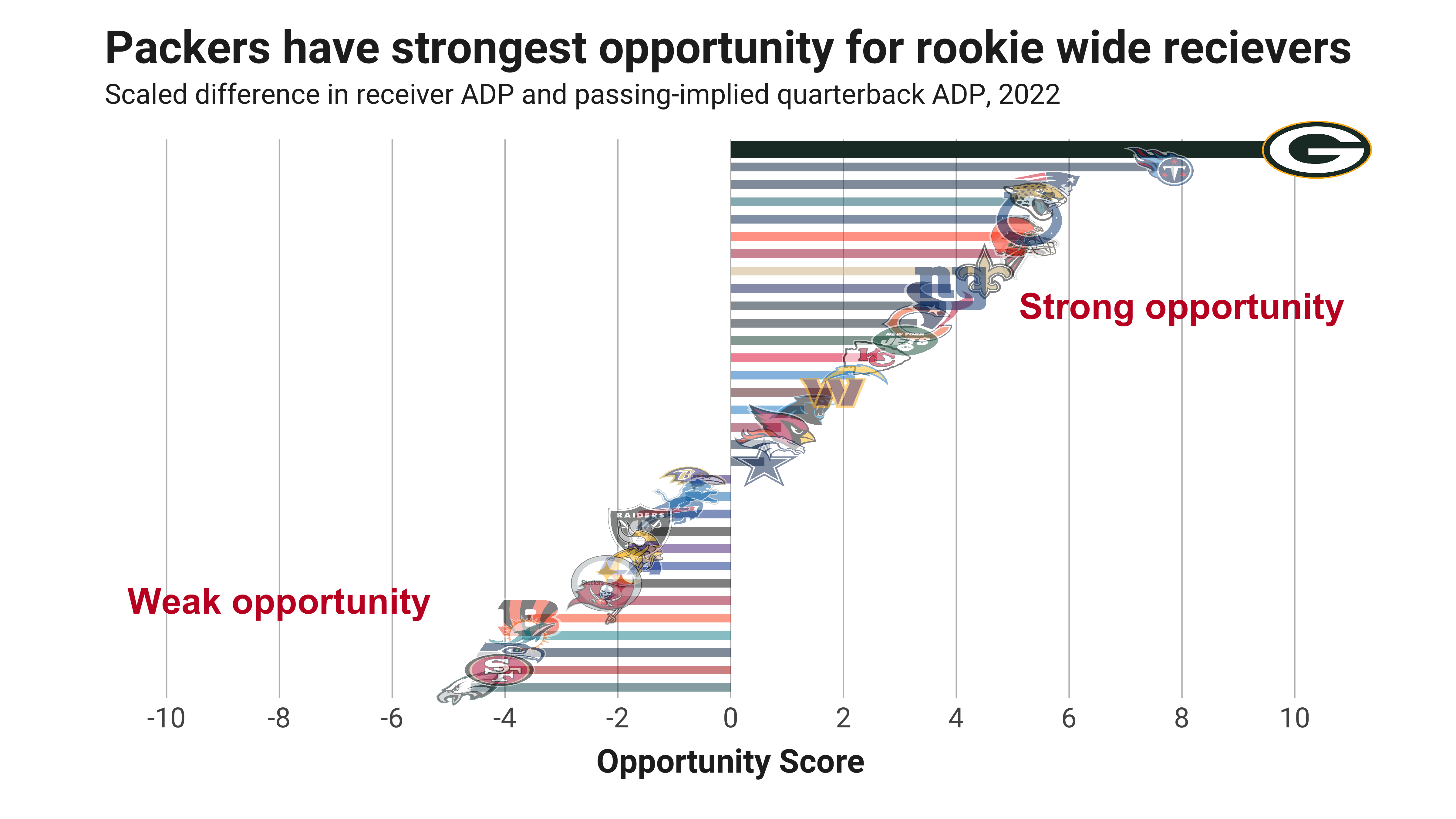 No Packers wide receiver had a top-50 positional ADP going into the draft, and Watson's ADP should quickly rise into the top-30 range over the next few weeks. While there's some possibility Watson is unable to pass Allen Lazard and Sammy Watkins on the depth chart, it would be shocking considering his draft status as the third pick of the second round.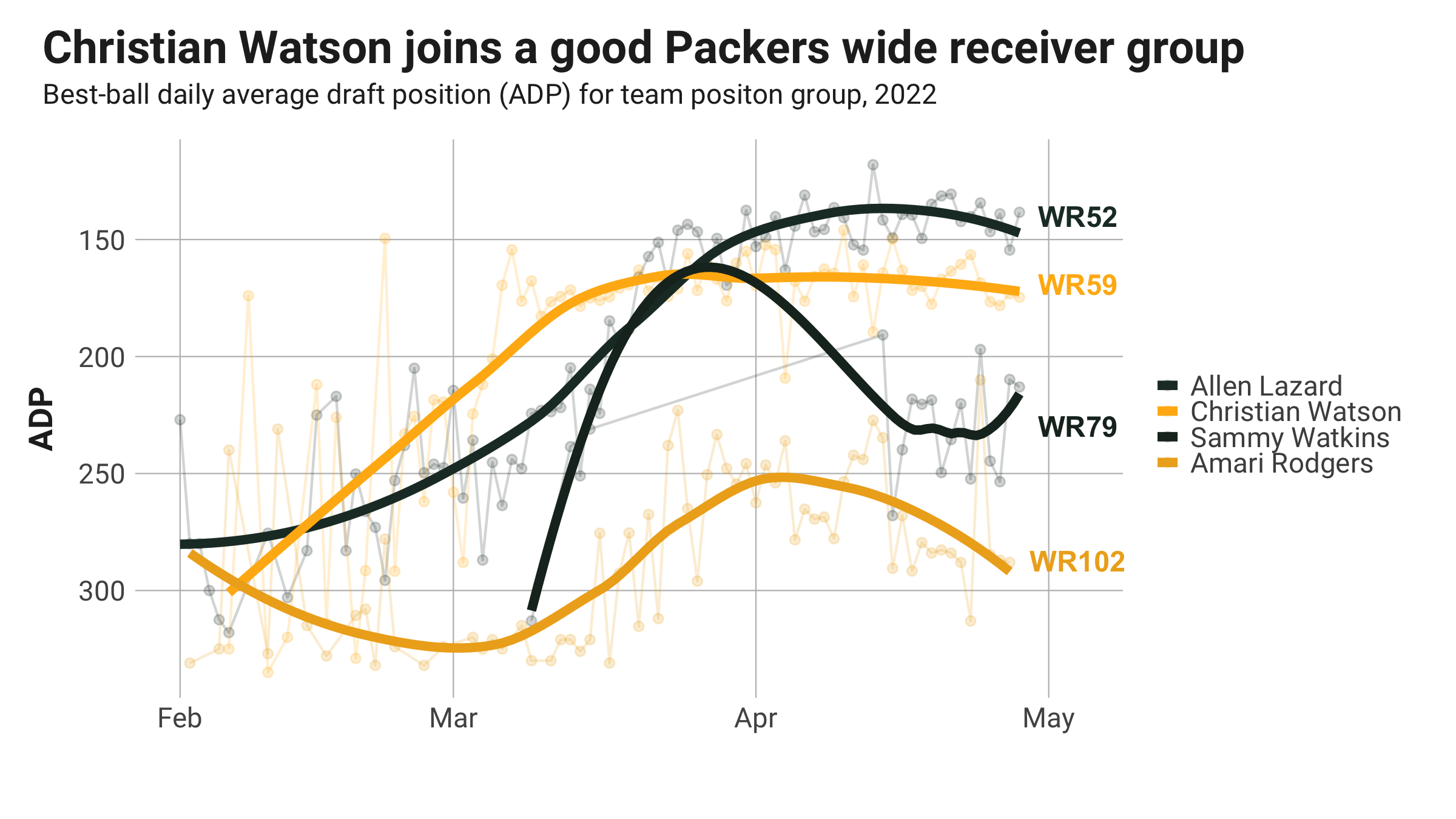 Hall is the first running back selected, matching his ranking in my post-combine model. Good-not-great is how I'd describe his opportunity with the Jets, joining a muddled backfield that won't like to be attached to a high-scoring offense, unless Zach Wilson takes a major leap after a disappointing rookie season.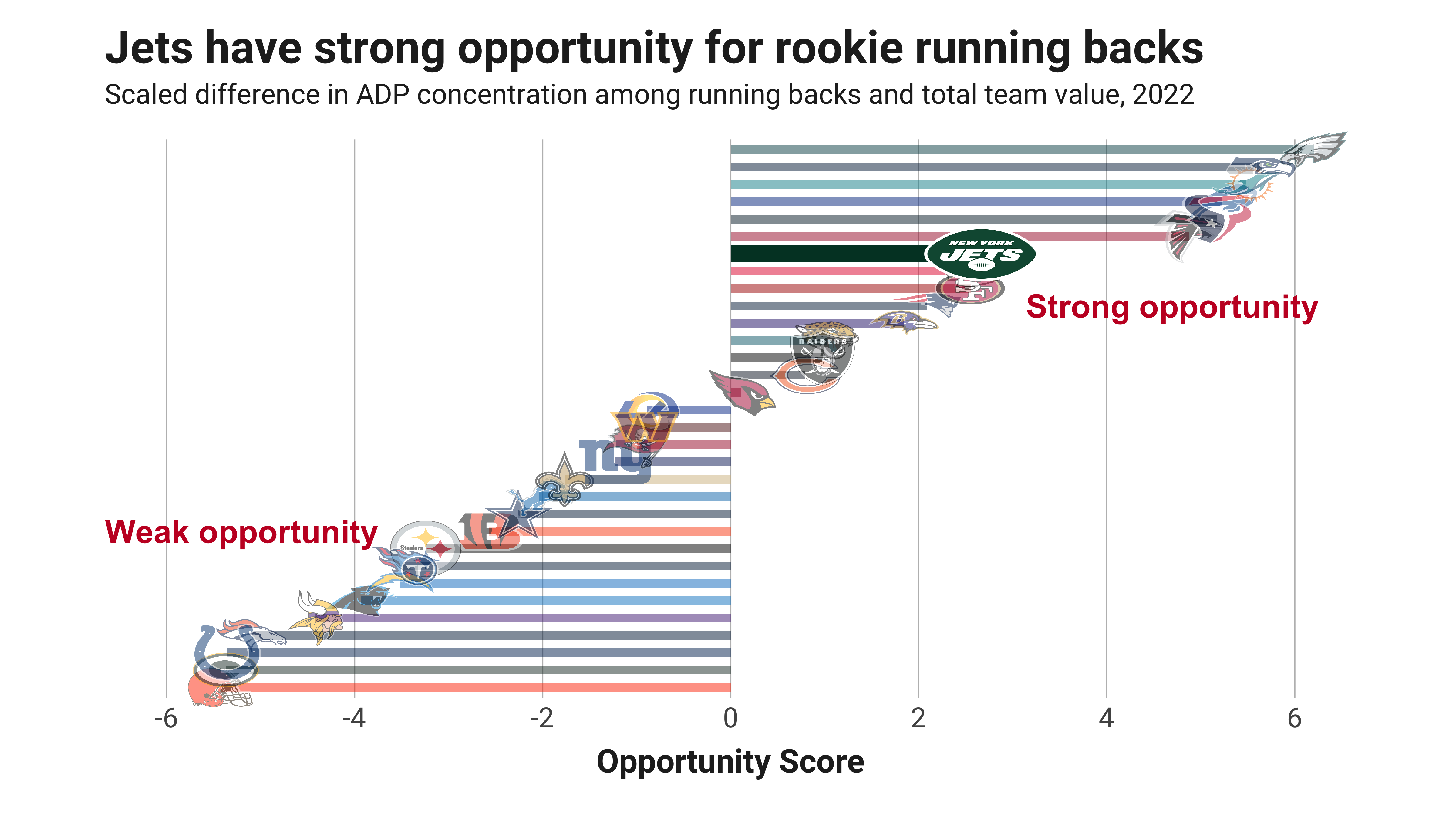 Michael Carter's ADP will plummet following this pick, likely out of the top-40 running backs. Hall's three-down profile means that Carter might not even have a committee role, though he'll likely be involved more early in the season.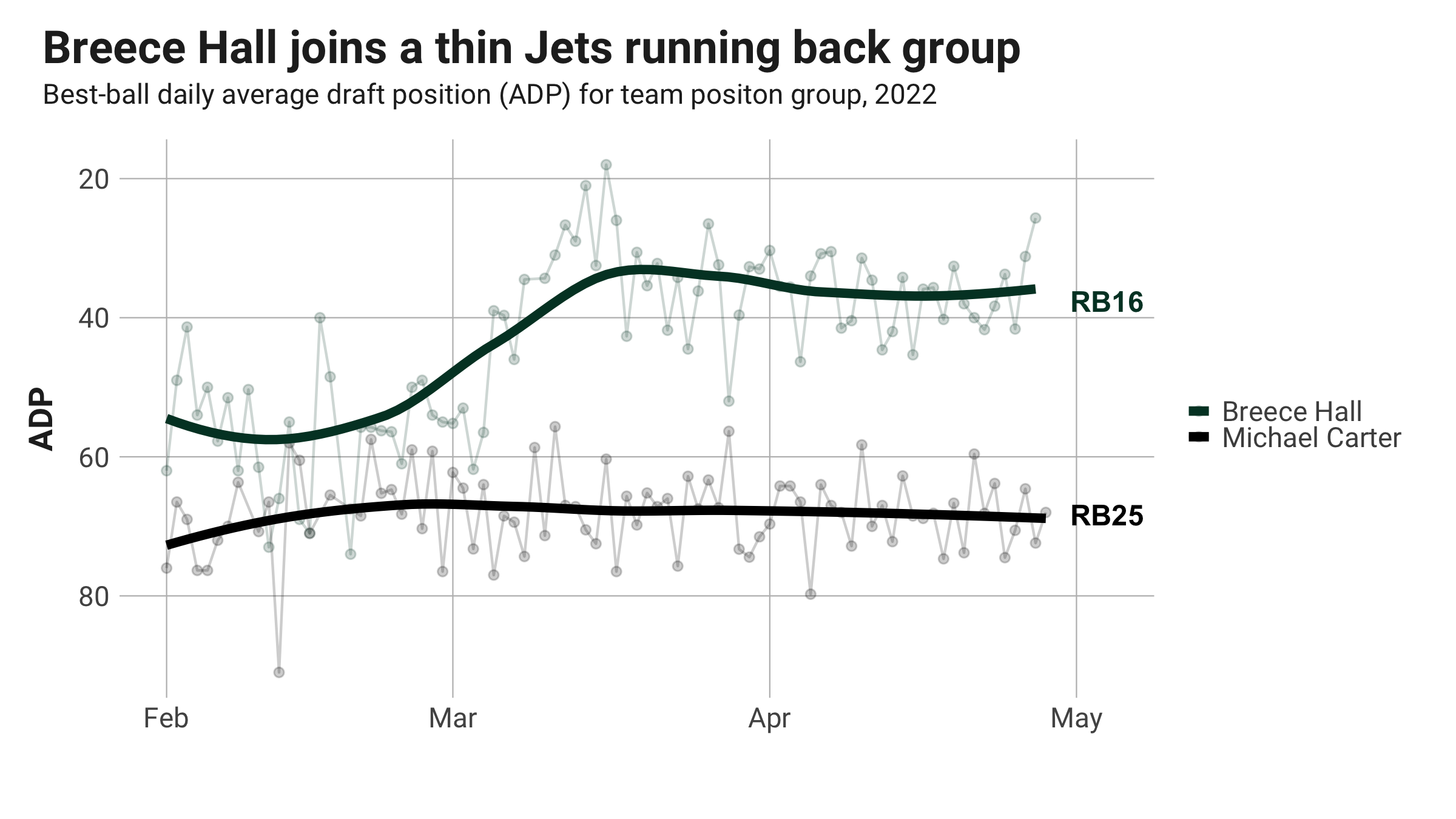 Walker lands in a Seattle backfield that has theoretical opportunity but not the clearest pathway to success. The Seahawks could struggle mightily on offense with either Drew Lock or Geno Smith at quarterback, mitigating their run-first offense's positive effects.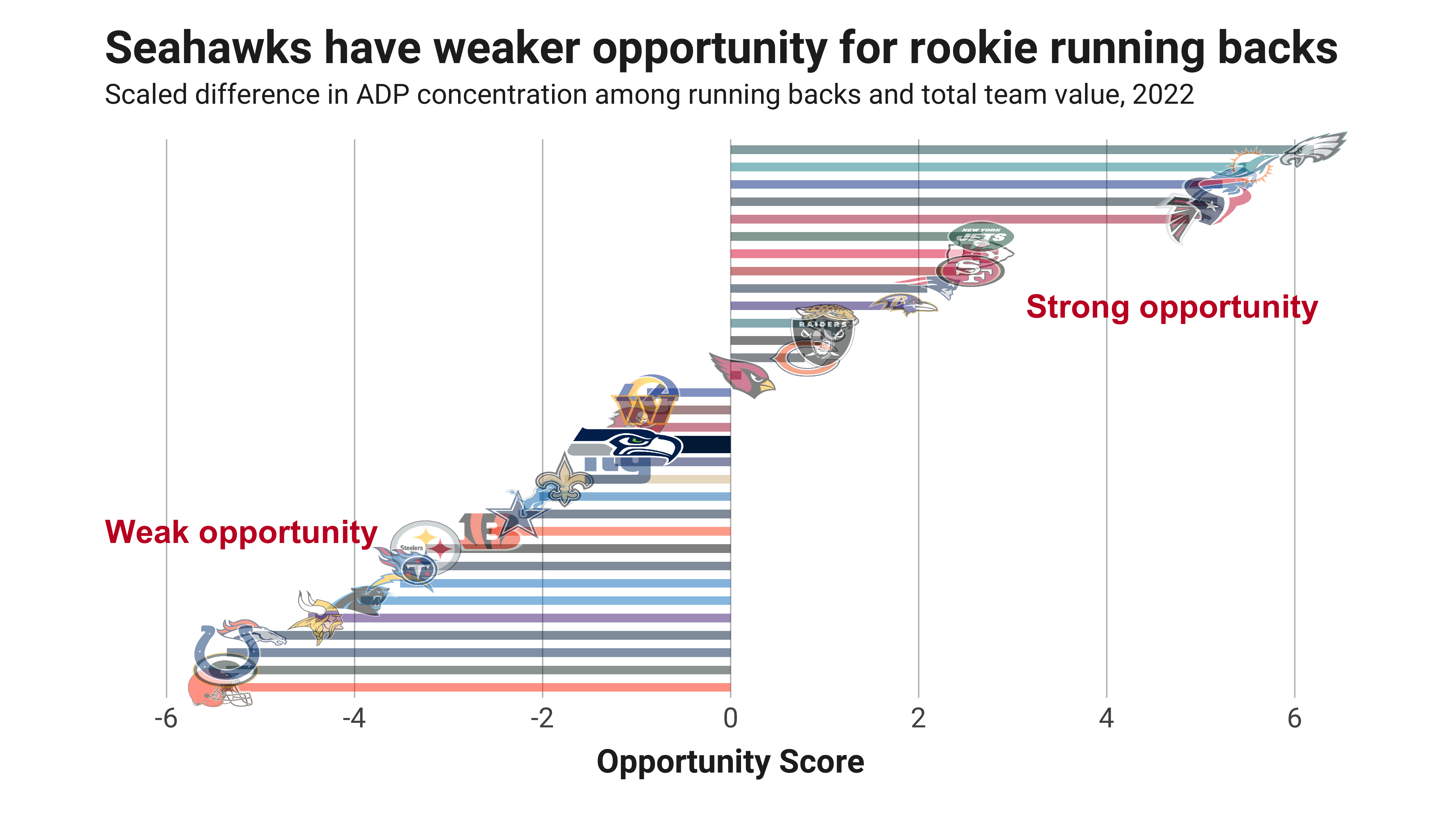 Former first-round pick Rashaad Penny looked like a potential breakout player after dominating down the stretch of the 2021 season, and Chris Carson currently has a top-20 running back contract. Those two aren't the strongest competition for a rookie running back, but they aren't weak, either. Walker has a solid two-down profile but will be tough to rely on in PPR formats, at least until we see if he can add receiving production in the NFL.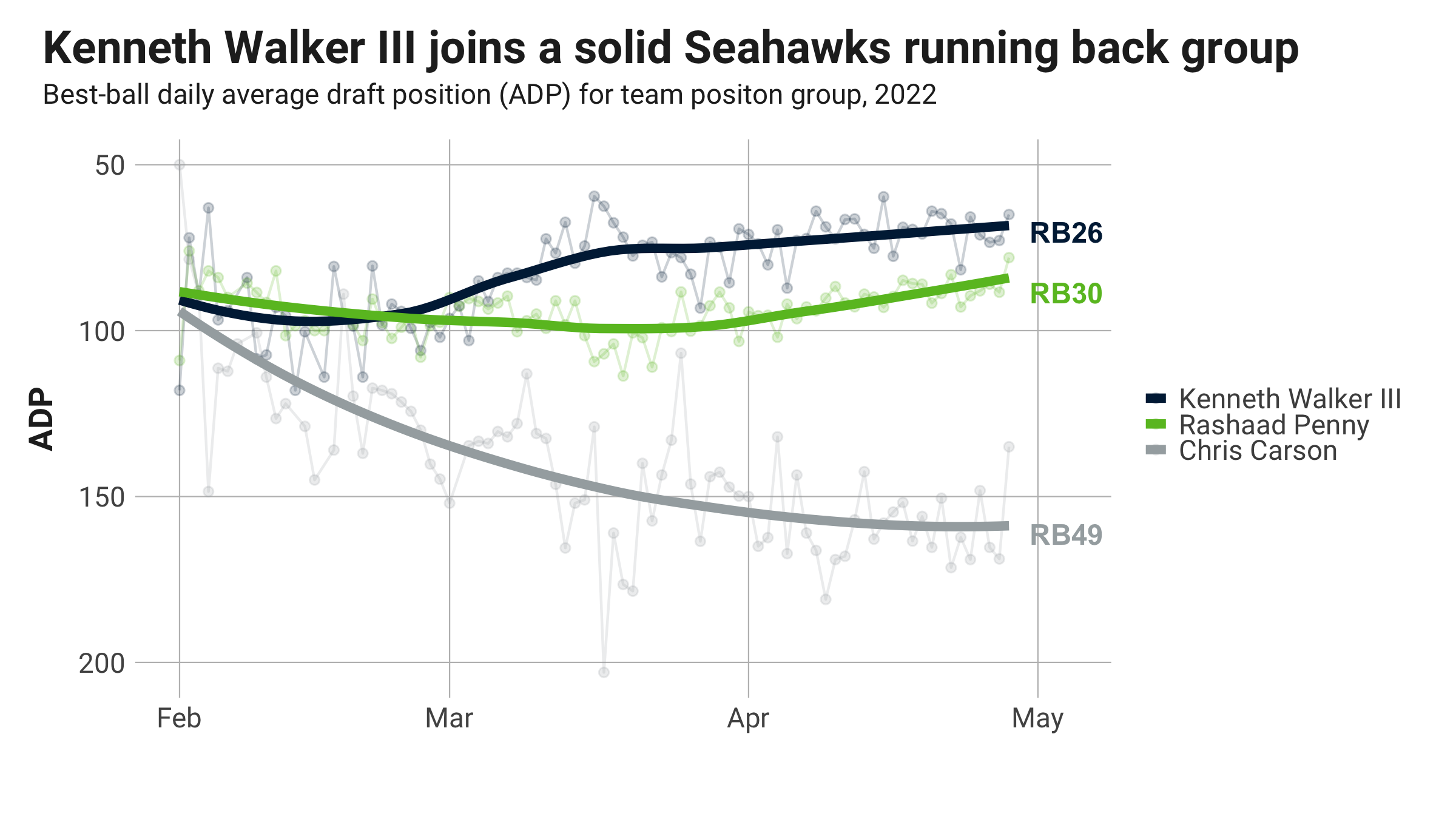 Despite spending big free agency and the draft last offseason, the Giants were still an attractive landing spot for a rookie going into this year's draft. The fantasy football community isn't buying the upside potential of the receivers on the roster.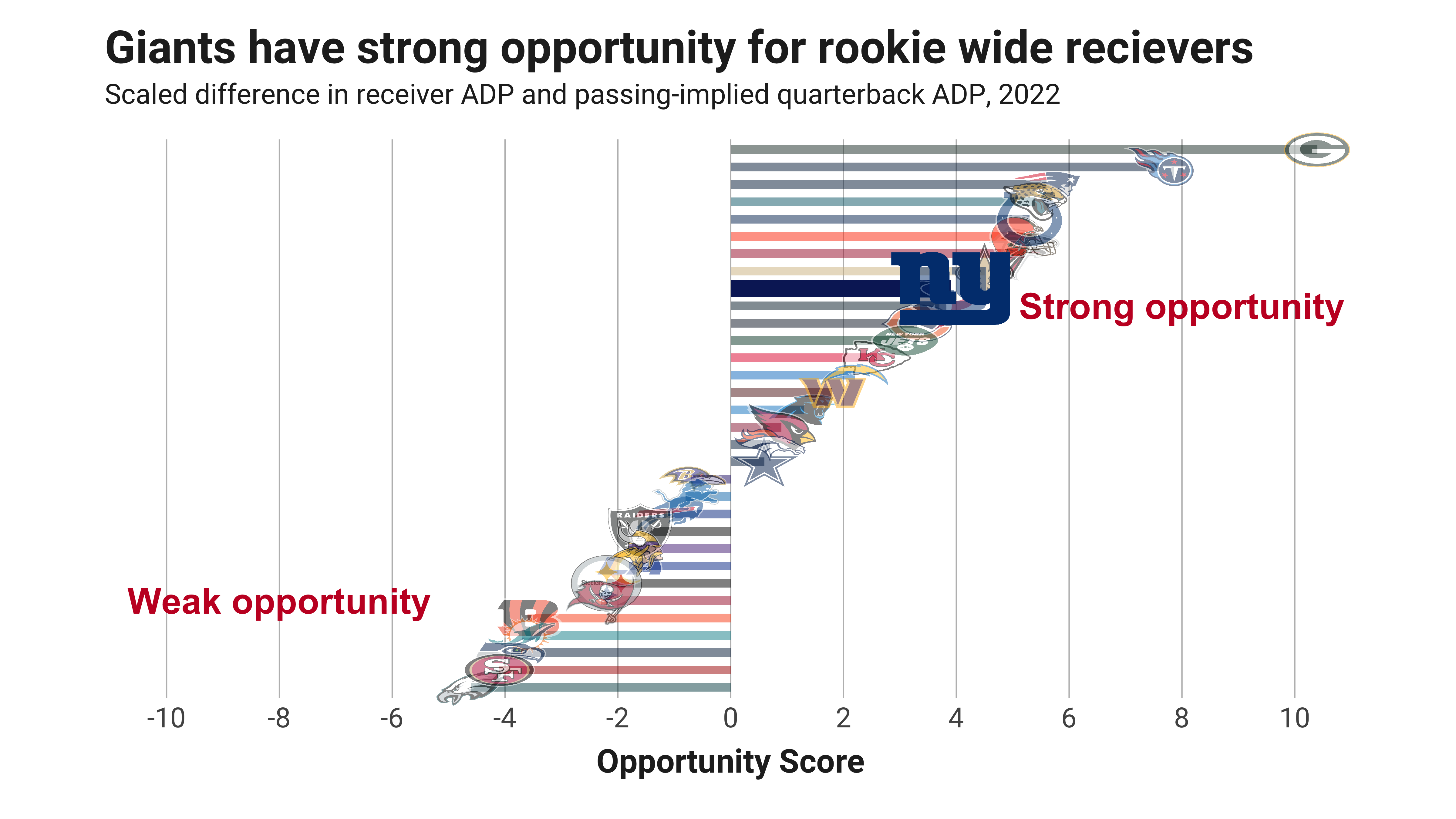 Robinson's draft stock had plummeted after a mediocre combine, but reports of his death ended up being premature. As a second-round pick, Robinson becomes an attractive option to produce earlier in his NFL career after posting outstanding numbers in college.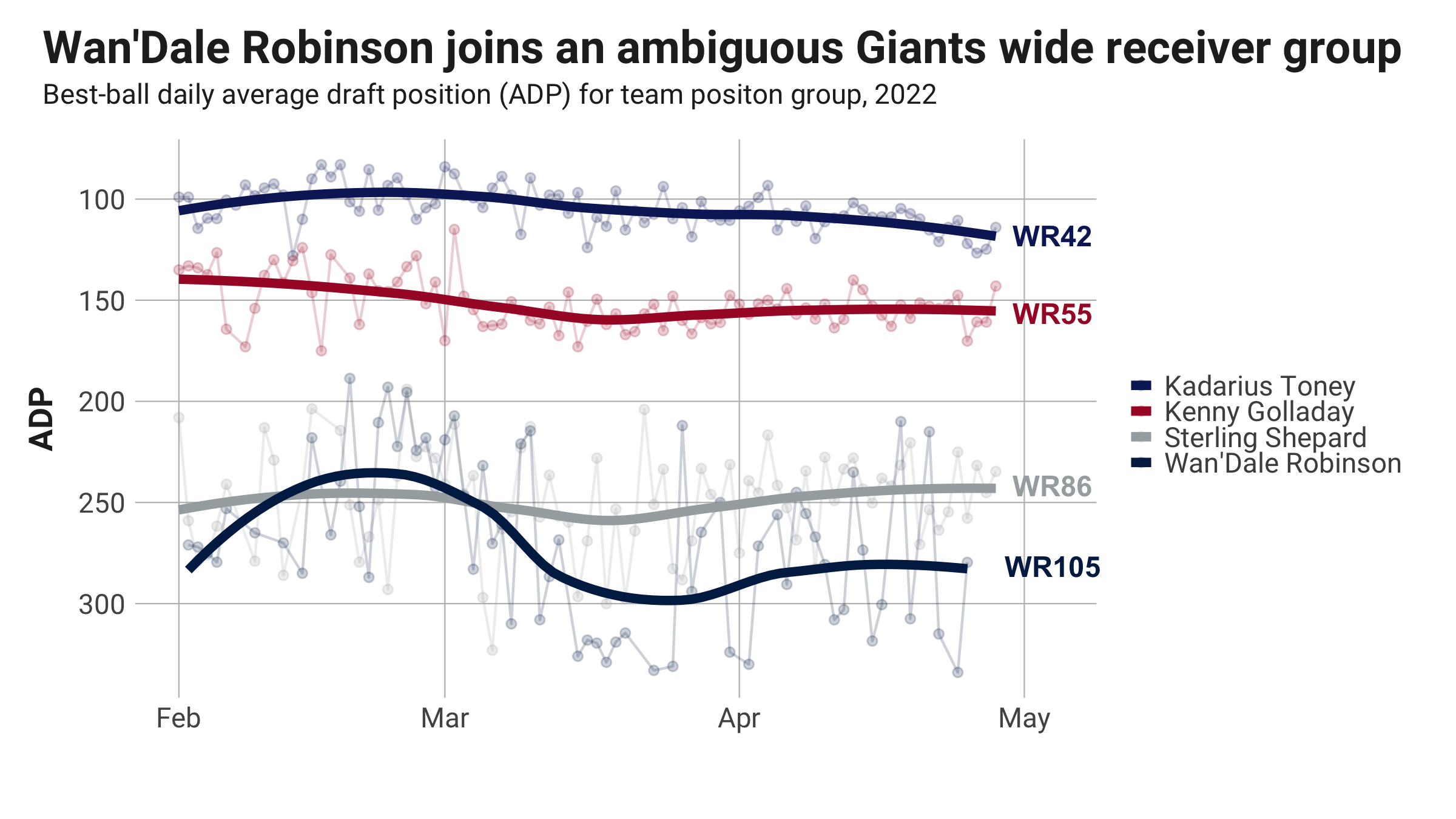 The Texans are another team without a great passing offense, so they have plenty of room for a rookie receiver to join the group and make an immediate impact.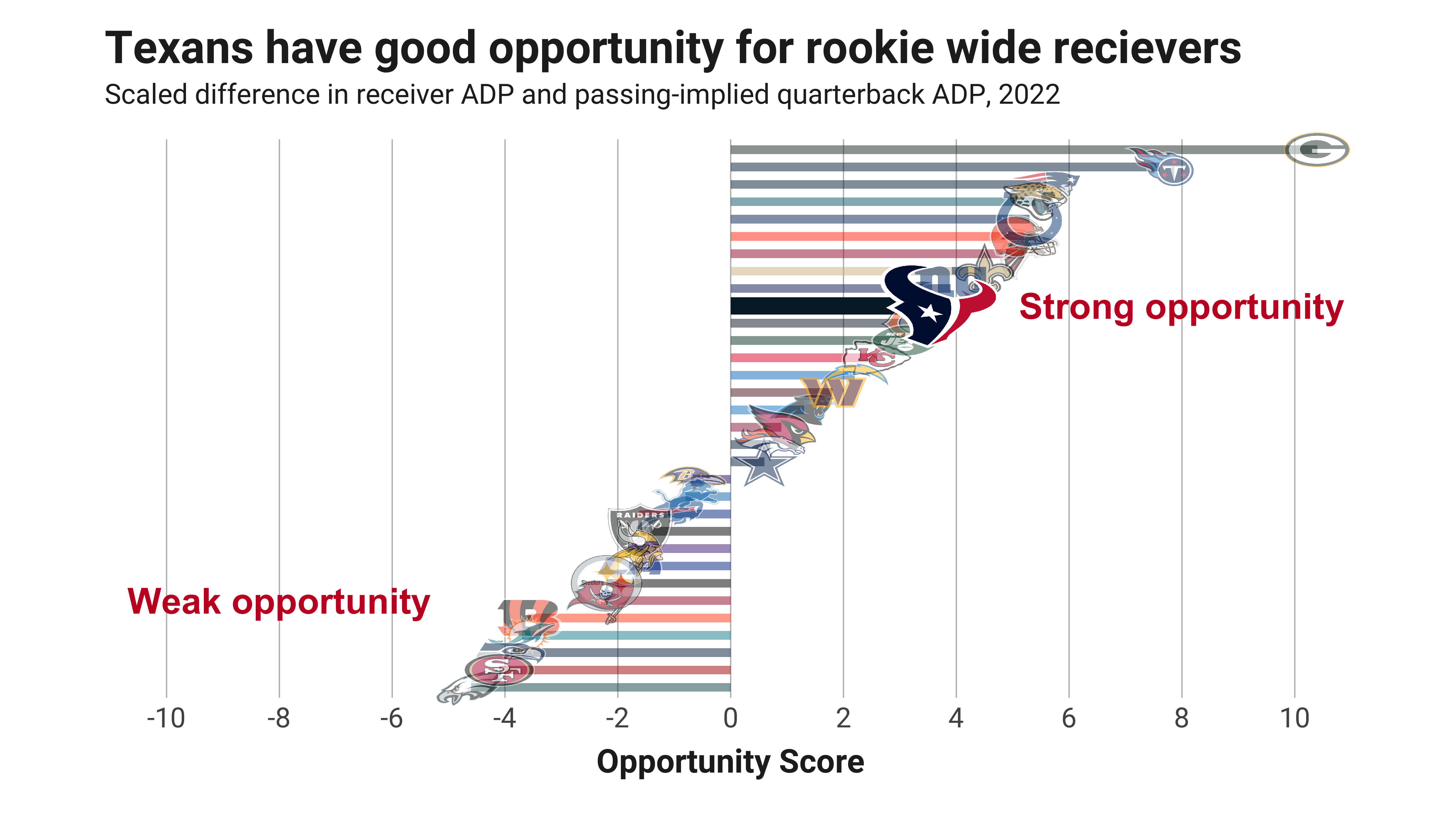 Metchie was rising slightly over the offseason, though off of a low baseline. Metchie should jump Nico Collins into the presumed WR2 role, but Brandin Cooks is entrenched as the Texans' lead receiver.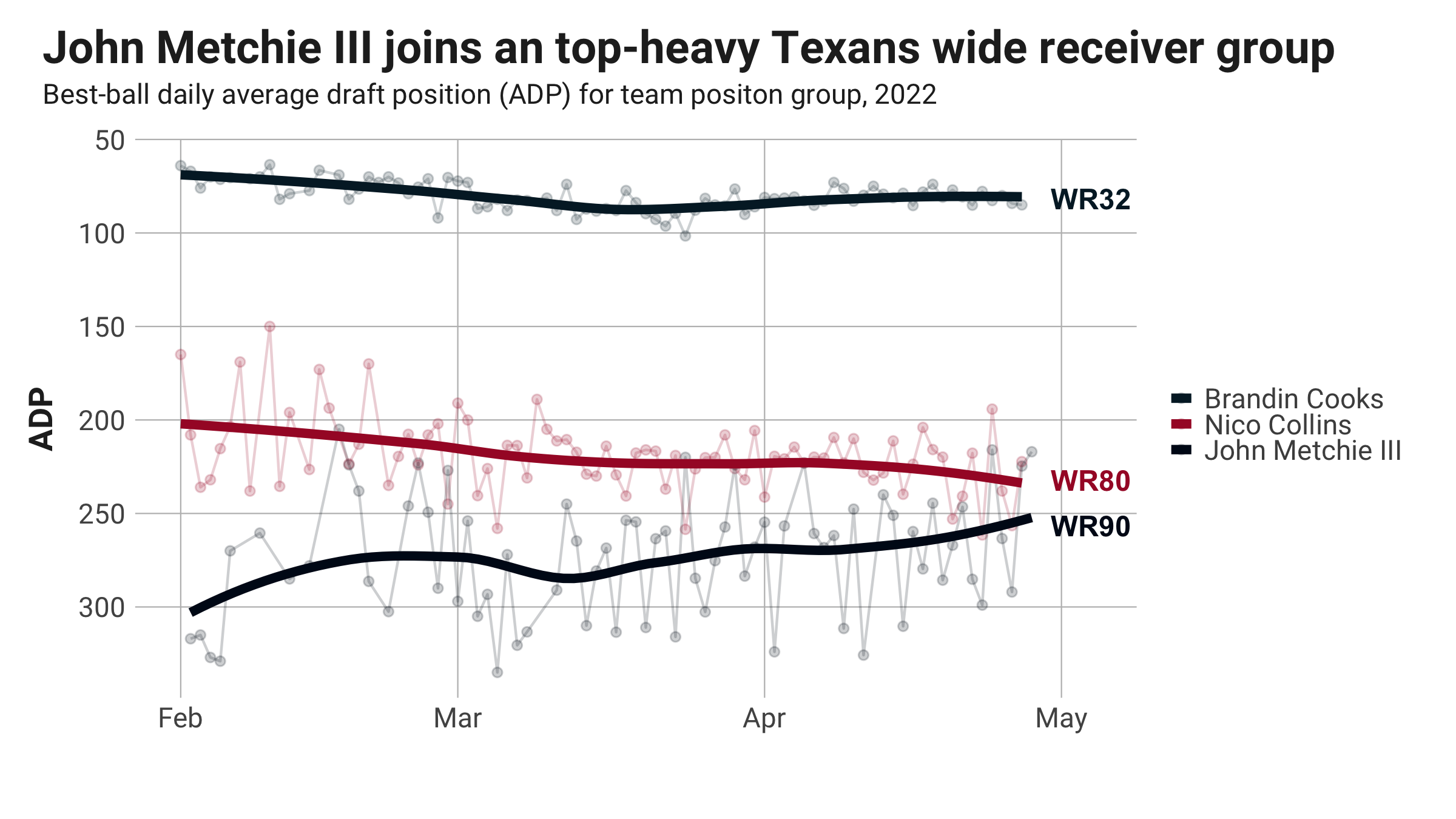 Thorton was a bit of a surprise as the 10th wide receiver draft despite ranking 22nd on The Athletic's consensus big board. There is opportunity in New England, as it has the third-highest opportunity score leading into the draft.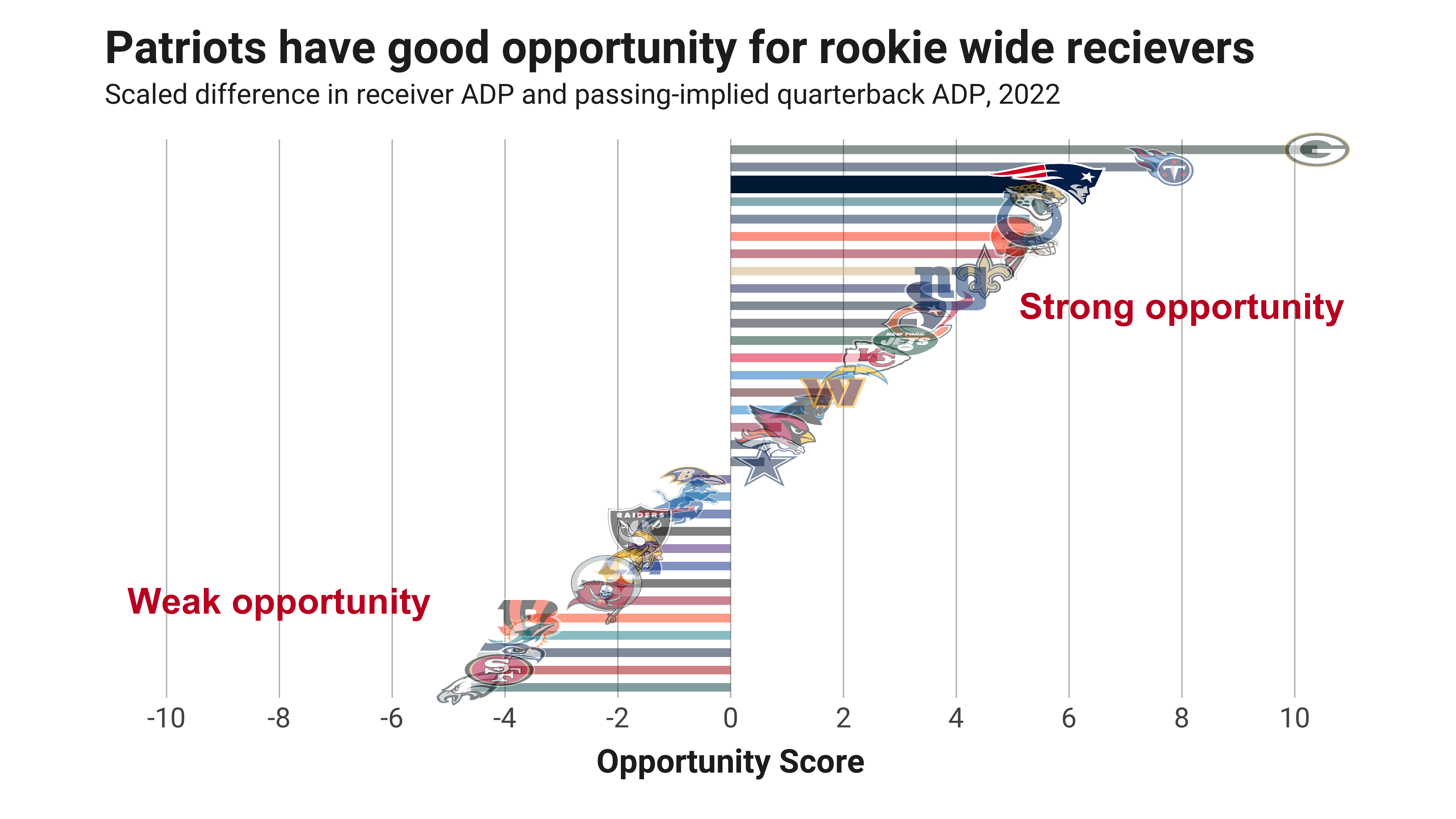 Thornton hasn't been selected enough in pre-draft best-ball leagues to give him an ADP, and none of the other Patriots' wide receivers have a top-55 positional ADP. Thornton will likely bunch with DeVante Parker and Jakobi Meyers in a virtual tie for the best ADP.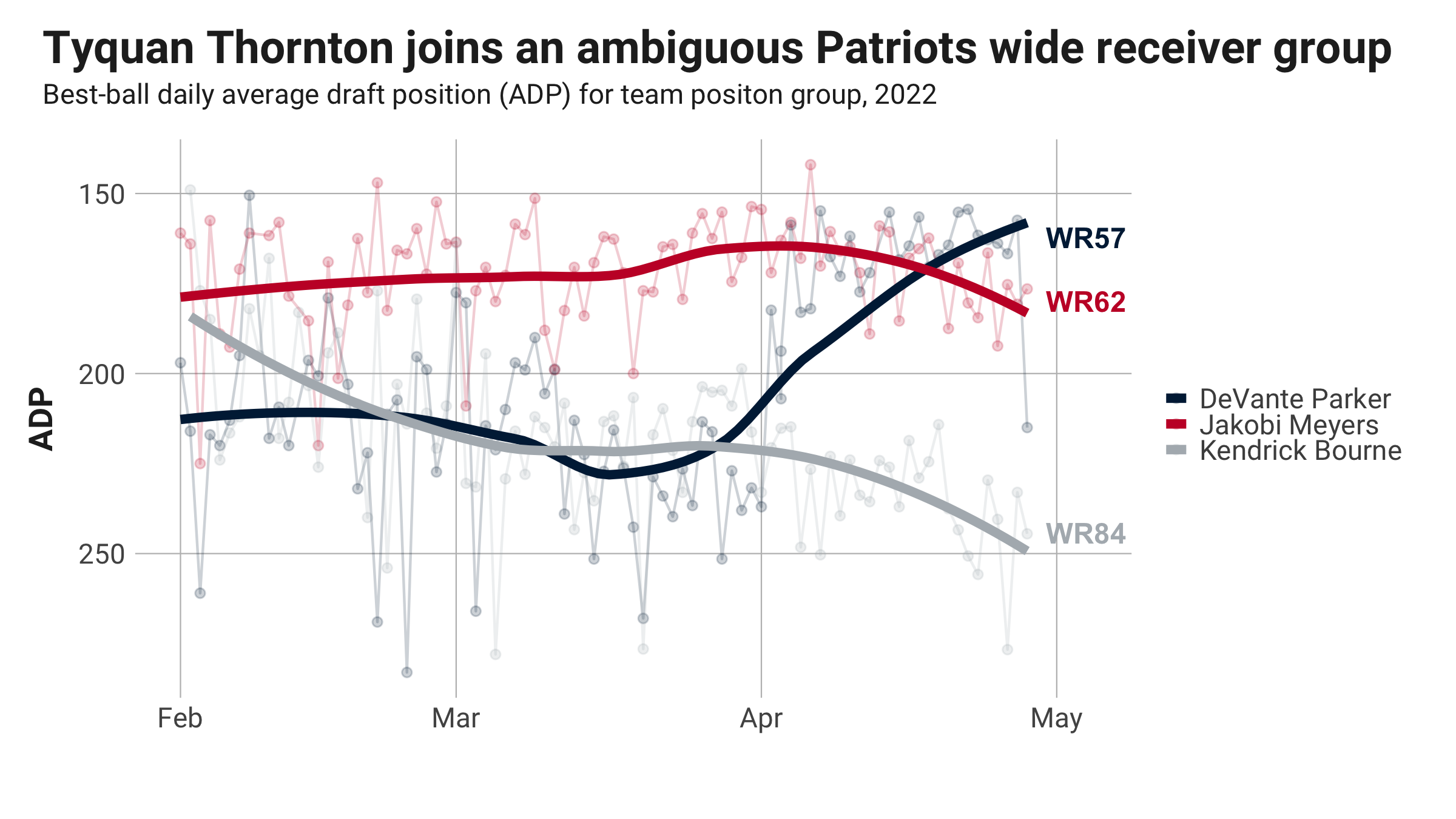 Pickens was a popular underrated player leading into the draft, and he ended up as a solid second-round pick despite not playing much the last two seasons. Unfortunately, there are multiple receivers in Pittsburgh with strong ADPs, and there's not much enthusiasm for Mitchell Trubisky or new addition Kenny Pickett's passing prowess.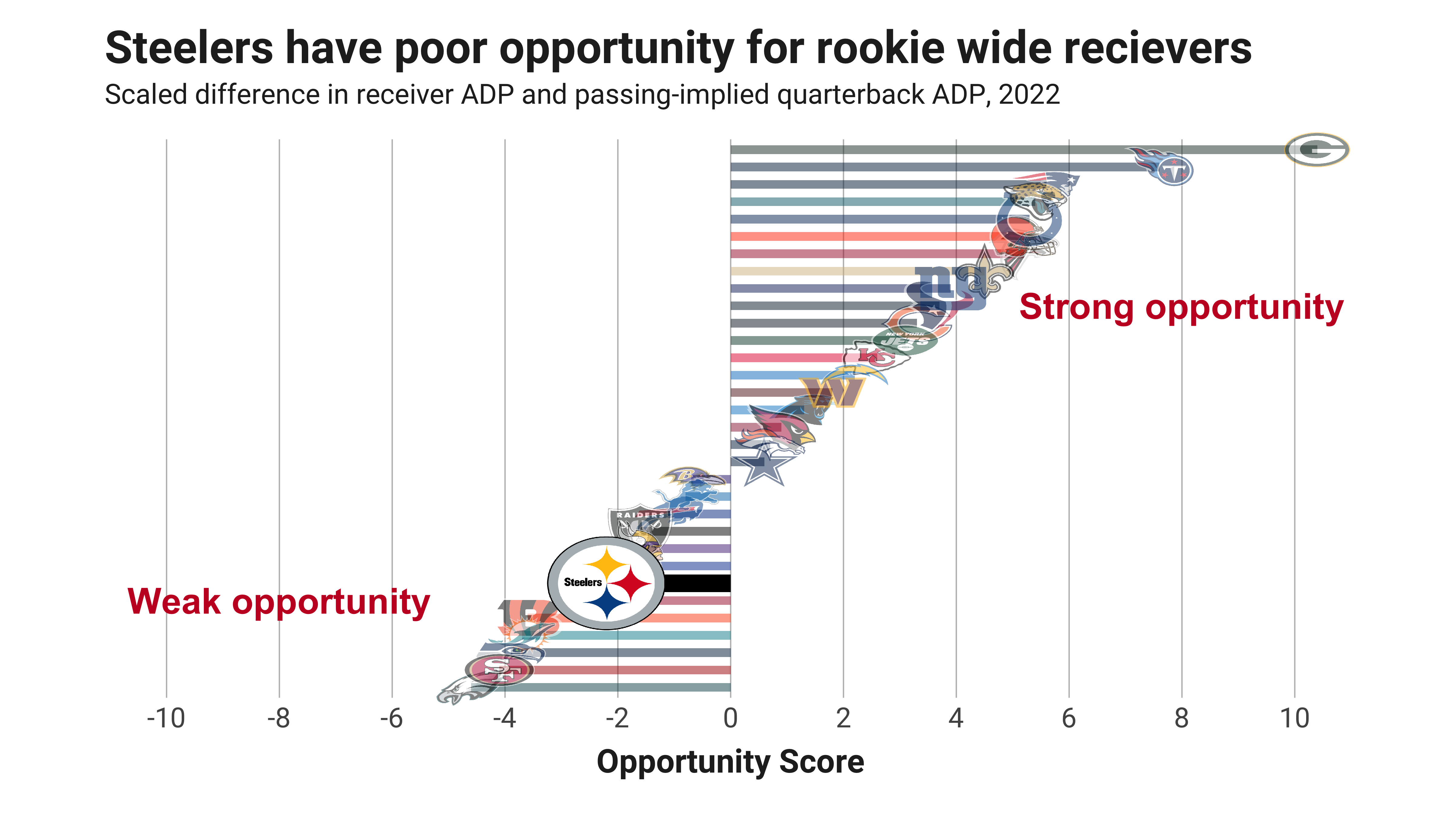 Diontae Johnson and Chase Claypool's ADPs will likely suffer some with additional competition from Pickens.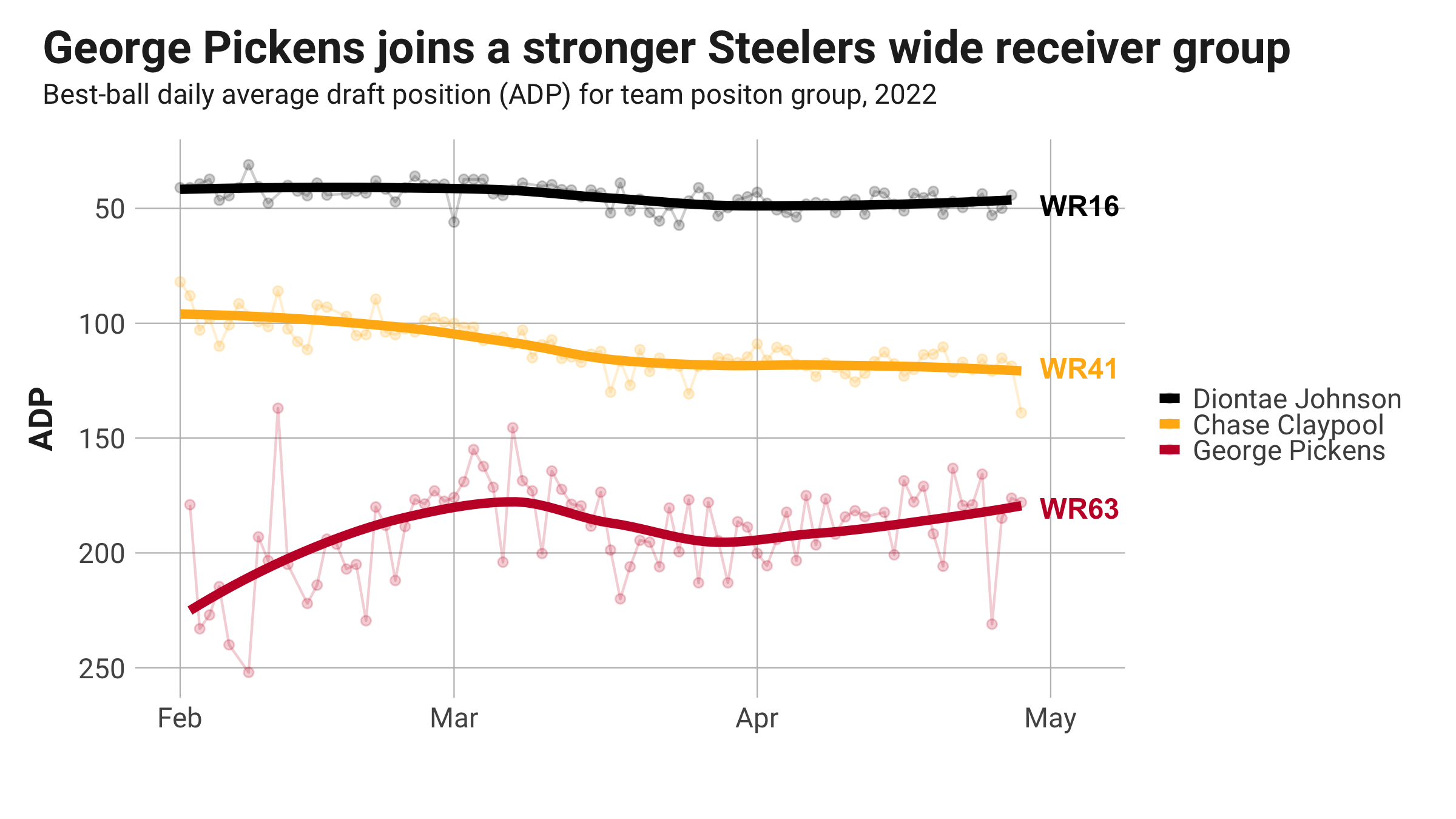 Pierce joins a thin wide receiver group for the Colts, who ranked fifth in opportunity score going into the NFL draft.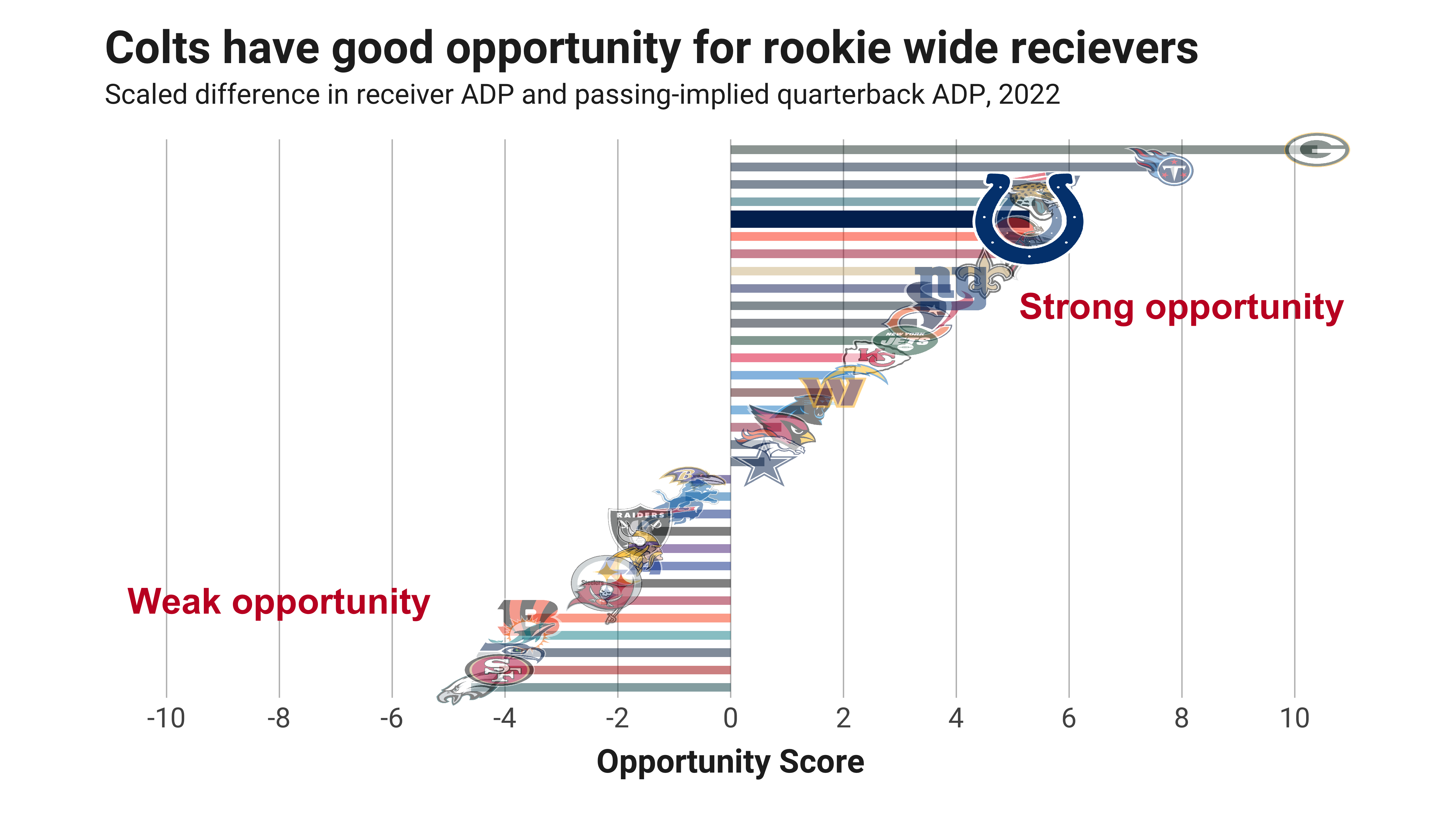 The current Colts' wideout room features a top-25 ADP receiver in Michael Pittman and nothing else. Pierce will quickly move into the second-best ADP for the group and should play a lot in his first season.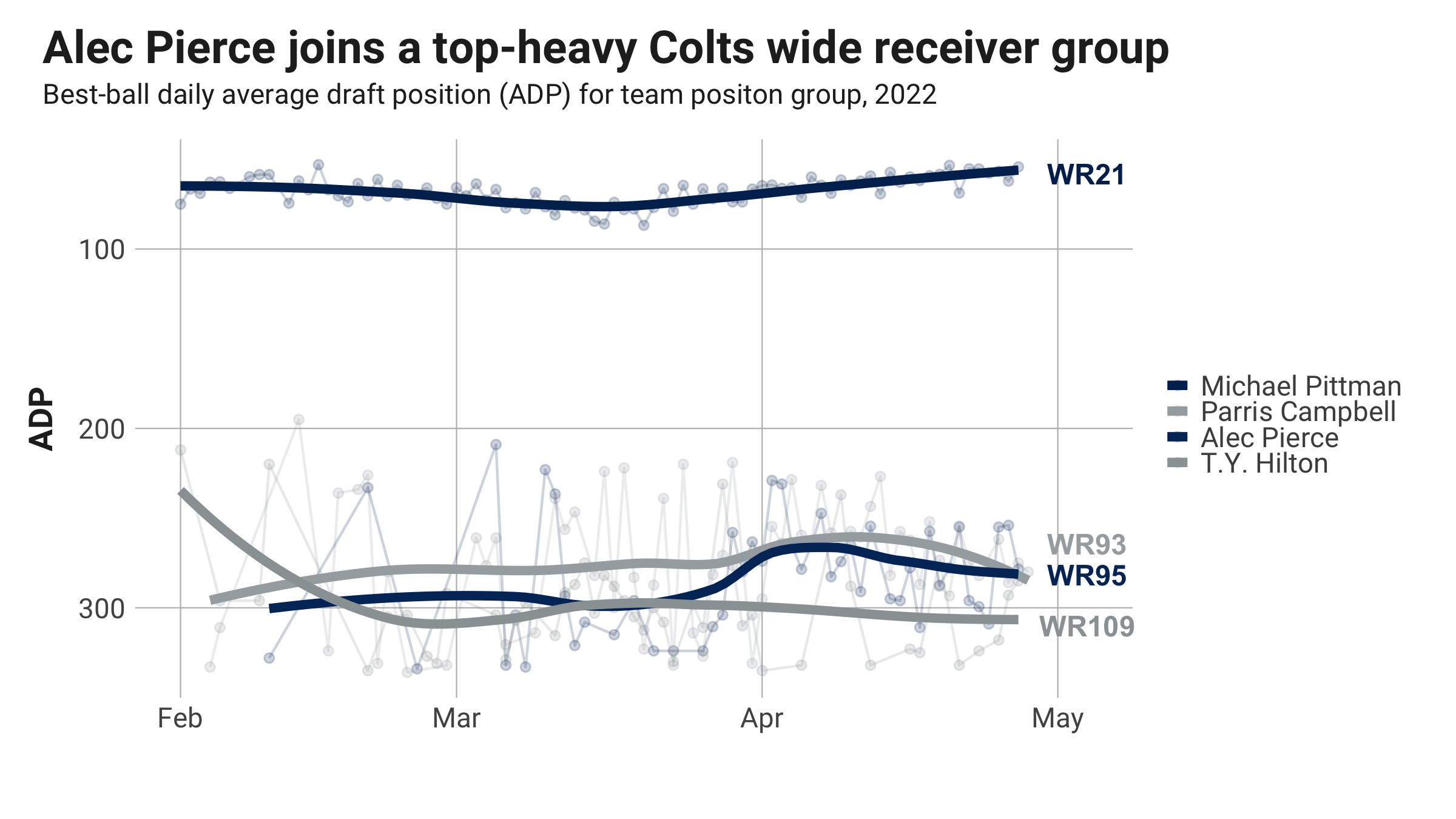 Moore was a darling of the draft and fantasy communities after destroying the combine, putting him on the map as a top prospect despite his small-school background. The Chiefs added multiple receivers this offseason, but that only partially mitigated the Tyreek Hill loss.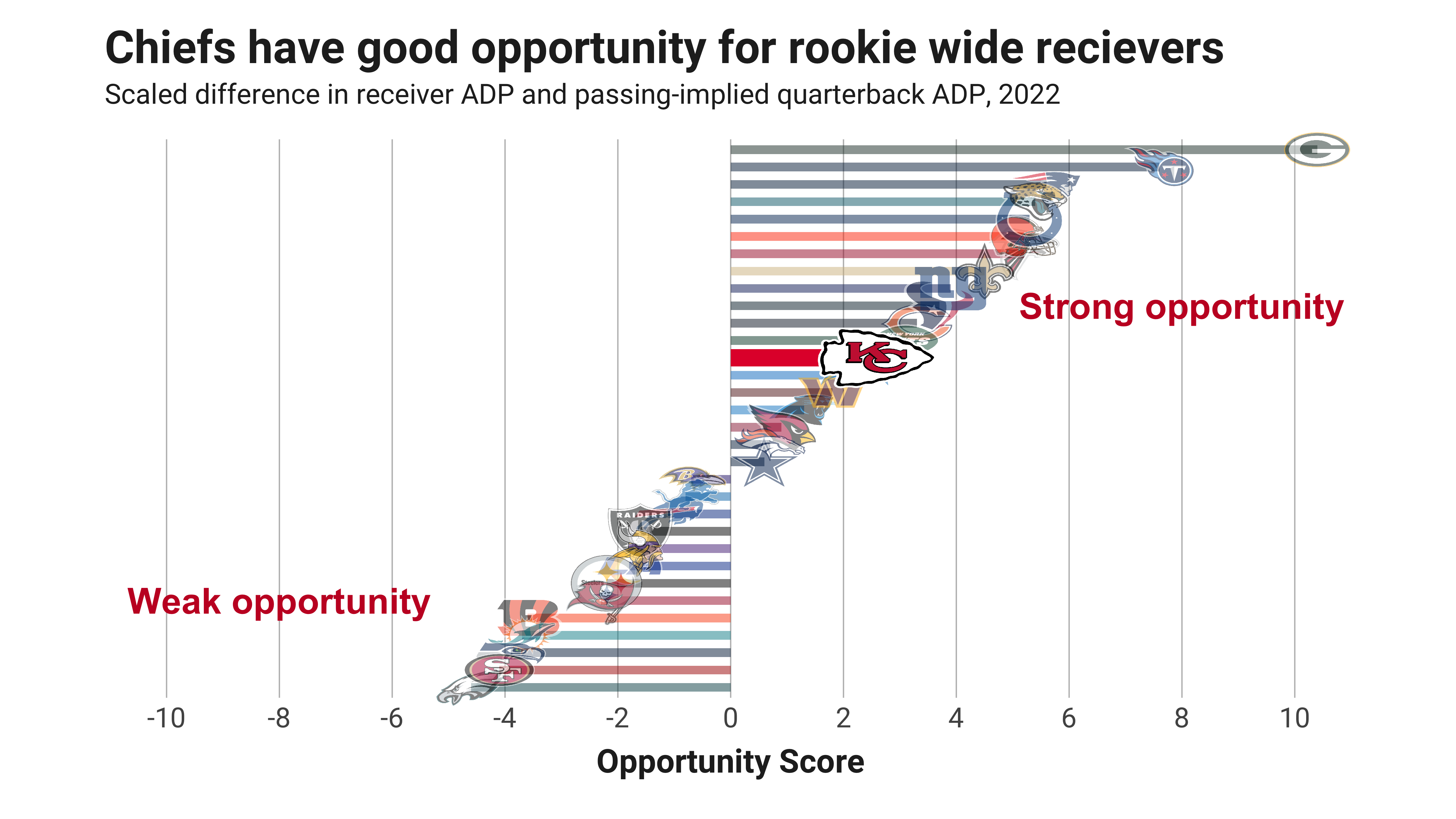 Moore will probably end up the WR2 for the Chiefs in ADP, but that might be aggressive. Oftentimes, rookies are slower to produce, and Moore has three veterans who will start the offseason ahead of him on the depth chart while Travis Kelce continues to soak up targets.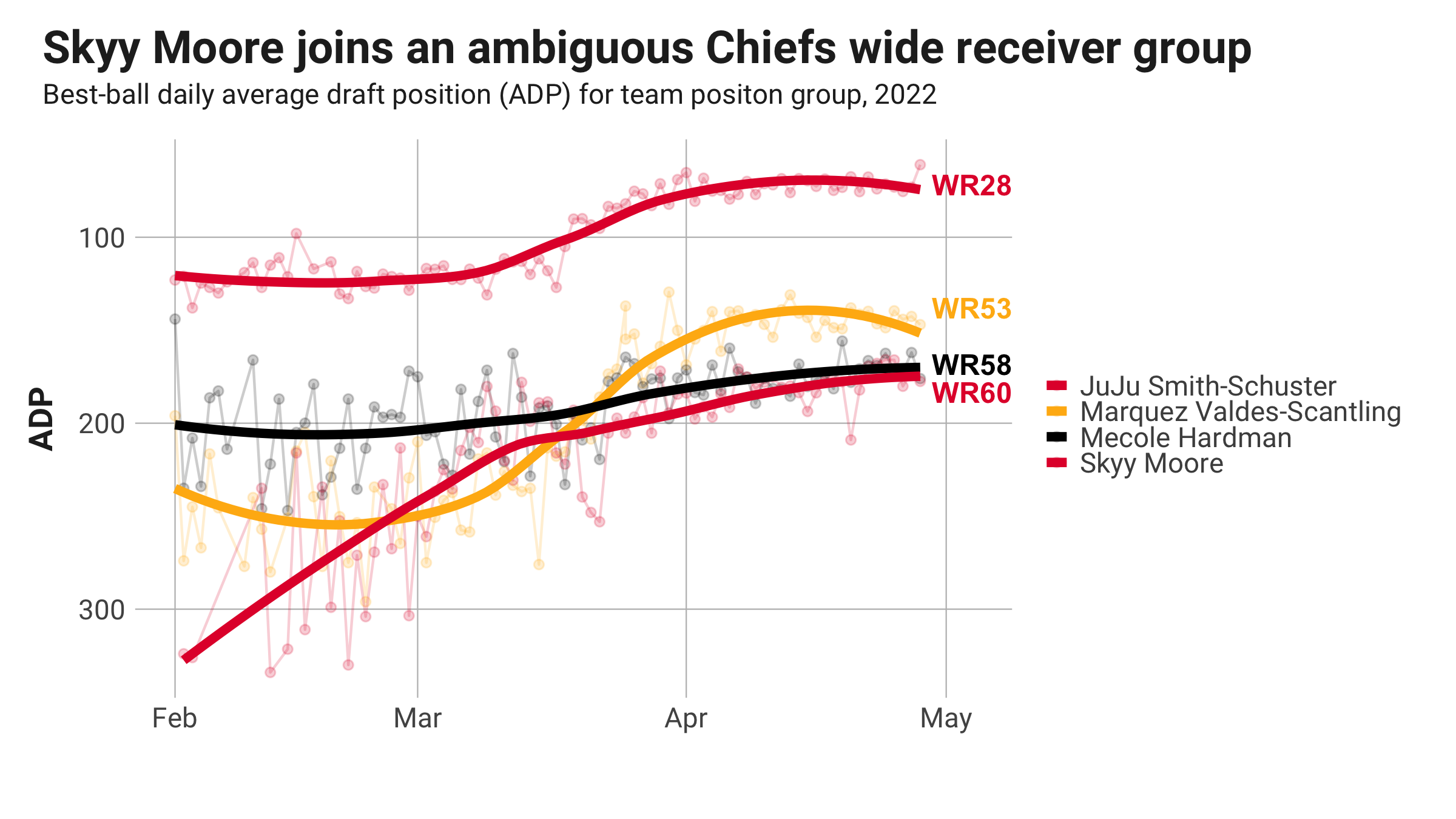 Cook ended up the third running back selected in the 2022 draft, and he lands in the second-best backfield in terms of rookie opportunity. Cook might not be a three-down back at 199 pounds. The Bills have been looking for a receiving back this offseason, thinking that they had signed J.D. McKissic before he decided to return to the Washington Commanders.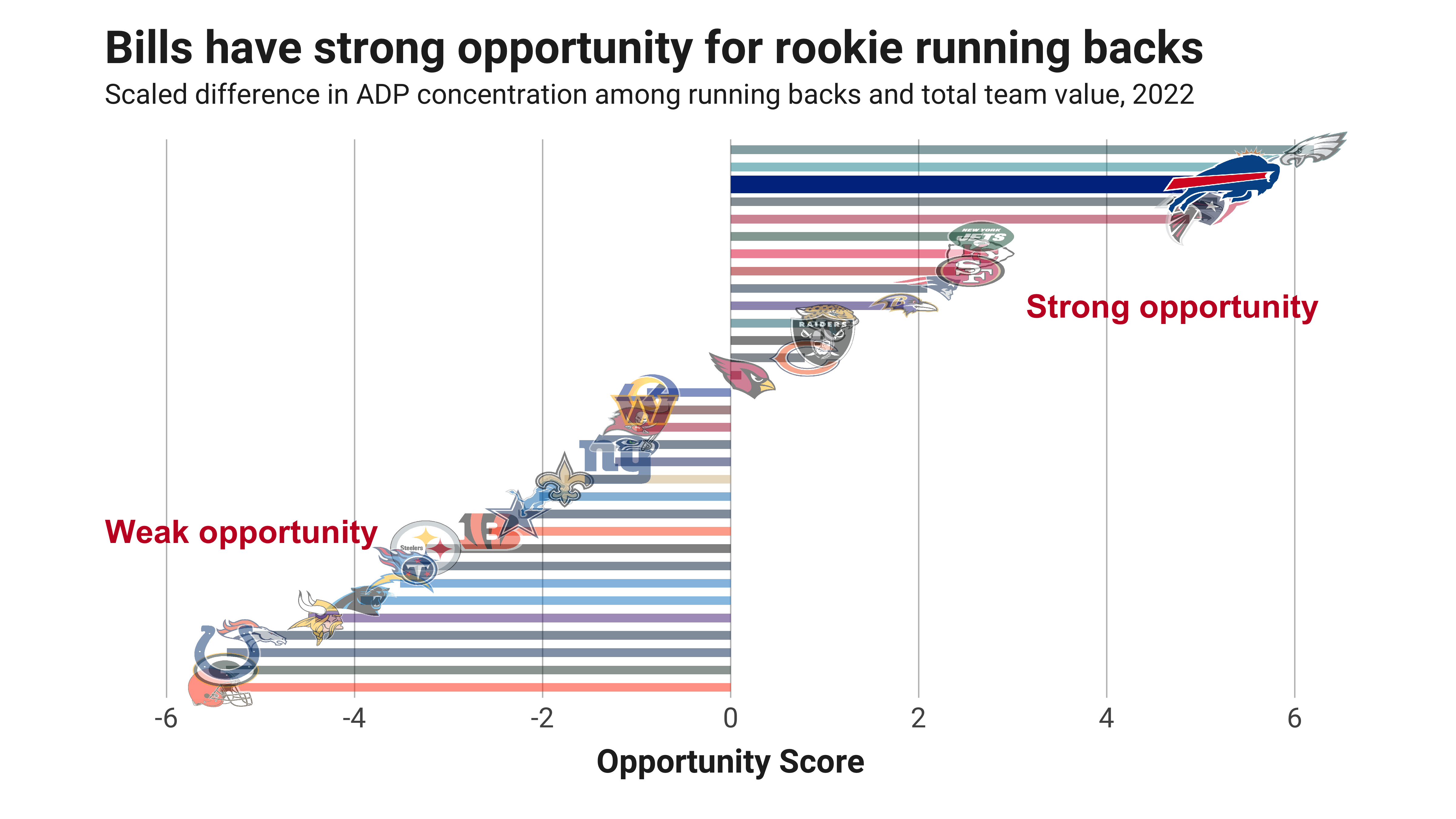 The Cook pick will severely damage Devin Singletary's ADP, who will be presumed, at best, to share the backfield with Cook and lose highly valuable receiving work to the rookie.