Football is back, and life is good. Let's attempt to predict the future.
What follows are my best guesses for every starting quarterback's defining Week 6 storyline. This will be accomplished through a superlative format, identifying who is most likely to accomplish whatever.
---
Click here for more PFF tools:
Rankings & Projections | WR/CB Matchup Chart | NFL & NCAA Betting Dashboards | NFL Player Props tool | NFL & NCAA Power Rankings
---
Please don't confuse this as an all-encompassing preview of the position, as the goal is merely to get a solid preview of the game's most important position and attempt to learn a thing or two along the way.
Related content for you: NFL Week 6 fantasy football rankings, waiver targets & drop candidates via Sosa Kremenjas
The Buccaneers are sitting atop the NFC South with a 4-1 record and the league's third-ranked scoring offense. TB12 has thrown 15 touchdowns against just two interceptions, continuing to look more like he's 24 as opposed to 44 along the way.
One of the more impressive parts of Brady's twilight has been the consistent ability to stay healthy, as availability is the best ability after all. This has been due to a combination of both Brady getting the ball out quickly (2.41 seconds — second-quickest mark in the league) as well as PFF's fourth highest-graded offensive line in pass-blocking generally laying waste to whoever is lined up in front of them.
Add it all together and you get Tampa Bay's league-low 22.2% pressure rate. Credit to the Eagles defense for boasting the league's 12th-best pressure rate, but DE Brandon Graham's continued absence (Achilles, IR) certainly wouldn't help matters.
All Hurts has done in his nine career starts is put forward one fantasy-friendly performance after another:
Week 14, 2020: 167 pass yards-1 TD-0 INT, 18 carries-106 rush yards-0 TD, fantasy QB11
Week 15, 2020: 338-3-0 passing, 11-63-1 rushing, fantasy QB1
Week 16, 2020: 342-1-2 passing, 9-69-0 rushing, fantasy QB12
Week 17, 2020: 72-0-1 passing, 8-34-2 rushing, fantasy QB20 (in three quarters)
Week 1, 2021: 264-3-0 passing, 7-62-0 rushing, fantasy QB5
Week 2, 2021: 190-0-0 passing, 10-82-1 rushing, fantasy QB10
Week 3, 2021: 326-2-2 passing, 9-35-0 rushing, fantasy QB10
Week 4, 2021: 387-2-0 passing, 8-47-0 rushing, fantasy QB4
Week 5, 2021: 198-0-1 passing, 9-30-2 rushing, fantasy QB7 (pre-MNF)
The Buccaneers might be better equipped than most to slow down Hurts on the ground, but don't expect the league's fourth-worst defense in fantasy points per game allowed to the position to truly shut down this fantasy superstar. Continue to fire up Hurts as a top-five option at the position regardless of the matchup.
Brissett suffered a hamstring injury shortly into Week 5. It appeared his afternoon was over after medical staff carted him to the locker room, but before too long, the ex-Patriots/Colts signal-caller was carted back to the sideline and went back out to the field. It wasn't shocking to see the Dolphins get blown out in Week 5, but that doesn't mean Brissett's willingness to play through the pain — and put together a decent performance — shouldn't be applauded.
Of course, life inside of the league's 31st-ranked scoring offense hasn't exactly been fruitful for anyone involved: The Dolphins have scored 17 or fewer points in all but one game this season, ranking 29th and 27th in EPA per pass and run play.
Perhaps Tua Tagovailoa's (ribs, IR) eventual return will spark this group, but for the time being, it's tough to expect too much from this passing game with difference-making receivers Will Fuller (finger, IR) and DeVante Parker (hamstring) sidelined. Points will likely continue to be tough to come by even in next week's winnable spot against the Jaguars but either way, continue to tip your hat to Brissett for displaying all sorts of toughness during his time under center.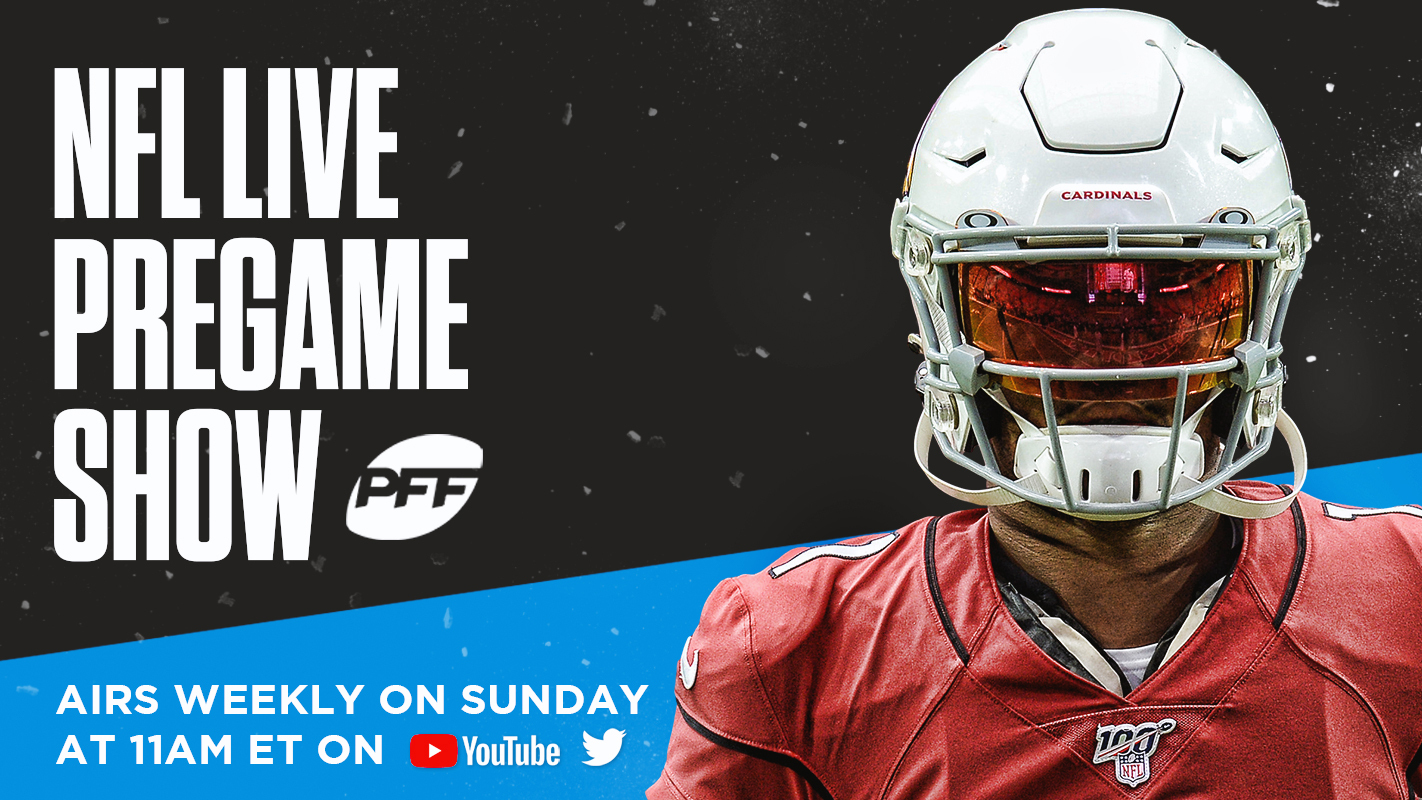 We've consistently seen the Jaguars deploy the opposite of smart play-calling techniques:
Play-action rate: 26.8% (No. 15)
Pressure rate: 35% (No. 20)
Screen rate: 8% (No. 27)
Shift/motion rate: 41.6% (No. 27)
Targets to open or wide-open receivers: 48% (No. 24)
Lawrence hasn't exactly helped his own cause, ranking 36th in PFF passing grade while joining fellow rookie Zach Wilson as the only quarterback with double-digit turnover-worthy plays already.
It's tough to imagine a worse start to the "Urban Meyer era" than what's unfolded over the past half-year, but here's to hoping Lawrence and company start to overcome some of the team's inherent flaws sooner rather than later.
There aren't many quarterbacks better than Cousins when given the benefit of a clean pocket:
PFF passing grade: 931 (No. 2 among 35 quarterbacks with at least 25 non-pressured dropbacks)
Yards per attempt: 8.6 (No. 11)
Adjusted completion rate: 87.6% (No. 2)
QB rating: 118.8 (No. 7)
Here's the catch: Things go south in a hurry for Cousins and this passing game when the opponent is able to disrupt the line of scrimmage. Overall, Cousins has been the fourth-most sensitive quarterback in terms of the largest dropoff in yards per attempt when kept clean vs. under pressure.
Only the Browns (42.9%) have caused pressure on a higher percentage of their opponent's dropbacks than the Panthers (39.4%), so don't be surprised if the going isn't as easy as usual next Sunday for this Vikings passing game if Brian Burns and company are able to instill their will.
Darnold will once again have the opportunity to put up some numbers against a bad secondary, as the Vikings boast one of the NFL's worst one-two punches at outside corner:
Note that the above numbers allowed in coverage would be even worse had Baker Mayfield been able to throw the ball in Odell Beckham's general vicinity back in Week 4.
Christian McCaffrey (hamstring) is tentatively expected to return this week while D.J. Moore is PFF's seventh-highest graded wide receiver through five weeks. Darnold doesn't need to be great in order to enable some of his exceptional teammates to high-end production, particularly in relatively soft matchups such as this one.
Some of the throws that Herbert has put on tape this season are borderline erotic.
So Justin Herbert is pretty good pic.twitter.com/W6eS0dOsfi

— Ian Hartitz (@Ihartitz) October 11, 2021
Herbert is PFF's seventh highest-graded passer through five weeks and the engine behind the league's sixth-ranked scoring offense. He emerged victorious in three consecutive high-profile quarterback battles with Patrick Mahomes, Derek Carr and Baker Mayfield. This combination of elite production and aesthetically pleasing play has him in any conversation surrounding the league's most valuable player.
The Chargers' 23-year-old quarterback has played ahead of his years since the second he stepped on an NFL field so don't expect this growing juggernaut offense to slow down anytime soon even against the Ravens' blitz-happy defense.
Monday night's heroic effort was just the early cherry on top of what Jackson has accomplished all season. Overall, he leads the league in yards per completion and ranks third in yards per rush. Madness. Defenses are forced to account for every square inch of the field with the 2019 NFL MVP under center, and this has grown increasingly difficult with Jackson displaying some borderline erotic ability as a passer when given the benefit of a clean pocket
PFF passing grade when not pressured: 90.8 (No. 6 among 34 qualified quarterbacks)
Big-time throw rate: 5% (No. 13)
Turnover-worthy play rate: 1.5% (No. 24)
Yards per attempt: 9.7 (No. 2)
Too often, Jackson is slandered for his passing ability, but the man has been nothing short of fantastic despite his receivers missing on more than a few opportunities. A date with Brandon Staley's well-schemed defense won't be easy, but the days of doubting Jackson in just about any matchup have been over for quite some time now.
Passing on first-and-10 helps just about any quarterback, as it's a lot easier to throw the ball when defenses also have to respect the possibility of the run.
It's safe to say Stafford has made the most out of these opportunities all season long, throwing a league-high eight touchdowns on first down against zero interceptions. He ranks seventh and ninth in PFF passing grade and yards per attempt in these situations. Turns out taking the defense by surprise has its advantages!
The Rams-Giants' game total opened at 45.5 but has already ballooned up to 47.5 at the time of this writing. Don't be surprised if Stafford and company continue to have success while taking some shots downfield early and often in both the game and in drives.
Most likely to get the ball into this offense's last remaining playmaker's hands: New York Giants QB Daniel Jones vs. Los Angeles Rams
Jones (concussion) should be considered very questionable for Sunday, and Mike Glennon will be under center otherwise.
Regardless, this passing game figures to flow almost exclusively through Kadarius Toney for the time being, as Saquon Barkley (ankle), Kenny Golladay (knee), Sterling Shepard (hamstring) and Darius Slayton (hamstring) could very well be sidelined in Week 6 and beyond.
Toney has essentially done nothing other than ball the hell out with his opportunities all season long.
Throw Kadarius Toney the football and good things happen pic.twitter.com/SgrsmKfhpc

— Ian Hartitz (@Ihartitz) October 11, 2021
Scholars debate why it took injuries to essentially every wide receiver on the roster for the Giants to finally feed their first-round pick but either way, it's clear that Toney should be prioritized by whoever winds up under center against the Rams.
I was absolutely wrong last week when I predicted Mills would be seeing ghosts against Bill Belichick and the Patriots. All the rookie did was complete 21 of 29 passes for 312 yards and a trio of scores, including one perfectly placed dime to TE Antony Auclair for the game's first score.
And yet, it's tough to feel too good about Mills and company repeating this performance in Week 6. The Texans-Colts' game total opened at 48, and it's already fallen to 42.5 with no bottom in sight. Note that Mills failed to reach even 175 yards during his first three extended appearances of the season.
Tyrod Taylor (hamstring) isn't expected to be sidelined too much longer so expect him to get the job back once healthy enough to suit up despite Mills' promising Week 5.
Wentz turned in his best game as a member of the Colts Monday night, converting just 35 pass attempts into 402 yards and a pair of scores. Yes, the scores involved herculean efforts from Jonathan Taylor and (especially) Michael Pittman, but it showed at least some semblance of upside that has been lacking for quite some time.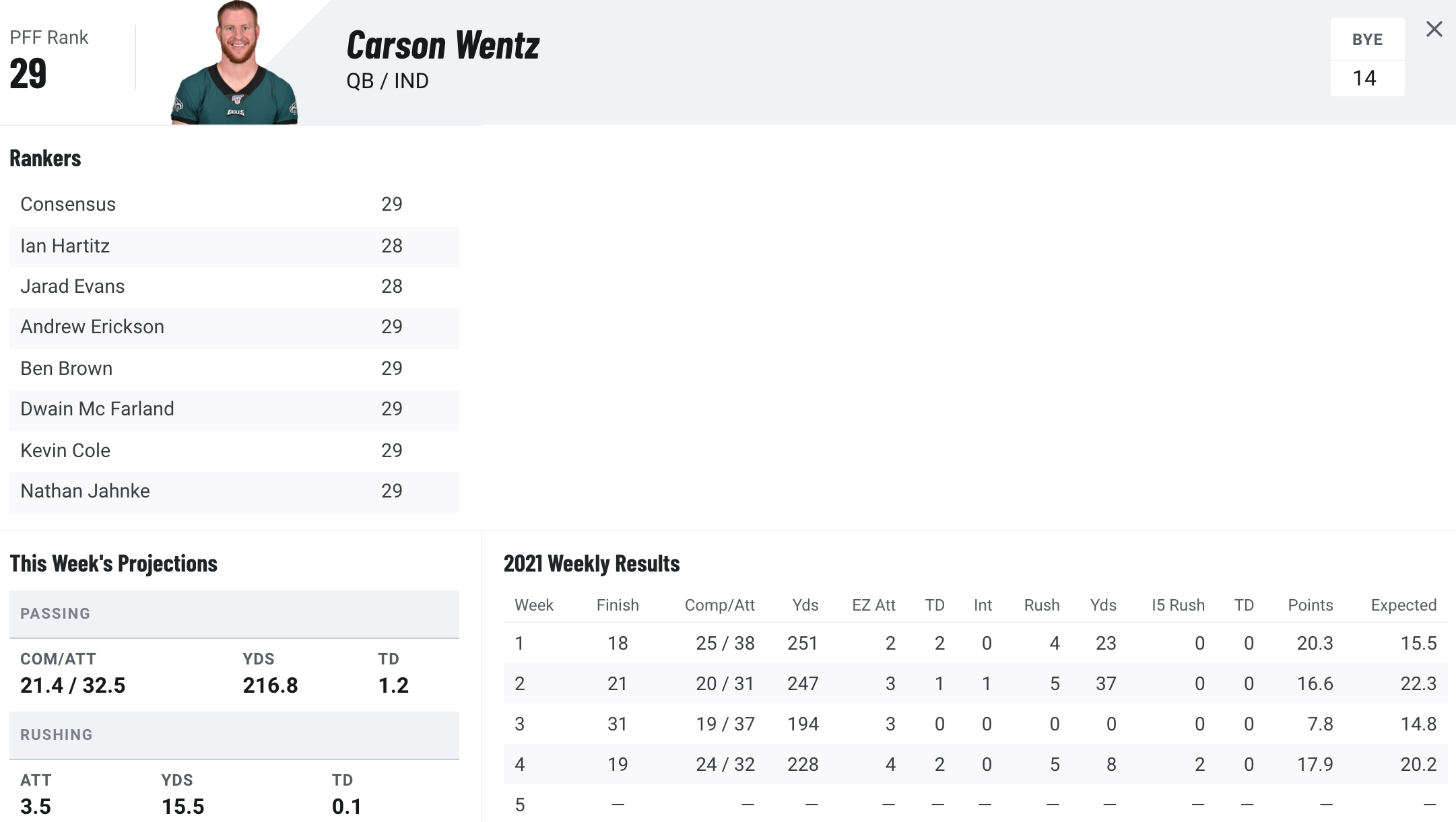 And yet, it remains tough to be overly confident about a banged-up Wentz continuing to supply high-end play behind a banged offensive line. Only the Saints (50% pressure rate) have allowed a more constant stream of disruption to their quarterback than the Colts (47.8%). Yes, Wentz has a bad habit of holding the ball too long. Also yes, the Colts rank dead last in pressure rate even on occasions when Wentz has gotten rid of the ball in fewer than 2.5 seconds.
It's a bit startling just how bad the Football Team's pass defense has been this season:
Pass yards allowed per attempt: 7.73 (No. 20)
Explosive pass-play rate allowed: 16.4% (No. 20)
Pass touchdown rate allowed: 7.2% (No. 31)
QB rating allowed: 112.9 (No. 24)
Points per game allowed: 31 (No. 31)
Fantasy points per game allowed to quarterbacks: 29.8 (No. 31)
Credit to the Bills for slowing down Mahomes and company during their upset victory last Sunday night but don't expect the Chiefs' ever-explosive passing game to have back-to-back down weeks ahead of this smash spot.
Spoiler: The Chiefs have been just as bad, if not worse, on defense as Washington this season. This matchup features the league's bottom-two units in scoring, and fantasy points per game allowed to quarterbacks. Sheesh.
Heinicke has cooled off a bit since a truly solid start to the year, but his dual-threat ability has produced some solid fantasy production in his four starts:
Week 2: fantasy QB13
Week 3: QB9
Week 4: QB5
Week 5: QB23
Check out the Tuesday edition of The PFF Fantasy Football Podcast for full thoughts on Heinicke and the rest of the week's top waiver-wire options.
Rodgers has thrown for multiple touchdowns in four consecutive games following the Packers' Week 1 blowout loss to the Saints. This makes sense considering nobody has thrown the ball more often when inside the opponent's five-yard line.
NFL pass-play rate by team from inside the five-yard line. Aaron Rodgers is all about getting those numbers up lmao pic.twitter.com/xZ5bgNTNyz

— Ian Hartitz (@Ihartitz) October 11, 2021
Rodgers threw eight touchdowns on just 53 combined pass attempts in two matchups against the Bears last season so look for Rodgers to continue to stuff the stat sheet when the offense is in the red zone.
Fields has targeted an open or wide-open receiver on just 32% of his pass attempts this season — the single-lowest mark among 37 qualified quarterbacks. Nobody else is below even 40%. Not great, Bob.
On the one hand, Fields deserves part of the blame for not getting the ball to more open receivers, as Andy Dalton recorded a 56% rate on 50 pass attempts this season. On the other, the extreme lengths the Bears have gone to "protect" their rookie quarterback might be a net negative. This has been most prevalent with the downfield passing game, as Chicago boasts the league's third-best rate of catchable passes thrown at least 20 yards downfield but ranks 31st in actual deep ball attempts.
We're still working with small sample sizes here, as Fields' 57 combined pass attempts and nine total rushing attempts over the past three weeks aren't enough to glean any super meaningful conclusions. Still, there will come another time when Fields is forced to lead this offense in a negative game script so here's to hoping Matt Nagy and company eventually find a way to get the most out of Chicago's rookie quarterback when the going gets tough.
Even overtime couldn't get Burrow over 40 pass attempts in Week 5. It's been rather alarming to see the difference in pass-game usage from 2020 to 2021, as four of Burrow's bottom-five career games in total pass attempts have occurred in the first five weeks of this season.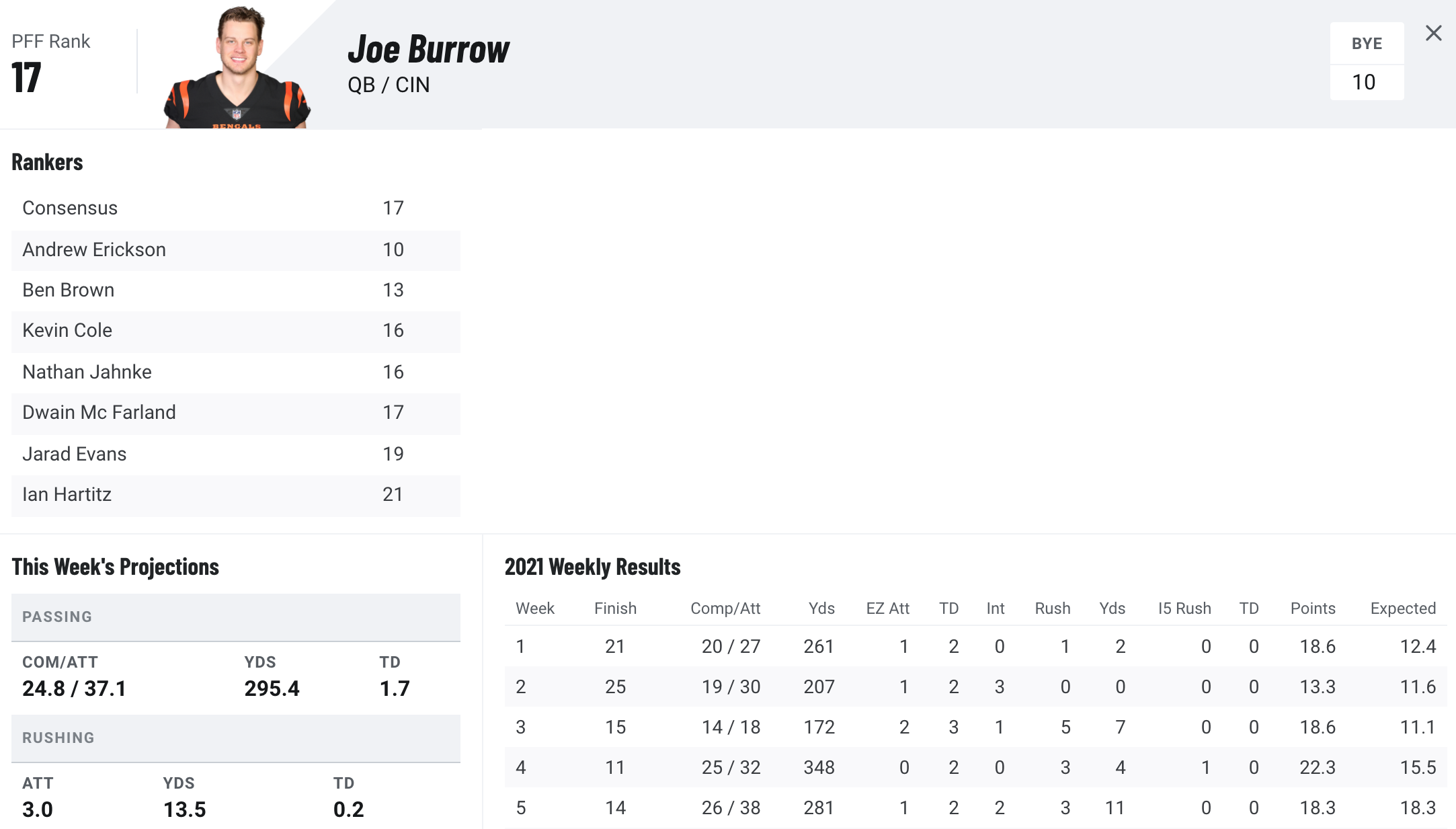 The Bengals are relatively modest 3.5-point favorites over the Lions so perhaps Jared Goff and company keep things competitive enough to force coach Zac Taylor to dial up more pass plays. Alas, the reality that Burrow went to the hospital with a throat contusion following Week 5 likely won't help matters.
I'm all for not bringing Burrow back too quickly from both the throat issue as well as the 2020 knee injury; however, the problem is Cincinnati has allowed the game's fifth-highest sack rate despite their entire offensive philosophy seemingly revolving around avoiding these sorts of hits. Burrow has managed to throw multiple scores in every game this season and certainly looks the part of the team's quarterback of the future. Hopefully, the days of him being reduced to a low-volume game manager are limited.
To say Goff has refrained from consistently forcing defenses to respect the deep ball would be an understatement:
Average target depth: 7 yards (No. 32 among 37 qualified quarterbacks)
Percentage of passing yards to come before the catch: 39.4% (No. 37)
Percentage of passing yards to come after the catch: 61.6% (No. 1)
Percentage of targets past the sticks: 35.7% (No. 34)
Note that Goff is just PFF's worst-graded passer when targeting receivers at least 20 yards downfield, as things haven't gone all that swimmingly even when the ex-Rams signal-caller has gone outside his comfort zone. The Lions' general disregard for their wide receiver room throughout the offseason certainly didn't help matters but either way, this Lions passing game doesn't seem to be on the verge of becoming anything more than a dump-down show to D'Andre Swift, Jamaal Williams and T.J. Hockenson.
Nobody has a higher catchable deep-ball rate than the Cardinals (70%) through five weeks. Hell, the Cowboys (65%) and Bears (62%) are the only other offenses in the same stratosphere at the moment.
The arm angle and point of balance might change nearly every time Murray uncorks the football downfield; yet, time and time again, it seems to inevitably find its way to a spot where only the receiver can catch it.
Kyler Murray doing Kyler Murray things pic.twitter.com/yyxAdwVFf8

— Ian Hartitz (@Ihartitz) October 11, 2021
Myles Garrett and company have the potential to make things difficult for just about anybody but just realize Murray is among the game's most unstoppable players when everything is clicking.
No, I still haven't forgiven Mayfield for missing Odell Beckham on not one, not two, but three potential scores in Week 4. Credit to the 2018 NFL Draft's No. 1 overall pick for leading the Browns to 42 points in Week 5, but it's clear that life isn't too tough behind this offensive line and within Kevin Stefanski's scheme.
Overall, Mayfield has somehow averaged more yards on passes thrown behind the line of scrimmage (10.2) than he has on throws 20-plus yards downfield (8). He ranks first and 28th, respectively. The Browns have quite literally been better off dumping the ball to Nick Chubb or Kareem Hunt as opposed to Mayfield attempting to push the ball downfield.
Credit to Mayfield for playing through the pain of a torn labrum, but the difference between the Browns offense being great vs. the league's single-best unit lies in its quarterback's ability to get any sort of consistent success going downfield.
Prescott leaned heavily on his athleticism during the early parts of his career, providing all sorts of goodness on the ground as well as when scrambling to extend plays.
The post-ankle surgery edition of Prescott has clearly been far more content to beat defenses almost exclusively through the air. He's displayed Terminator-like efficiency in consistently getting the Cowboys into the right play before effortlessly getting the ball to the right man. The following metrics denote Prescott's numbers when targeting his first read this season:
PFF passing grade: 84.7 (No. 6 among 39 qualified quarterbacks)
Yards per attempt: 8.7 (No. 11)
Adjusted completion rate: 77.8% (No. 6)
QB rating: 115.2 (No. 5)
Whether through the air or on the ground, the Cowboys have dominated each and every defense they've faced through five weeks.
EPA per pass and run play rank (PFF)

Top right: good offense at both passing and running
Bottom right: good offense at passing, not running
…
Top left: bad offense at passing, good at running
Bottom left: bad offense at passing and running pic.twitter.com/bZR7Bb0r7c

— Ian Hartitz (@Ihartitz) October 11, 2021
It'd be a lot easier to be afraid of Bill Belichick and company if Davis Mills hadn't just shredded the group so continue to look for the Cowboys to flirt with 30-plus points on a weekly basis.
Credit to Mac Jones for leading the Patriots to a Week 5 win over the Texans, but his inability to push the ball downfield has become rather alarming at this point. The following metrics denote Jones' numbers when throwing the ball at least 20 yards downfield:
PFF passing grade: 51.9 (tied for No. 30 among 31 qualified quarterbacks)
Big-time throw rate: 15.8% (No. 30)
Turnover-worthy play rate: 10.5% (No. 24)
Yards per attempt: 5.1 (No. 31)
Adjusted completion rate: 21.1% (No. 31)
QB rating: 8.8 (No. 31)
Overall, Jones has completed just four of 19 passes thrown 20 yards downfield for 97 yards with zero touchdowns and two interceptions. The only quarterback even comparable to Jones when throwing downfield has been Jared Goff. Not exactly great company to keep, and it's problematic ahead of a matchup against Trevon Diggs and company.
It'd make sense if Jones improves on these sorts of passes as he gains more experience and gets better downfield weapons in the future, but for now, his inability to stretch the field will limit the Patriots' offense's overall upside.
Only three quarterbacks have had their receiver drop at least 14 passes this season: Zach Wilson (15), Ben Roethlisberger (15) and Carr (14). There's an argument to be made that Carr's total is the most egregious considering he boasts the highest average target depth of the group, and studies show drop rate is at its highest short over the middle of the field.
Carr and the Raiders have struggled to get much going over the past two weeks against the Chargers and Bears. Head coach Vic Fangio and the Broncos hardly offer the sort of get-right spot many would hope for. Perhaps the Raiders receivers stepping their game up could get this offense back to resembling the group we saw in the first three weeks of the season.
The days of joking about Teddy check-down are over, as he finds himself near the top of the leaderboard when it comes to average target depth through five weeks:
Credit to the Raiders for ranking third in both explosive pass play rate and yards per attempt allowed on passes thrown at least 20 yards downfield but that doesn't mean Bridgewater will stop chucking the rock to his big-bodied outside receivers Courtland Sutton and Tim Patrick. Here's to hoping Bridgewater and Carr are capable enough to create some fireworks in this sneaky shootout, but then again, the 44.5-point game total doesn't look too promising.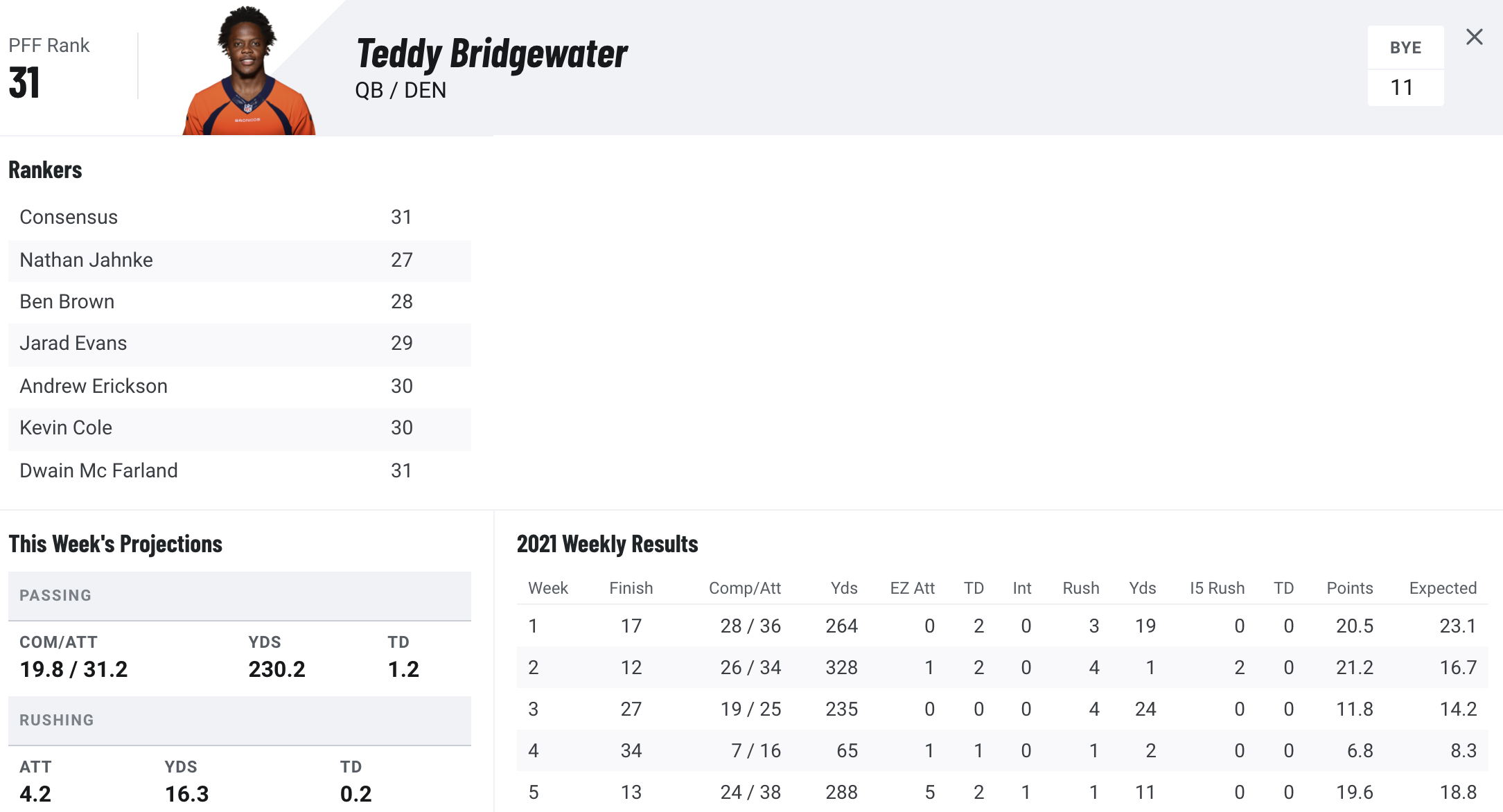 Credit to Smith for exceeding all expectations upon taking over for Russell Wilson (finger) during the Seahawks' Thursday night loss to the Rams last week, but a road trip to Heinz Field isn't exactly what the doctor ordered for anybody involved in this offense.
To say Wilson was making diamonds out of trash would be an understatement, as the Seahawks posted below-average marks in play-action rate (26.2%) and pressure rate (38.1%) through five weeks. Much of the offseason centered around the idea that new offensive coordinator Shane Waldron might add more motion and shifts in an effort to both confuse the defense as well as enhance this passing game's efficiency in the intermediate areas of the field, but they're one of just five offenses to utilize this easy cheat code on fewer than 41% of their snaps this season.
The Seahawks-Steelers' game total rests at 42 at the time of this writing. Don't be surprised if we see the opposite of fireworks out of Smith and Big Ben.
Part of the allure of having a veteran quarterback under center is the idea that their experience helps them limit bone-headed mistakes. This simply hasn't been a reality for Roethlisberger and the Steelers this season, as Big Ben is one of just four quarterbacks with at least nine turnover-worthy plays through five weeks. Overall, he and Jimmy Garoppolo join inexperienced youngsters Joe Burrow, Taylor Heinicke, Trevor Lawrence, Zach Wilson and Davis Mills as the only signal-callers with a turnover-worthy play rate north of four percent this season. Sheesh.
Allen ranks as the fantasy QB3 (pre-MNF) despite largely only performing up to his 2020 world-beater standard in two of his five games. That's the dirty little secret about Allen: He was always an elite fantasy quarterback even before things started going his way in real life.
Expect the two worlds to collide Monday night against a Titans defense that was exposed during the first two weeks of the year before meeting a fairly easy stretch over the past three weeks:
The ceiling is the moon for Allen and this Bills passing game against the league's fifth-worst defense in yards allowed per pass attempt.
It seems like every mediocre showing from Tannehill leads to many wondering if the clock has struck midnight on his fairytale of a career comeback. In reality, the artist known as TanneThrill enters Week 6 as PFF's fifth-highest graded passer thanks in large part to his ability to rack up high-end throws while limiting mistakes. Overall, Tannehill ranks 14th in big-time throw rate this season and fourth in turnover-worthy play rate.
Having studs like Derrick Henry, A.J. Brown and Julio Jones to feed the rock to can make it seem like a quarterback's job isn't that hard, but Tannehill has largely continued to post top-tier efficiency this year despite his top-two receivers mostly being a mix of injured and/or ineffective. The Bills' top-ranked scoring defense is hardly an easy hurdle but just realize Tannehill and his pair of alpha receivers are awfully hard to contain when they're clicking.