Dalton Schultz leads the Cowboys to victory:

Schultz scored two second-half touchdowns to lead Dallas to victory. It was his second two-touchdown game of the season and the fourth of his career.

Both teams deal with injuries at running back:

Both

Tony Pollard

and

Derrick Henry

were inactive, leading to a lot of opportunities for

Malik Davis

and

Hassan Haskins

Joshua Dobbs earns the Titans starting job:

Dobbs was surprisingly named the starter earlier in the day and played well enough, despite the losing effort, to likely be the Titans' starter next week.
Estimated reading time: 5 minutes
---
PFF's fantasy football recap focuses on player usage and stats, breaking down all the vital information you need to achieve fantasy success in 2022.

---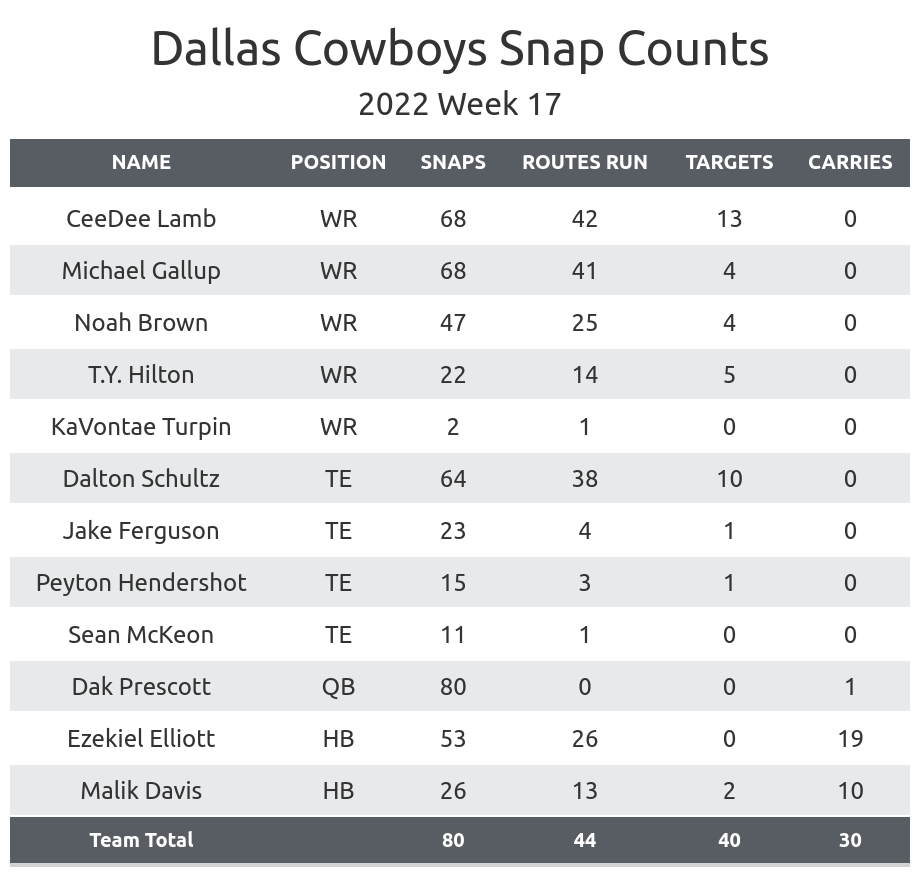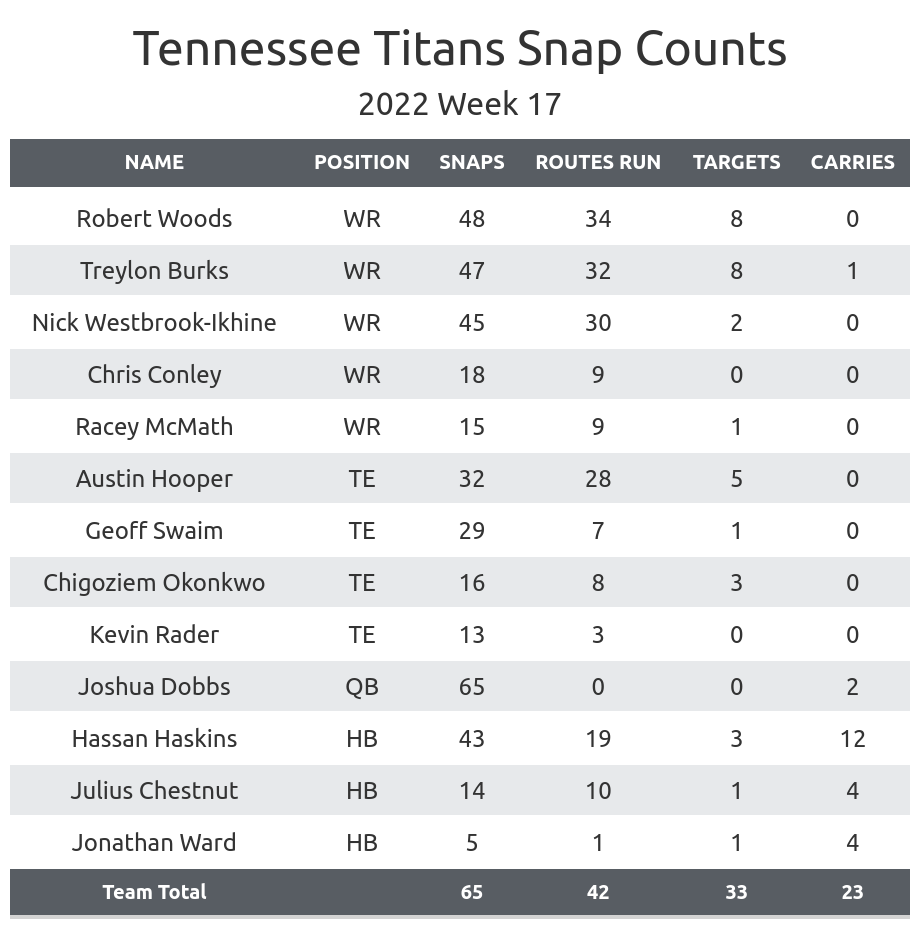 The Cowboys without Tony Pollard: Pollard didn't practice all week due to a thigh injury and was inactive.
The Cowboys had been using a heavy rotation of their two running backs where both players would see around 50% of the team's offensive snaps.

Dallas used a rotation, but

Ezekiel Elliott

played more than he usually does.

Malik Davis

has been the Cowboys' third running back since

Rico Dowdle

went on injured reserve in October. He served as the backup Thursday night.

Davis was the more efficient rusher and receiver out of the Cowboys' backfield tonight, but Elliott scored the touchdown.

Davis played significantly on early downs but typically turned to Elliott for clear passing or short-yardage situations.

This could be how the Cowboys' backfield looks in 2023, as Pollard is an unrestricted free agent while Dallas doesn't have much cap space. The Cowboys have several other starters that are also hitting free agency.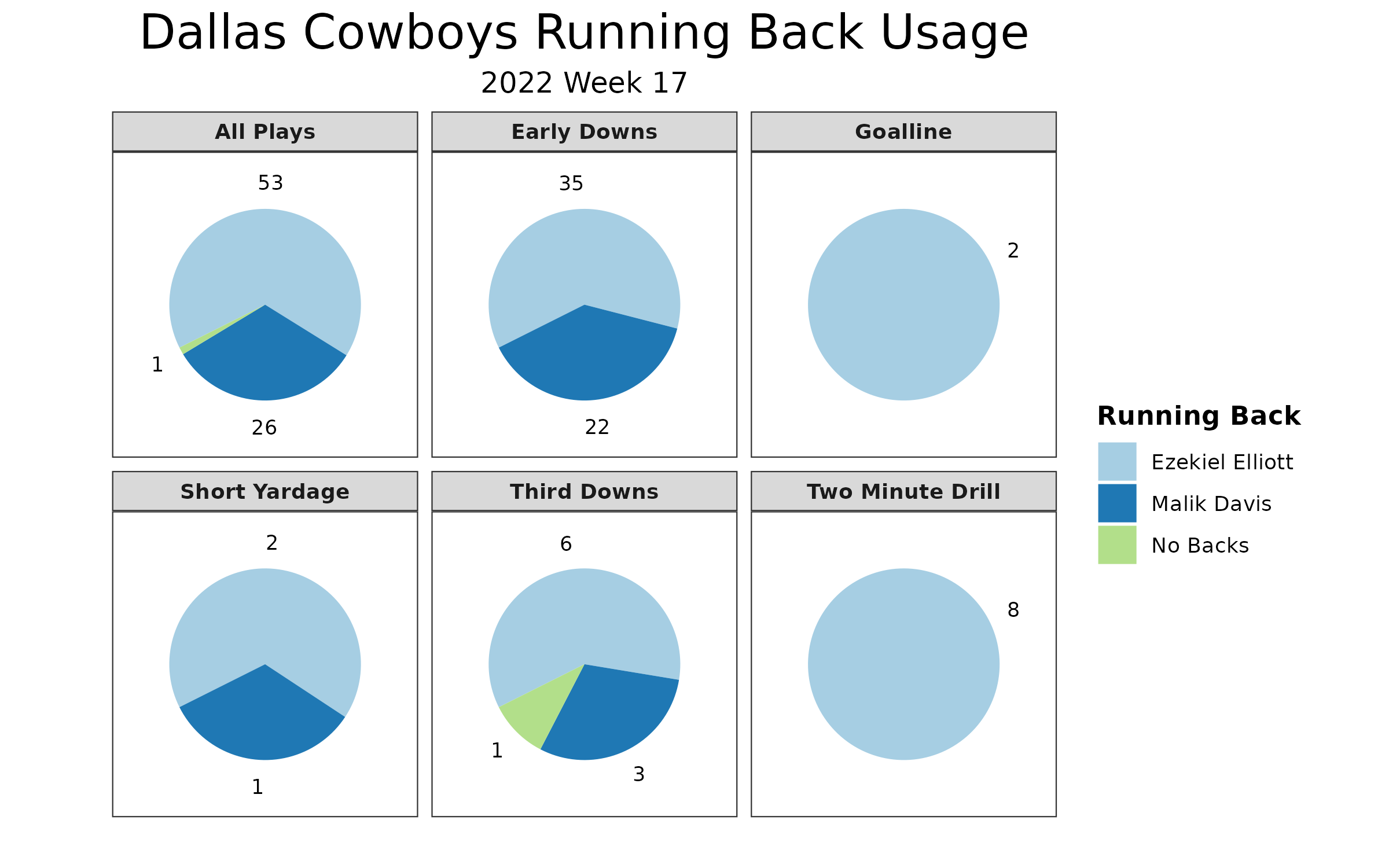 T.Y. Hilton's role expands: Hilton played more snaps in his second game with the Cowboys and was a frequent target of Dak Prescott.
His increased playing time most notably occurred in three-receiver sets, taking snaps from

Noah Brown

.

He was on the field more often than not on third downs, which is where most of his receiving production came from. He converted three third downs into first downs.

His four catches for 50 yards both ranked third on the team.

It wouldn't be surprising for Hilton's role to further increase in Week 18 and during the playoffs.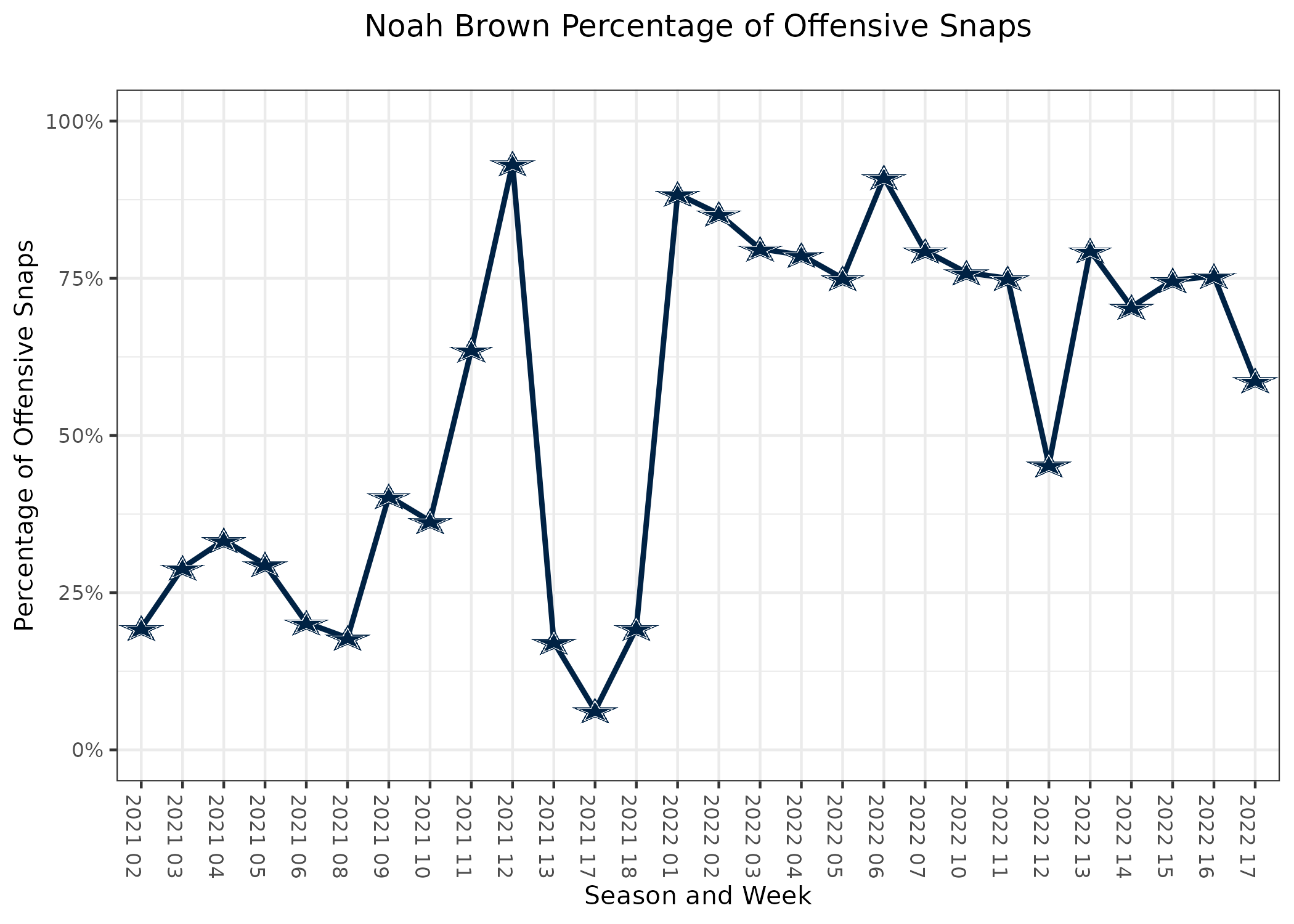 The Titans without Derrick Henry: He was one of several Titans starters who missed this game due to injury. He was limited in practice this week due to a hip injury.
This game didn't mean much for Tennessee, so it could be cautious with anyone dealing with an injury. Henry is expected to play next week.

Dontrell Hilliard

had spent most of the season as the Titans' backup running back, but he landed on injured reserve two weeks ago.

Fourth-round rookie

Hassan Haskins

started for Tennessee. He was the only Titans running back to see the field on their first three drives.

Haskins was largely ineffective throughout the game, which led undrafted rookie

Julius Chestnut

to start rotating in on the Titans' fourth drive.

Chestnut caught a 33-yard pass not long after, which led both backs to playing almost the same amount of snaps over the next four drives. Haskins largely took over after that point, as Chestnut's longest run went for one yard.

Jonathan Ward

was signed to the Titans' active roster earlier in the day. He had only joined the practice squad earlier in the month after spending most of his career with the

Arizona Cardinals

.

Ward saw his first offensive snap late in the third quarter, where he caught a four-yard pass. He didn't see the field again until the last two minutes of the game.

The Titans could consider looking for a new backup this upcoming off-season after this performance.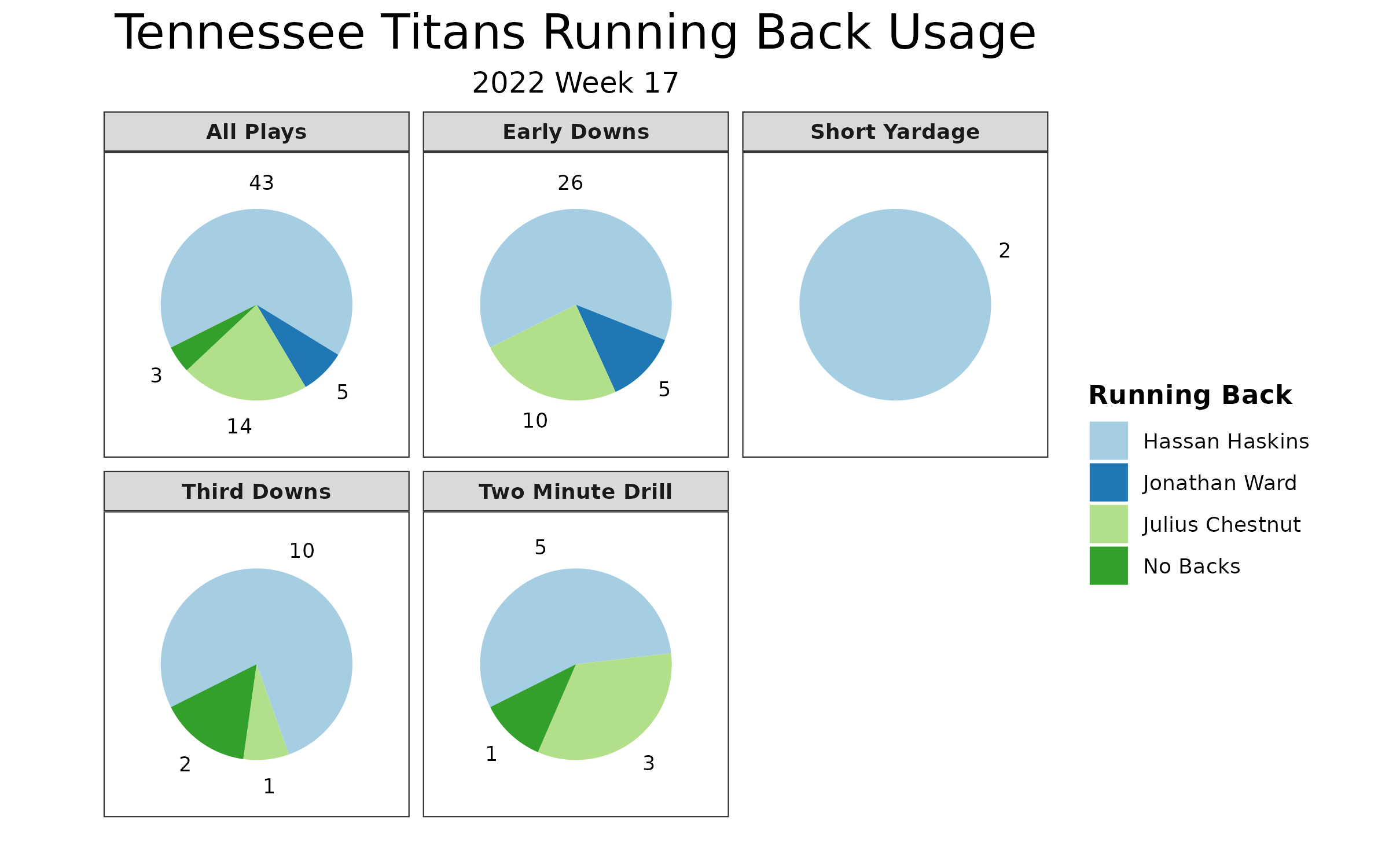 Slow the hype on Chigoziem Okonkwo: The Titans tight end has continued to play well whenever he's on the field, but his playing time declined Thursday night.
The Titans had four active tight ends, all of which played significantly.

Okonkwo had led the Titans in snaps from 11 personnel as recently as two weeks ago, but he rarely played there Thursday night.

He had taken a few third-down snaps out of 11 personnel each game but didn't against Dallas.

Tennessee also stuck with either

Austin Hooper

or

Geoff Swaim

from 11 personnel on early downs the vast majority of the time.

Okonkwo finished with three catches, 

which was tied for the most on the team prior to hurry-up situations in the fourth quarter where he was rarely on the field.

He will likely end the season leading tight ends in yards per route run, but the Titans could easily have a three- or four-man rotation at tight end like they've constantly had with Mike Vrabel at head coach.

Okonkwo will be a high-upside late-round draft pick all spring and summer, but it would take a big change in strategy for him to pay off.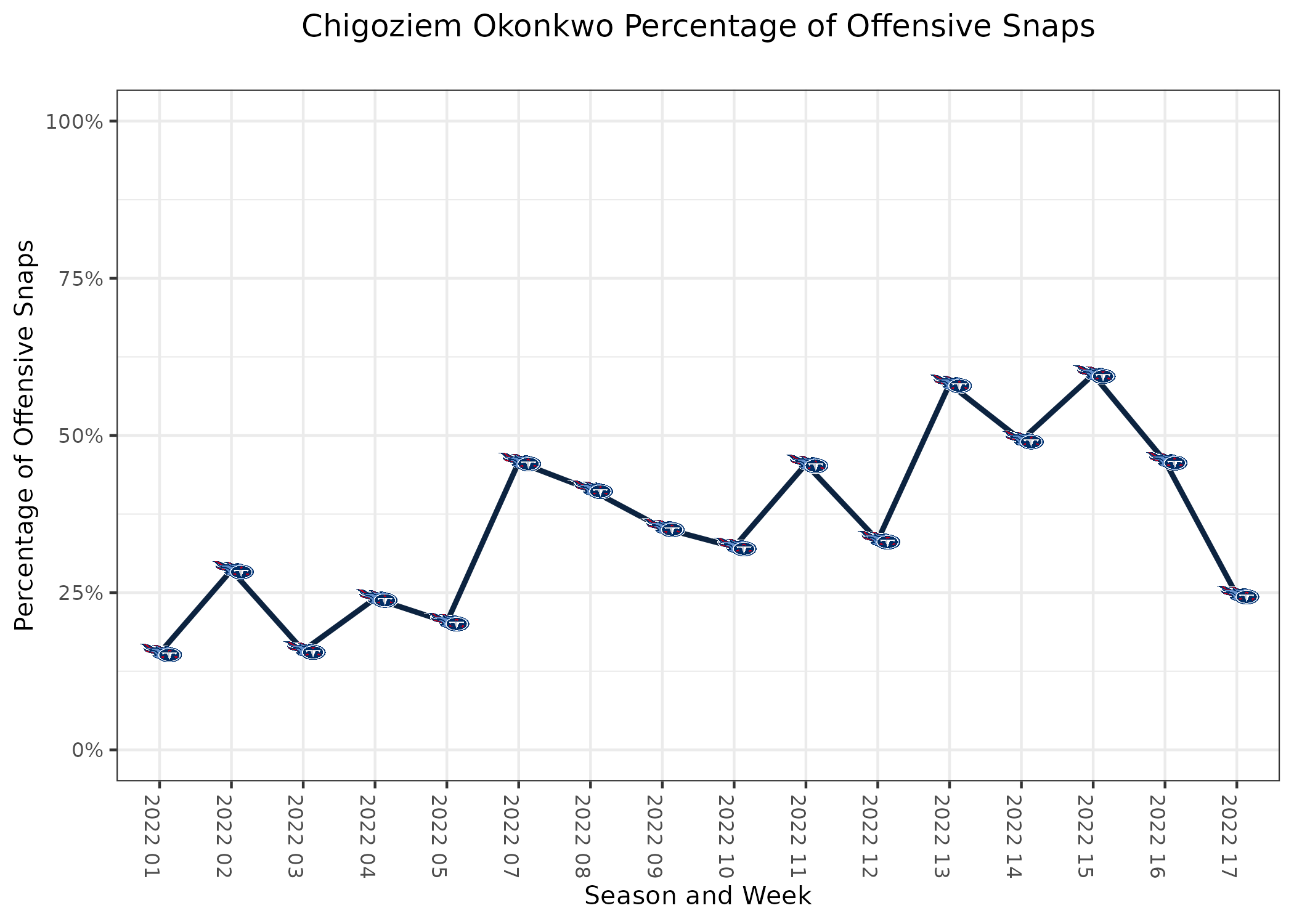 ---
Table Notes
• Snaps include plays called back due to penalties, including offensive holding or defensive pass interference. The other three stats have these plays removed.
• Targets may differ from official NFL sources. The most likely discrepancy would be from a clear thrown-away pass, where the NFL may give the target to the nearest receiver, while this data will not.
• Carries are only on designed plays. Quarterback scrambles won't count for the total number of carries in the game.