• Amon-Ra St. Brown: 11 receptions, 114 yards, 2 touchdowns, 1 carry, 2 rushing yards
• D'Andre Swift: 14 carries, 62 yards, 1 touchdown, 4 receptions, 49 receiving yards
---
PFF's fantasy football recap focuses on player usage and stats, breaking down all the vital information you need to achieve fantasy success in 2022.

Jump to another recap:
[email protected] | [email protected] | [email protected] | [email protected]
[email protected] | [email protected] | [email protected] | [email protected] | [email protected]
[email protected] | [email protected] | [email protected] | [email protected]
---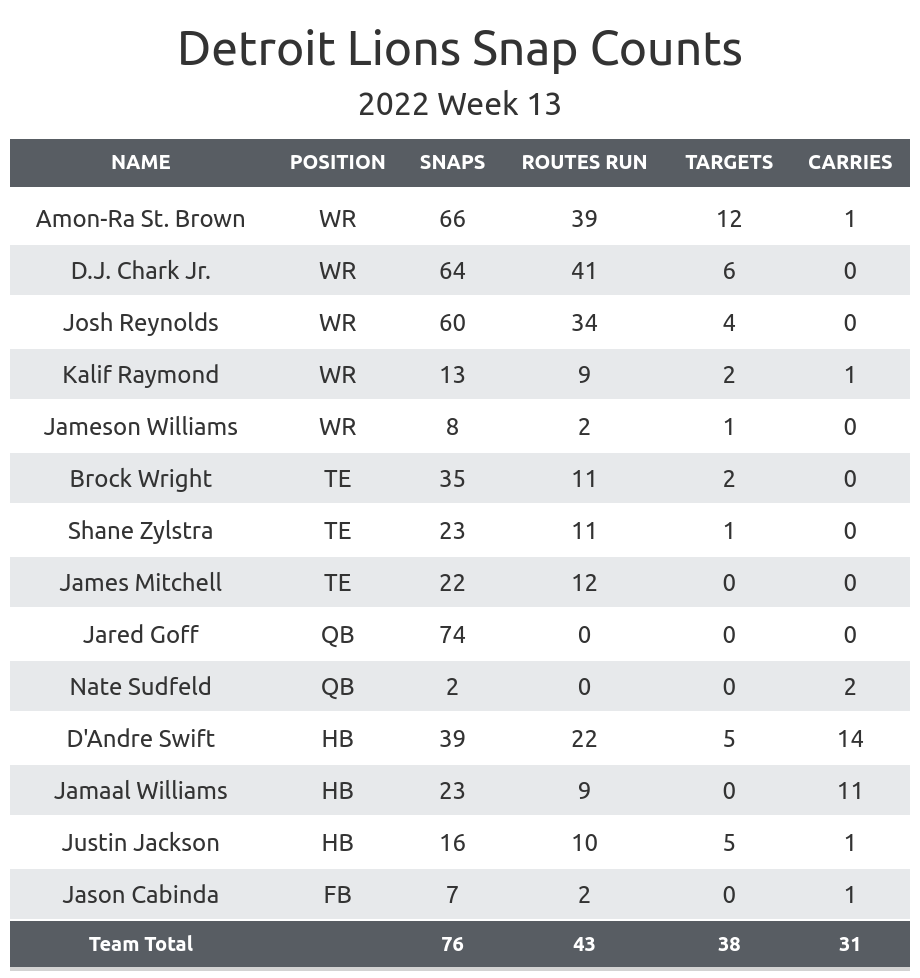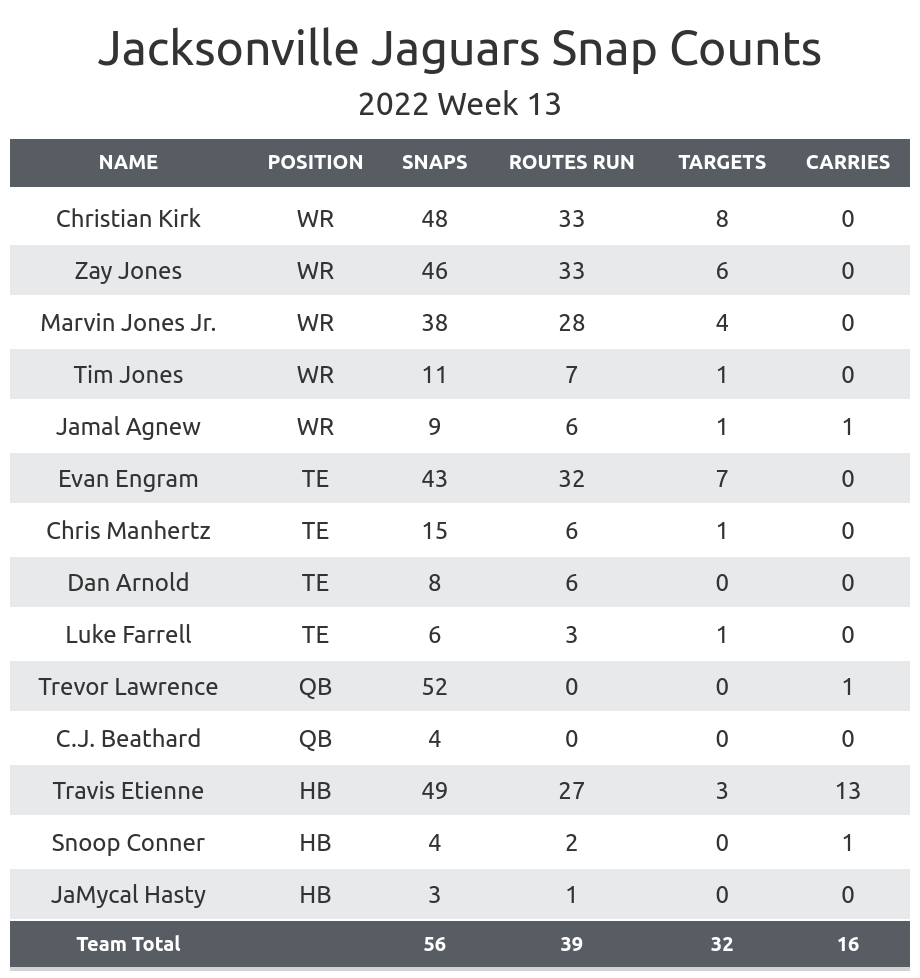 D'Andre Swift on the rise: The Lions got Swift more involved in the offense this week than they had in weeks past.
His playing time increase largely came on early-down snaps.

This seemed to be the plan from the start, as Swift saw a slight edge over both other backs on early downs in each quarter, with a big lead in the fourth quarter.

He continued to be the primary back on third downs.

Swift received some goal-line opportunities largely thanks to a hurry-up offense.

Jamaal Williams

should still be expected to see the majority of short-yardage and goal-line work going forward.

This remained a three-back committee. Williams saw a significant decrease in snaps, while

Justin Jackson

saw only a slight decrease.

Swift will be the player in the backfield to start the next two weeks, as the Lions will have competitive games against the Vikings and Jets.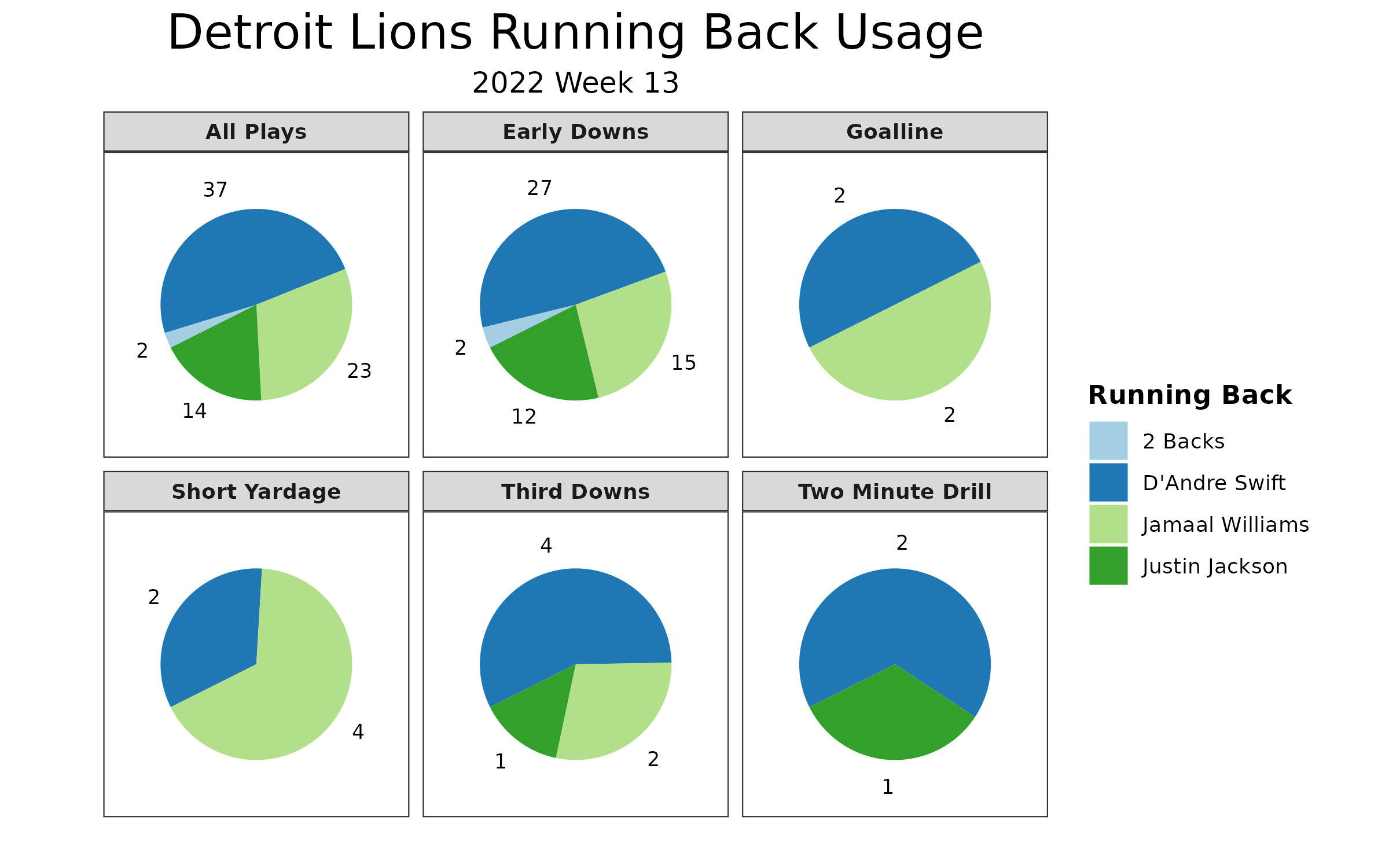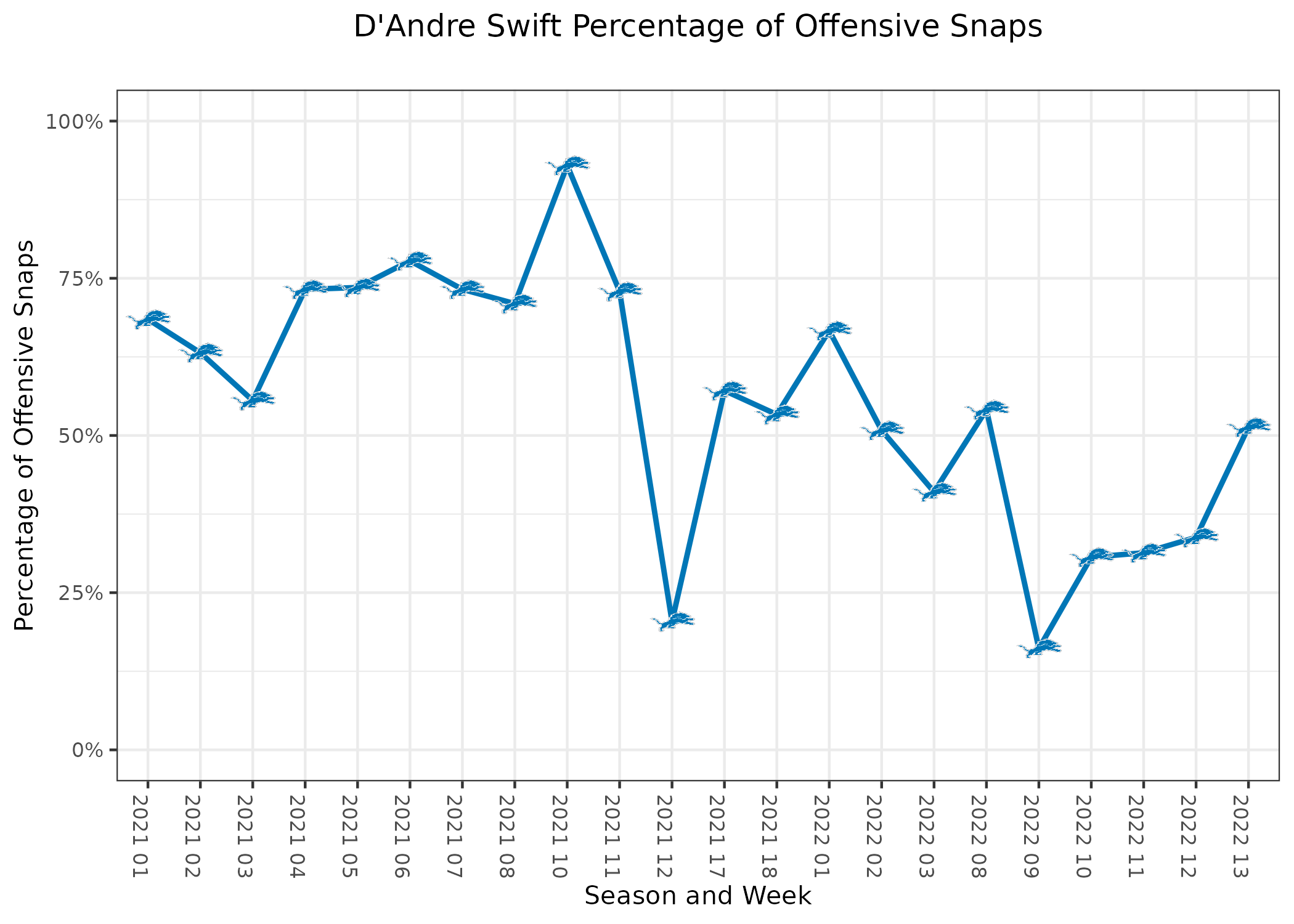 Jameson Williams' season debut: The first-round rookie played in his first game of the season, albeit in a very limited role for Detroit.
Both

D.J. Chark

and

Josh Reynolds

also returned in recent weeks and were given similar roles.

All three wide receivers in their first game back played just a few snaps per quarter — and more in rushing situations than passing.

Reynolds returned last week and was back to being a full-time No. 3 receiver for Detroit in this game.

Six of Williams' snaps came in two-wide receiver sets, and the other two came on the kneel-downs to end the game.

He didn't catch his only target.

There were reports before the game that Williams would be a gunner on the punt team, but Detroit never punted.

Williams will likely see more offensive snaps next week, but it was unclear who would be losing snaps based on how the receivers were used in this game.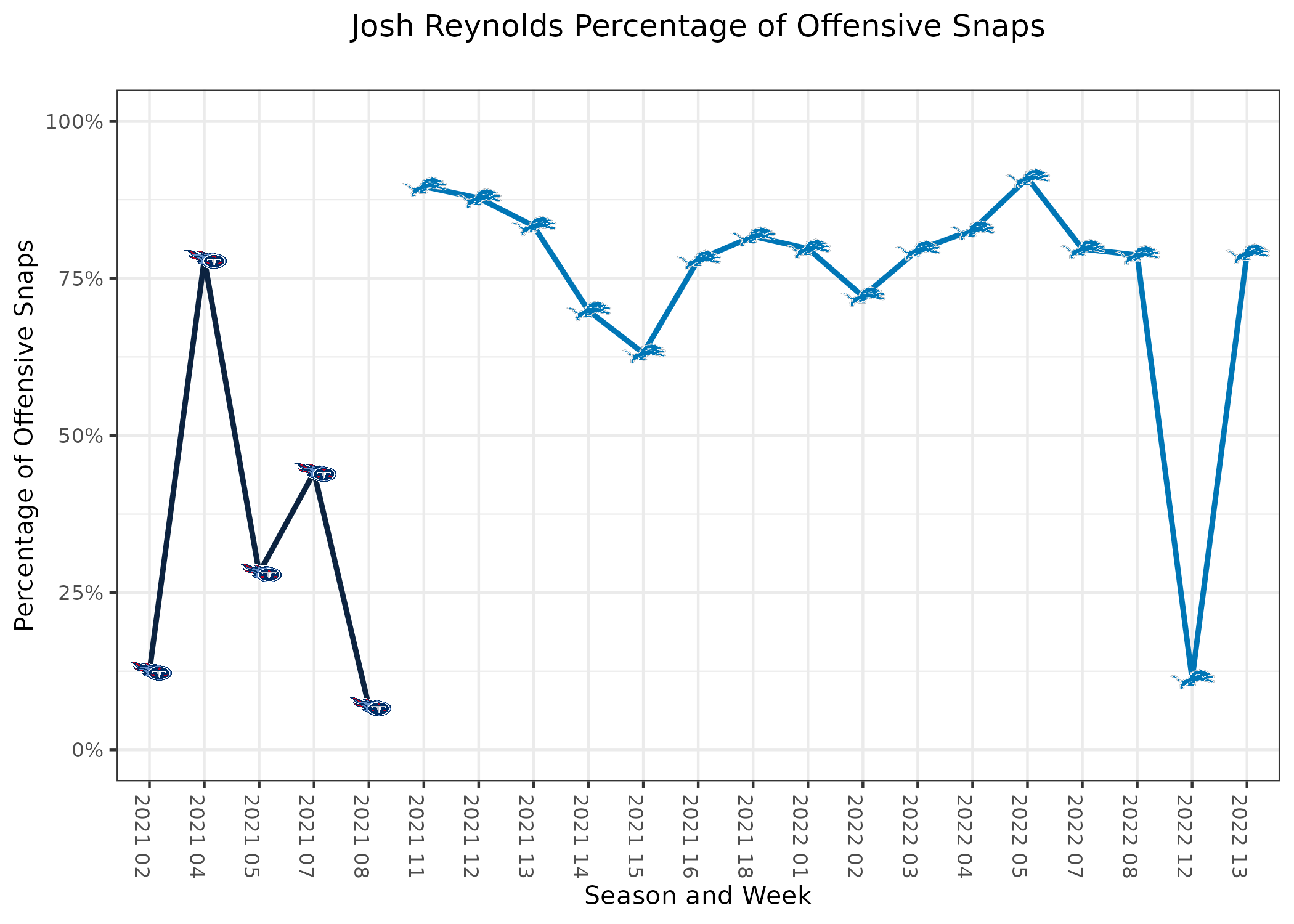 Travis Etienne's return: Etienne missed most of last week with a foot injury but played an even larger role than usual in this game.
There were reports last week that he could have returned to the game, but he was limited in practice all week with the foot injury.

He gained 54 yards on 13 carries and caught three passes for 12 yards.

He dominated offensive snaps unlike in any other game for him this season.

The Jaguars' offense struggled in general, with over half of their drives ending in four plays or less. Meanwhile, every Lions drive lasted seven or more plays and ended in a score outside of the kneel-downs to end the game.

This prevented the Jaguars from running many plays or having many scoring opportunities.

Etienne will have a high floor the rest of the season but could struggle these next few weeks against strong run defenses.

The Jaguars play the Texans in the fantasy football championship week, so any Etienne manager who can make their way to the final game has a good chance of winning with that great matchup.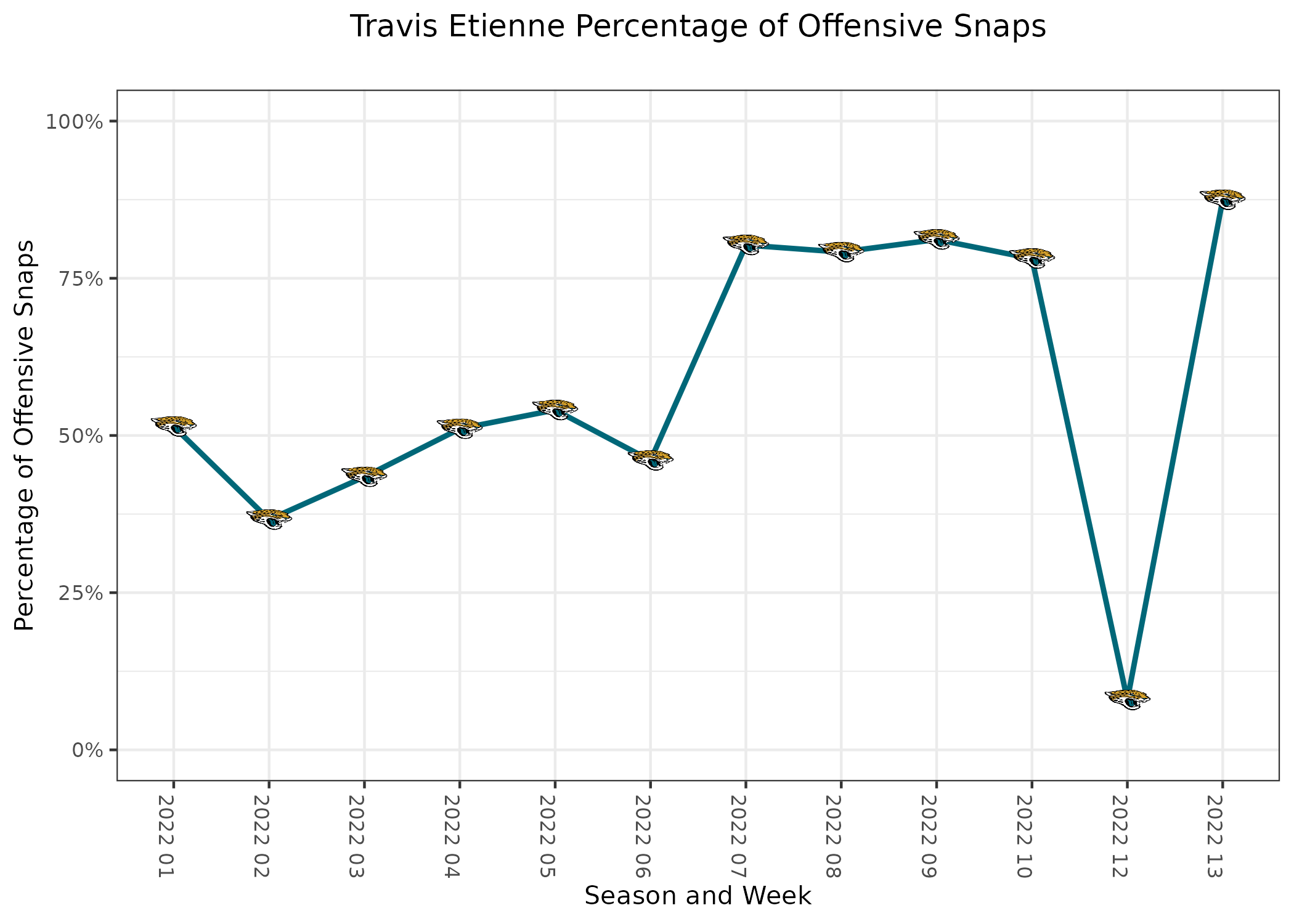 ---
Table Notes
• Snaps include plays called back due to penalties, including offensive holding or defensive pass interference. The other three stats have these plays removed.
• Targets may differ from official NFL sources. The most likely discrepancy would be from a clear thrown-away pass, where the NFL may give the target to the nearest receiver, while this data will not.
• Carries are only on designed plays. Quarterback scrambles won't count for the total number of carries in the game.