San Francisco 49ers had all of their stars involved on offense:

Brandon Aiyuk

and

George Kittle

each scored twice,

Deebo Samuel

once and both running backs gained over 50 yards on offense, leading the 49ers to victory.

Greg Dortch replaced Rondale Moore: Moore was injured after the first drive, leading Dortsch to take his place and be the Arizona Cardinals' clear second option in the passing game.
The Cardinals missed Zach Ertz:

Ertz was averaging 44 receiving yards per game, but the Cardinals' tight ends managed less than half of that amount.
Estimated reading time: 5 minutes
---
PFF's fantasy football recap focuses on player usage and stats, breaking down all the vital information you need to achieve fantasy success in 2022.

Deebo Samuel

: 2 carries, 37 yards, 1 touchdown, 7 receptions, 57 receiving yards

Christian McCaffrey

: 5 carries, 31 yards, 7 receptions, 67 receiving yards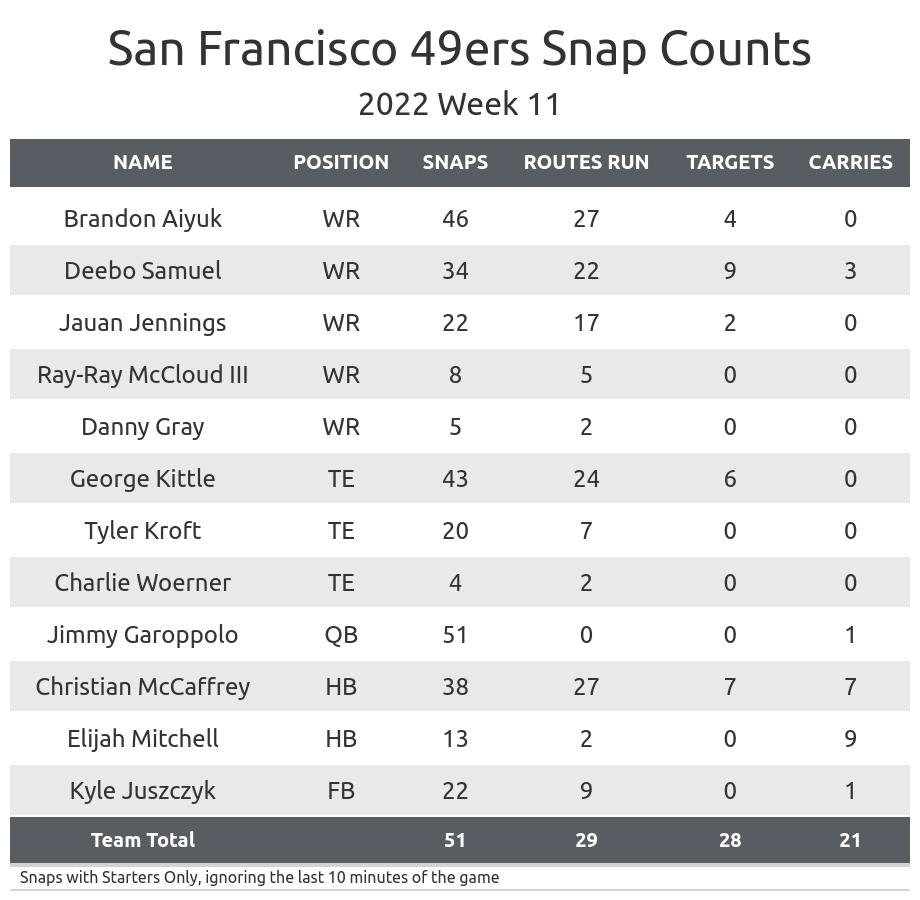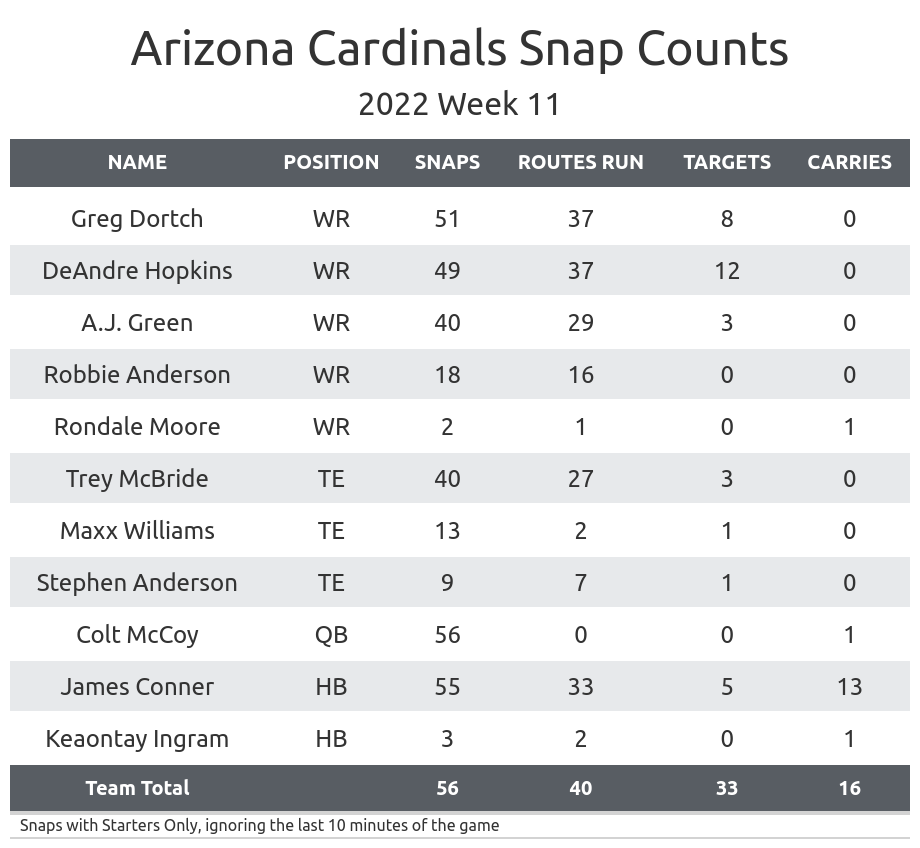 Monitor Rondale Moore's health: Moore suffered a groin injury on the first play of the game after a run for -6 yards. He played the following snap but was taken out on the following play and didn't return.
A number of fantasy managers were winning, started Moore anyway and then lost their fantasy matchup due to that 6-yard loss.

Greg Dortch

took Moore's role for the rest of the game, which included playing in the slot in three-receiver sets as well as being an outside receiver in two-receiver sets.

Dortch had served as the team's slot receiver earlier in the season before Moore was healthy. He was averaging 66 yards per game in September, and he gained 103 yards tonight.

Dortch would be a waiver wire target if Moore misses significant time.

It was somewhat surprising to see Dortch playing ahead of

A.J. Green

and

Robbie Anderson

in two-receiver sets.

Marquise Brown

was added to the injured reserve/designated to return list last week. He wasn't ready to return this week but could very well be ready in the next game.

We will likely see Brown and

DeAndre Hopkins

on the outside going forward, with Moore or Dortch in the slot depending on Moore's health.

It wouldn't be surprising if Anderson is released when Brown is put on the active roster.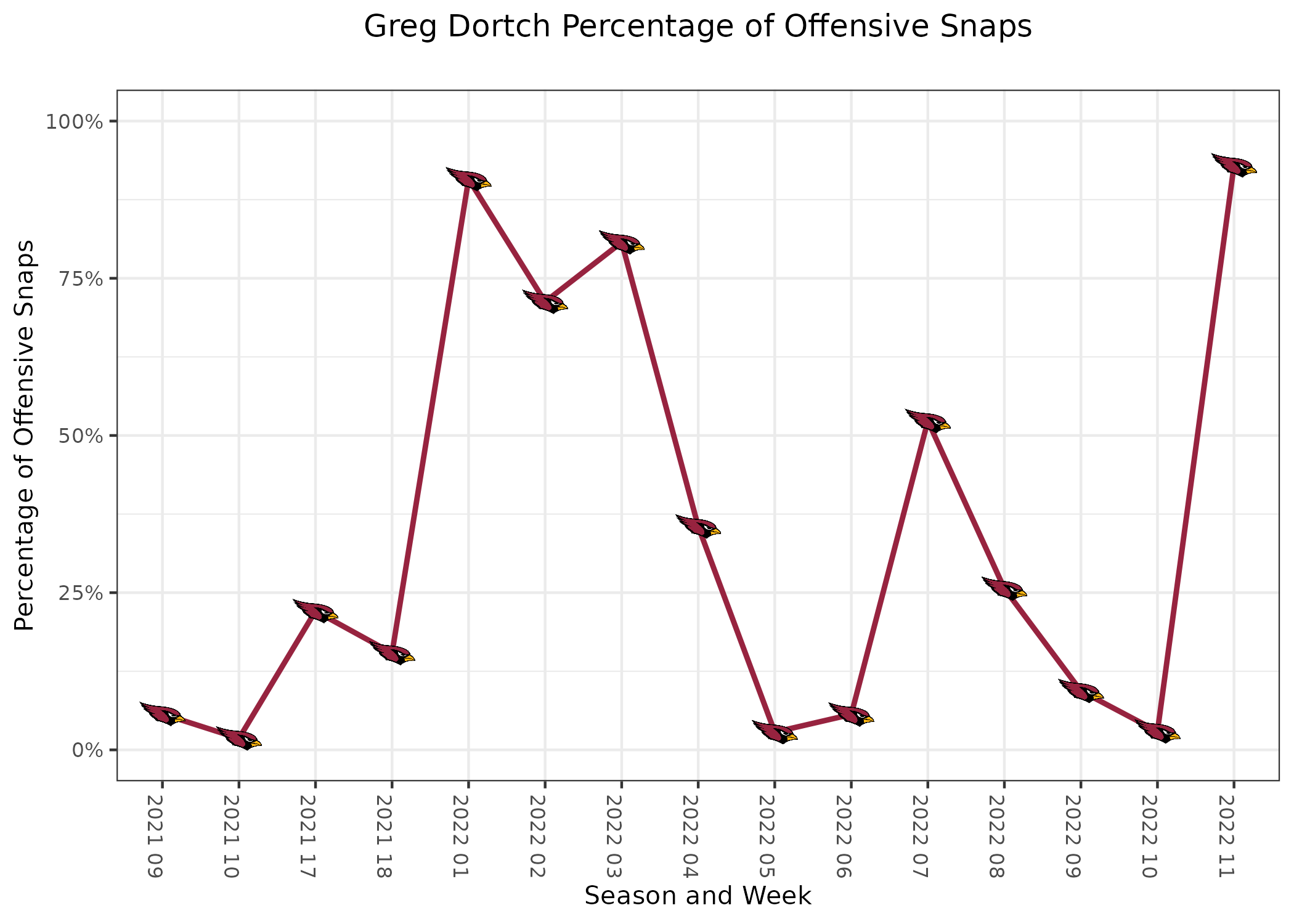 Trey McBride without Zach Ertz: The Cardinals' second-round rookie was the team's main tight end for the first time, but that didn't lead to much production.
McBride caught four passes, which matched his career number of receptions coming into the game.

He took Ertz's role in 11 and 12 personnel almost completely.

McBride didn't receive as many snaps or routes as Ertz would have because Arizona started to use four wide receiver sets more frequently. The Cardinals only used four-receiver sets six times from Week 2-10, but Arizona used it much more tonight.

This is good news for the fantasy value of the wide receivers, as it's more likely each of them can stay relevant when everyone is healthy.

It's also bad news for McBride. There is a chance he can improve over the next month, but that's no sure thing.

McBride can likely be left on the waiver wire in most leagues.

Stephen Anderson

was the primary backup on passing downs while

Maxx Williams

,

who was elevated from the practice squad, was the primary backup on rushing downs.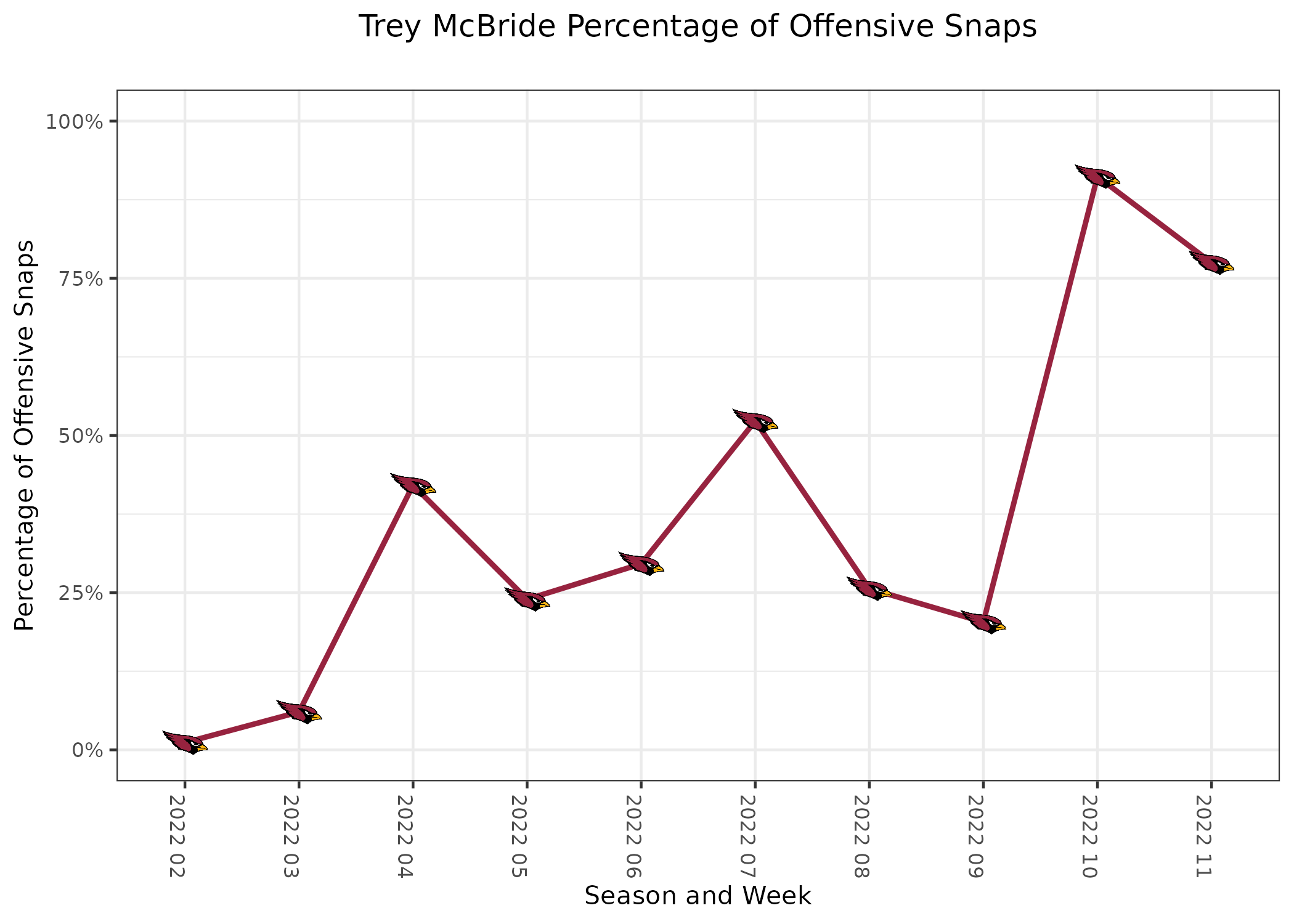 James Conner rarely leaves the field: Conner played in 55 of a possible 56 offensive snaps before garbage time.
He wasn't very effective rushing or receiving, but he carries the ball 14 times and saw five targets.

His inefficiency wasn't too surprising given he was facing the 49ers, who have allowed the fewest fantasy points to running backs this season.

The Cardinals face the Los Angeles Chargers next week, so Conner should have a much better game. He also faces the Atlanta Falcons during the fantasy championship round. Both teams are top 10 in allowing fantasy points to running backs.
Christian McCaffrey's role evolves: McCaffrey played a slightly snap rate than the previous week prior to garbage time, but that didn't necessarily help his fantasy production.
He played in 25 of a possible 28 snaps in the first half, which was a little better than his 22 of 29 last week.

McCaffrey and Elijah Mitchel basically split snaps in the third and the start of the fourth quarter, which happened both last week and this week.

The 49ers took both running backs out by the early fourth quarter, which didn't help the fantasy value for either player.

McCaffrey tied for the team lead in receptions, but it will be hard for McCaffrey to be the top running back in the league over the rest of the season with only 14 touches.
---
Table Notes
• Snaps include plays called back due to penalties, including offensive holding or defensive pass interference. The other three stats have these plays removed.
• Targets may differ from official NFL sources. The most likely discrepancy would be from a clear thrown-away pass, where the NFL may give the target to the nearest receiver, while this data will not.
• Carries are only on designed plays. Quarterback scrambles won't count for the total number of carries in the game.