• Baltimore Ravens QB Lamar Jackson leads the list now that he and the Ravens offense are mostly healthy compared to last season.
• There are several second-year wide receivers who should have an excellent sophomore season, but only one makes this list.
• Click here for more on how to make the most out of your PFF subscription to help you win your fantasy league.
Estimated reading time: 7 mins
---
It's "my guy" season at PFF — time for us to plant our flags on players we like more than most. For my list, I compared my rankings to my peers and only considered writing about the players I ranked the highest or tied for highest. These are all players that I've found myself adding in several leagues and players I've held onto or acquired in dynasty leagues.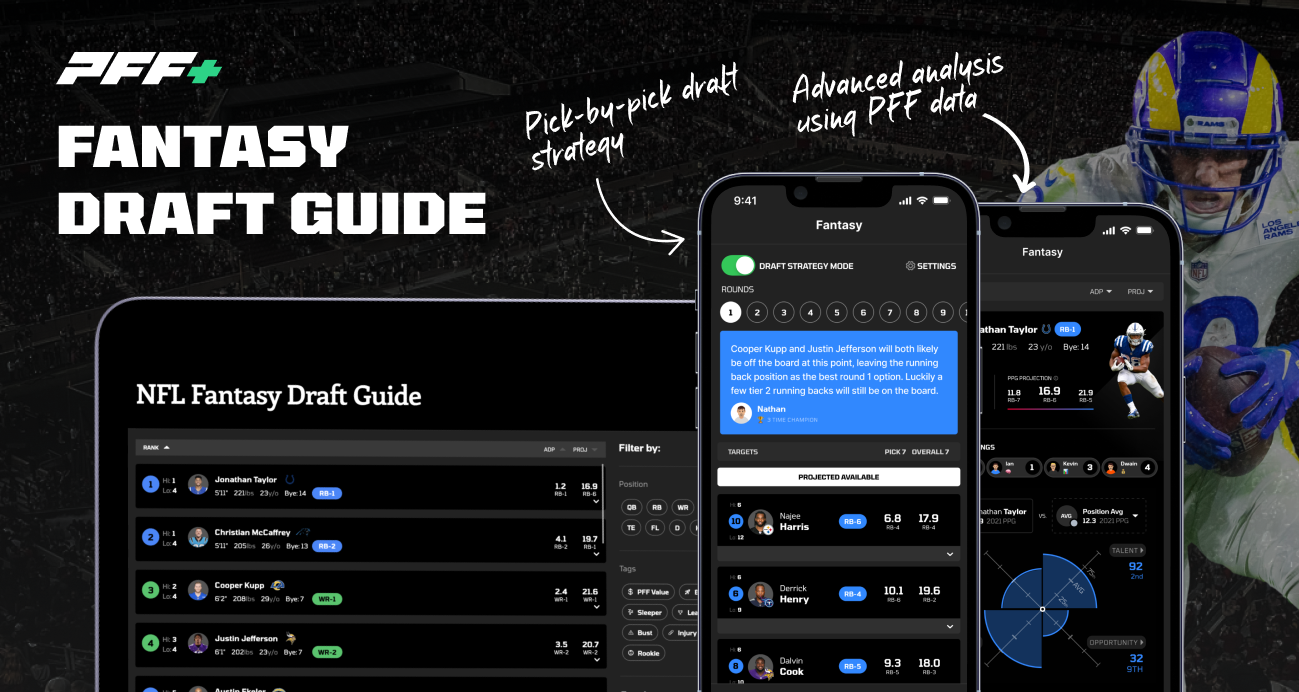 All PFF+ subscribers now have access to our revamped fantasy football draft guide, which has all the streamlined and intuitive features you'll need to dominate your draft this season. CLICK HERE TO SIGN UP FOR PFF+ AND TRY IT FREE TODAY
---
QB Lamar Jackson, Baltimore Ravens
Jackson burst onto the scene in 2019 with one of the best fantasy quarterback seasons in NFL history. He only threw for 3,127 passing yards but made up for that with 1,206 on the ground, plus 36 passing and seven rushing touchdowns. 
He followed up that season with an inconsistent 2020. He managed five top-seven finishes over the first 11 weeks, along with five where he wasn't a top-16 quarterback. Over that time, he dealt with both a knee injury and Covid-19. He was QB2 over the last five weeks of the season after dealing with both of those issues, averaging nearly as many points per game as he did in his record-breaking 2019 season.
The former MVP was QB4 through the first 10 weeks of the 2021 season before injuries derailed the second half of the year. This was particularly impressive considering he didn't have his top three running backs, two of his wide receivers, his second tight end or his best offensive lineman for most of that stretch.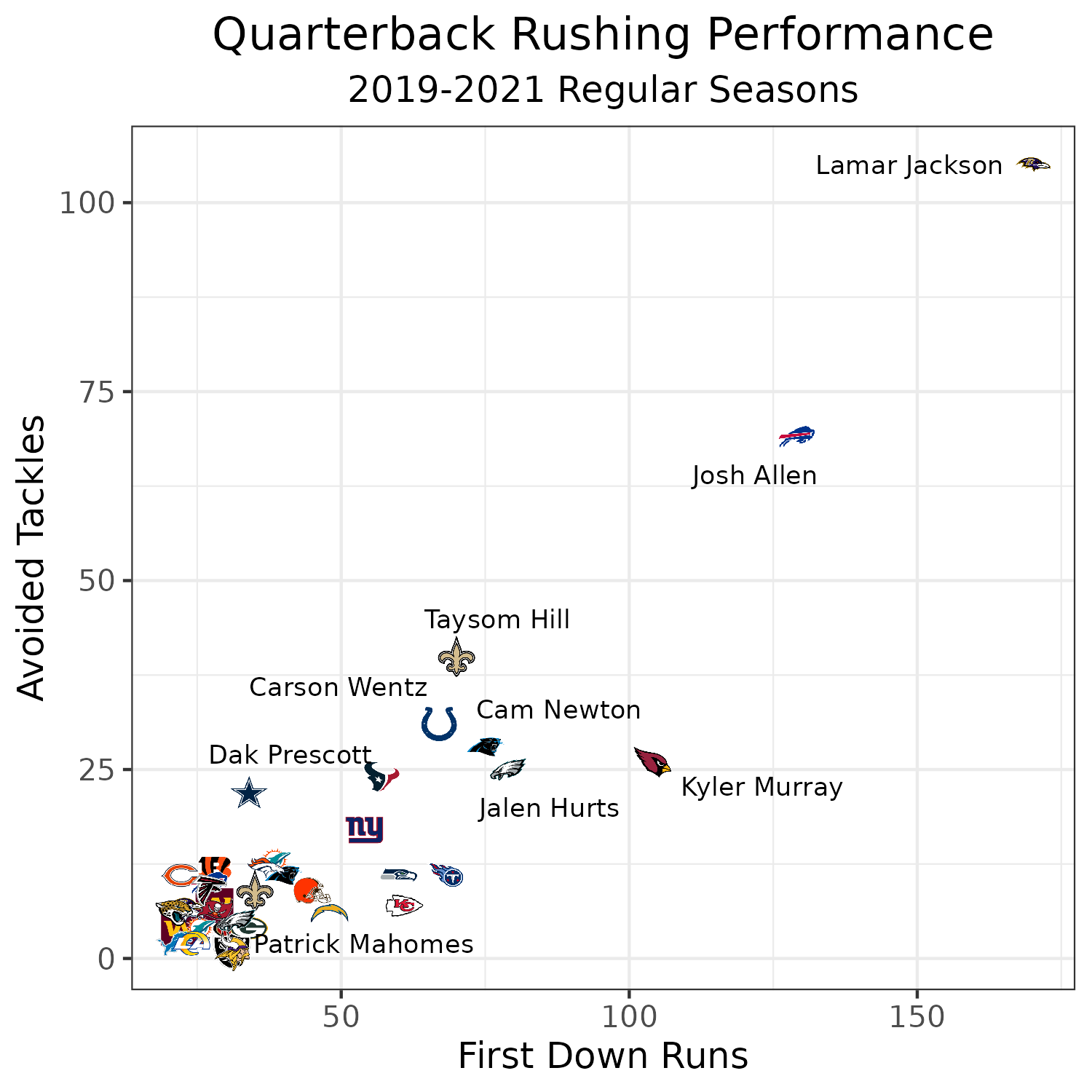 Jackson's offense should be much closer to full strength to start this season. The running backs still aren't at 100%, but they were much more prepared this season to handle their potential absence. The Ravens also invested draft picks on the offensive line and two backup tight ends to give him more options. Isaiah Likely is one of those tight ends, and he's been one of the biggest highlights of all the preseason, giving Jackson one more receiving option. This should all be enough to elevate the offense get to the red zone and allow Jackson to score several touchdowns.
If Jackson can continue to be one of the best decision-makers in the NFL mixed with his legs and a healthy offense, he could have one of the best fantasy seasons we've seen from a quarterback.
---
Ekeler joined the Chargers as an undrafted rookie in 2017 and became a fantasy football star in 2019 after a 92-catch, 993-yard season. Injuries hindered his 2020 season, but there were plenty of reasons to expect a bounce-back in 2021. This included a much-improved offensive line and a new coaching staff that would better utilize him.
This allowed Ekeler to be the most productive receiving back in fantasy football. This included leading all running backs in receiving yards (647), yards after the catch (621), receiving touchdowns (8) and receiving first downs (31). What made 2021 stand out for him compared to 2020 was his rushing, where he gained 911 yards on 206 carries and scored 12 touchdowns.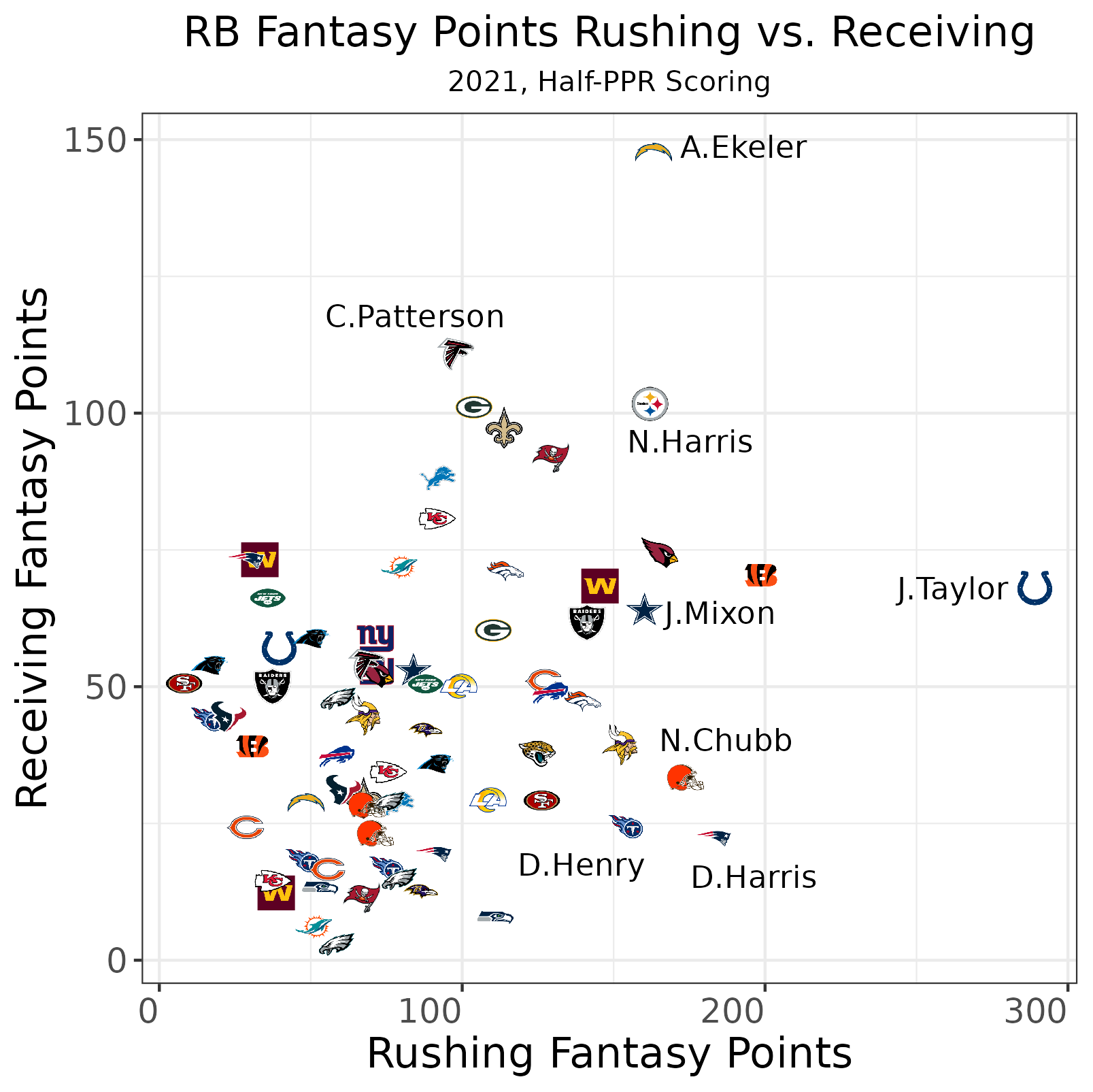 There is reason to believe he can have a better 2022. The Chargers retained their coaching staff and the vast majority of their offense. Another year together should lead to better results and more trips to the red zone so Ekeler can keep up his touchdowns. They added right guard Zion Johnson in the first round. He is extremely athletic, measuring in the 90th percentile or above in most combine drills, and ranked 24th overall on the PFF big board. This gives Los Angeles one of the best offensive lines, which can only help Ekeler's efficiency.
He also lacks competition in the backfield, which also helps his volume. He will never be a 300-carry player due to his size, but he will still get the ball as much as he can handle. The Chargers rotated backups throughout the preseason. They drafted Isaiah Spiller in the fourth round, but he remains fourth on their depth chart. Los Angeles is exploring adding another player. Some combination of other backs will see eight carries per game, but that isn't going to stop Ekeler's workload.
When you consider the age, injury history and talent surrounding the other backs, Ekeler and Jonathan Taylor are the two backs in the best situation to succeed this season. He needs to be a top-five pick again this year.
---
St. Brown was drafted in the fourth round of the 2021 draft. He was considered a fantasy sleeper due to the lack of wide receiver depth for Detroit. He began the season only playing in three wide receiver sets, while Tyrell Williams and Kalif Raymond played in the base offense. He would play almost exclusively in the slot, with only one game with double-digit snaps on the outside over the first 11 weeks.
Head coach Dan Campbell took over as the offensive play-caller in Week 10. Josh Reynolds was acquired and took one of the outside receiving jobs in Week 11. St. Brown went from rarely seeing the field in two wide receiver sets, to taking the majority of those snaps with Reynolds by Week 12. Wide receivers went from a 39.0% threat rate before Campbell to a 56.2% threat rate after him.
Part of the increased targets to wide receivers corresponded to injuries at running back and tight end, but even looking at the games where Campbell was play-caller and players at those positions were healthy, the Lions were still throwing to wide receivers more. The change led to the Lions scoring more points and winning more games, so it's a change that is likely to stick in 2022.
That change also led St. Brown to be one of the best fantasy wide receivers over the second half of the season. Only Cooper Kupp scored more fantasy points at wide receiver over the second half of 2021.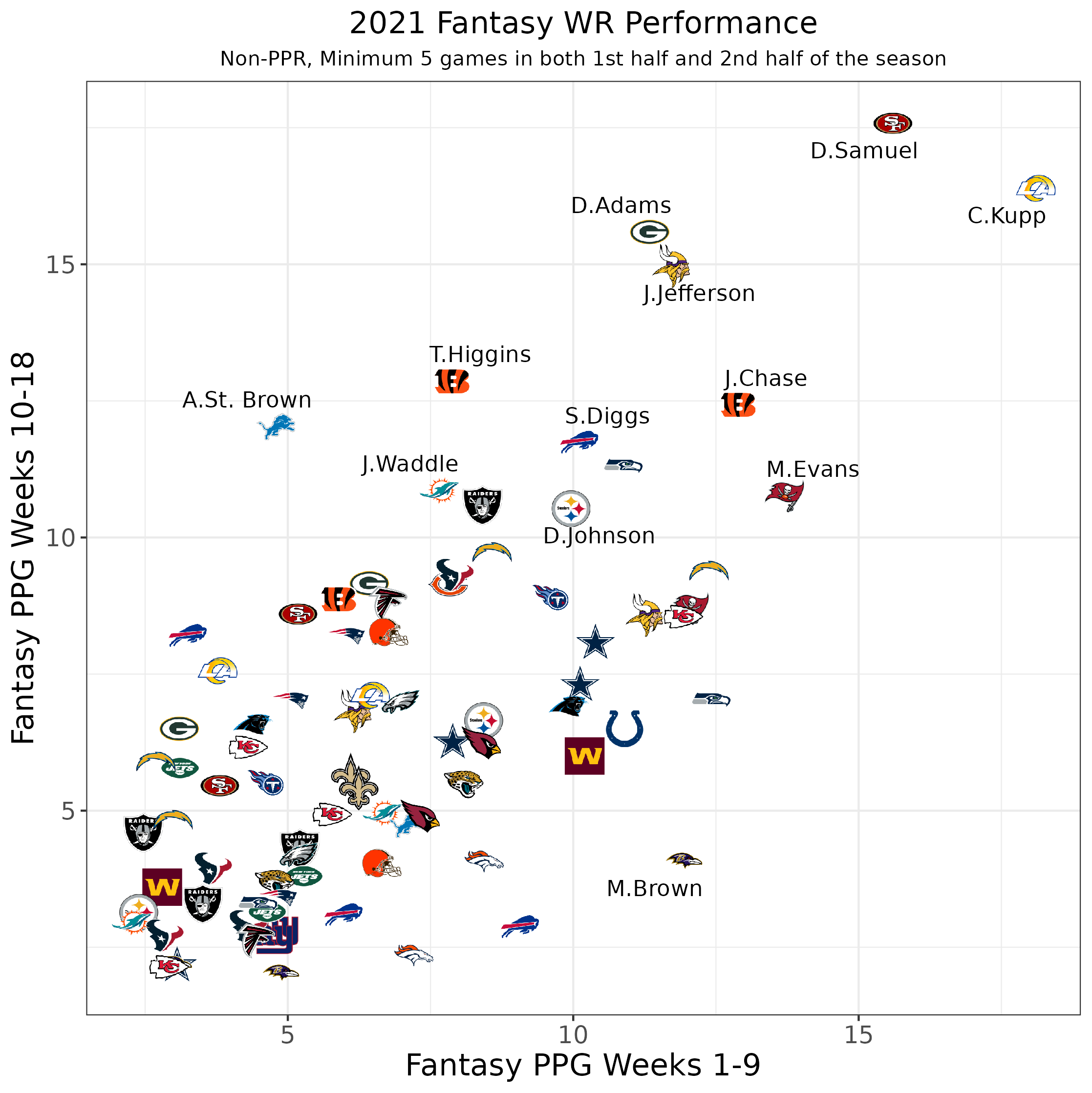 The other skill players are healthy now, and the team added D.J. Chark in free agency, which will hurt St. Brown's target share, but the team is also healthy on the offensive line, unlike last season. This should lead to more red zone trips and touchdown opportunities. He might not see the volume needed to be a top-five fantasy wide receiver, but it will be enough to make anyone who drafts him very happy.
---
Kittle has ranked in the top-four in fantasy points per game among tight ends in each of the last four seasons. He's been the most efficient tight end over that time on a per-play basis but has dealt with a run-first offense and conservative quarterback.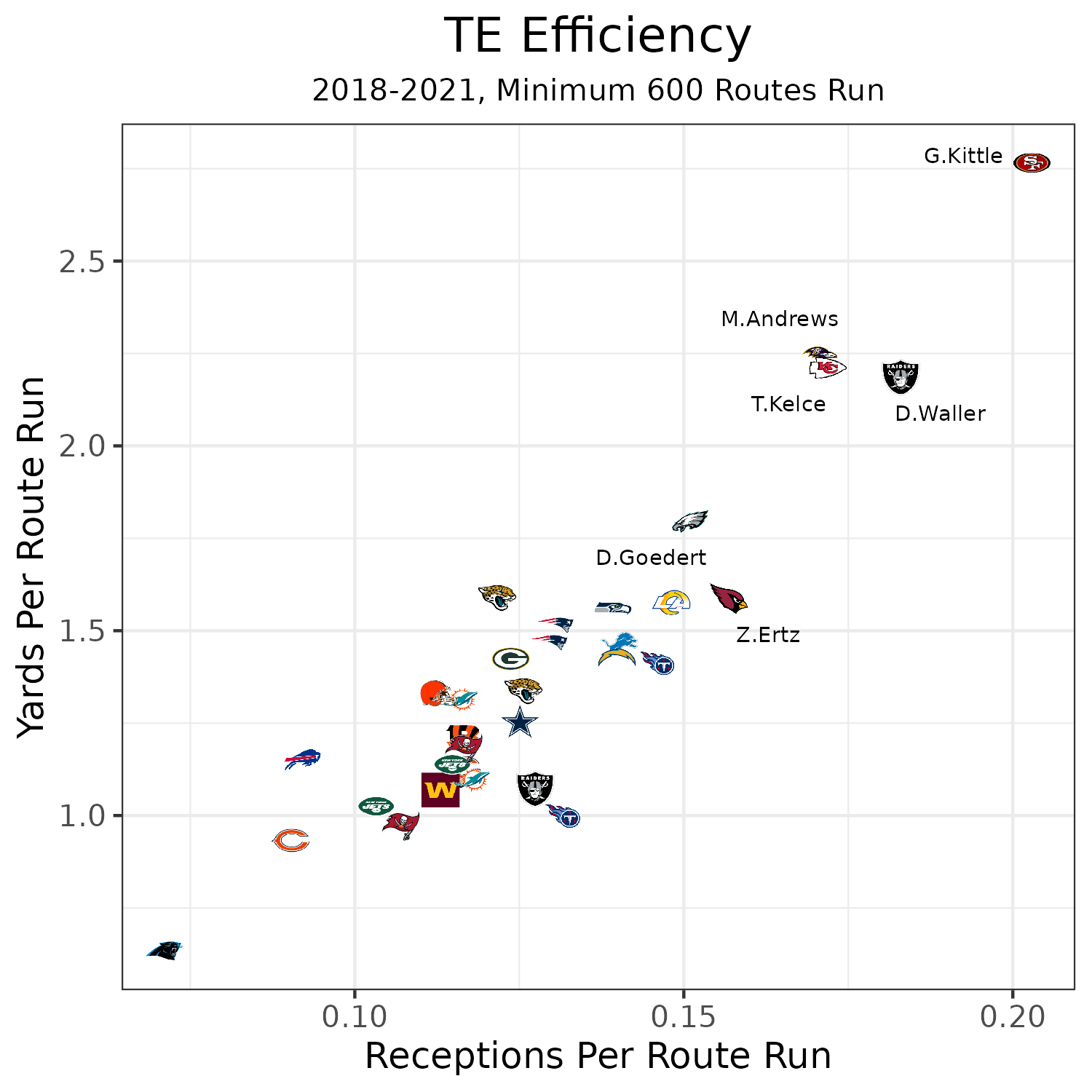 At the very least, Kittle should be considered a top-four tight end this year, as he's consistently performed at that level, but there is reason to believe he can play even better.
The 49ers will likely need to pass more this year compared to years past due to changes on the offensive line. Three of their top four highest-graded players in run-block grade last season are no longer on the roster. They still have Trent Williams at left tackle, and he is an All-Pro who had a historic 2021, but the rest of the line is at a replacement level in run blocking. A decrease in running efficiency should lead to more passing.
The 6-foot-4 tight end has also been held back by Jimmy Garoppolo, who consistently ranked near the bottom of the league in deep-pass rate. He threw deep on 7.5% of attempts last year, ranking third-lowest among quarterbacks. That 7.5% rate was also his highest in the last three seasons.
Kittle has graded as the best deep-threat tight end over the past two seasons, and new 49ers starting quarterback Trey Lance will be able to take advantage. Lance threw deep passes on 18.3% of his limited attempts last season. More big plays and touchdowns from Kittle will help him stand out.
There were so many tight ends that saw their fantasy value fall this off-season because of how they were used. That makes it as important as ever to get one of the few elite tight ends. Kittle is one of the best values compared to his current ADP.