Are you ready to dominate Fantasy football? Don't just sit and watch the NFL this season — try PFF+ free for a week and get into the action with best ball, redraft leagues and daily fantasy sports contests.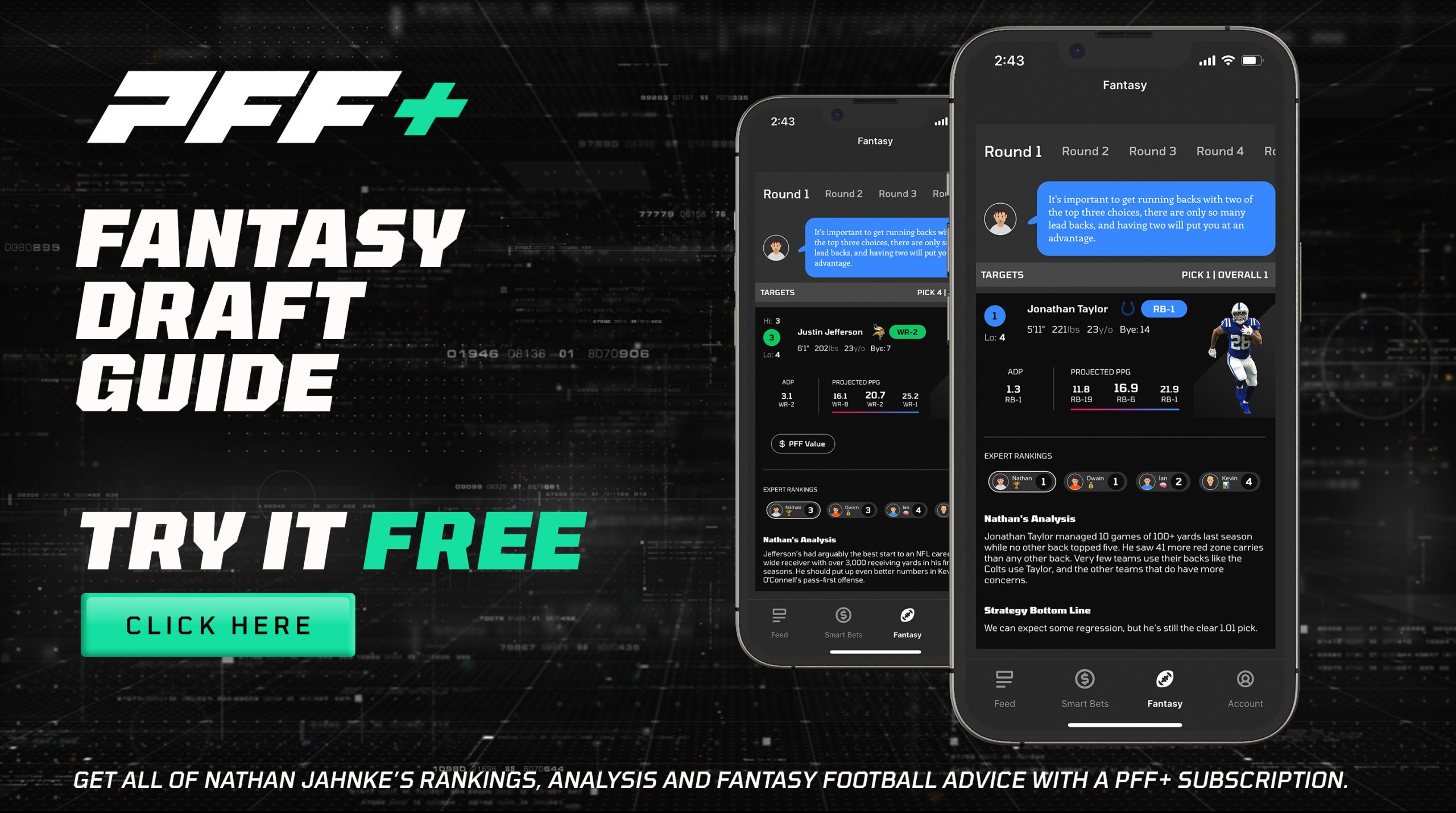 Your free 7-day trial comes with:
• Interactive rankings from the best experts in the industry: Ian Hartitz, Dwain McFarland, Kevin Cole and Nathan Jahnke (No. 3 ranker at FantasyPros in 2019, No. 2 in 2020, No. 5 in 2021)
• Projections: floor and ceiling PPG for every player
• Filter by player tags: sleepers, busts, breakouts, rookies and injury risks
• Fantasy Football Draft Strategy Mode, with 60 unique strategies: Pick-by-pick strategy for your draft slot by our experts
• Round-by-round value picks and analysis to make sure you draft the right sleepers and avoid the busts
• Choose between different scoring and types: PPR, half-PPR, no PRR, standard, 2 QB/Superflex
---
INTRODUCING DRAFT STRATEGY MODE
Now, you can customize for your league size and the exact pick you have in an upcoming draft. From there, you can see the exact players to target in every round, based on those most likely to be available for your pick and our expert recommendations.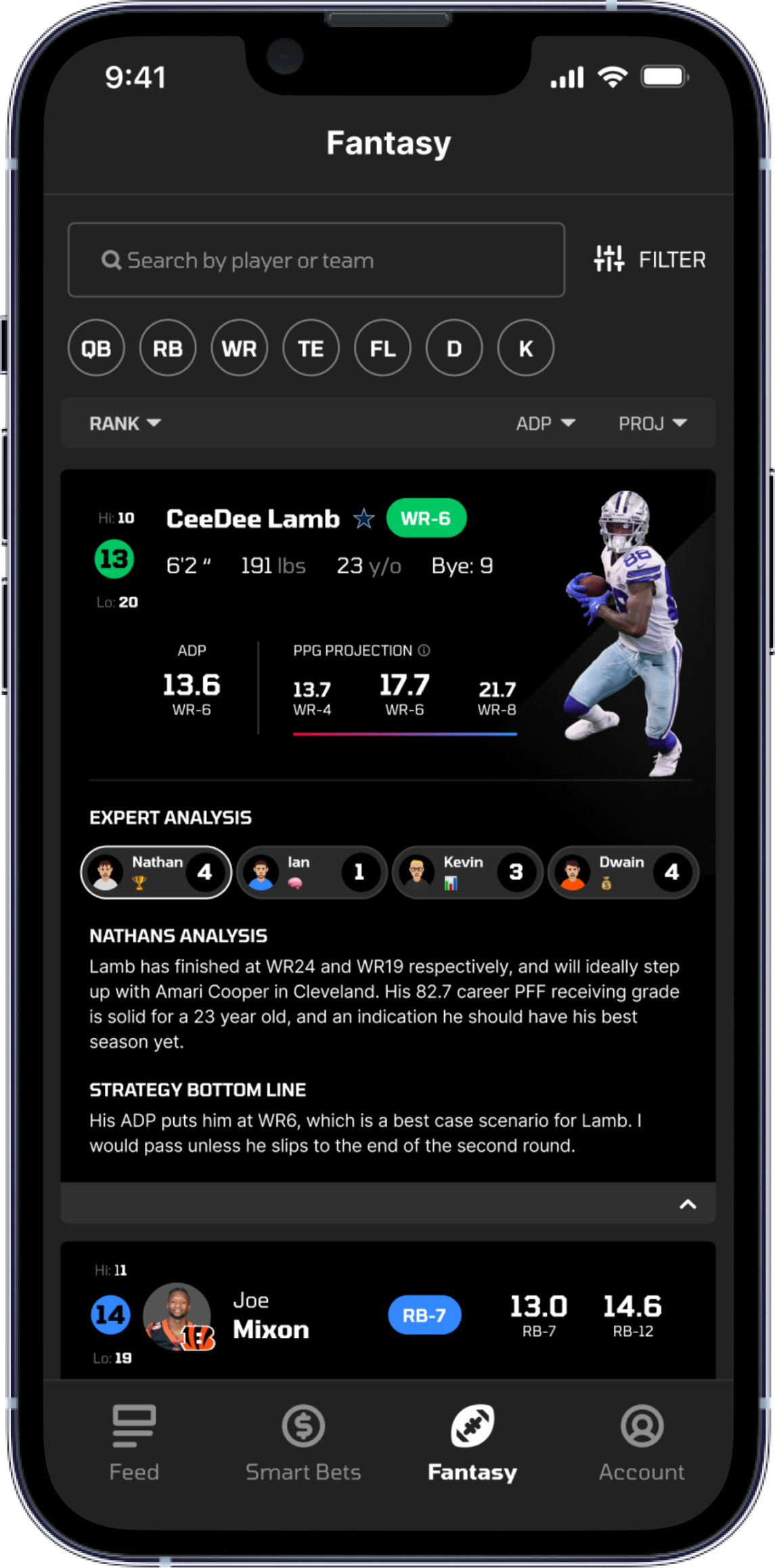 It's like bringing four of the best minds in fantasy football along for the ride.
---
CUSTOMIZATION BY LEAGUE
PFF's expert rankings and projections adjust for scoring and league format. With a couple of clicks, you can transform all the power of PFF's data and analysis to match exactly what you need.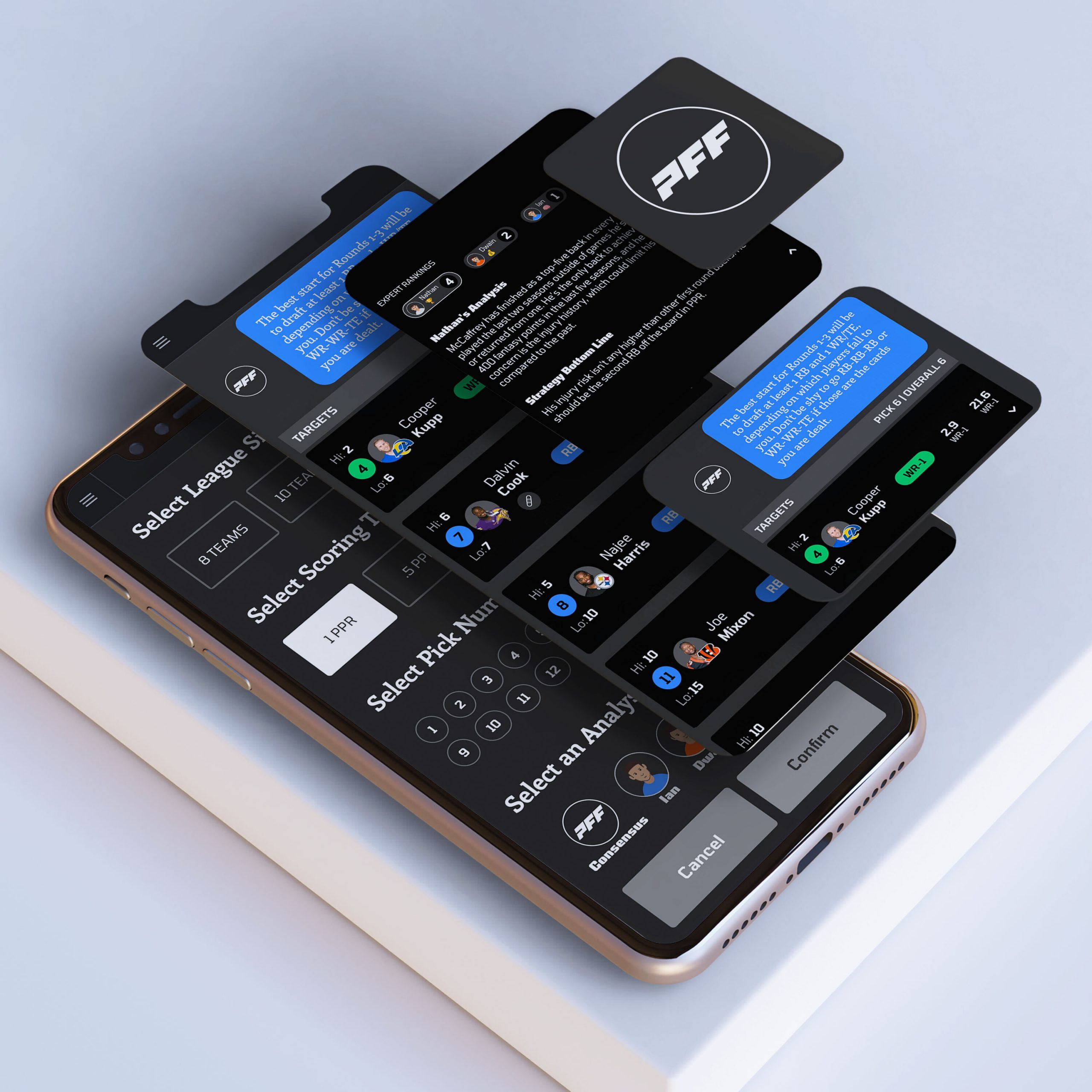 PFF's new fantasy football guide has 60 different strategies, so you don't have to waste time preparing for your fantasy football draft:
Select your league size: 8-, 10- or 12-team league
Select your scoring format: PPR,half-PPR or no PPR scoring
Set your league format: Traditional, single-QB or 2QB/Superflex league
Select your expert: Go with the advice of one of our fantasy football experts or get the best of everything and go with the consensus


---
RANKINGS FROM EVERY PFF FANTASY FOOTBALL ANALYST
You can quickly become the expert in your league without having to do countless hours of research on every player.
PFF's fantasy experts not only give you the typical rankings but they also provide industry-leading analysis and a bottom-line strategy for every player.
---
TARGETING DIFFERENT PLAYER TYPES: SLEEPERS, VALUES, BREAKOUTS, BUSTS AND MORE
Depending on the draft, fantasy managers will need different types of players for different situations. With the press of a button you can see:
Our fantasy experts' projected breakout players
Our fantasy experts' projected busts
Value picks based on ADP
Our fantasy experts' sleeper picks
A player's injury history


---
PROJECTED FANTASY POINTS WITH CEILING AND FLOOR PROJECTIONS
It's not just the expected projection value you care about. Sometimes, you're looking for safety. Sometimes, you need upside.

Typical, one-size-fits-all projections are a thing of the past. Now, you can easily identify both types of players with the projected range of outcomes for each player.
---
If you don't instantly become a smarter football fan or fantasy football manager in 7 days, you don't have to pay a dime. We will send you a reminder before your trial ends so you don't get hit with a charge you don't want.
---
You'll also get: 
Premium Content — Read every article on PFF.com, including all locked DFS and fantasy pieces. Featuring information betting content, along with in-depth analysis from our data scientists (Eric Eager, Kevin Cole, Timo Riske, George Chahrouri) and more.
Player Grades (NFL, College Football) — Review every player, of every play, from each NFL and FBS game of the 2021 season. Indulge in a high-level overview of statistical data from your favorite players.
2022 College Football Preview Magazine — Our exclusive CFB Preview Mag provides advanced insight for every FBS team entering the 2022 season. You get access to the same data, scheme analysis and more used by college head coaches and general managers.
Premium Stats 2.0 — Go beyond player grades! All PFF+ subscribers get access to our premium statistics database. Presenting grades for every NFL player with at least one snap played since 2006. You can also turn back the archives to view AAF and XFL information.
WHAT ARE YOU WAITING FOR?