Most of my big-picture takeaways from the 2017 fantasy season are of players fulfilling their potential. At quarterback, second-year starters Carson Wentz and Jared Goff made leaps to MVP candidate and certainly-not-LVP candidate. The No. 1 fantasy back, Todd Gurley, and No. 1 fantasy receiver, DeAndre Hopkins, each provided bounceback seasons that pulled their statistics up to their talent levels. And it's certainly the case that the timely production of players like Gurley, Goff, and Hopkins helped drag their owners through the fantasy playoffs. Still, my experience suggests that the hallmarks of most successful fantasy teams are the hit-on sleeper picks, and while talent jumps can be the source for those — like they were for Goff — opportunity jumps are easier to forecast.
Even with that understanding, I have at times found that I have been guilty of lazy assumptions that a Player Y will replace a Player X's production because the former is a brand name free agent, or a top draft pick, or the incumbent player at the latter's position. Sometimes those easy answers are correct, but often they miss the mark because football is not a plug-and-play sport. Teams need players with specific skill sets to fill specific roles, and the hot new free agent or draft pickup may not be the right fit to replace a team's losses, even if he helps the team in other ways.
Meanwhile, football is evolving away from position-driven roles to skill-driven roles. A pass to a slot receiver is not the only way for a team to generate a high-probability short reception, and so one shouldn't assume that a team will need a new slot receiver to replace the production of one who leaves. That production could come from a versatile receiving back or a tight end or some combination of players from different positions who can work the same areas of the field.
For fantasy preparation, I think that concept is best captured by depth groupings. Certain types of receivers are productive on short throws (0-9 yards in the air), others on medium throws (10-19 yards), and others still on long throws (20-plus yards). The former need quickness and precise route-running. The latter need speed and leaping ability. And while some teams have a freak athlete who can contribute everywhere on the field, most prefer to or are forced to specialize. That specialization enables a more nuanced examination of a team's offseason losses, which in turn can help discipline one's predictions for the sleepers who could replace them. Let's look back to last offseason to illustrate that approach.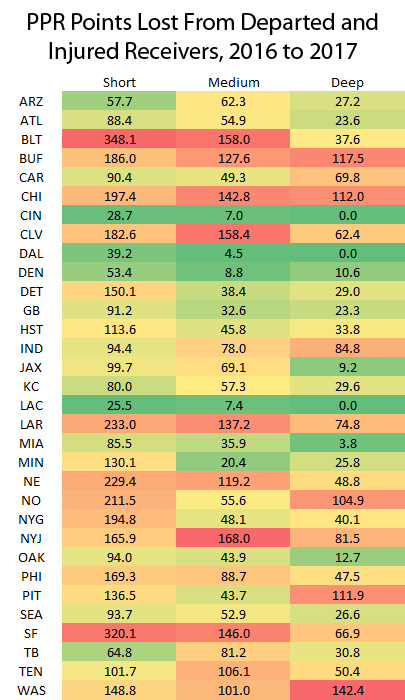 The table shows the PPR points each team lost between the end of the 2016 season and the start of the 2017 season because of players leaving in free agency, retiring, or suffering a preseason injury that would keep them out for the entire season. I've color-coded short, medium, and deep passes separately because of their imbalance in fantasy potential, and I'll cover the teams with the biggest losses in each category separately.
Subscribe to PFF Edge to continue reading
Already have a subscription? Sign In