Free agency and the 2022 NFL Draft have come and gone: It's time to fully embrace the 2022 offseason by breaking down the fantasy football aspirations of each and every team before drafts season truly gets underway in August.
What follows is a fantasy-focused breakdown of the Minnesota Vikings, focusing on key questions like:
Will

Kirk Cousins

supply sneaky-solid fantasy production in a potentially more pass-happy offense?

Just how many running backs should be selected before

Dalvin Cook

?

Is there enough volume for more pass-catchers than just

Justin Jefferson

to generate consistent fantasy production?
Every fantasy-relevant player from the Vikings will be covered in the following paragraphs. Make sure to check out the PFF Team Preview Landing Page through early July for more all-encompassing fantasy football coverage.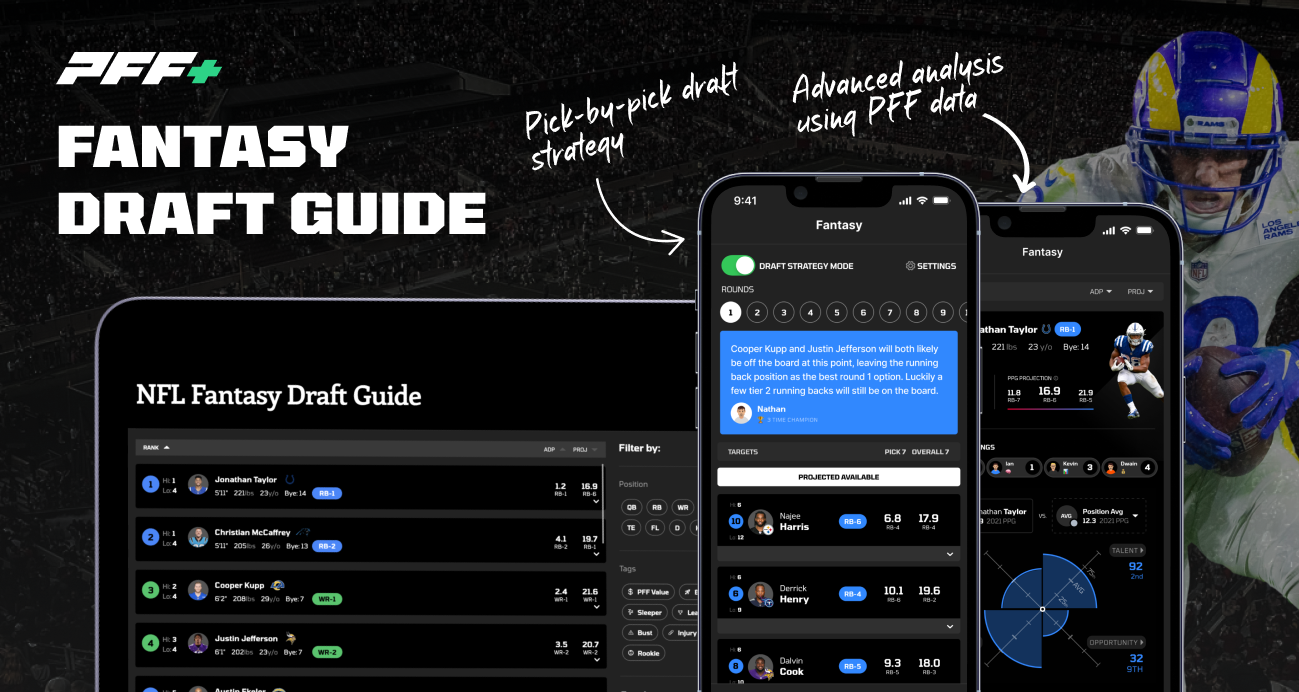 Notable offseason moves
From the front office to the coaching staff to the roster,  every 2022 NFL team will be different than its 2021 version.
The Mike Zimmer era is over after eight seasons produced a 72-56-1 regular-season record and a 2-3 playoff record. Enter Kevin O'Connell, who has worked under Sean McVay as the Rams offensive coordinator over the past two seasons.
Note that O'Connell also worked as the quarterbacks coach and later offensive coordinator for Jay Gruden in Washington from 2017 through 2019. He was joined by new Vikings offensive coordinator Wes Phillips along the way.
The hope in Minnesota is that O'Connell will deploy the same sort of high-scoring offense that has regularly been on display for McVay and the Rams over the last half-decade:
2017:

58.2% pass-play rate in non-garbage time situations (No. 23); 27.9 seconds per play in neutral situations (No. 1)

2018:

60.7% (No. 21); 29.05 (No. 3)

2019:

63.3% (No. 13); 28.3 (No. 3)

2020:

59.9% (No. 22); 29.8 (No. 12)

2021:

62.1% (No. 15); 29.27 (No. 4)
Expect plenty of funky window dressing to keep defenses honest. Since 2017, the Rams rank first in play-action rate (31.1%), seventh in screen rate (12%) and eighth in shift/motion percentage (52.5%). McVay has yet to lead a Rams offense that finished lower than 11th in yards, while 2020 was the only time they finished outside of the top 11 offenses in scoring.
It's obviously not a given that O'Connell will completely replicate what McVay was doing in Los Angeles, but they at least seem poised to throw the ball a bit more often (they finished 20th in pass-play rate in 2021) while moving at a quicker pace (17th). This is good news for all parties involved in fantasy land.
Additionally, the Vikings have made plenty of changes to their roster. The following quarterbacks, running backs, wide receivers and tight ends have either joined or left Minnesota in some way, shape or form this offseason:
RB Wayne Gallman: Remains an unrestricted free agent. The former Giants back didn't receive an offensive touch in two games with the Vikings last season.
WR Dede Westbrook:

Remains an unrestricted free agent. Westbrook was targeted only 15 times in 15 games last season. He did more work as a punt returner.
WR Chad Beebe:

Signed with the Texans. Son of Don, Beebee posted a career-best 20-201-2 receiving line in 2020 as the offense's primary slot receiver. His 2021 season was over before it started due to foot surgery at the end of August.
WR Albert Wilson:

Signed a one-year, $1,120,000 contract with the Vikings that doesn't include any fully guaranteed money. Wilson flashed over the years with the Chiefs and later the Dolphins, notably posting a 26-391-4 receiving line while averaging an absurd 3.03 yards per route run in just seven games back in 2018. 
TE Tyler Conklin: Signed a three-year, $20.25 million contract with the Jets. Thrust into a starting role after Irv Smith Jr. suffered an offseason meniscus injury last season, Conklin responded well with career-high marks in targets (87), receptions (61), yards (593) and touchdowns (3).
TE Chris Herndon:

Remains an unrestricted free agent. The ex-Jets talent was targeted just seven times in 16 games last season, regularly being used as more of a block-first option behind Conklin.
TE Luke Stocker:

Remains an unrestricted free agent. The soon-to-be 34-year-old  veteran received just two targets in 12 games with the Vikings last season, regularly working as more of a block-first player when on the field.

TE Johnny Mundt:

Signed a two-year, $2.1 million deal with the Vikings that included just $200,000 in fully guaranteed money. Mundt saw just 13 targets in 47 games with the Rams over the past five seasons, so don't expect him to suddenly fulfill a major role in the passing game.
The Vikings also made a trio of late-round additions to their skill-position rooms in the form of North Carolina RB Ty Chandler (Round 5, pick 169), Michigan State WR Jalen Nailor (Round 6, pick 191) and South Carolina TE Nick Muse (Round 7, pick 227). None appear particularly set up all that well in an offense that seemingly is already set in terms of starters at these positions. It's unlikely any of them carve out remotely fantasy-relevant roles in 2022: The fantasy track record of players not selected outside of the draft's top three rounds isn't pretty.
Cousins is better at football than you think.
Kirk Cousins pic.twitter.com/ueRo6OL0ie

— Ian Hartitz (@Ihartitz) July 4, 2022
It's understandable that Vikings fans aren't exactly overjoyed with his 33-29-1 record in four seasons in Minnesota, but you'd be hard-pressed to find an efficiency stat that paints him as anything other than an above-average quarterback (at worst):
PFF passing grade:

90.7 (No. 6 among 60 quarterbacks with 300-plus dropbacks since 2018)
Big-time throw rate:

4.5% (tied for No. 21)
Turnover-worthy play rate:

2.6% (No. 9)
Yards per attempt

: 7.7 (No. 14)

Adjusted completion rate:

78.9% (No. 3)
There's hope that a more nuanced passing attack will only help further solidify Cousins as one of the league's more underrated quarterbacks. The Rams rank first in play-action rate since 2018; the Vikings rank 12th. There's an even wider disparity in favor of Los Angeles in terms of shift/motion rate (No. 7 vs. No. 22) as well as screen rate (No. 9 vs. No. 22).
Still, the one area in which Cousins & Co. needs to improve is in limiting pressure. Only the Giants, Texans, Seahawks, Dolphins and Jets have been worse than the 27th-ranked Vikings in pressure rate allowed since 2018. Last season, only Jameis Winston suffered a larger drop-off in yards per attempt (-3.95) than Cousins (-3.43) when pressured vs. when kept clean.
PFF's 19th-ranked offensive line entering 2022 shouldn't be confused as an elite unit, but PFF's Mike Renner noted: "This could sneakily be the best offensive line of quarterback Kirk Cousins' Vikings career."  PFF's 15th-ranked receiving corps has a much higher ceiling should Adam Thielen stay healthy and if WR K.J. Osborn, as well as TE Irv Smith, develop.
The right pieces are in place with the sort of offensive system that could feasibly bring out career-best volume and efficiency from Cousins. He'll need it in order to work as anything other than the borderline QB1 he's been since joining the Vikings.
2018:

17.6 fantasy points per game (QB16)
2020:

19.1 (QB12)

2021:

18.8 (QB12)
Ultimately, Cousins comes in as my QB15 behind fellow pocket passers Matthew Stafford and Aaron Rodgers but ahead of Derek Carr and Jameis Winston.
I would take Justin Fields ahead of Cousins due to the rushing upside at hand, but the latter quarterback's potential to supply weekly upside QB2 volume inside a potentially ascending offense shouldn't be ignored.
First things first, Cook remains in an ongoing lawsuit that emerged last November. Facing charges of battery, assault and false imprisonment, he could obviously be looking at a suspension of some sort once the case is actually finalized.
The timing with the lawsuit has been strung out enough that ace Vikings reporter Matthew Coller believes it won't be anywhere close to finalized in time for a 2022 suspension. Unlike with Alvin Kamara, I'm now comfortable moving forward under the impression that Cook won't be facing a suspension this season.
Cook's ongoing shoulder problems also aren't ideal, but it's hard to argue that he's one of the league's very best running backs when healthy. The Vikings' willingness to feed the soon-to-be 27-year-old talent the football has helped him emerge as one of fantasy's brightest stars since entering the league in 2017:
2017:

16.4 PPR points per game (RB10 among all backs to play four-plus games)
2020:

24.1 (RB2)

2021:

15.9 (RB11)
The Rams haven't managed to keep a running back healthy enough to give them this sort of role over an entire season since Todd Gurley, but O'Connell and McVay certainly found a way to feed their starting running back plenty of fantasy-friendly opportunities in 2021. Specifically, both Darrell Henderson and Sony Michel's expected PPR points per game were on par with fantasy's most-productive backs during their respective stretches as the offesene's lead back:
Henderson Weeks 1-12:

15.7 PPR points per game (RB15); 16.5 expected PPR points per game (RB11)

Michel Weeks 13-18:

14.8 PPR points per game (RB18); 19.3 expected PPR points per game (RB3)
The final evolvement of Cook as a fantasy football legend would be an enhanced role in the passing game. This is an area in which he's largely made the most out of his opportunities over the years, but the Vikings' usual run-first offense has produced only an average of 4.1 targets per game over the years.
Even more usage in the screen game would be a welcome sight. Overall, Cook ranks among the league's best backs in yards per route run (5.49, No. 2), yards per reception (9, No. 7) and PFF receiving grade (93.7, No. 3) on screen passes since entering the league.
DALVIN COOK ARE YOU SERIOUS?!

FOUR TOUCHDOWNS. UNSTOPPABLE.

????: #MINvsGB on FOX
????: NFL app // Yahoo Sports app: https://t.co/J6oAb5WnGm pic.twitter.com/S58iGlM0wp

— NFL (@NFL) November 1, 2020
Cook comes in as my overall RB6 behind only Jonathan Taylor, Christian McCaffrey, Derrick Henry, Najee Harris and Austin Ekeler in full-PPR scoring. He's deserving of RB4 treatment when looking at half-point or standard formats. While it'd be fantastic to see Cook's receiving usage expanded, one only needs to go back to last season to find an example of the latter two backs flirting with triple-digit targets.
Mattison is someone I've shied away from a bit more throughout the offseason due to the potential that this new coaching staff won't use him as the same sort of every-down handcuff he's been in recent years. Of course, the ceiling remains the roof if they do:
Week 6, 2020

: 10-26-0 rushing, 1-4-0 receiving, PPR RB47

Week 17, 2020

: 21-95-1, 3-50-1, RB4

Week 3, 2021

: 26-112-0, 6-59-0, RB7

Week 5, 2021

: 25-113-0, 7-40-1, RB6

Week 13, 2021:

22-90-1, 3-34-0, RB8

Week 16, 2021:

13-41-1, 3-29-0, RB13
The concern is that ace returner Nwangwu could siphon into Mattison's work in a similar manner as Ameer Abdullah did for portions of 2020. Mattison averaged a team-low 3.7 yards per carry and 61.4 PFF rushing grade last season, prompting aforementioned Vikings reporter Matthew Coller to surmise that he could struggle to be featured as prominently if Cook misses time in 2022.
I'm slightly lower on Mattison (my RB41) than ADP (RB39) due to the reality that guys like Michael Carter and Darrell Henderson offer similar handcuff upside with far more potential to carve out occasional FLEX value. Nwangwu is two injuries away from being startable in anything other than a return-yardage league.
Wide receiver: Justin Jefferson (WR2), Adam Thielen (WR29), K.J. Osborn (WR56), Bisi Johnson (unranked), Jalen Nailor (unranked), Ihmir Smith-Marsette (unranked)
Cousins, Jefferson and Thielen already find themselves in selective company as one of just 14 pairings to finish a season as top-12 PPR wide receivers since 2012. The following quarterbacks produced these high-scoring tandems:
The likes of Jefferson (108-1616-10, 88-1400-7), Thielen (113-1373-9, 74-925-14, 67-726-10) and Stefon Diggs (63-1130-6, 102-1021-9) have all managed to put up fairly massive seasons with Cousins under center since 2018.
Of course, Jefferson is the star. All the 2020 NFL Draft's No. 22 overall pick has done to start his career is work as anybody's idea of a legit top-five option at the position:
PFF receiving grade:

91.7 (No. 2 among 78 wide receivers with 100-plus targets since 2020)
Yards per route run:

2.62 (No. 3)
Yards per reception:

15.4 (No. 6)

Targets per route run:

24.7% (No. 10)
Davante Adams (23.4 PPR points per game), Cooper Kupp (20.3), Tyreek Hill (19.5) and Diggs (18.6) are the only wide receivers to out-score Jefferson (18.3) on a per-game basis since he entered the league. Pretty, pretty, pretty good.
The idea that "The Cooper Kupp role" is going to lift Jefferson to even further heights is a bit strange, given the reality that the 23-year-old talent is already one of the game's very best wide receivers. Perhaps there will be some extra snaps as a running back (something Jefferson is already familiar with) here and there, but if anything, the allure comes down to Kupp racking up an astronomical 191 targets last season on his way to scoring the most PPR points by a wide receiver … ever.
Or maybe it's the idea that Jefferson will return to more of a full-time role in the slot, which is where he spent most of his time at LSU. He's certainly more than capable of dominating from the inside: Jefferson's average of 2.55 yards per route run from the slot ranks fifth among 99 qualified receivers … one spot behind Kupp.
Still, Jefferson has actually averaged more yards per route run from the outside (2.66). Maybe a few extra snaps from the inside of the formation further help ascend the Vikings' young superstar, but either way, he should be just fine.
And by just fine I mean perennial top-five receiver in real life and fantasy. I'll only be drafting Kupp ahead of Jefferson due to the former having the "role" (volume) that we are hoping falls into the lap of the latter. In full-PPR formats, I'd only add Jonathan Taylor and Christian McCaffrey as players to draft ahead of Jefferson.
The real allure of the Vikings' embracing a more Rams-esque offense: More three-WR sets. Last season, the Rams ranked first in the percentage of dropbacks with at least three wide receivers on the field (94%), while the Vikings ranked a distant 26th (69%). Suddenly Osborn should be on the field in a similar full-time role as Jefferson and Thielen.
Thielen figures to maintain standing as Cousins' No. 2 pass-game option for however long he's able to stay healthy. The soon-to-be 32-year-old veteran has played in 10, 15 and 13 games over the past three seasons, scoring a cool 31 touchdowns in those 38 contests along the way, including 24 scores in his last 28 games of action. A full list of the receiving touchdown leaderboard over the last two seasons:
Davante Adams

(29)

Mike Evans

(27)

Thielen and

Tyreek Hill

(24)
Perhaps Thielen's ankle and hamstring injuries from the last three seasons continue to pile up, but he'll be tough to rank too far outside of the position's top 24 options if not. Overall, Thielen has worked as the WR12 in PPR points per game over the past two seasons; he's being priced closer to his floor than ever over at Underdog Fantasy (ADP WR34). I'm not going overboard on the Vikings' clear No. 2 wide receiver who has likely already played the best ball of his career, but even then I find it awfully difficult to rank even 30 wide receivers ahead of him entering 2022.
I'm also happy to be ahead of consensus on Osborn (my WR56, ADP WR67). The Rams rank third in overall targets to wide receivers since 2018, while the Vikings rank 20th. Take the random discount being afforded to the complementary pieces of what figures to be one of the NFL's more productive passing attacks ahead of 2022.
Smith has been my favorite late-round tight end all offseason. Kyle Rudolph and Tyler Conklin are long gone, meaning the only added competition from this offseason is career blocker Johnny Mundt and seventh-round block-first option Nick Muse.
Smith flashed all over the place during his first two seasons in the league.
Irv Smith: DOGpic.twitter.com/Vce9QWFHPt

— Ian Hartitz (@Ihartitz) April 6, 2022
Forget the "Cooper Kupp role," what about the Tyler Higbee role? The Rams' starting tight end ran the position's ninth-most routes in 2021, ultimately playing at least 75% of the offense's snaps in 16 of his 17 non-injury-affected games. He played at least 90% of the snaps on 13 occasions.
Smith was a full participant at Vikings minicamp, and the team's willingness to let Conklin walk and not add additional competition sure makes it look like an every-down role is on the way.
Still somehow just 23 years old, Smith has the sort of speed (4.63-second 40-yard dash) to emerge as a legit full-time offensive weapon capable of beating defenses in more areas than just the underneath portions of the field. My TE11 ahead of 2022, I'd rather take Smith ahead of guys like Pat Freiermuth, David Njoku and Mike Gesicki thanks to 1.) his better overall offensive environment, and 2) his likely full-time role.