(Metrics that Matter is a regular offseason feature that examines some aspect of fantasy through a microscope to dive into the finer details.)
Last year I wrote as one of my bold predictions for the 2017 fantasy season, "Kansas City's rookie running back Kareem Hunt is a fantasy league-winner." Mind you, this was before Spencer Ware's season-ending PCL and LCL injuries.
I wasn't worried about Ware standing the way of Hunt's rise to dominance last year, and I'm not now.
Why? Basically, he was one of the most statistically dominant running backs within the PFF College era (2014-2017) and he was one of the best running backs in the league last season (as a rookie) as well.
Statistical Dominance
In Hunt's final year of college (2016), he was our single highest-graded running back. He was tackled on first contact only 57.6 percent of the time, which was the best rate of any running back in any season (min. 150 carries, 341 qualifying) within our four-year sample. He also averaged 2.14 yards per route run (on 43 targets), which would have led all running backs in 2017.
Over his college career, among all 59 running backs with at least 500 carries 2014-2017, Hunt ranks fifth in yards per carry (5.66), third in yards after contact per attempt (3.28), first in missed tackles forced per attempt (0.19), first in missed tackles forced per touch (0.21), and first in PFF elusive rating (109.4). Our sample includes running backs like Ezekiel Elliott, Melvin Gordon, Joe Mixon, Dalvin Cook, Derrius Guide, Sony Michel, Rashaad Penny, Leonard Fournette, and more. Even on a smaller sample (300 carries, 177 qualifying), Hunt ranks 20th in yards per carry, 10th in yards after contact per attempt, and top-six in all other above categories.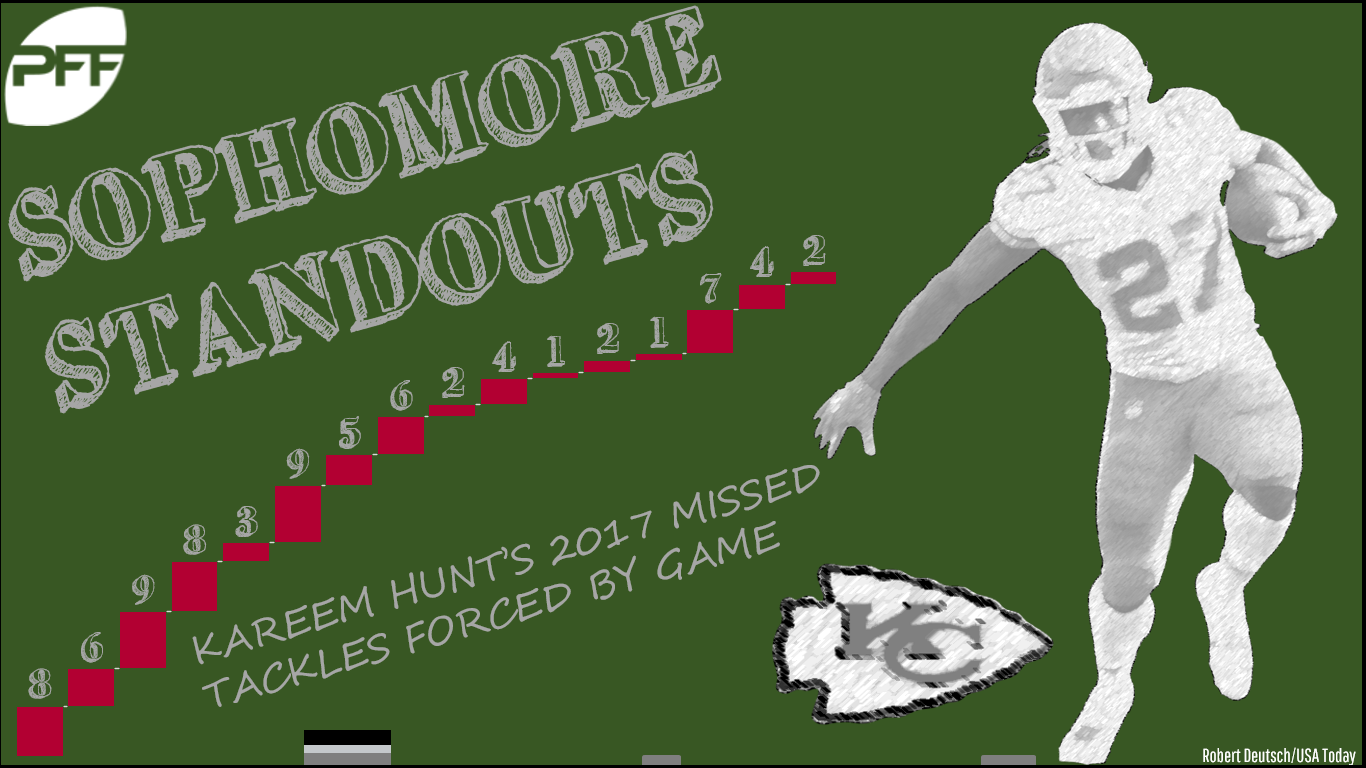 In his rookie season, we saw more of the same from Hunt — statistical dominance implying he's one of the most elusive running backs in the game. He was our second-highest-graded runner and our third-highest-graded running back last year. He was tackled on first contact just 65.3 percent of the time, which ranked fourth-best of 33 qualifying running backs. Among all 32 running backs with at least 150 attempts, he ranked third in yards per carry (4.88), sixth in yards after contact per attempt (3.09), second in missed tackles forced per attempt (0.22), second in PFF elusive rating (73.1), and first in missed tackles forced per touch (0.24). He also ranked fifth of 29 qualifying running backs in receiving fantasy points per target.
Volume Concerns?
Basically, Hunt was terrific last year and in every year of his college career, but it doesn't necessarily follow that he'll be worthy of a first-round selection. For running backs, volume is more important for fantasy success than for any other position. Although Hunt was productive for fantasy purposes, ranking fifth in fantasy points per game, his volume wasn't really exceptional, even without Ware seeing the field. Hunt ranked eighth among all running backs in expected fantasy points per game (based on volume), but fifth in fantasy points per game. When contrasting these two numbers, only Todd Gurley and Alvin Kamara were more efficient among running backs on a per-game-basis.
With Ware returning, shouldn't we imagine volume would decline for Hunt, making it more difficult for him to return his first-round (RB8) ADP?
This offseason, head coach Andy Reid said of Ware's return and what that means for Hunt, "We thought we had a decent number of plays for Kareem last year, [but] we probably need to increase the pass part of that a little bit more and expand on his role in the pass game." It certainly doesn't seem like Reid wants a smaller workload for Hunt, and even if Ware does steal some early-down work, there's a good chance that gets offset by more targets for Hunt. In PPR leagues, a target is worth 2.64 times as much as a carry for fantasy running backs.
Reid has also rarely used a committee backfield throughout his career, although, granted, he's had some terrific running backs over this stretch (Brian Westbrook, LeSean McCoy, and Jamaal Charles). He's also been the most effective coach at coaxing top-end production from his running backs. In 19 seasons as a head coach, Reid's RB1 has finished top-seven at the position 52.6 percent of the time (10 of 19 seasons). In case you can't tell, that's a ridiculous stat, even when we concede he's consistently had top-end talent at the position. Of these 19 seasons, only one other (non-Philadelphia/non-Kansas City) team showed up more than seven times – Hall-of-Famer LaDainian Tomlinson's San Diego/Los Angeles Chargers with 10.
Despite being something of a "running back whisperer" for fantasy, Reid's running back usage can get maddening at times. Hunt averaged 5.23 yards per carry when the team was leading, and yet, Kansas City was the second-most pass-heavy team when leading last year. Hunt's usage was also far better when Matt Nagy was calling plays. Excluding Week 17, Hunt averaged 21.3 expected fantasy points per game in the four regular season games Nagy was the play-caller, but only 13.5 during his first 11 games. Obviously, this is a concern with Nagy now in Chicago.
Still, Ware might not even be back to 100 percent by the start of the season, rehabbing from a torn PCL and LCL. Even if he returns at full health, I'm confident Hunt is the far superior talent. Reid seemed to imply Hunt's usage won't fall too much on the ground and might even grow as a receiver. This is especially noteworthy considering the one area where Hunt struggled was as a pass-blocker, but Reid seems confident this shouldn't stand in the way of more receiving work in year two.
Conclusion
In the words of the late great Macho Man Randy Savage, "The cream rises to the top," and I think it will in this case. I have Hunt higher in my rankings (10th-overall, seventh among running backs) than he is in PPR ADP (11th-overall, eighth among running backs). As it stands, he's a strong value and well-worth a late-first-round selection in PPR leagues.