(Metrics that Matter is a regular offseason feature that examines some aspect of fantasy through a microscope to dive into the finer details.)
­Last offseason, I ran a study measuring the predictability of various wide receiver efficiency statistics. One of the statistics we covered was WR Rating (available to Elite subscribers here), which measures a team's passer rating when targeting a particular wide receiver. Predictability and future year correlation to volume was fairly low, but far more significant at the extremes. For instance, over the prior decade, on average, wide receivers totaling at least 50 targets and ranking in the top 20 in WR Rating averaged 32.7 more targets in the following season than wide receivers who ranked in the bottom 20.
So, let's look at the leaders in WR Rating last season (min. 50 targets):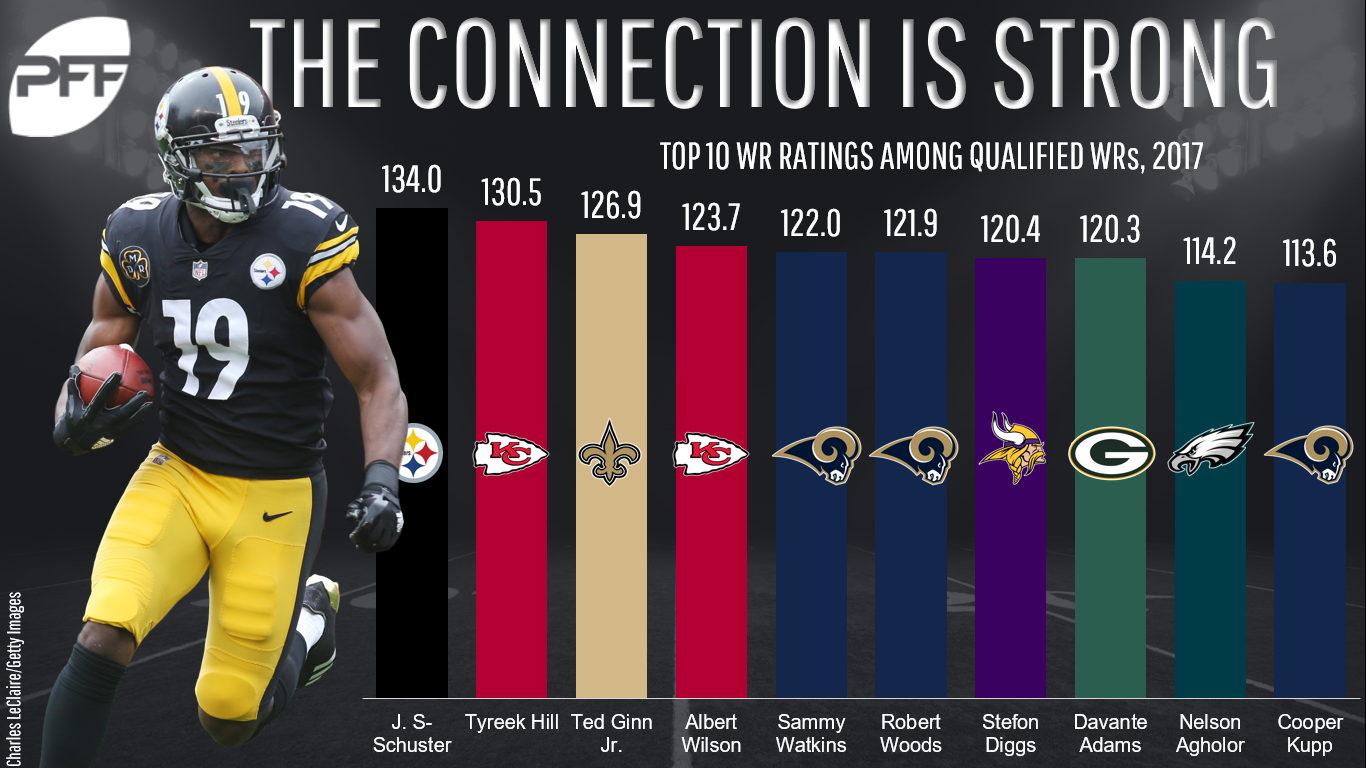 JuJu Smith-Schuster ranked best last year and best among all rookies since 2007. We talked about him and his 2018 fantasy prospects here. His extreme efficiency numbers suggest a likely regression to the mean, but at the same time, wide receivers typically make a dramatic leap in production in their sophomore years. In either case, he's a strong value based on ADP (WR38).
Tyreek Hill ranked second-best in WR Rating last year, after ranking 14th in 2015. The bulk of Hill's production and efficiency came on deep passes (balls traveling 20 or more yards in the air) last season, recording the fifth-most deep receiving yards (628) and the second-best WR Rating on deep targets (min. 20) of any wide receiver this past decade (138.9). Of course, he also benefited from a career year from Alex Smith, who led the league in passer rating last season.
This also helped Albert Wilson hit a new career high in WR Rating after failing to eclipse a rating of 90.0 in any previous season. Miami paid up for Wilson after his breakout year, signing him to a three-year, $24 million contract. Wilson has run the plurality of his routes from the slot in each of his past two seasons (78 percent in 2016 and 58.3 percent in 2017), but will have to compete with fellow newcomer Danny Amendola (who signed for less than Wilson) if he wants to assume Jarvis Landry's now-vacated role. I'm bearish on both considering the competition of targets they'll also have with Kenny Stills (who just received a contract extension) and DeVante Parker.
Ted Ginn Jr. also hit a new career high in WR Rating (126.9), after failing to reach a rating of even 95.0 in any season previous. This surely had to do with an improvement in quarterback play, now catching passes from Drew Brees who ranks sixth-best all-time in career passer rating. Although the Saints' receiving corps looks cluttered after signing Cameron Meredith to add to some other capable wide receivers and running backs, I suspect he's still a fine value (ADP WR50) after finishing 39th-best in fantasy points per game last year.
Jordy Nelson leads all wide receivers in career WR Rating this past decade, but fell to just 72.6 last year. Davante Adams, meanwhile, was far more impressive, and especially so considering 61 percent of his targets came from Brett Hundley (70.6 passer rating in 2017). Perhaps this played a role in Green Bay's decision to release Nelson and sign Adams to a four-year, $58 million extension. After finishing sixth-best in fantasy points per game last year, he seems like a safe investment at ADP WR9 with a healthy Aaron Rodgers and less competition for targets.
Shout out to Nelson Agholor on his hyper-efficient 2017 season, which was also one of the most impressive turnarounds by a young wide receiver in recent memory. He was our single-worst-graded wide receiver in both 2015 and 2016, but finished 24thh-best last season. He finished ninth-best in WR Rating last year after finishing ninth-worst (of 89-qualifying) in 2016. What changed? Mainly, Agholor reverted back to his more natural position in the slot. Agholor ran 52.3 percent of his routes from the slot in his final year of college (2014) and 86 percent last year, but just 20.5 percent during his first two years in the league. I'm confident this positive trend will continue in 2018.
You'll notice three different Rams wide receivers all ranked top-10 in WR Rating, on the back of their quarterback ranking first in adjusted net yards per attempt. In the case of Sammy Watkins, he may have been a good bit better than we had realized. Though his production was underwhelming, he was far more efficient on a per-target basis, which is encouraging for his prospects in Kansas City, though the Chiefs don't really have a history of supporting multiple fantasy-viable wide receivers.
Now, on the opposite end of the spectrum, here's who ranked bottom-10 in WR Rating last season.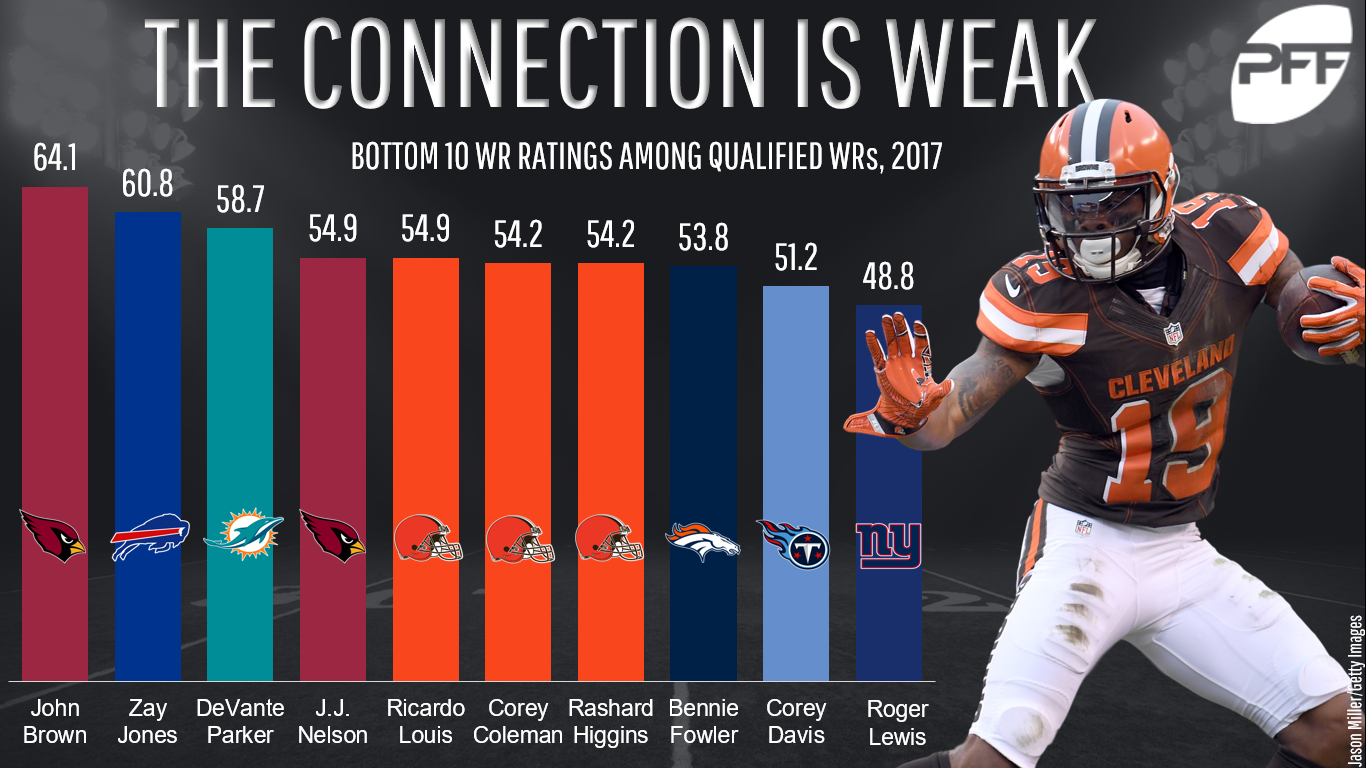 In this chart we saw the aforementioned trend (WR Ratings being highly correlated to team passer rating) become more apparent. Three Cleveland wide receivers and two Arizona wide receivers made this list. Corey Coleman's rating here is a concern, and he's likely (at best) behind Josh Gordon and Jarvis Landry for targets next season. John Brown's ranking of 10th-worst is disappointing, but in line with what we've seen from him after an impressive sophomore year. I want to get excited about his prospects in Baltimore (another team with passing efficiency concerns) but am worried he may never get past his complications with sickle cell and other various maladies to remain fantasy viable. He'll be a low-cost post-hype sleeper with upside, but not someone to stash for very long if the production isn't there.
Rookies Corey Davis and Zay Jones also greatly struggled in adjusting to NFL competition in their rookie seasons, and I don't think it's any coincidence both wide receivers came from schools outside of the Power-5. I'm skeptical Jones will hit relevancy this year, after offseason troubles and the fact that Buffalo is currently without a quarterback without significant NFL experience. I'm more excited for Davis' prospects, however. Quarterback Marcus Mariota was already due for an efficiency bump next season, and, as outlined earlier, wide receivers do tend to make a significant leap in their sophomore years. Additionally, greater draft capital and decent volume (6.2 targets per game, including postseason) was there for Davis, indicating a trust in his abilities.
DeVante Parker clearly struggled last season as well, but I tried to give him some credit due to an abnormally difficult cornerback schedule and noting some poor injury luck. Though, undoubtedly, Miami's recent offseason moves have me nervous.